If you're looking for a way to get in shape and feel great, we've got the workout for you. Beachbody has created PiYo: pilates-yoga combination that will help you burn crazy calories and tone every inch of your body! The exercise program is called PiYo because it combines pilates (Pi) and yoga (Yo). In our PiYo review, we look at the workouts, results, calendar, and cost of the at home workouts.
What Is PiYo?
PiYo is a combination of powerful Pilates- and yoga-inspired exercises with an increased pace for efficient fat loss, muscular development, and length—all in one! Now, in just 60 days, you may get the complete body sculpting and stretching benefits of yoga, plus the intensive core strengthening and lean-muscle development of Pil
Chalene Johnson's PiYo program incorporates aerobics, pilates, and yoga into a fast-paced total body workout that includes all types of movement. The routines concentrate on flexibility, fat burning, muscle building, and joint protection using low-impact exercises.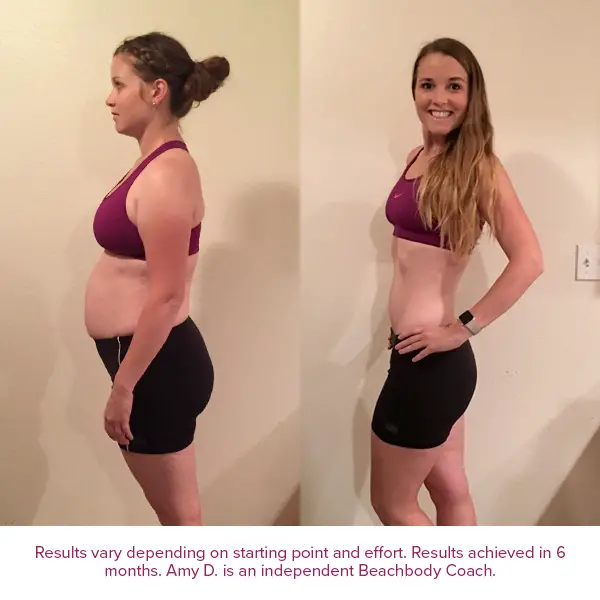 What Can You Expect From The PiYo Program?
Straight from Chalene Johnson the Super Trainer and Creator:
"I wanted to create a super-effective program that everyone could do—that would still deliver real results. I took the best moves from Pilates and Yoga, and turned up the pace to give you the hardcore definition, intense calorie burn, and allover strength you'd get from extreme programs—without jumps, without weights, and without destroying your body"
The workouts are a wonderful addition to Pilates and Yoga sessions. The routines are designed to be played on repeat, with music that pumps you up. To obtain the best results faster, Chalene Johnson, the program's creator, integrated sports training, core strength training, dance activities, flexibility exercises, and sporting activities into the routines!
Even if you have no prior Pilates or yoga experience, you may do these workouts. In class, you'll learn fundamental exercises such as Downward Dog, Crescent Pose, Child's Pose, and Warrior Pose.
Who should give Beachbody's Piyo a try?
PiYo is ideal for anyone looking to lose fat and get toned fast while avoiding high-impact pounding or complicated choreography. Every workout has a modifier, so you can start at whatever level works best for you. PiYo will push you as a novice or seasoned athlete, and it will change your physique:
If you're new to fitness or have been away from it for a while, chances are that you've forgotten everything.
People who want to perform pilates or yoga but don't want to feel like they've had an intense workout
Someone who wants to lose weight but doesn't want to go through a lot of jumping exercises
If you're a regular exerciser looking to add some variety into your routine,
A person who is looking for a fun exercise
Is PiYo A Good Weight Loss Program?
PiYo is a fantastic method to lose weight. The workouts are low-impact but high-intensity, so you burn more calories each class than you would during a Pilates or Yoga session. PiYo also has a food plan built in, which will assist with your weight reduction goals.
It will also come down to your nutritional goals make sure you are following one f the Beachbody provided plans or one of your own. We have switched completely over to Keto and Carnivore these days.
Many other reasons why PiYo just works. PiYo is a combination of plyometrics, bodyweight resistance exercises, and Yoga. It combines high-intensity interval training with bodyweight strengthening and stretching to sculpt and define muscle while also burning a lot of calories. Bodyweight strength training without the bulk encourages lean-muscle development and definition, as well as strength. You'll burn calories, eliminate fat, and increase your metabolic rate for optimal body change.
Is PiYo Good For Beginners?
PiYo is perfect for anyone who is looking to perform a low-impact workout due on their joint mobility issues. Modifications are included in every exercise, and you will still feel the difficulty after applying them. There are also intermediate and advanced workouts available, making it ideal for everyone from beginners to seasoned athletes.
So if you are looking to get into working out and don't know where to start PiYo is that starting point. All you have to do is show up and press play while putting the effort in. No matter your fitness level there is a place for you with this program.
How Many Days A Week Will I Be Working Out On PiYo?
PiYo is a six-week program that takes you 60 days to complete. You'll do six workouts each week. The majority of the exercises are around 30 minutes long, although they range from 25-45 minutes in length.
If you miss a workout don't sweat it you have two options either just skip it this round and stay on track with the calendar. Or you can complete the workout the next day then just be one day behind on the calendar. A third option of course is to complete two workouts in one day as well.
What exactly Do I need For PiYo?
A yoga mat, a towel, water, and some room to stretch out in both directions. That's all there is to it! You'll need the Beachbody® Strength Slides for the 2 PiYo Strength workouts if you have the PiYo Strength Deluxe Kit. This is for the basic program there are some add ons and bonuses where you will need extra like the below:
PIYO STRENGTH TOOLS: Beachbody Strength Slides will help you boost the intensity of your workout as your body works hard to stabilize and control your movements by engaging your core, stimulating your glutes, and activating muscles you never knew you had.
For PiYo, a yoga mat is useful. Its textured top allows for better body alignment and footing while also providing non-slip traction, control, cushioning, and comfort.
So Are Shoes Optional For PiYo?
While you may wear shoes while PiYo, we felt that it was more beneficial to do the sessions barefoot. Going barefoot helps strengthen your foot muscles and gives you a stronger sense of rootedness in the activities. If you have a problem with your feet or simply want to, you may use them.
This will definitely be a feeling out process if you start without shoes and have to get them on then just press pause grabe your socks and shoes. Throw them on and press play to continue.
PiYo Results (Before And After)
You'll probably move through the exercises to burn calories and hold positions for a few seconds to tone your entire body. You should expect to notice improvements in only one round of the workouts and meal plan.
You must follow the meal plan as you won't be burning that many calories during the actual workouts compared to something like Insanity or Insanity Max:30. So stick to it as much as possible mainly just not overeating.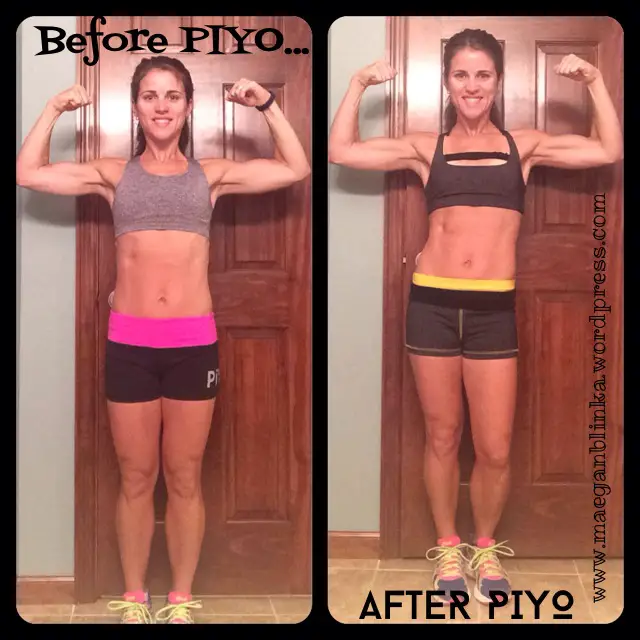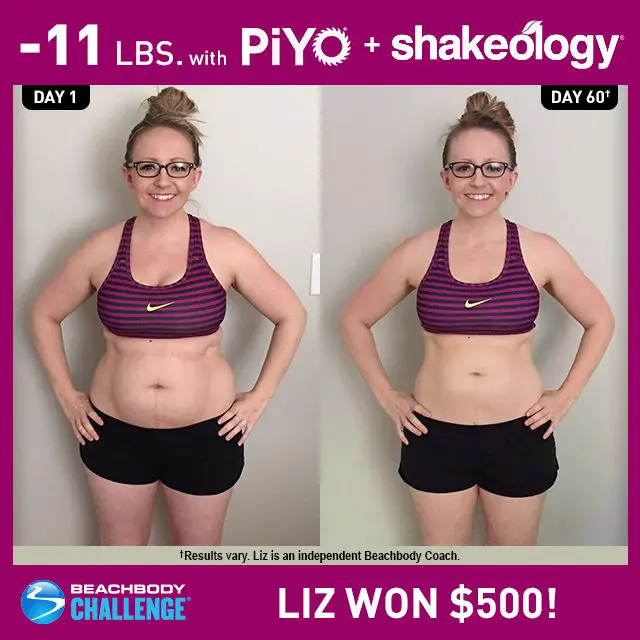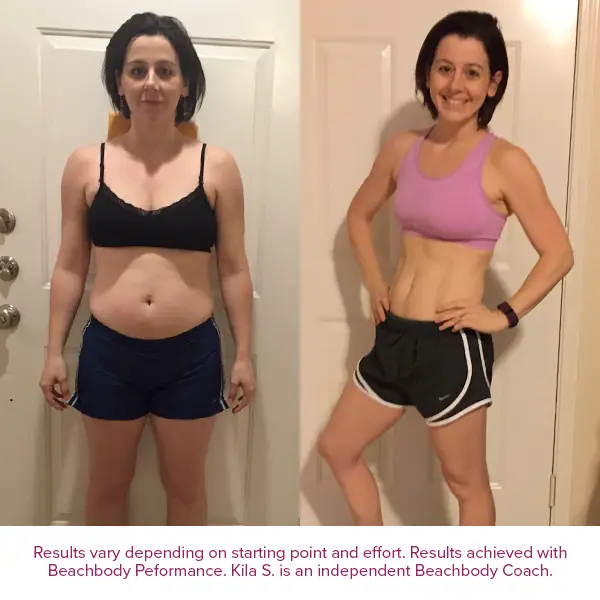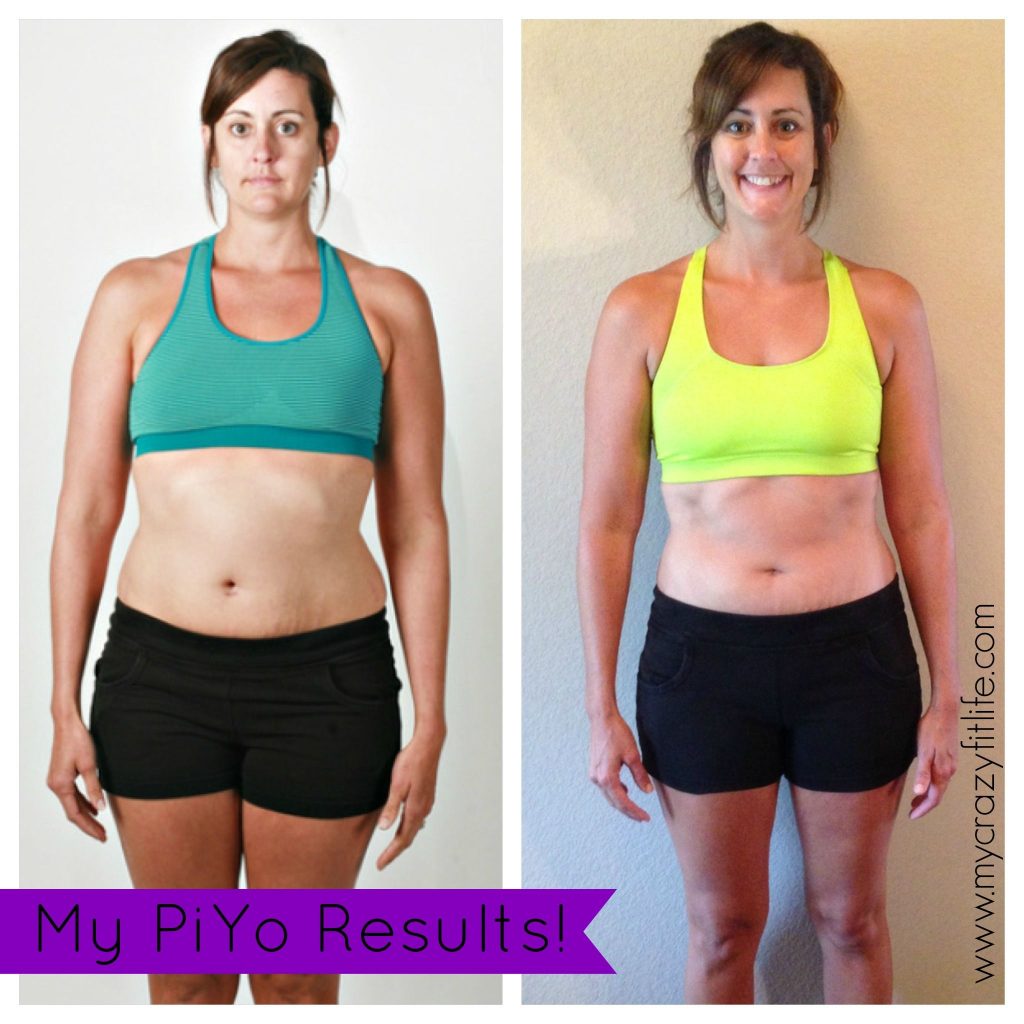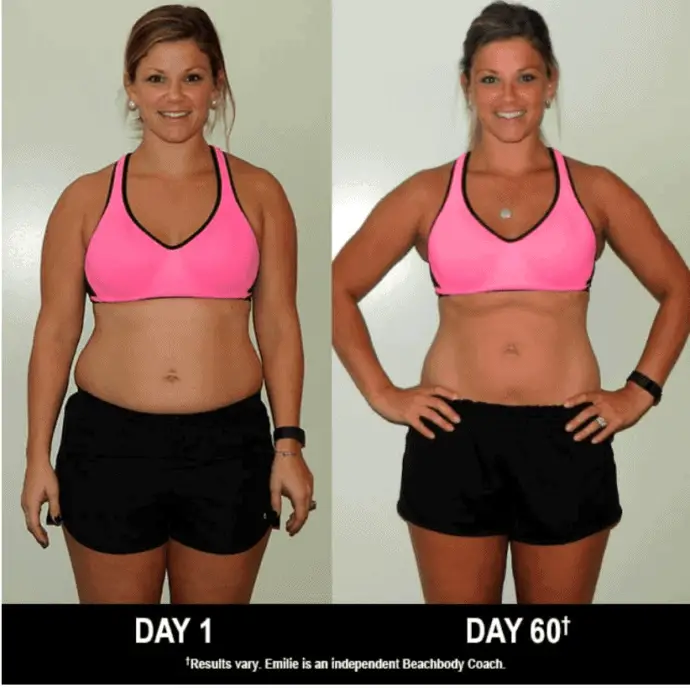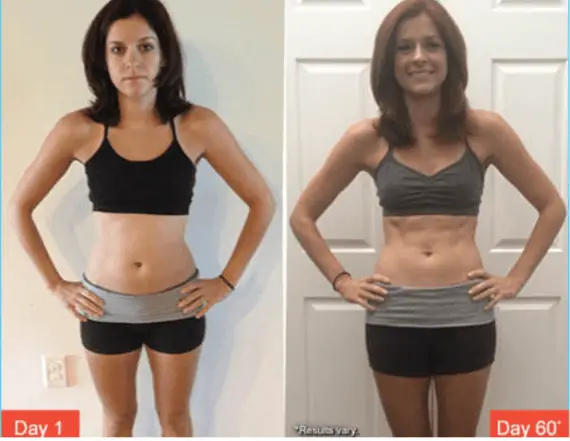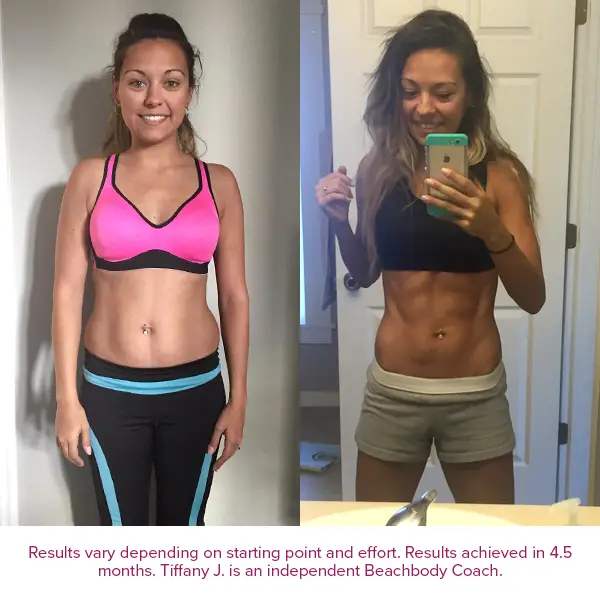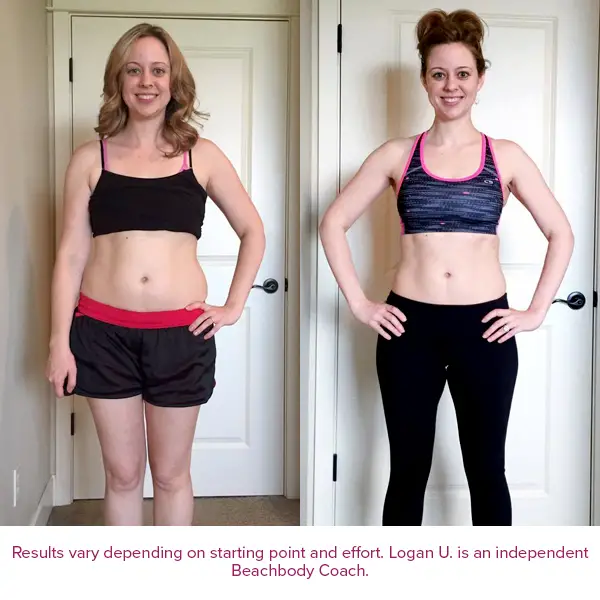 Do People Actually Lose A Lot Of Weight On This Program?
People's PiYo results have been fantastic. We've seen people lose 10 to 15 pounds in 60 days with PiYo and Shakeology, thanks to the rigorous workouts. The sessions push you to perform cardio flows and body-weight exercises, which help you burn calories, tone up, and enhance your flexibility all in 30-60 minutes a day.
Don't get discouraged if you don't get instant results as Rome wasn't built in a day (Tony Hortons favorite quote lol). Stick to the program all these Beachbody programs work they have been tested by thousands of people that have gotten great results. But everybody is different so you need to be patient at the same time.
Is PiYo Really A Good Workout?
The PiYo workout is a wonderful high-intensity, low-impact exercise to help you lose weight, tone up, and increase your flexibility.
It also incorporates cardio intervals, bodyweight strength training, and allows your joints to avoid the discomfort of a high-impact workout, in addition to stretching.
How Many Calories Can I Expect To Burn With PiYo?
During a PiYo class, the average person will burn 250 to 350 calories. This figure is determined by a variety of factors, so we recommend wearing a fitness tracker while exercising.
Any fitness tracker will do like a FitBit, Apple Watch, Garmin Watch, or other heart Rate Monitor. The new MYX Beachbody Fitness Bike comes with a pretty accurate heart monitor and yes you can use the fitness bike for normal workouts too.
How Long Am I Going To Be Working Out A Day For PiYo?
The workouts are all between 25 and 45 minutes long. The majority of the exercises in the 60-day plan clock in at around 30 minutes.
PiYo Workout Breakdown With Length
ALIGN: THE FUNDAMENTALS (40 MIN.) This training focuses on the most essential and effective moves from the program to help you improve your form and get the greatest effects.
DEFINE: LOWER BODY (25 MIN.) You'll be able to get the skinniest and leanest legs of your life as you simultaneously lengthen and strengthen your whole lower body from your glutes to your calves.
DEFINE: UPPER BODY (20 MIN.) Flex this highly effective exercise to begin chiseling away at your upper body, form your shoulders, and create attractive triceps.
SWEAT (35 MIN.) PiYo combines breath work and dynamic conditioning, fast-paced cardio yoga-flows, and bodyweight resistance strength training to help sculpt your entire body.
CORE (30 MIN.) This ab-centric workout works your core from all angles. You'll create a powerful core, flat, sculpted abs and obliques, as well as a strong, attractive back.
BUNS (30 MIN.) For the best tight and round butt, this exercise is focused on the glutes.
STRENGTH INTERVALS (25 MIN.) This 30-minute nonstop body-carving, calorie-burning session requires no weights, equipment, or bulk and only takes 25 minutes!
DRENCH (45 MIN.) This 30-Day Fat Loss Challenge is a fat-burning, full-body workout that challenges you to push yourself. It will not only leave you drenched, but it will also kickstart your metabolism by burning away the fat.
SCULPT (30 MIN.) Strong shoulders and triceps are essential to completing this workout. This routine makes use of many different tempos to keep your muscles under tension for varying lengths of time. muscular endurance and metabolic modifications will completely change the way you look.
PiYo Strength Workout:
FULL BODY BLAST (30 MIN.) In just 30 minutes, you'll be well on your way to completing this full-body workout that employs the Beachbody Strength Slides to help you reach new levels of fat loss.
STRONG LEGS (30 MIN.) Use the Beachbody Strength Slides to lunge, squat, and stretch your legs into the most beautiful quadriceps, glutes, and hamstrings you've ever seen.
What Are The Strength Glides For The PiYo Strength Workouts?
A core and lower body strength slide is a plastic plate that may be used on carpet or hardwood to help you get the most out of your core and lower body exercises!
If you want to get some in a couple days for cheaper than Beachbody you can always find strength glides on Amazon as well along with other Beachbody Equipment.
How Often Should I Do PiYo?
The program's calendar suggests working out six days a week, you may go as slowly or quickly as you like. You may follow the timetable at your own rate, or add in PiYo exercises to complement your existing exercise program for more cardio, flexibility, and bodyweight exercises.
As we stated previously if you miss a workout don't freakout either move on like you did it, or just do it the next day and lastly you can double up if you are up for it.
PiYo Workout Schedule & Calendars
There are two different workout calendars available: a simple and robust calendar, each of which is 8 weeks long. Each includes six workouts per week, with exercises ranging from Buns to Drench, which is a flowing routine.
The Basic Calendar is a great place to start, and the Strength Calendar is ideal for your second round.
By the end of the program, regardless of which PiYo Workout Schedule you select, you will notice some significant results.
Pros vs Cons Of PiYo
Below is list of the pros and cons we have come up with based on our own opinion and opinions of many others.
PIYO PROS
It targets tiny muscles that are frequently neglected.
No equipment needed!
You're focusing on building muscle rather than gaining bulk.
It really engages your entire core it's great for abs and the low back and lengthening the muscles.
Each move you start you will flow through and into the next exercise. It is very smooth and continuous.
When you move from one exercise to the next, your heart rate will rise like during a cardio session.
It's one-of-a-kind and a lot of fun to add into your routine or do on its own.
We appreciate how low-impact it is. We must protect our knees!
PIYO CONS
Some of the workouts aren't really PiYo (pilates & yoga) so if that is all you are expecting and wanting you will be surprised. Some are intervals.
If you're looking for a workout that is similar to PiYo, we'd recommend Barre Blend by Elise which is amazing.
PiYo User Reviews & Opinions
Well we didn't want you to take only our opinion on this matter so we went out and gathered information from BOD (Beachbody On Demand) users that have tried PiYo and/or Barre Blend to give us their thoughts. Most of the thoughts are which one is better so hopefully this helps you make a decision. All this information from curated from different sites, forums and Facebook groups.
BOD Opinions
Lauren "Barre Blend" – I love barre way more than piyo
Nichole "Barre Blend" –

I'm only on week 1 and already I have seen Major Progress, Plus I absolutely LOVE the way I feel while doing the workout/after!!

Emily "Barre Blend" – Barre ! I love it so much more than Piyo!!
LeAnn "Depends on Coordination" – Depends on your coordination. I tried PIYO and failed. I haven't tried Barre Blend yet but I did take ballet as a kid so I may be able to do it.
Pia "Barre Blend" – Barre is amazing and no joke. I am on week 2 and started throwing in the 10-minute enhancements as well. We shall see how that goes.
Nicole "Both Are Great" –

I've done two rounds of Piyo. It's a slow progression in the beginning, she is getting you ready for what's to come. It's the only program I've done that when you are really sore, the next session with feel sooo good because its stretching and lengthening you out. It's like a relief. It has a graceful beautiful style, great music selections, Chalene is very encouraging!! It's no joke. I was surprised at the muscle I gained in my upper body.

I just started Barre again…I had made it too week 4 and then jumped to 10 Rounds to complete with my son during quarantine…otherwise I would have completed it. I love Barre.

Both are great programs!!

Heather "Barre blend" – I personally loved Barre blend better than PIYO. I've definitely toned up and slimmed down. I still haven't done the best with my nutrition though.
Helen "Barre Blend" – I've just finished barre and started piyo today, barre has given me amazing calves and a good booty lift.
Cara "Barre Blend" – Barre blend is amazing!! I'm 2 weeks into my second round and already noticing big changes physically and mentally!
Jennifer "Barre Blend" – Barre gave me much better results that PiYo, but they were both intense workouts. Of the two, I preferred Barre. Hope this helps!
Nikita "Both Are Great" –

I did Piyo 5 years ago and lost like 20 pounds before my wedding. I combined it with turbofire and I felt Piyo made a huge difference! It is hard if you do it correctly.

I am now on week 2 of Barre and 24 weeks pregnant, and it is difficult in different way. I feel like Piyo was probably more core and strength than barre and barre is a lot more booty mixed with cardio. Both are great.

Emily "Barre Blend" – Barre. After they've come out with the real-time programs, I can't do the others where you watch the same videos each week
Kynzie "PiYo" – PIYO is my soul program, I click with Chalene more than I did Elise, and I also so great results from PIYO, so that would be my choice
Virginia "Barre Blend" – Barre! I stopped doing PiYo half way through. The workouts got long (for me) and all of a sudden there flows that seemed far more advanced than any of the prior workouts
Meghan "Both Are Great" – Oh… I love them both. Both low impact and use your body strength to tone and define. I didn't lose weight with either just gained strength and definition.
Results: So as you can see the overwhelming majority choose Barre Blend. This is mainly because it is more up Beat and is recorded live so each workout is a bit different. Where with PiYo before Beachbody recorded an entire program live it will be the same workouts over and over. These are just some things to think about. Try both definitely and look at Hybrids that intertwine the two fo them.
Barre Blend – 92% of the results/opinions chose Barre Blend over PiYo
Both – 6% chose both Barre and PiYo saying they are both great. 
PiYo – 2% chose PiYo over Barre.
Based on these results alone I would look to maybe do Barre Blend first with Elise and sneak in a couple PiYo workouts to compare between the two. You can also get on the mobile app and compare them by just watching through them to get the overall just of what you are actually going to enjoy doing. Both are really great programs that get great results with limited impact on your knees and feet. So you really can go wrong.
PiYo Frequently Asked Questions
Who is it for?
PiYo is for anybody who wants to get in shape and is interested in the idea of integrating Pilates and yoga. It's a beginner/intermediate program that's appropriate for both first-time users and those with prior fitness experience.
What equipment does it require?
You don't need a yoga mat, but you'll want one. You really will.
Is PiYo pretty much just Pilates and yoga combined?
No, unless you add Chalene in. It combines features from both of these disciplines, but in a way that you haven't seen before, and then melds them together into a cardio and strengthening regimen for more powerful workouts..
Should I wear shoes during this workout or is barefoot best?
The program is good for you because it will improve the strength of your foot muscles, reducing the necessity of shoes. If you have a condition that makes it more pleasurable to wear shoes, whether it's an injury or anything else, you will still benefit from the program.
Will this program help me lose weight or should I add other workouts?
The entire test group lost a few pounds, and Success Stories stream in every day. You will lose weight if that is your objective as long as you work hard and follow the eating plan (we can't emphasize this enough). This program creates a solid fitness foundation for people who need to lose weight as well as those who don't.
If I need a low-impact workout, is PiYo the best fit for me?
Yes. PiYo is one of the less stressful workouts available from Beachbody.
What if my wrist hurts doing some of the moves? Am I doing something wrong?
Wrist discomfort is a typical occurrence for individuals who are new to yoga. As your body adjusts, you should go at your own speed. Here are some helpful exercises that you can perform to help speed up the process.
What's the best mat I should be using?
You may use any type of yoga mat that is both robust and nonskid.
What are the benefits of increasing your flexibility with a program like PiYo?
The advantages of greater flexibility are numerous, but the ability to go deeper into your workout's techniques and obtain faster results is one of the most significant.
Is PiYo a safe program to do while pregnant?
While pregnant, you should always talk to your doctor before beginning a fitness program. The usual guideline is that if you've recently done it or are in the middle of the plan, you should be safe. However, if you've never done it previously, we don't recommend starting it while pregnant.
Can I do the 21 Day Fix Eating Plan with PiYo?
Yes, simply replace the Get Lean Eating Plan with the 21 Day Fix Eating Plan.
I missed a week due to vacation/work travel/sickness. Where do I start from today?
It's not a big deal to miss a few days. Simply pick up where you left off in your routine. Your body is completely recovered and incredibly powerful after approximately five or six days of rest, and you have the ability to harm yourself by breaking down your fast-twitch muscle fibers.
You may end up too sore to exercise for more than a week if you push yourself too hard. If you've missed more than five days, start slowly on your first day back, maybe doing a third of your normal workout and gradually increasing over the course of a week to where you were.
What's the perfect next step?
Not only that, but you'll be stronger immediately, and you can push yourself more in the future since your body's baseline fitness has improved. So choose your next program based on your goals or interests. After a whole routine, we always recommend some maintenance training to allow microtrauma to heal and your fitness to peak.
What is maintenance work?
It's considerably more difficult to get in shape than it is to keep yourself in shape once you've achieved your goal. With approximately half the volume of your program, you can usually keep a level around peak fitness. To maintain, many different kinds of training may be used, but the simplest approach is often 3–4 days a week of the previous
What Year Did PiYo Come Out?
It was unveiled on June 18, 2014, at the Coach Summit of Beachbody.
Is PiYo Or 21 Day Fix Better?
Your goals will determine whether or not PiYo is right for you. The PiYo method focuses on burning calories through dynamic exercises and fast-paced cardiovascular mixes to increase strength and flexibility. The 21 Day Fix combines traditional cardio intervals, weight training with dumbbells, and active recovery activities. Both of them are efficient in assisting you in reducing weight and
Is PiYo Like Barre?
While PiYo and Barre focus on low-impact, high-intensity exercises, they are not the same. It doesn't need a Barre and focuses on dynamic movements and flows found in pilates and yoga. If you want to burn off a lot of calories during a Barre class, we recommend Barre Blend.
Is PiYo Good For Seniors?
PiYo is a home fitness program that features dynamic movements and high-intensity cardiovascular routines. Active seniors may find PiYo's emphasis on flexibility, balance, and strength development useful because the classes are also low-impact. Seniors should always check with their doctor before beginning a new fitness regime.
Is PiYo Better Than Yoga?
It is determined by your fitness objectives. PiYo will provide more cardio and mobility than traditional yoga, which may be advantageous for some people. We believe that PiYo is a better option than yoga if you're searching for a workout that mixes flexibility, cardio, and strength.
Is PiYo A HITT Workout?
The program contains a variety of lower-intensity interval routines, but we wouldn't refer to it as a HIIT workout.
Final Thoughts
PiYo workouts combine Pilates and Yoga to create a high-intensity, low-impact exercise. All you need is about 30 to 60 minutes of activity to begin burning calories, developing lean muscle, and improving flexibility. The program may be found on Beachbody on Demand and DVD, as well as a comprehensive nutrition handbook.
If you're looking for an efficient and challenging workout, PiYo is a great option. The program combines Pilates and Yoga to create dynamic and calorie-burning exercises. You can do PiYo at home with just a DVD or Beachbody on Demand subscription, making it a great choice for people who don't have time to go to the gym.