If you are anything like us we have to be very adaptable with our workouts having a toddler and lots of animals. So we take our workouts with us and do that by using resistance bands and adjustable dumbbells. It is great following a program that you are able to use both weights and bands so you can change it up when you want.
The best Beachbody program that uses resistance bands is LIIFT4 or you can do the original P90X which is great with bands as well. LIIFT4 definitely if you are a beginner start there as it is just 4 days a week and you will get amazing results.
Below we go through other programs that use Resistance Bands and what actual Beachbody On Demand users think of them.
If you would like to go ahead and get the Best Beachbody Resistance Bands shipped to your door in as little as two days just CLICK HERE!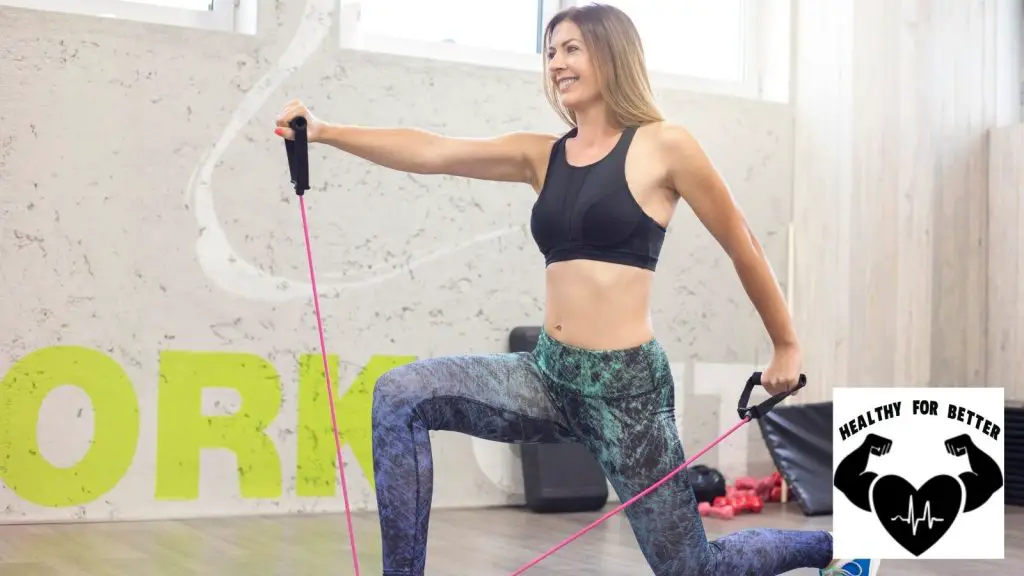 Does Beachbody Have Resistance Band Workouts?
Yes Beachbody has many different Beachbody resistance band workout programs over the years that have produced great results for people. The original one of course is P90x as you can mix in weights and resistance bands for this program. With almost any pullup workout there is a band modifier this even is included in newer programs like 6 Weeks Of The Work.
There are lots of other workouts like 21 Day Fix, LIIFT4 and 10 Rounds that use resistance band modifications. If you would like to skip the equipment completely you can go with a lot of workouts as well like T25, Insanity, Insanity Max: 30, Cize, Core De Force.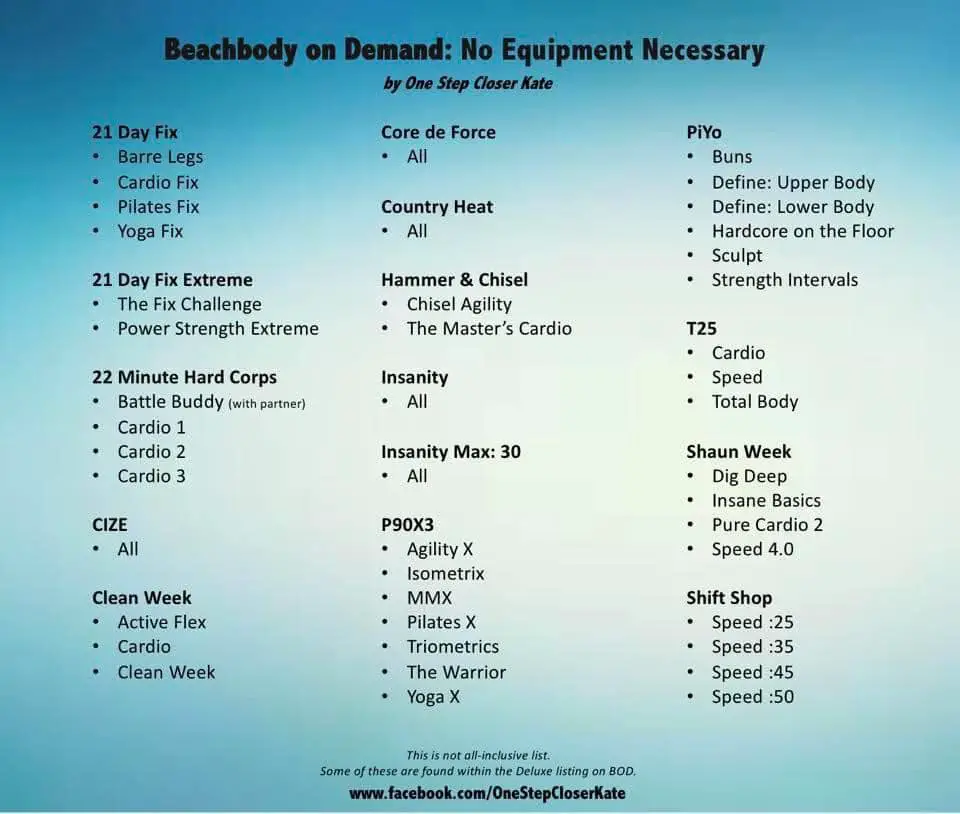 What Bands Do You Use For Beachbody?
We use both Beachbody Bands and bands we purchased off Amazon. Why not just use Beachbody? Well most of the time they are cheaper and faster shipping on Amazon and easy to return if you don't like them. Below is a list of some of the best bands you can get on there:
Beachbody Bands
Top 5 Beachbody Resistance Bands
Check Price
Type

Top

Top

Top

Loop Exercise Bands Set and Carry Bag
Check Price
Loopy

Top

Top

Top

Resistance Bands 11 piece Set with Door Anchor, Handles, Bag, Legs Ankle Straps
Check Price
Handles

Top

Top

Top

Durable High Quality Exercise Resistance Bands
Check Price
Most Durable

Top

Top

Top

Resistance Bands for Legs, Butt and Upper Body
Check Price
For Women

Top

Top

Top

Resistance Bands Set, Exercise Bands, Handles, Ankle Straps, Door Anchor, Carry Bag
Check Price
Budget Friendly
Best Resistance Band Only Workout Beachbody
We didn't want you to only take our word for it on what Beachbody has to offer with its resistance band friendly workouts. So we scoured the internet looking for responses from actual Beachbody On Demand users as to what they prefer when it comes to using only resistance bands. This information was curated so nothing has been changed except any spelling or grammar where needed.
Real BOD Users
1. Kelci "T20, 25, 21DF" – T20, T25, you can do 21DF or L4 with just resistance bands
2. Tyla "Barre Blend without weights" – Could definitely do Barre blend without weights it still burns!
3. Stephen "T25" – My go to is T25…short in length and no equipment. And generally don't need a lot of space.
4. Renee "Insanity Max 30" – Insanity 30. I did this the last 2 week vacation I took. It was awesome.
5. Rachel "80 DO" – 80DO Phase 1 Booty is just loops. The Work Cardio and Core Week 2 just needs a loop
6. Erin "Core De Force" – Core De Force doesn't need equipment...I've done T20 on vacation just without the step.
7. Stephanie "Core De Force" – Core de force, max 30, are my go to
8. NG "21 DFE" – With just resistance bands I would say 21 day fix extreme
9. Lucy "Transform:20" – Transform 20. It's only 20 minutes long and has no equipment but omg do you work!
10. Joanna "10-Minute Trainer" – 10-Minute Trainer; Week of ShaunT; T25; TurboFire; Liift4
11. Roz "LIIFT4" – Liift 4 has a resistance band modification. You have to go to settings and turn it on.
12. Kat "Insanity Max 30" – Insanity max 30. I'm working out with it right now on vacation. Love the fact I just need my work our clothes, Pre downloaded workout and headphones
13. Erin "Barre Blend" – I tried out Barre Blend on vacation this past week. I only had to pack 1 pounds weights. My sister used water bottles. I used a blanket from where we were staying for the few laying down moves there were.
14. Corynne "Barre Blend" – I'm planning to do barre on our vacation in a few weeks. Will pack my yoga mat and 2 lb weight and use a chair as my barre (we're driving). But you could forego weight and yoga mat and still get a great workout!
15. Heyward "21 DF" – I usually do IM30 or 21 day fix (with resistance bands) when on vacation because they're 30 min but I have a high calorie burn so I feel my best!
16. Julie "Barre Blend" – We went away for the weekend, pool closed and fitness center closed due to virus. For the first time in my life, I did not make excuses, but moved the stuff in the room, fired up my iPad and did Barre. I felt so much better!
17. Kimberly "LIIFT4" – Liift 4. The modifier uses the resistance bands.
Results
There are many options however the two that popped up the most were 21 Day Fix (17%), 21 Day Fix Extreme (9%) and LIIFT4 at (7%). So it is up to you and may come down to the trainer you like or if you want to use no equipment at all going with a Shaun T workout is perfect too. We went a little further since our preference is LIIFT4 and asked people about what they think about the Resistance band modifications so you can see that below.
Real LIIFT4 Resistance Band Users
1. Elizabeth "Used bands was great" – I used the MOD with resistant bands the first 2 rounds and got results! I had 3 different resistance and works great. It will still kick your butt! I'm on round 3 with dumbbells and it was just as hard
2. Jennie "Thought bands were even harder" – I use the bands when traveling and honestly feel like they are even harder with the bands! Constantly keeping your muscles under tension using the bands lights your muscles on FIRE. Shoulder day, for me, is killer with the bands!
3. Janis "Agree some even harder with bands" – I agree with Jennie that some exercises are harder with bands! And some of the mods are straight pushups so super effective anyway! It's awesome for traveling. Heads up though, I'm not sure if you can use the MOD feature from a downloaded video on the BOD app. You'd have to ask customer service or try it ahead of time.
Related Resistance Band Question
Can You Do 21 Day Fix With Resistance Bands?
Yes you can do 21 Day Fix with resistance bands instead of weights some of the moves are actually harder with resistance bands. They show how to do them, but most of the moves are common sense.