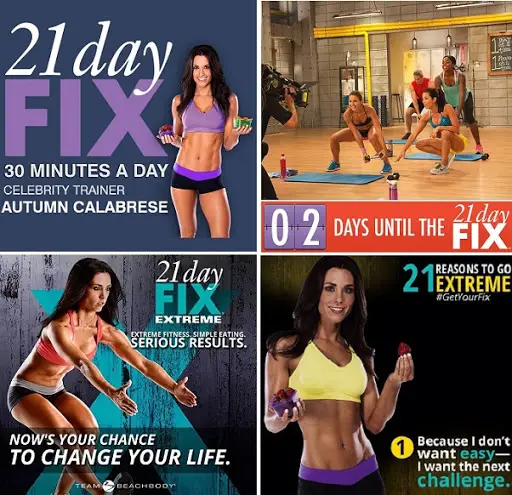 This is a good question to ask as 21 day is only 3 weeks long not leaving you much time to prepare for the next program. Most programs you find in Beachbody are around 6-8 weeks long or more depending on the programs goals.
21 day fix was created to get the most results in a compact time frame while creating good long term habits that you can continue into your next program.
So what workout program should I do after 21 Day Fix?
After 21 Day Fix you should have created some good eating habits so stick with those. As far as another program you have many options just pick one and go with it:
21 Day Fix Again – if you got great results why not do another round. Used the modifier? Do another round
21 Day Fix Extreme – if you feel you maxed out on the original upgrade to the extreme version 
LIIFT4 – want to get into lifting and getting great results at only 4 days of exercise a week here you go
10 Rounds – want to mix it up with some boxing and weights give this a try to get shredded
These are great options that you can do right away with your already Beachbody On Demand membership. However don't just listen to us we have gone out and gathered information from customers in the same scenario.
We curated this information from Beachbody On Demand groups changing only spelling/grammar where needed but the answers remain the same.
If you are in a hurry and want to get your LIIFT4 or 10 Rounds Equipment  in as little as 2 days CLICK HERE!
Find the best equipment to use with your Beachbody Programs like 10 Rounds and LIIFT4 On Amazon:

What To Do After 21 Day Fix From Real BOD Users
Real 21 Day Fix Users Opinions
1. Kathryn "LIIFT 4" – I'm loving liift4!
2. Mariela "LIIFT 4" – If you something more intense try 10 rounds which include 2 days of lifting and 3 days of boxing!!! They have a free sample workout. It's a new program and you need to pay early access if you want to do it. But it's a great option too with same guy from LIFT4 program!!
3. Julie "LIIFT4" – Liift4 would be great!
4. Becky "LIIFT4" – 21 Day Fix Extreme or LIIFT4 (if you have heavy weights)
5. Cara "Hammer & Chisel" – I love P90X3 and Hammer & Chisel!
6. Sonia "21 Day Fix Extreme" – 21 day fix extreme
7. Nicole "21 Day Fix Extreme or LIIFT4" – 21 day fix extreme real time.. love it or liift 4
8. Ashley "80 Day Obsession" – If you're up for a challenge, 80 day is amazing!
9. Laura "80 Day Obsession or PiYo" – yes, 80 day is the natural progression! I also like Piyo
10. Cindy Lampert "80 Day Obsession" – 80 day obsession
11. Bittney "LIIFT4" – I just finished 21DF real time last week and started liift4! I LOVE it so far!
12. Noel "80 Day" – 80 Day Obsession will get you amazing results just stay committed.
13. Kelli "21 Day Fix Extreme" – 21 Day Fix Extreme will be a natural progression
14. Colleen "80 Day Obsession" – It depends on if you can commit to 60 minutes at least 3 days a week and 35-45 an additional 3 days a week. If you can, 80DO is worth it!
15. Brittany "80 Day Obsession" – 80 Day Obsession is wonderful and my favorite program on BOD. I haven't tried Barre Blend yet, but it will be available for free after you do 80DO if you start now. Make sure you add in the bonus weeks, A Little Obsessed and A Little MORE Obsessed.
There is the main program and then there are two bonus weeks. A Little Obsessed goes before 80DO. It's 30 minutes a day and introduces you to the style and equipment. A Little More Obsessed is meant to be done after 80DO. It's a little more intense than the main program and is 45 minutes instead of an hour. I love both bonus weeks.
16. Bri "LIIFT4 or Barre Blend" – Barre is kicking my butt! Even with only 2 lbs weights and prior I did 2 rounds of lift4 and the work
17. Amie "80 Day Obsession or Barre Blend" – Barre is shorter.. lower weights. . 80 day heavier weights and longer workouts .. I say go from one to the other. 80 day is on BOD now.. When you are done Barre may be available for everyone.. I bought early Access though.. So it's worth it if you decide to get it sooner.
18. Ashley "LIIFT4 or MM100 – Both LIIFT4 and Morning Meltdown 100 are amazing programs that will bring you results on top of 21 Day Fix.
19. Katlyn "MM100" – I have one more week left of the 21 day fix and then me and a friend of mine are going to be starting up a group doing MM 100 we would love for anyone to come and join
20. Samantha "80 Day Obsession or LIIFT4" – 80 day would be the next step if you love Autumn. If you are looking for shorter workouts, I would recommend L4.
21. Brittany "T25" – T25! I couldn't get into Autumn. But Shaun T is awesome 👌
22. Brianne "Insanity Max:30" – 
Insanity max:30
80 day obsession
Lift 4
The Prep
The Work
10 rounds
23. Maria "Hammer and Chisel" – I started with those two programs, as well. My coach recommended Hammer and Chisel after finishing the above and I saw great results. Loved it.
24. Kristi "LIIFT4" – LIIFT4, T20, the hybrid of those 2…..Barre will be available in June
25. Mallory "Insanity Max:30" – these set you up so well to jump into anything. I would add a cardio focused program to break from weights (keep your body changing and guessing). Maybe T20/25 or Insanity Max 30. And maybe 2-3 weight days (LIIFT4)
26. Stacie "LIIFT4" – Liift 4, 21 Day Fix, 21 Day Fix Extreme, 22 Minute Hard Core, Insanity Max 30 are ones I have done with my limited coordination. I did modifications when needed due to joint issues and lack of equipment. I was too uncoordinated for Transform 20.
Thoughts
So obviously the overwhelming favorite is LIIFT4 coming in at a whopping 38%. The others definitely surprised me a little bit since I thought 21 Day Extreme or repeating 21 Day Fix would be the favorite from there, but it was 80 Day Obsession at 34%. 21 Day Extreme came in 3rd at 15% with Hammer and Chisel after at 7%. I think Hammer and Chisel Surprised us a bit as well, this is a great program.
So Basically what we can gather from this information is that if you love Autumn and want to continue with her go to either 80 Day Obsession, 21 Day Fix Extreme, or Hammer and Chisel. You can figure this out by going through some of the programs reviews, workout video, or maybe just trying a sample workout out HERE.
Maybe you aren't connecting with Autumn as much as a lot of people just find that one super trainer like Shaun T that just motivates them and keeps them going everyday. Maybe Autumn isn't that person for you and that is okay. So figure out where you want to go from their maybe watch some LIIFT4 workout vids in your spare time on your phone see if you like what you can see. Not everyone is going to like LIIFT4.
Or maybe you have taken a look at LIIFT4 and Autumns other programs and just don't want to do them. Well Coming in at around 3-4% was PiYo w/ Chalene, Barre Blend w/ Elise, Insanity Max:30 with Shaun T. So give those programs a workout and actually at the time of this writing all of them are available on the regular Beachbody On Demand Library.
There are many programs out there that should interest you. If you plateau or get bored there are many options. There are so many HYBRID workout calendars out there that will keep you interested and continuing to get the results you deserve. Our newest Hybrid we love is a Body Beast, 6 Weeks Of The Work, 10 Rounds Hybrid even thinking about adding in some Yoga Retreat or Barre Blend Possibly into that.
It mainly comes down to the motivation and interest you have in these programs then of course the time. Time is a funny thing thought because people spend hours and hours watching TV or Facebook, but putting 30 minutes into an at home workout program is too much. It has more to do with your mindset and thoughts on life then you think.
Results
LIIFT4 – 38%
80 Day Obsession – 34%
21 Day Extreme – 15%
Hammer and Chisel – 7%
Others Like: Barre Blend, PiYo, Insanity Max, 10 Rounds  – 3-4%
Related Questions
How Many Rounds Of 21 Day Fix Should I Do?
You can do as many rounds of 21 Day Fix as you want as long as you are seeing progress. If you are hitting a plateau it may be time to change it up a bit and maybe move onto 21 Day Fix Extreme. Or it is probably time to switch it up completely if you are bored maybe move on to a program like LIIFT4, 80 Day Obsession, or even 10 Rounds to get your boxing on.
Whatever it is if you are seeing results and loving 21 Day Fix then stick with it as long as you can as it is a great program that teaches you life lessons that you can carry into any program. If you are over the weights and want to move onto an equipment free workout maybe it is time for Shaun T.
You have your options there with T20, T25, and Insanity Max: 30 that will all bring great results in 30 minutes or less. It depends on your time you can even crank it back to the original insanity if you have 45-60 minutes available most days.
What To Do After 21 Day Fix Extreme?
After 21 Day Fix Extreme you can move onto 80 Day Obsession that will continue your progression with Autumn. This program has brought great results to many customers. However this is a huge commitment and the workouts are a bit longer then the 21 Day Fix Extreme ones.
So if you need to do workouts in 30 minutes or less you will have to look elsewhere. If you want to burn Max calories in that 30 minutes I would definitely suggest Insanity Max:30 where you can burn 500+ calories pretty easily. Other ones include P90X3, 22 Minute Hard Corp, and T25. If Insanity Max:30 is too much maybe start with T25 then progress to Insanity Max.
Another option is of course to go do another round of 21 Day Fix Extreme. Maybe you were doing a lot of the modifiers so you can challenge yourself to do less and keep to the regular exercises. The modifiers are great and the best thing is you can jump back and forth as you need to or start to max out.
How Long Does It Take To See Results From 21 Day Fix?
You should see results within days with 21 Day Fix if you aren't used to eating healthy and working out at all. If you don't that is okay as you will the more you eat healthy and stick to the containers. You do have to be strict for these 21 Days so I wouldn't do this if you have any social engagements.
Results come in many forms as well and you shouldn't pay too much attention to weight loss if you can help it. You should be pay more attention to how you feel and your measurements. If you lose inches from your waist, but only lose a couple pounds or no weight at all that is great. That means you put on muscle and lost fat which is very hard to do actually. So don't let results get you down just find the positives in the way you are feeling and what you are accomplishing.
15 lbs in 3 weeks is great, but creating life long habits that will get you to where you want to be and keep you there are even better. So stick with it for the 21 Days and repeat if necessary.
How Much Weight Can You Lose On The 21 Day Fix?
Beachbody does state that you will lose a ton of weight at 15 lbs over the course of 3 weeks. Is everybody going to lose this weight? Of course not. Be more concerned with sticking to the plan as much as possible and the results will come. Maybe not in the shape of 15 pounds, but losing inches from your waist, firming up or toning yourself, and most importantly feeling better.
Do I Have To Eat All My Containers On 21 Day Fix?
Yes you should be eating all your containers everyday for the 3 weeks this is why meal prep can be vital to your success or failure. Now if you do not eat all your containers everyday just because you are full or having some stomach issues it will not cause you too fail from missing just a day or two of course.
Just don't replace those containers with some chocolate cake or candy bar that's all. You should be able to tell by the time you finish what you want to eat. Look at how much Broccoli you can eat compared to having something like a peanut butter sandwich or a snickers bar. We aren't saying not to every have that again. Just be mindful of what you eat and that will make a big difference over time.