Maybe you have always wanted to get into boxing or were in shape when you were involved with boxing previously. Whatever it may be if you are looking to get fit while using some boxing techniques you have definitely come to the right place.
An Introduction To 10 Rounds And Super Trainer Joel Freeman
Joel Freeman is bringing the heat with 10 Rounds which uses boxing 3 days a week and 2 days of strength training. The workouts average around 30-40 minutes which is great and you can expect to BURN AROUND 500 CALORIES per workout.
You can expect your body's strength to increase along with speed, agility and endurance. This workout can be very challenging especially the boxing portion if you have never boxed before. So get ready for an intense workout.
These was designed by Joel Freemen along with collaboration from Beachbody. Beachbody has over 800 workouts and nutrition programs. It's your ultimate destination towards a healthy life. Founded in Santa Monica, this company is notorious for its various workout programs which are formulated by celebrity fitness trainers and the team of experts.
Joel Freeman is a personal trainer, gym owner and internationally recognized with his Beachbody accomplishments over the years.
Thus, Beachbody is a healthy and approachable option for all those who love their bodies. Moreover, it's workout plans, and supplements are known to show impressive results and vigorous transformations.
Here is one of those results from this particular workout you will see more below as you read on.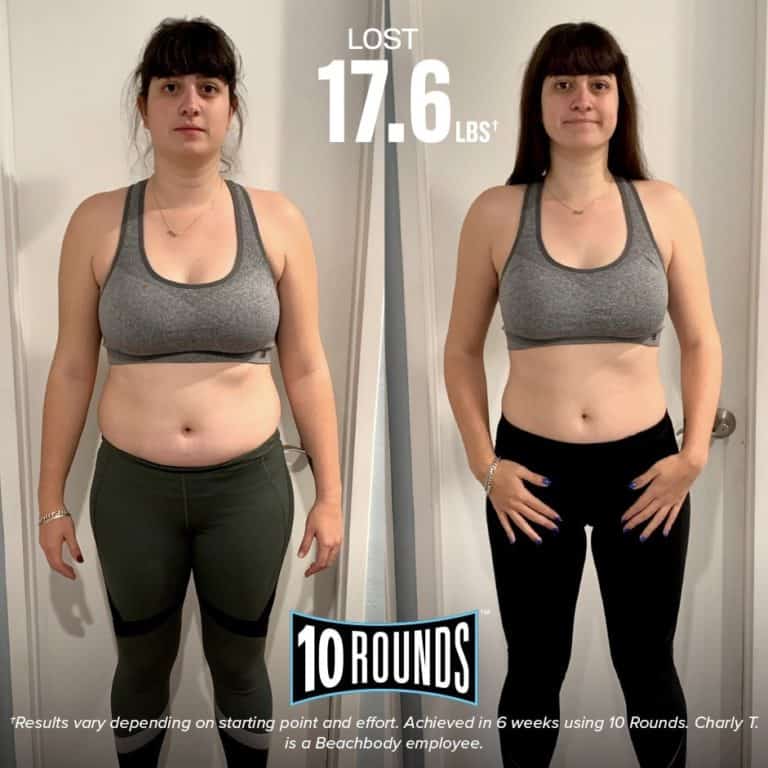 An Overview And Insight Into 10 Rounds Program
The popular Joel Freeman is the trainer of 10 Rounds Program
Its intensity can range from Beginner to Expert. It is suitable for beginners as they go over a lot of the steps beforehand and have beginner classes ontop of the actual program plus there is modifiers.
As the name suggests the program consists of 10 rounds of 3 minute burst workouts with a little break in between. The 1st round is usually the warm up and the 10th round is the ab portion of the workout. The in between is where you will be putting the most ever in with some burnouts, offensive and defensive boxing moves.
You will need some dumbbells or resistance bands as well for the 2 days of strength training highly suggest some adjustable dumbbells like the powerblocks we use.
6 Week Program that focuses on burning those calories to get you lean, mean and toned.
Who Is Joel Freeman?
Joel Freeman is a super trainer for Beachbody he owns a gym and is a personal trainers. His first Beachbody workout program was Core De Force which was a mixed martial arts (MMA) so it makes sense he would eventually come out with a boxing one. This one does differ from that in that you can focus on one art and that is the art of boxing the whole time. So the moves will get more complicated and more intense at the same time.
10 Rounds is 100% boxing focused and Joel Freeman spent his time researching and perfecting this program with real boxing gurus. During this program you will see he travels around from city to city to perform each weeks workouts. He is kind of wanting to prove you don't have to work out in any one place you can workout where you need to and still get results.
What Is The 10 Rounds Beachbody Program?
10 Rounds can be kind of looked at as a mixture of Core De Force and LIIFT4 or at least it will be by many. Where they differ is that 10 Rounds focuses solely on boxing and even the lifting is centered toward your muscle endurance, core work and unilateral movements all to improve your boxing.
Whats So Special About 10 Rounds?
Mainly that there never has been a Beachbody Program like this of course you can say this about almost all the new Beachbody programs like the Barre Program. Beachbody continues to evolve and listen to their customers 10 Rounds will show you how to be a boxer by showing you how to do actual boxing combinations, stances, offensive and defensive scenarios.
We aren't saying that after this program you will be able to get in the ring and knock someones lights out, but you will have a good foundation if you wanted to do so.
Who Is 10 Rounds For?
Those looking for a change in their workout routine
Men or Women looking to tone up and get ripped
Intermediate to advanced exercisers
Someone who likes to change it up and do new things since these are all new workouts every time and are done live
Anyone who wants to get a good workout in under an hour (30-40 minutes)
Why Is It Called 10 Rounds?
When you are doing the Boxing workouts you go for 10 rounds including the warm up and ab workout portion. So you go for 10 rounds of 3 minutes each with a 40+ transition/break time.
10 Rounds For Beginners and Modifiers?
10 Rounds is intense and may not be for all beginners especially since once you get started it is fast pace with taking on new moves and combinations.
Beginners shouldn't have too much of a problem adjusting to what is going on and can always press the pause and/or rewind button. There are modifiers throughout they can be very subtle where it is just removing a loop for less resistance. The great thing is you can go at your own pace for everything.
What Equipment Do You Need For 10 Rounds?
You don't need much outside of a set of dumbbells or resistance bands. Loops you do use during the boxing portion but they aren't a must. You can find cheaper ones that aren't Beachbody right on Amazon as well.
You don't need boxing gloves or anything like that. You definitely want a great pair of training shoes since you will be doing a lot of unilateral moves. Also maybe a workout mat but really only need a solid surface.
Types Of Workouts In 10 Rounds Workout Program
There are mainly two types of workouts for 10 rounds you have your Boxing/Cardio portion and then your Strength Training/Toning portions.
The Boxing you will be doing 3 times and week and lifting weights twice a week hitting your lower and upper body on separate days.
10 Rounds Meal Plan
The meal plan is kind of the same as for most all recent programs they are stating to use one of the following nutritional guides and we will also hit up a 3 options after we describe these two:
Ultimate Portion Fix: Autumn Calabrese is the creator of this guide from 21 day fix. It basically follows the 21 day fix portion control plan just a little more updated and easier to follow. You basically follow 3 main guidelines portion control using containers, macro based, and eliminating processed foods as much as possible. Color codes containers make it easier to just fill up what foods you want and not overeat. There is a lot of helpful material included that entails workbooks, shopping lists (love this), and step by step videos.
This nutritional diet will keep you from going hungry that is for sure because when you eat more nutrient dense and less processed foods you fill up quicker and stay full longer. When you are eating the right kinds of foods your portions can be bigger then you think.
2B Mindset: this diet is broken down into 4 fundamental rules to follow to get you on the fast track to your healthy journey. No counting calories or skipping certain foods to eat something else.
You are provided with a list of foods you want to eat to keep balance but no foods are off limits. Want to have a little snack of something like ice cream go right ahead. This is just as much a mindset plan as it is a diet plan where you are looking to create good habits of not overindulging. This usually happens when you cut something off completely. So you can start with something like 21 day fix first then move onto this if you want to create an  easier life change and new lifestyle for nutritional development.
3rd Option – Choose Your Own Plan: There are so many fad diets and such that it is hard to choose something just like it may be hard to go with something new like 2B Mindset or Ultimate Portion Fix. If you are already on a diet like Keto or Intermittent fasting and had or have been having success either stick to it or going back on it might be a good idea. If your spouse or friends are doing something and you want to try that then do. It is always easier to stick to something when your friends or family are on board.
So don't get too strict with what nutritional plan you are going to be following. As long as you are burning more calories then you are taking in you will lose some weight and feel better. Maybe downloading an app like lose it may be enough for you to get the results you need. This is just an app that tracks your macros and calories simply by scanning or entering what you are eating. In the least yes you should keep an active food diary so you can see where you need approval. Even just something over the course of 7 days will be sufficient.
10 Rounds Routine, Schedule and Calendar
Step into the ring for 6 weeks, 5 workouts a week. You can do them any day of
the week, as long as you do them in the order they appear on the calendar.
Also, be sure to rest two days a week. Check the box as you go to keep track CALENDAR of your progress.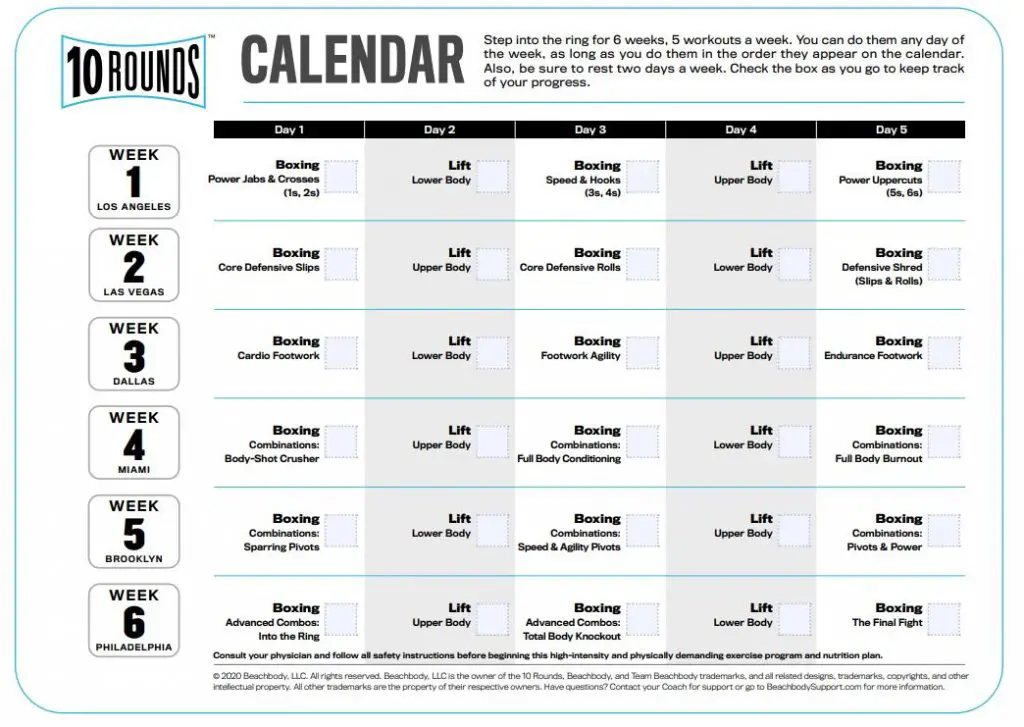 Week 1
Boxing: Power Jabs & Crosses
Lift: Lower Body
Boxing: Speed & Hooks
Lift: Upper Body
Boxing: Power Uppercuts
Week 2
Boxing: Core Defensive Slips
Lift: Upper Body
Boxing: Core Defensive Rolls
Lift: Lower Body
Boxing Defensive Shred
Week 3
Boxing: Cardio Footwork
Lift: Lower Body
Boxing: Footwork Agility
Lift: Upper Body
Boxing: Endurance Footwork
Week 4
Boxing: Combinations – Body-shot crusher
Lift: Upper Body
Boxing: Combinations – Full Body Conditioning
Lift: Lower Body
Boxing: Combinations – Full Body Burnout
Week 5
Boxing Combinations – Sparring Pivots
Lift: Lower Body
Boxing Combinations – Speed & Agility Pivots
Lift: Upper Body
Boxing Combinations – Pivots & Power
Week 6
Boxing Advanced Combos – Into the ring
Lift: Upper Body
Boxing Advanced Combos: Total Body Knockout
Lift: Lower Body
Boxing: THE FINAL FIGHT
How To Order 10 Rounds Workout Program (Best Price) And What's Included?
You can go directly to Beachbody's website to get the best price HERE.
Depends on what you order to what is going to be included. If you are completely new to Beachbody you will be better off just ordering the Beachbody On Demand with 10 Rounds included so you can try for 30 days to make sure you like and maybe even mix it up or at least go through the other programs to make sure it is worth it to pay for BOD which will be $99 for the year which isn't a bad price when broken down over 12 months.
When Is It Available?
10 Rounds officially goes on sale on October 1, 2020. That is the official launch date however if you are a coach you have the ability to purchase the VIP early sneak peak in April.
Where To Buy 10 Rounds
10 Rounds is available directly from Beachbody since they don't do DVD's anymore you can look into the Beachbody On Demand Annual that will cost around 10 bucks a month or 99 dollars for the year. Which isn't a bad deal since you will have over 800 workouts at your disposal with no equipment needed for a ton of those workouts or with little equipment like resistance bands.
How Much Is 10 Rounds Program
Will be around $99.00 to purchase as you will need to get BOD or you can purchase a challenge pack with Shakeology for around $150.
How Many Calories Can You Burn In 10 Rounds Workouts?
You can expect to burn around 400-500 calories during the boxing portions. We are recording these and when we get through the program will be posting our results. This will of course be based on how hard you are pushing it and how well of shape you are in along with your body type, age, weight, etc.
10 Rounds Results And Transformations
These pics below are all results from the test groups so as more results come in we will post them with updates from other real customers in the facebook groups and such.
10 Rounds Before And After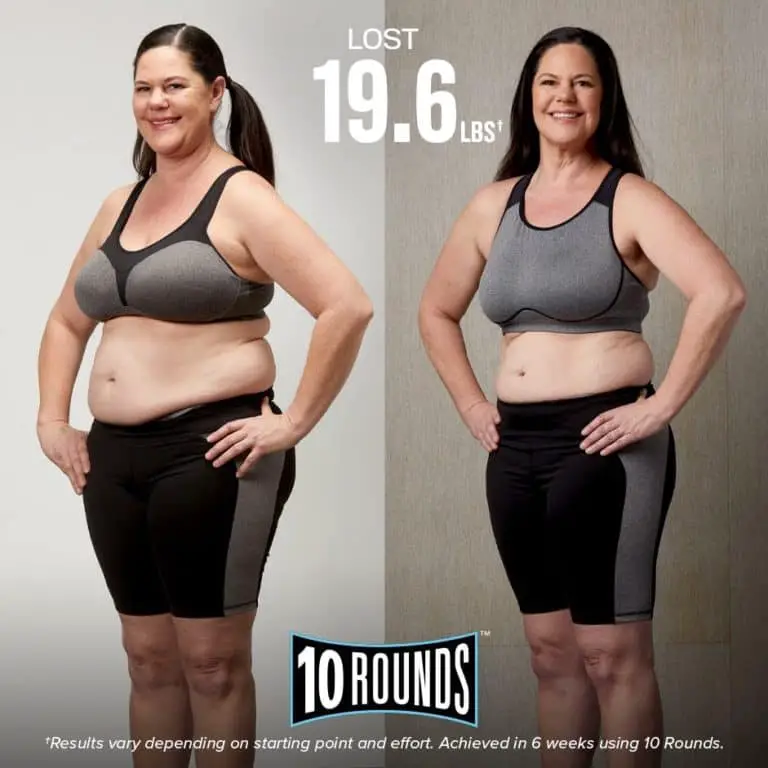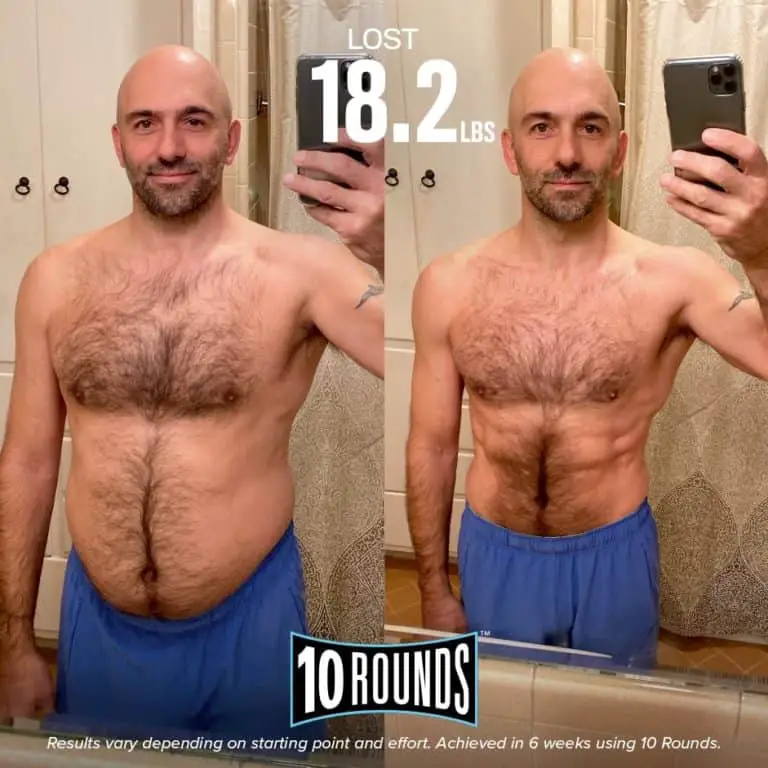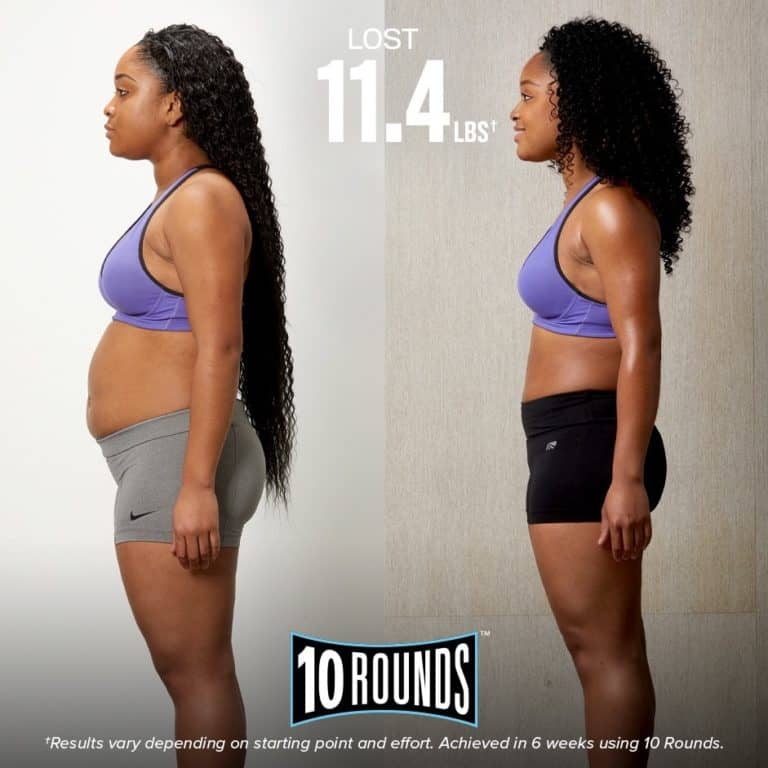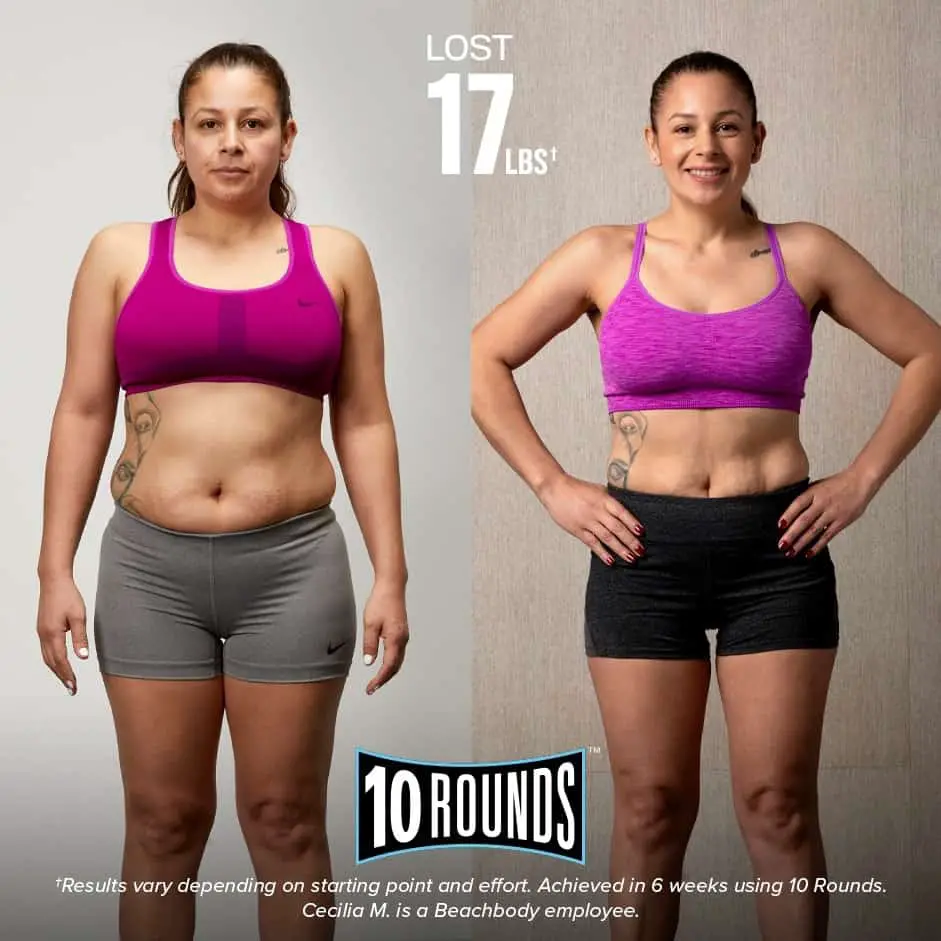 Conclusions
Overall this program seems great we have been loving it so far and will post more results and breakdowns of each workout along with calories burned when we have completed all the workout.
It is pretty cool that they are traveling the country working out in different spots like on top of a night club in Vegas or in a street in Dallas. This seems to be crushing it with the calories and is a nice change up to just lifting weights.