High Intensity Interval Training otherwise known as HIIT is one of the best ways to get a workout done in the shortest amount of time with the most results. When it comes to Running these athletes have use this technique for the last 100 years plus.
For something like running HIIT is simply sprinting for a short amount of time followed by jogging. Or if you are just starting to get into shape this could be jogging followed by walking.
HIIT: combining short burst of intense exercise with periods of rest or lower intensity exercise. Can be a mixture of any aerobic or resistance training as well.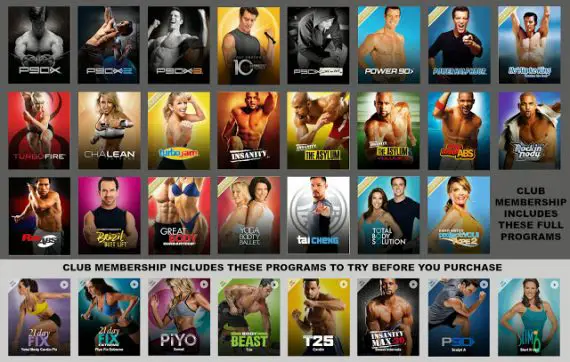 So which Beachbody workouts are considered HIIT?
There is a long list of Beachbody workouts that are HiiT which include:
These aren't all the Beachbody workouts that have HiiT workouts in them these are just the main ones. You can look at our descriptions and reviews below to see which ones suits you most.
Luckily these workouts are all available on Beachbody On Demand which is now comes with a RISK FREE TRIAL!
Can't find dumbbells? Check out these affordable dumbbells by CLICKING HERE!
Get Your Beachbody Equipment In Around Two Days Below: 

Beachbody Equipment
Best Beachbody Equipment
Check Price

Top

Top

Top

Top

Beachbody Resistance Loops for 80 Day Obsession, Beachbody Workouts
Check Price

Top

Top

Top

Top

80 Day Obsession Equipment Bundle - 21 Day Fix BPA Free Portion Control Containers Resistance Bands, Core Sliders, Guide, Planner, Recipe eBook, Tape Measure
Check Price

Top

Top

Top

Top

Beachbody Core Comfort Mat
Check Price

Top

Top

Top

Top

Beachbody Strength Slides and Booties
Check Price

Top

Top

Top

Top

Gliding Discs Core Sliders and 5 Resistance Bands
Check Price

Top

Top

Top

Top

Beachbody Adjustable Exercise Equipment Step Platform for Sports & Fitness
Check Price

Top

Top

Top

Top

Cordless Jump Rope for Fitness, Tangle-Free
Check Price

Top

Top

Top

Top

Pink 80 Day Obsession Equipment
Check Price

Top

Top

Top

Top

Two Adjustable Medium Dumbbells
Check PRice
Teclor Adjustable Weight Bench
Check Price
Iron Gym Pull Up Bar
Buy Now
Power Tower Pull Up Bar and Dip Stations
Buy Now
What Is The Best HIIT Beachbody Workout?
The Best HIIT Beachbody workout program to date is LIIFT4 with Joel Freeman. The saying for the program is "Lift. HIIT. Rest. Repeat"
What is great is that it combines weightlifting with dumbbells into a high intensity interval workout.
Each workout averages around 30 minutes and the workouts are very efficient meaning you will get the most out of the time and effort you put in.
LIIFT4 Duration/Frequency: 
4 Days a week for 8 Weeks
Two Phases: 1st Phase 6 weeks long for building, cutting and defining your body. 2nd Phase 2 weeks long and you are going to burn some major calories to get those muscles and abs to pop.
Why this workout just simply works. You only have 4 days a week to workout for LIIFT4. This makes it much easier to complete then on your days off your muscles and body can recover but there also is another alternative to those rest days.
You can take up workout routine for cardio to increase your results. Most people call these Hybrid Workouts
Average LIIFT4 Results
If you stick to the program you will get results but that is the case for any program really. That is why when you find something you love you stick with it.
At only 4 days a week this program is easy to stick to so you have many people with results. You will get more tone and your bodyfat will decrease. Losing weight isn't really a priority here it is the fat you want to lose if you are looking to lose weight.
So while you build muscle you may not lose as much weight as you were looking for so you need take and record your measurements before and after the program. Look specifically for that waist to hip ratio get that down so you can be healthy and stronger at the same time.
Here are couple of results that speak for themselves:
Transform :20 Ranks #2 On Our List Of HIIT Programs
Transform 20 is a fast moving and intense HIIT workout program that only takes 20 minutes a day 6 days a week to do. Created by Shaun T and it will transform your body and keep you guess what the next workout will be.
What is great about this program is you don't do the same workout twice there are 36 different workouts along with bonus workouts like weight ones you can add in.
The only thing that stays constant is what is called transformers where it is a workout move that you build on each week and try to push your count up.
Transform :20 Duration/Frequency
6 workouts a week for 6 weeks
Workouts are 20 minutes each
Bonus workouts that include weights but weights not required for regular program
3 Phases: Commit, Climb, and Conquer
2 different modifiers without step and with step
Transform :20 Results
Probably the number one reason to use this program is because it keeps you interested you are doing the same exact moves throughout the duration so you are building on it each day.
Your results will come and guess what when you finish round one there is an amazing Hybrid Workout program for LIIFT4 and Transform :20 that you can continue to build on.
Insanity Max 30 Comes In At #3 For HIIT Programs
Although we put this program comes in at #3 it is the best calorie burning program by the minute anyway. This program is built for you to max out and get back on that horse time and time again.
You will know your limits and bulldoze through them. Basically you just follow along with trainer Shaun T and friends. You go through the moves and push your limits until you can't anymore that is your Max Out Time.
It could be 3 minutes or maybe 6 minutes doesn't matter it is going to happen. The main thing is that you get better and last longer each week even if it is like 30 seconds by the end of the program you will have major results.
No weights required just like with most of Shaun T's amazing workout programs.
Insanity Max Duration/Frequency
60 Days
30 minute long workouts
Modifiers for every move
Only need to track one number the time you make it until you MAX OUT
Insanity Max 30 Results
With this HIIT program you get massive quick results even if you only make it 30 seconds further on your MAX OUT time each week. You just need to give a good effort and the fat burning will take affect.
At around 500 calories on average per 30 minutes (This will vary make sure to use heart rate monitor) you will be scorching fat quickly as long as you don't over eat when it comes to calories in.
As you can see from the results below it isn't about the pounds you lose it is about the fat you lose and how toned you can get from this workout program.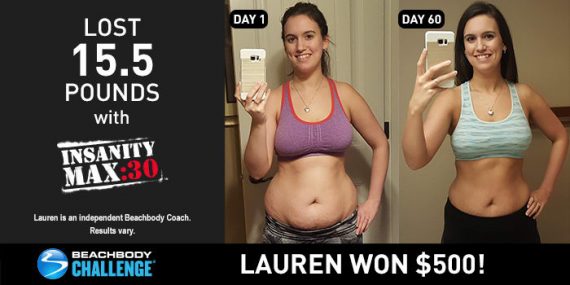 Is Insanity A HIIT Workout?
Insanity is the original HIIT Beachbody workout program. This was put into place by the Shaun T who did a great job with Insanity. I mean you can burn 1,000 calories per workout.
It's hard not to lose weight while burning that many calories. The product probably isn't the best because it is older and all of Shaun T's videos somehow continue to get better in this aspect each time.
Overall if you want a workout routine that is going  to get you shredded and you have 60 minutes a day to workout then this program will definitely work for you.
Insanity Duration/Frequency
10 workouts
60 days
30 to 60 minutes
No Modifications but he does say when your form goes bad just rest and get back in when you can
Insanity Results
As stated you can burn upwards of 1,000 Calories per workout session. So as long as you aren't overeating in the calorie department you will do well. Make sure you take measurements and don't just base everything on weight loss.
That is an old way of looking at things better to go by waist to hip ratio then that by far.
Alternative Beachbody Programs That Involve HIIT
So you don't want to get into Beachbody at first even though it comes with a 2 week risk free trial that is fine I completely understand. That doesn't mean you shouldn't try to start getting into shape today.
If you have access to a smart tv, iphone, firetv, etc…get out youtube and start going to town on HIIT workouts on there. You will find some great things.
HIIT again is just a way to do a workout with short bursts of intense exercise alternated with low intensity or recovery periods.
You can incorporate this into almost any exercise including weights like a circuit training. Some examples include:
Sprints – you can get outside or on the treadmill for this workout. Simply get your warmup in walking for 5 minutes. Then begin by sprinting for 15-20 seconds followed by walking or jogging for 30+ seconds. Repeat until you get to 10-20 minutes followed by a cool down. Yes it is that simple.
Tabata Circuits – basically just ditching the workout equipment and doing bodyweight stuff. Perform activities like high knee jumps, squat jumps, burpees, mountain climbers, etc. Do these in order each one for like 20 seconds then 10 seconds off in between and longer break after a set is complete.
Or you can do them individually for their own sets. So if you were doing a burpee Tabata perform burpees for 20 seconds rest 10 then repeat for 20 then rest for 10. Do this 8 times.
Biking – if you like or want to start biking why not do HIIT on the bike. Stationary or spin bike will work great for these. You can also do outside it does get tougher if you have a lot of hills of course which are HIIT on their own lol.
For these same thing go all out for 30 seconds then recover slowly for one minute and repeat until you get to 15-30 minutes then do your cool down.