Traveling can be tough on your health and fitness aspirations, but Beachbody can definitely help you with this situation. Depending on your goals they have you covered with no weight workouts or maybe you want to take your resistance bands to get more tone. There are numerous hybrid workouts where you can do both too as you will see below.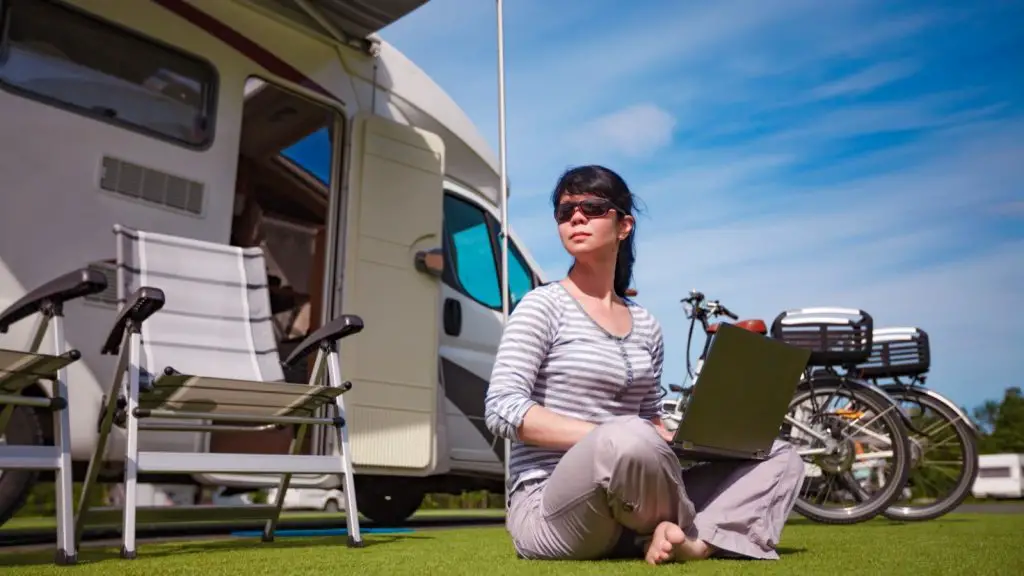 So what is the best Beachbody workout for Travel?
The Best Beachbody workout for traveling is definitely 21 Day Fix Real Time as it is only 30 minutes and does not require weights only resistance bands. If you are looking for something with no equipment at all the best one would be Insanity Max:30. Same thing 30 minutes no weight and Shaun T will have you sweating and shredded in no time. 
21 Day Fix While Traveling
Vacations are great, but it can completely derail your progress you have made since starting down the track of getting healthy. But it doesn't have to if you prepare for that. That's the great thing about Beachbody you can take your fitness with you. We went to Outer Banks this year right after we started getting serious about working out. The great thing about 21 Day Fix is you can use your resistance bands or dumbbells. Well we brought down both our resistance bands and our dumbbells lol. I have a great pair of 5lb-70lb adjustable powerblock dumbbells that are very durable. These do expand up to 90 lbs, but you can just bring whatever heaviest weight you need and then you have all the rest. The only downside is that you can get behind the workout with changing the weights.
So with 21 Day Fix it will help you keep your weight down just by implementing the workouts, however I would suggest also getting out on that Beach or wherever you are going to go on long walks and adventure to burn those extra calories from those cheat meals.
Keys To Staying On Course:
Equipment – Pack at least your bands. But also can bring adjustable dumbbells, workout mat and your workout clothes.
Workout Space – set aside a small space for your workout leave it setup if possible.
Get it done – Start in the morning if possible to get out of the way. You get out there doing your schedule you might not have enough left in the tank to get it down for your workout.
Pack Snacks – pack healthy snacks whenever possible and to at least have in the hotel room, camper or wherever you are staying.
Dine Healthy – not saying don't enjoy your meal, but cut back on somethings. Simply substituting something like french fries for mashed potatoes (not loaded) can make a big difference over the course of a week imagine if you did substitutes everywhere in your life. But it is very tough that is why you start small.
Accountability – have someone hold you accountable it can be your significant other, friends, family and even your kids. When somebody else says hey you have to get your workout in it is much easier then being on your own and trying to hold yourself accountable.
Setting up and taking down can be a reason to not get it done.
Best Beachbody Programs For Travel According To BOD Users
So we didn't want you to only take our word for it on which Beachbody Program is best while traveling so we went out to BOD groups and gathered up many others opinions. These were the majority of them then we came up with percentages of what the most popular are. This information was curated so nothing has been changed besides any spelling or grammar where needed.
1. Katie "T25" – I just did T25 – it doesn't require anything
2. Anna "Brazilian Butt Lift" – Have you checked out Brazilian butt lift? I can't remember 100% but I think you don't need much else for it other than bands there may have been some with weights but I can't remember…..I have also heard some of Shaun's workouts programs you don't need anything but yourself but I ant remember which ones…
3. Laura "T25" – I travel every week… if you have a fitness center in your hotel, you can likely stick with your program. But, if you're looking to workout in your room, T25 Alpha requires no equipment.
4. Jamie "Core De Force" – Core de Force is a good one for traveling. I used core de force when traveling internationally. It work well.
5. Robin "Core De Force" – Core de force! Its not necessarily short but its completely weight free. Ive done it in hotels just fine before
6. Erin "T25" – The first 6 weeks of t25 (alpha) is weight free and they are only 25 minutes each. Also, The Work is amazing! Definitely my favorite program after 80day. 80DO is hands down the best program I've ever done. And I've done most of them. It took me about a year after it released to get into the mindset to do it, but then I did it twice back to back. It's not short, but if you ever get the time, it's a great program!! And The Work is similar to 80DO but harder. Kind of like if Lift4 and 80DO were combined into one program.
7. Whitney Lloyd "T20"
8. Emmie "YouV2" – I love YouV2! Love using Beachbody as a resource for my clients. Really excited about the new program coming out in I believe in July!
9. Amanad "Insanity Series" – Any insanity workout, great for travel!
10. Shara "T25" – T25 or insanity max 30
11. Dara "T25" – T25 was one of my go to's for travel since there is no equipment and it's short
12. Nikki "Anything Shaun T" – I go to a campground a lot in the summer and don't feel like lugging weights back & forth. Shaun T programs are great & even though it seems like just cardio- they definitely built strength/muscle too!
13. Ericka "Transform:20" – Transform 20…you don't need the step
14. Angela "PiYo"
15 Elizabeth "Insanity Max:30" – Max30 for sure. If I have more time I love to switch it up with Core de Force or Piyo
16. Chuck "Shaun Week" – Shaun Week Pure Cardio 2. You can modify Transform 20 without a step too.
17. Terri "T25" – T25 is great when traveling! All workouts are 25 mins & includes cardio & (body weight) strength training, you can do it in a small area & no equipment needed.
18. Tara "Transform:20" – I did T20 in my hotel room on a business trip , just didn't use the step but it was still a great workout !
19. Teresa "21 Day Fix"- My bands and sliders have traveled the world with me 
 21DF has some good ones (barre legs, 10 min abs and Pilates) and 80DO booty, cardio core and cardio flow are good
20. Edith "Transform:20 & 21 Day Fix" – T20 and 21 day fix!
21. Samantha "Core De Force" – Core de Force. You don't need equipment and it doesn't have a lot of jumping.
22. Summer "80 Day Obsession" – i went on vacation during 80 day obsession and used my wireless ear phones, phone and worked out in the hotel gym with their weights.I brought my sliders and bands.
23. Genna "80 Day Obsession" – 80 day obsession – take loops and sliders in case, I work away. Often take weights in my case as well
24. Samantha "PiYo" – PiYo, Core De Force, T20
25. Jennifer "Country Heat" – Country Heat, Brazil Butt Lift, Turbofire, 21day fix (without weights) I think any of them will work!
Summary
So as you can see below they didn't agree with us on the workout and this makes complete sense since it will come down to what equipment you have available and your fitness level. So at least this gives you more options. Basically if you go with anything Shaun T you will be fine. T25 coming in at 25% is a great workout program and only the last portion you are required to use weights. We still like the 21 Day Fix with bands or weights and Insanity Max:30 without weights. But any Beachbody that you will actually do on vacation is a great one to pick.
T25 – 25%
Core De Force – 16%
Inanity Max:30 – 13% 
80 Day Obsession – 12%
Transform:20 – 11%
PiYo – 8%
 21 Day Fix – 8%
Country Heat, Brazilian Butt Lift, YouV2, & Others – 7%
Beachbody Hotel Room Workout
Hotel room workouts can be really fun I actually had more room in some of my hotel rooms then I did working out at home. Just move some things around like that desk and chair and you should be good to go. We have even done our workouts on the balcony which was amazing overlooking the beach and sunset.
Keys To Success: 
Room – make sure there is room enough for your workout in the room before you go. Call ahead and ask tell them you like to do yoga in your room and want to make sure you have the space to do it. This way you will know what you are getting into ahead of time so you can plan something else out. That can be a different workout or working out in the hotel gym. If they have weights and such you can do something like LIIFT4 or Body Beast. For LIIFT4 you can simply save the cardio section for your in room workout.
Equipment – what equipment do you absolutely need. I always at least have bands as you can pack them into your suitcase and go anywhere with them. We also like to bring our adjustable dumbbells, but I do feel kind of funny bringing those into the hotel room. Workout mat of course if it is carpeted you may need.
Floor – most all hotels you are fine to jump around you may have to go barefoot or with your socks if it is an older hotel. If not maybe you can get on the first floor and be find or perform the modifications for any jump based workout.
30 Minute Hotel Room Workout
Insanity Max: 30 is probably the best 30 minute hotel room workout you can every get it. You will shred those calories and be sweating massively by the end. It is like the original Insanity just much more efficient and you really don't get too many breaks. It is for different fitness levels since it has some great low impact modifications throughout.
Why is Insanity Max Such A Great 30 Minute Hotel Room Workout?
Because you don't need any equipment you will get shredded using Insanity Max:30 by just using your bodyweight and Shaun T will guide you the whole way. You really don't need that much space besides for one of the burpee exercises you do but you can modify with that and still keep that heart rate sky rocketing.