Tracking your workouts along with your heart rate can lead to quicker results which has been proven time and time again with science. Most individuals will not push themselves to the limits or further then they feel they can go. With these new tools and technologies you can see how hard you are pushing yourself and what exactly you are accomplishing with these Beachbody workouts using Fitness Tracker Watches.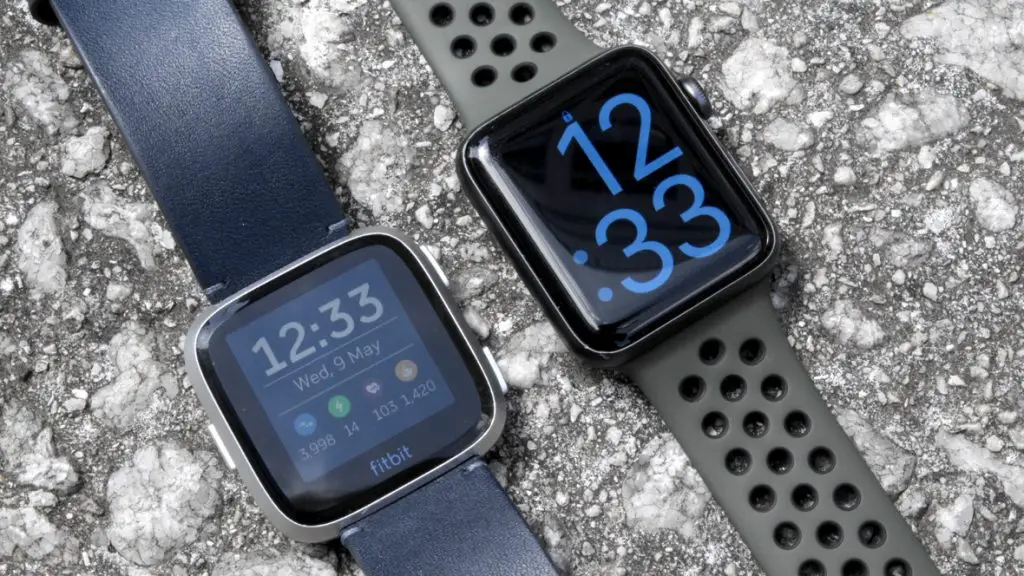 So if you need to make the choice we are going to hopefully make the choice for a fitness tracker watch easier on you. You can always get a simple heart rate monitor, but even the cost of a decent one of those is going to be somewhat similar in cost to a fitness tracker watch.
Best Watch For Beachbody Workouts
We have used a handful of watches and heart rate monitors for Beachbody Workouts over the years. They have come a long way, but still do need some improvements. So if you spend more money you want to get a watch that can update its firmware to improve with the updates made. Or you want to get a general fitness watch that isn't expensive, but tracks your workouts and calories burned.
Don't want to wait get the Best Beachbody Fitness Trackers check these ones out and shipped to your door in 2 days or less:
| Image | Best Fitness Trackers | Check Price | Type |
| --- | --- | --- | --- |
| Top | New Apple Watch SE (GPS, 40mm) - Space Gray Aluminum Case with Black Sport Band | Check Price | Best Apple Deal |
| Top | Apple Watch Series 5 (GPS, 44mm) - Silver Aluminum Case with White Sport Band | Check Price | Best Quality |
| Top | Fitbit Charge 4 Fitness and Activity Tracker with Built-in GPS, Heart Rate, Sleep & Swim Tracking, Black/Black, One Size (S &L Bands Included) | Check Price | Compact |
| Top | Fitbit Versa 2 Health and Fitness Smartwatch with Heart Rate, Music, Alexa Built-In, Sleep and Swim Tracking, Black/Carbon, One Size (S and L Bands Included) | Check Price | Most Durable |
| Top | LETSCOM Fitness Tracker HR, Activity Tracker Watch with Heart Rate Monitor, Waterproof Smart Fitness Band with Step Counter, Calorie Counter, Pedometer Watch for Women and Men | Check Price | Budget Friendly |
Apple Watch For Beachbody Workouts
Apple watches are the only fitness watches that truly sync with your Beachbody Workouts. They had some headaches in the beginning with trying to do too much with video overlays on your Apple Watch. They have simplified it and worked out most of the bugs which is great. You can auto sync your watch if you start playing a video on your iPhone or you can manually select any workout to perform and it will track your heart rate and calories burned.
Pros
Track All Programs – anything that is in your library in BOD you can track. Before they were running very short on the list of workouts you can track.
Recent Workout Programs – so when you first get started with the Apple Watch it can be cumbersome getting it synced with a certain program. But after that first time you can quickly select the workout as it will show up right at the top of the list.
Auto Start – if you are working out on your phone simply get the workout program started and a message will pop up on your Apple Watch if you want to track your workout or not. Easy As that.
Lots Of Other Functionalities to Help With Fitness – you have sleep apps which are my favorite and has helped me improve my health to get the amount of sleep I need. Food and calorie apps you can sync up. Lots of other Activity goals you can reach. As with any fitness program you need both nutrition and to keep moving outside of the workouts that is where the best healthy bodies are made.
Cons
First Time Use Can Be Hard – until you get it synced up correctly it can be a little hard. I think this has more to do with Apples firmware. So make sure your Apple Watch firmware is up to date along with the BOD Apps on your phone and watch. This will help with this.
Battery Life Is Terrible – Apple watch battery life is terrible. I mean I understand it because it is literally a smartphone on your wrist so it takes a lot to run it. But you will more then likely have to charge your Apple Watch every day. The good thing is it can charge in like an hour or at least to 90%.
Cost – Apple watches are more expensive then your simple fitbit. So you need to way those. Honestly if this is your first fitness watch I would say go with the cheaper Fitbit Versa lite then you can always resell it or gift it to someone for a Bday or other holiday.
Collaboration – Apple really only works with Apple products that is the biggest downside with using them. So if you don't have an iPhone I would probably advise against getting an Apple Watch.
 Apple Watch Series 3 – Cheaper and just as capable of getting the job done as the Series 5. Amazon runs specials all the time on them and you can also get one for even cheaper on Ebay. Just depends on how you feel about used versus having the warranty.
 Apple Watch Series 5 – this is the watch my wife and I now have. I gave my Fitbit Versa Lite to my Aunt and she loves it. I love this watch with all it's capabilities especially with tracking my Beachbody workouts, but I do absolutely hate the Battery Life. My fitbit would last up to 4-5+ days. Much more water proof then previous versions.
Fitbit For Beachbody Workouts
I really do miss my Fitbit still even while using the highly sophisticated Apple Watch Series 5. You simply sync this up to your phone via Bluetooth you can track and make up your own workouts. It does the job just right especially for the money. I have phone it is actually more accurate with their built in sleep monitor and not much difference with the heart rate monitor when compared to Apple Watch. There are no Beachbody Apps on the fitbit to date, but as long as you are getting your calories tracked during your workouts.
Pros
Cost – this definitely can be a big difference. Depends on who you go through Amazon does run specials just like on the old Apple Watches, but you can find these a dime a dozen on Ebay as well. A lot of people get the FitBit then upgrade to the Apple Watch leaving you with the hardly used leftovers.
Variety – might not be as much variety as Apple Watches, but you can customize a lot. The Watch faces you can get a multitude of them for free or for very little. When we went to Disney World I got a few Disney watch faces like Olaf and my daughter absolutely loved them. So you can display pretty much whatever you want on the main display. Things like steps, calories burned and time. You can get a wide variety of bands and cases for your watch so you could even match every outfit you wear.
Lightweight – The Fit Bit Versa Lite is much lighter then the Apple Watch so that took some time of getting used to. Something my wife didn't notice but we own a farm and I am out working the fence line I noticed it quite a bit.
Battery Life – these last days and days compared to the Apple Watch. So if you want something simple that you don't have to charge everyday FitBit is it.
Cons
No Syncing – at the time of this writing there is no fitbit App for Beachbody. So you will need to select your workout then track your Calories separate which you can do on your fitbit phone app. The app is very nice and completely. I would advise against the FitBit Premium
Functionality – the job of this watch is to track your calories and steps that's pretty much it outside of some decent apps you can have on it. But when compared to your phone it just doesn't really reach expectations you can have compared to Apple Watch.
Accuracy – it can be intermittent with the heart rate monitor may be from how tight you have it vs sweating. If you are pushing a cart it will not track if your wrist isn't moving on certain Fitbits.
Fit Versa 2 – This is the newer Fitbit at the time of this writing. The biggest pro over the lite we think is the 24/7 heart rate monitoring. With the Lite you have to be in Workout mode to display your heart rate constantly. It will cost more then the lite usually running around $50 more, but still a lot less then the Apple Watch. You can also find deals on Amazon and Walmart even for this product.
Fit Bit Versa Lite – This is a great first Fitness Tracker watch that will get you up and running in no time. It is cheaper then the Versa 2, but it will keep track of Calories and Workouts along with Heart Rate and steps. If that is all you want then this is the watch for you. I got a great deal on ours and re-gifted to my Aunt when we got the Apple Watch. She loves it and uses it all the time.
Best Fitness Tracker Watch For Beachbody On Demand (Real Customer Opinions)
So we don't want you to just take our words for it we love the Apple Watch and Fitbit as they both have their pros and cons. But we searched a community of BOD Members and curated all the information so you can make your own choice.
We haven't changed anything except grammar/spelling where needed.
1. Amanda "May go with Apple after Versa 2" – I have the Versa 2. I've only had it almost two months. It is not keeping track of my heart rate very well during workouts and will lose my HR randomly during the day. It's getting to be annoying so I'll probably contact customer service. I have no experience with Apple but that's my experience with the versa 2 so far. 😂
2. Jill "Converted To Apple watch" – After having 4 Charge 3's in a year, I've broken up with Fitbit. I got the Apple Watch 3 today.
3. JayandAmber "Nothing has Worked so far" – I find that i have almost tried everything and it always stops working right after the year is up.. I need something that will last cause it seems im very hard on stuff
4. Robin "All In On Apple" – Apple Watch all the way. I had 3 Fitbits and they don't compare to the aw!
5. Vanessa "Love my Fitbit" – I love my Fitbit, but have never had an apple. The only thing keeping me from
Getting the Apple Watch is I like the sleep tracking on my Fitbit, which Apple does not have
6. Keeley "Apple watch hands down" – Apple Watch hands down. My Fitbit did 1/4 of what my watch does and it broke out my wrist in a horrible rash.
7. Krista "Was fitbit now Apple" – Not Fitbit, mine shot craps just over a year old. Just got an Apple Watch, too new for me to vouch for it, but like it so far.
8. Kathryn "Save money and go with Apple" – I had three different fit bits the past years and they all stopped working. Save your money and buy the Apple Watch. It will outlast any Fitbit.
9. Erica "Fitbits" – My husband and I both had Fitbits and his broke within 2 years. I ended up upgraded to an Apple Watch and giving my Fitbit away. If you can spring for the Apple Watch that is what I would suggest. I feel like you get more out of it.
10. Janice "Fitbit" – I've loved all my Fitbits so I'm a Fitbit gal. I get the ones with GPS. The latest is very sleek and small. I don't like the price of the Apple and don't need the extra phone etc. I use the sleep tracking, gps, steps, and timers.
11. Alicia "Fibit Versa" – I have a versa and i love everything about it. Haven't had any issues with it so far (ive had it 6 months), its comfortable and i really enjoy all the different things you can track and customize with it. Its also cheaper and you can usually find a deal on them
12. Pam "Apple Watch Series 5" – When my versa died after less than 2 years which replaced two other fit bits, I decided it was time to stop adding to the landfill. And bought an Apple watch 5
13. Paula "FitBit Versa 2" – Versa 2 battery lasts longer and it tracks your sleep, Apple Watch has to be charged every night
Thoughts
There are pros and cons to either going with a FitBit or Apple Watch. The cost being the biggest one how much do you want to spend? There are people that do have issues with breaking the FitBit so they say go with an Apple Watch. You can get insurance with the Apple Watch which we have and it does give you piece of mind and not as expensive as phone insurance for the iPhone.
For your first Fitness Tracker I would still go with the FitBit lite then you can always resell or give away for a gift if you want to Upgrade to the Apple Watch. If you don't have an iPhone go with the FitBit Versa 2. You can find cheap Apple Watch 3's on Amazon and Ebay.