Autumn Calabrese and her 21 Day Fix workout program has been a huge hit on Beachbody! The first time I saw the infomercial, I knew I had to try it. It's not just me- millions of people have decided to give this fitness regimen a shot because of its fast results and ease of use. Autumn Calabrese has put together an amazing new resource for those looking to get started with their own weight loss journey: A FREE printable calendar with bonus resources that will help you stay motivated and reach your goals faster than ever before!
Where Can 21 Day Fix Workouts Be Completed?
They can be completed right in your home! No expensive gym memberships or expensive exercise equipment required. You don't even need a lot of space – you can get in a great workout in between your living room and kitchen!
You can also do them in the gym if you choose or in your hotel room if you are away on vacation.
The workouts are all just 30 minutes a day and can do double workouts after week 3 to get those maximum results. We suggests holding off until second round before you do that though.
How Many Workouts Do You Get With 21 Day Fix?
In all you get about 12 workouts which includes bonuses and extras. Each week you do seven different workouts. I would suggest doing the 21 Day Real Time so you can have a little bit of variety since they are recorded once as they go through the 21 days.
Total Body Cardio Fix
Upper Fix
Lower Fix
Pilates Fix
Cardio Fix
Dirty 30
Yoga Fix
10 Minute Abs
Plyo Fix (when you order from a coach)
Barre Legs (30 minutes)
Flat Abs Fix (30 minutes)
Dirty Dozen (BOD exclusive)
Cardio Core Remix (BOD exclusive)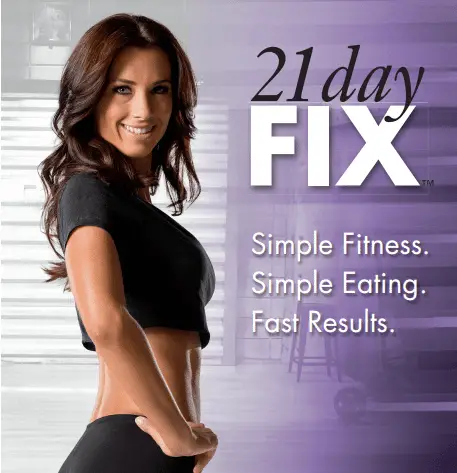 How Long Are All Of The Workouts In 21 Day Fix?
Luckily all the workouts in 21 Day Fix are only 30 minutes, but that doesn't mean you don't get amazing workout in that time. Autumn knows how to push the limits and get the most out of the entire 30 minutes.
The only workout that isn't 30 minutes is only 10 and that is ab fix.
In What Order Do I Do The 21 Day Fix Workouts?
Autumn does have a very set order to follow for the reason of there is a method to her madness lol.
Ab fix can be added in most any day as well, but Autumn recommends Day 3 for this. Also the bonus workouts can replace some of the other workouts or be added in as extra ones too. This will more than likely happen in week 3 if you choose since that is when you can add in doubles.
This is a great workout program for the short amount of time. You can also look at MBF and MBFA for another two 3 workout programs to do following this one.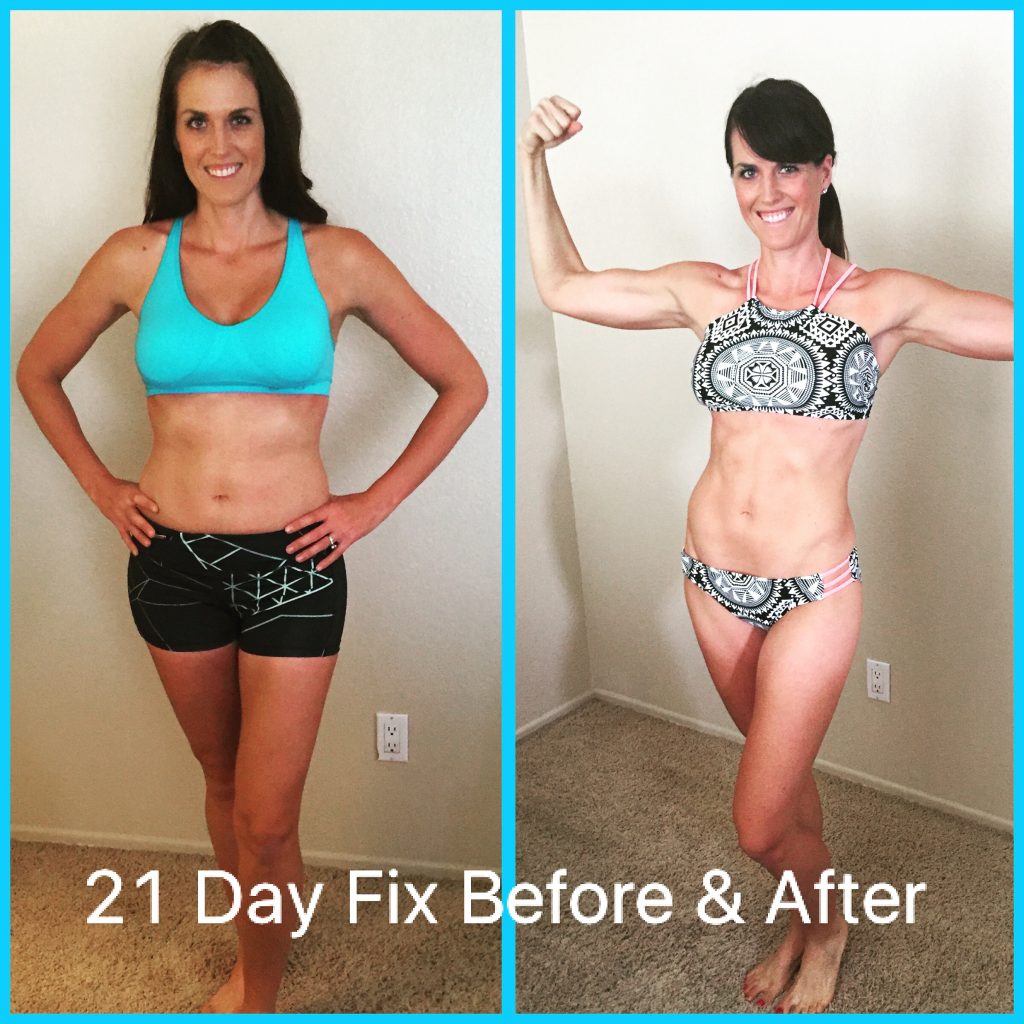 What To Do To Get Started?
We suggest the first round you follow the Beachbody & Autumns instructions thoroughly do not stray from the process as it can hurt your results. Then of course in week 3 you can choose to do doubles as well.
We have had the best results out of all the programs with 21 Day Fix for the 3 week increment. Hands down you do the workouts put the effort in and eat clean you will see some amazing results yourself.
Just follow the meal plan provided in the Beachbody Program Files. It goes into detail on everything.
Do I Have To Do Two Workouts A Day For 21 Day Fix?
Absolutely not required if you have the time and motivation definitely go for it. However is it needed for great results? No not at all your primary focus should be on those initial 30 minute workouts along with the nutirition.
Okay Got Through The 3 Weeks Now What?
This will depend on a lot of variables mainly whether you liked 21 Day Fix. If so yes go ahead and do again maybe mix in some of the bonus workouts and do the two a days.
If you liked it, but want to move onto something else maybe take a look at Morning Meltdown 100 with Jericho McMatthews or Muscle Burns Fat (MBF) then onto Muscle Burns Fat with Megan Davies. This is an amazing workout that will not only have you losing the fat but cutting more cut so your body is actually burning more calories on its own.
There are many other workouts out there that are both shorter around 20-25 (Transform: 20 and T25) minutes and then also 45-60 minute workouts (6 weeks of the work and Insanity).
Beachbody has it all including the new BODi or Beachbody On Demand Interactive with live classes and also a newer spin bike on the market.
How To Get The Best Results With 21 Day Fix?
Follow and stick to the plan it is only 3 weeks that you have to be hardcore. After that you can follow more of a maintenance plan or stick the 21 Day fix nutritional plan.
Or go through a second round and do the double workouts all the way through. Add in some spin bike workouts on the BODi program coupled with the Beachbody MYX Spin bike.
Also you can move onto the 21 Day Fix Extreme program. That's right there is an extreme option for those that feel they are ready for the challenge.
Do I have To Follow The 21 Day Fix Calender All The Way Through?
By all means you should follow the fitness and nutritional program all the way through unless you have some allergies or just can't do one of the workouts because of an injury. There is modifiers, replacement meals, and also bonus workouts you can supplement in for these cases.
Overall do your best to follow the plan things come up we know that being a parent and having busy lives. When this does happen you have two options when you miss a day and this will come down to personal preference.
Option 1: Complete the workout you missed the next day and continue on from there.
Option 2: Skip that workout and continue on with the schedule as long as you didn't do to bad eating (One bad meal isn't going to cause much harm) then continue on.
Bonus Option: Do both the workout you missed and your scheduled workout the next day. Proceed with caution as this can cause extra fatigue going into that next day.
What About A 21 Day Fix Hybrid?
I would say move onto a hybrid workout after completing at least one round of 21 Day Fix. There are tons of 21 Day Fix Hybrids out there so get out there and check out some of the other workout programs and trainers that you might like to work with.
Final Thoughts
The 21 Day Fix is a 30 minute workout that has been getting rave reviews from people all over the world. In this article, we break down how to get started with Autumn Calabrese's 21 Day Fix and what you can expect when following her program. If you need help deciding which workouts are right for your fitness level or if it's worth doing double workouts each day, let us know!
We have experts ready and waiting to answer any questions about starting Autumn Calabrese's Beachbody Program. The 3 week plan may seem like a lot of time but this will give you enough time to see results before moving onto more difficult programs such as Muscle Burns Fat (MBF). You should also consider adding in spin cycle classes to your workout schedule. This way you can do a shorter version such as Insanity and then follow it up with either T25 or Morning Meltdown 100 which are both around 25 minutes long each day.
You may want to consider doing more than one round of 21 Day Fix if you don't see visible results quickly enough on first go-around. It is possible to do the program multiple times and you can also try out some of Beachbody's other programs such as Insanity, T25, or Transform: 20 along with your second round of 21 Day Fix workouts.
If any bad eating habits caused you not to follow through on one day then consider doing both the missed workout and the next day workout.
As you can see from this article, there are a lot of different ways to approach 21 Day Fix and we hope that it helps you get started with the program. If you have any questions about starting or completing Autumn Calabrese's Beachbody Program then let us know below! Team Beachbody has experts standing b