Beachbody is an American multinational organization known for its various workout programs and nutritional diets. The company sells weight loss and fitness schemes mainly online in the form of home-exercise videos. It is also the manufacturer of supplementary diets such as Shakeology. Beachbody is best known for its popular fitness programs 21 Days Fix and 80 Days Obsession.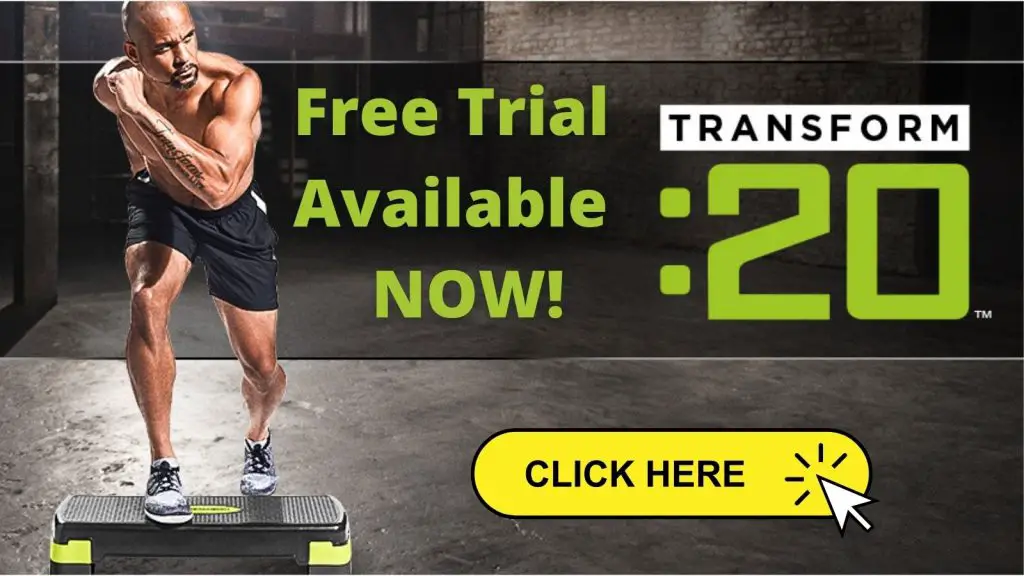 What is Transform: 20?
Transform 20 is a workout and fitness program by Beachbody featuring fitness coach Shaun T that claims to transform your body with 20 minutes of workout six days a week for six weeks. It includes several workout routines along with some necessary accessories and nutrition guide.
It is a complete body workout that mainly focuses on depleting fat, trimming your stomach and making you stronger and more fit within six weeks of routine. From legs to upper body and core, everything will be worked upon. You will be introduced to the fitness program with daily new workouts. There are no repeats in the workout to let you train every part of your body with fresh exercises.
Once after signing up for the program, you will receive a tracker to keep a record of your daily workout along with a dry-erase calendar that can come handy with fitness tracking as well.
Furthermore, to keep you motivated and focused, Shaun T will be creating videos every week to get your mind right, push you to your limits and make you focused on your goals. You will be kept inspired on your way to make the most of your journey to a healthier life.
The basic goal is to bring your body in shape by making you faster, active, flexible and increasing the endurance.
What's included in Transform: 20?
The workouts by Transform: 20 are known to be intense and will push you to your very last limit. From the start, you'll be able to feel the heat as you perform sweat breaking and challenging workouts. A word of advice, don't take this program if you are a beginner. The challenge is hard, but in the end, the results will be worth your time and money.
Here is a summary of various workouts included in this program that you'll be seeing after signing up.
Every day you'll go through different workouts with no repeats to work all parts of the body for maximum results.
Bonus workouts can be done either with the routine workout or the day off. It is up to you but bonus workouts are great for giving your body something extra.
These are full-body exercises requiring dumbbells to work with your muscles.
Every workout in the programs comes with a separate physical challenge with a duration of 1-minute that repeats every week. The tracking sheet that comes with the pack is highly useful here to track your score and compare it with the last attained score. Try to do the challenge in less time as in the previous one.
These workouts are available for VIP users in early access at Transform: 20. They will give you an ample idea about the upcoming workouts and what to expect.
Transform: 20 is also concerned about what goes into your stomach. Therefore, a nutritional mean plan loaded with healthy food choices will be provided that promise enhanced performance and increases physical strength. The meal plan will help you with your workouts.
After signing up, you will be added in a challenge group based on either app or facebook. In the challenge group, you can share your progress, records, scores and share stories with other members. It will be a healthy experience where all members can develop a bond, motivate each other, share their experiences, advice and much more.
Who Is Shaun T?
Shaun Thompson, better known as Shaun T, is an American fitness trainer, motivational speaker, and a television personality. He is commonly known for his variety of fitness programs for all age groups. Shaun was born in Camden, New Jersey and grew up in Philadelphia. He began his professional career as a fitness specialist and has so far he has worked at several fitness chains. He currently resides in Phoenix, Arizona.
Shaun T started Transform: 20 with a goal to design a fitness program that can be performed in your home without any equipment and with comfort. The program was developed after Shaun T consulted all the complaints and suggestion by his fans and those who have been following him. He kept those complaints in mind while creating Transform: 20 so that everyone can exercise and stay fit without needing to leave the house.
Who is Transform: 20 for?
Transform: 20 is for all those who seek health and fitness. It includes a series of exercises and workouts that a person can perform without the use of any weights or equipment.
However, an important aspect here to notice is that Transform: 20 includes some very intense workouts that might be too hard for some audience especially the beginners. Therefore, Transform: 20 is most suited for dedicated and a little bit experienced trainers who can handle the challenging workouts. As for beginners, there are various other workout programs by Beachbody that you can subscribe to attain similar health benefits as Transform: 20. Hence, after completing some basic workout programs, you can again then opt for Transform: 20 as you may be in momentum then.
However, Transform: 20 is best for those audiences who normally can't find time for the gym or long workout periods for some reason. Within only 20 minutes, Shaun T will make your body sweat enough and you can move towards a healthier life in less time.
Don't worry because the 20 minutes workout contains all the necessary exercises required to attain fitness. So, whether you are a working person who can't find much time out of your tough routine or a housewife who needs to look after kids, Transform: 20 will meet all your expectations and desires for a healthier body and sharp mind.
Transform: 20 meal plan
Apart from physical workouts, Transform: 20 also plans to transform your eating habits. Therefore, it introduces its nutritional meal plan that focuses on a healthier and more empowering diet because what your intake is as much important for your fitness. The diet will provide you the required strength to boost you through the workouts. It'll also help you to recover from fatigues and regain the lost strength so you come back even stronger the next day.
The diet includes each meal loaded with 30% protein, 30% fats, and 40% carbohydrates. Protein, as we know, will strengthen your bones, tissues, and muscles to help you go an extra mile while working out. Fats will lower your cholesterol level while carbohydrates will stimulate nervous abilities. The meal plan is a complete package for an effective and healthy body transformation. For an extra boost, Transform: 20 also recommends the use of Shakeology and other fitness supplements by Beachbody.
The nutrition guide has five plans ranging from A to E based on the planned calorie intake from 1200-2499 calories. The plan you follow depends upon your current weight and gender.
Each plan consists of a variety of foods and dishes that you'll have every day. As you progress, your diet changes as well. Your meal contains all sort of food ranging from fruits and vegetables such as carrots, lettuce, potatoes, tomatoes, cucumber, etc. Chicken and meat are also included along with eggs and butter
As stated before, Transform: 20 also encourages the use of supplements and energizers for an enhanced workout experience. In this regard, Shakeology is recommended several times in routinely meal plan.
Shakeology is a supplement-packed superfood that serves as the combination of both protein shake and meal replacement shake. Shakeology is packed with nutrients that ensure a perfect balance of necessary supplements in your body and provides enhanced physical capabilities while helping in weight loss and curb-craving. That is why Shakeology is counted as 'required' in the meal plan.
Their plan comprises of several other supplementary drinks as well but they are optional. These supplementary drinks include Energize, Hydrate, Recover, and Recharge. All these supplements have individual benefits such as energy boost, muscle strength, and recover after a workout. Although they are optional but recommended.
Benefits of meal plan
The meal plan is a vital part of Transform: 20 that serves its purpose pretty well. This makes Transform: 20 not only a workout program but also a complete package to a healthier lifestyle. Here are a few of the many benefits that the meal plan offers:
Boosted physical strength
Fast strength recovery from the previous workout
Stronger muscles, bones, and tissues
More active performance during a workout
Increases mental focus
Adopting healthy eating habits.
Transform: 20 calendar
Transform: 20 has a six-week workout routine with working out for 20 minutes daily with six days a week. The entire program is divided into three phases:
As we progress on to the next phase, workout keeps on getting harder and requires greater motivation and focus. Before getting started with the workouts, Shaun T will let you in about the journey ahead.
Get ready to transform (7 minutes)
Say welcome to the Transform: 20 and know what to expect for the upcoming weeks.
How to modify (5minutes)
This video acts as a guide on how to use and modify the menu interface and program by following four basic tips.
Step Safely (3 minutes)
Shaun T will explain how to use and handle the step safely with the maximum outcome.
After this 15-minutes of the combined tutorial, we proceed to the first phase.
Phase 1-Commit
This phase extends over to the first and second weeks.
Meet your trainer Shaun T who will brief you on the fitness program along with upcoming workout routines. You will get an overview of the upcoming challenges and how to tackle them. Shaun T will make up your mind and motivate you to have a go.
After you finally visualize your goal, it is time to get started with the workouts. Six days a week for the next two weeks you have to go through the workouts. Each workout consists of exercise that you'll perform daily. Gradually the intensity of your workout increases as the day passes in the following manner.
Transform: 20 Schedule
Week 1 and 2
Day 1 follows a cardio exercise to stimulate metabolism and blast fat. It will require you to do a lot of pushups, burpees and up and down movements on the step.
A speedily aerobic workout constitutes the day 2 that help burns your fat and enhances performance.
To revive body strength, this workout impacts your entire body.
This workout helps in building muscle and gets you ready for future strength-related tasks.
A highly effective weight loss training gets your body trimmed.
This recovery workout will help you regain strength and focus.
This routine carries on for the remaining weeks as well.
Phase 2-Climb
Phase 2 constitutes week three and four. The first two weeks for just for getting you into shape. Now that you are finally warmed up, its time to heat the intensity. Shaun T will introduce you to new more tough workouts that will help you move a giant step closer towards achieving your fitness.
Phase 2 follows the same workouts every week as in the first two weeks but with some new workouts for body strength and weight loss.
Week 3 & 4
Day 1: Burn
Day 2: Faster
Day 3: Stronger version 2.0
Day 4: Powerful
Day 5: Cut version 2.0
Day 6: Balanced
Phase 3- Conquer
Phase 3 is the final and toughest week of the program. You will have to go through a continuous 60 minutes of Powerful, Burn and Cut workouts in the last week of the program. You'll feel the difference in your strength and body health if you had been measuring your progress from day 1.
Week 5
Day 1: Burn
Day 2: Faster
Day 3: Stronger version 3.0
Day 4: Powerful
Day 5: Cut version 3.0
Day 6: Balanced
Week 6 and Cut and Shaun-A-Thon
Day 1: Burn
Day 2: Faster
Day 3: Stronger
Day 4: Powerful
Day 5: 60 minutes of combined Cut, Burn, and powerful
Day 6: Balanced
Bonus Workouts
The programs also include some extra workouts to increase your physical strength. However, these workouts are only available at early access to Transform: 20, which is VIP access to the program. Although the strength workouts are added in the six weeks workout but doing a little extra will surely help for good.
Some other workouts are accessible in normal mode as well which are stated below:
10 min abs
15 min abs
20 min abs
10 min cardio
10 min recovery
10 min best butt
Transform: 20 results
Transform: 20 is all about developing strength, agility, increasing endurance, and enjoying a healthier life. Its intense workouts and nutritional packed meal plan will start affecting from day one. You will notice a boost in your physical capabilities if you track your progress from the start. You'll feel more powerful, alive, empowered and in better control of your health.
Losing weight is not a fantasy anymore. Nor it is that difficult anymore. You don't need to go through an intense diet or stay hungry. The best and most prominent aspect of Transform: 20 is the weight loss. Only 20 minutes of workout will help you lose a considerable amount of calories to make your body slim and smart. High-intensity workouts will help to lose calories and weight.
Transform: 20 impacts not only physically but mentally and emotionally as well. At the end of the program, you will be left with a changed mindset. Now, you'll be more focused and motivated towards your future fitness goals.
How Many Calories Are Burned In Transform: 20?
The number of calories burned in your Transform: 20 directly depends upon several factors like your weight, height, effort and heart rate, etc. However, on average, you can burn around 150-200 calories per week.
Where to buy Transform: 20?
You can buy Transform: 20 from the official website of Beachbody. There you'll find the options to choose from the four Transform: 20 packages.
How much is Transform: 20?
Transform: 20 is available in four packages whose name and the price is stated below:
Mega Challenge: $464.95
Deluxe Challenge: $309.5
Challenge: $180-$234.95
Performance: $180-$234.95
How to use Transform: 20
After you buy the package, all you have to do is watch the live videos daily for six days a week for six weeks. You have to simply follow the exercises and any other tips from Shaun T. Try not to skip a workout and keep up. On an off day, you can Shaun T's motivational videos to keep yourself focused and encouraged to reach your goal.
Safety measures
Transform: 20 require intense workout and high-paced exercises than can lead to injuries if one is not properly prepared. Make sure to look out for below-stated aspects to avoid any unpleasant situation.
Muscle strain or pull is a common injury among athletes that is caused due to extra stress or twist on muscles. This could lead to extreme pain and limited body movement. Its main cause is not properly warming up before a workout as muscles are still stiff. Therefore, stretch your muscles, loosen up and warm up with some light exercises before the workout.
Always suit up is suitable training gear and avoid wearing casual clothes while working out. Also, be wary of your surroundings. Look for a plain and wide place for training. Of course, you wouldn't want your pajamas to restrict your leg movement or bump into furniture while exercising.
What Equipment do you need for Transform: 20?
A great perk that Transform: 20 offers is that except the basic accessories that come with the package, you don't need any additional equipment. You won't need any weights, bands, bench, or any other exercising gadget.
The only basic equipment required is a step. A step is a necessary part of the workout. It has high usage in a workout with exercises requiring to jump on and off the step. There is a chance that you might get a step as a gift when you buy the Transform: 20 packages as stated in their policy. If you don't get one, purchase it from a store.
Transformation Tracker (recommended)
A transformation tracker is another equipment that can impact your workout. Although it is not a necessity still can be proved as a big help. It is used to keep track of your fitness after a daily workout. This can help you to keep your fitness in-check and look for any area that you might be missing or something you wish to improve. It will keep you motivated to go further while visualizing your goals every time you see your record. Also, you can compete with your former self by comparing the progress from your last workout.
Furthermore, Shaun T always tries to do something extra for its audience and so he introduced bonus strength workouts in the Transform: 20. These workouts mainly focus on enhancing your physical strength and so require the use of dumbbells. If you can get them easily then it is good. Otherwise, these bonus workouts can also be left as optional
The step and the tracker are the only two pieces of equipment required to have a great workout session. A step is a must part of the program while the tracker is optional. However, make sure you are in proper training clothing when working out to prevent any injuries.
Benefits of Transform: 20
It has a highly effective nutritional plan. You'll get surprisingly great results by following the meal plan. The nutrition is added in just the right portion to provide the body with the necessary boost for maximum performance during a workout. The meal plan is flexible in terms of a diet based on your goals and health background. Not to forget, you won't be forced to chew on a tasteless piece of brown bread. The meal plan consists of several delicious and supplemented packed food.
Every workout in Transform: 20 is unique. The program is based on six weeks and luckily for that, we have 36 distinct workouts without any repeats. This factor is based on the aim to train every part of your body in different ways to provide maximum results. Although each week follows the same method of the workout based on Burn, Faster, Powerful, strength and so on the reason for it is to enhance the results of previous workouts and adjusts the body to that level of stress.
The program is carried out creatively. It is based on three phases: Commit, Climb and Conquer. As you progress, you advance on the next level where more tougher tasks await you to push you to the limits. It is a great way to keep the trainer motivated and focused.
Transform: 20 include several bonus workouts as well. The bonus workouts consist of abs and weighted workouts as well. These extra workouts are a great addition to the routine where one can choose from other options as well apart from the normal routine workout. Moreover, these exercises are effective and you'll soon feel the results.
Transform: 20 lets us track our progress via a tracker. This allows us to keep a record of your past score and accomplishments. It is a good way to stay focused on your routine by competing with your previous score or point out any flaws in your workouts so far.
A vital factor that makes Transform: 20 unique from other workout programs is the motivational talks and videos by Shaun T. Let's not deny the fact that many of us might be struggling to achieve our fitness goals. And sometimes only physical workout is not enough. We want something to calm our mind and gets us going. Shaun T understands this need pretty well and has, therefore, provided us with numerous motivational videos that encourage us to keep going and how to cope with problems lying in the path to reaching your goal.
Conclusion
Transform: 20 has so far changed the lives of numerous people around the globe by transforming them physically, mentally and emotionally. It is not just a workout program but a complete blueprint of a healthier, happier lifestyle reflected within six weeks of duration. Many people are responded to Transform: 20 with positive feedback stating loss in their weight, calories and boosted physically strength. Not to forget its effective diet plan to keep you empowered, active and focused during workouts and in a normal routine as well.
Although, Transform: 20 is not recommended for beginners but they can always come back later after gaining some momentum in workouts and physical abilities. The price varies according to the package you chose. The price may seem very high to some audience if we compare it to the normal gym membership. However, with personnel coaching, unique workouts, and a healthy diet plan, its cost seems to be worth it. Transform: 20 is a prominent part of Beachbody and will continue to be so keeping in view the transforming lives of numerous happy customers.