Get ready to LIIFT MORE! Beachbody Super Trainer Joel Freeman is coming out with a brand new weight lifting workout in July 2022. The program, which is still in development, will be available on Beachbody on Demand. Joel is the creator of other popular programs including the original LIIFT 4, Core De Force, and 10 Rounds.
Yes Joel Freeman is finally coming out with another lifting program for Beachbody. This is definitely much needed supposed to be a lot more lifting focused which is great. If there ever was an area that Beachbody lacks it is in the weights department with LIIFT 4 and Body Beast being the only twos among 100's.
Joel Freeman, the creator of LIIFT4, is back with a brand new weight-lifting program called LIIFT MORE! The new regimen will be 35-45 minutes per day and include basic and highly efficient exercises like as LIIFT4.
What Is LIIFT MORE Entail?
Joel's newest full-body program, LIIFT MORE, contains strength training, high-intensity interval training (HIIT), and core exercises. The routine is done five days a week for eight weeks. Each session is limited to less than 45 minutes and is intended to optimize your results!
This is a comprehensive full-body workout for people who enjoy lifting weights. LIIFT MORE adds intensity to strength training, mixed in calorie-burning HIIT, and closes every session with core exercises dedicated to building muscle, reducing weight, and getting that muscular physique in only 8 weeks.
You'll need an adjustable bench to get the most variety and maximize each exercise's effectiveness. (If you don't have one, Joel offers modifications.)
The simplicity of LIIFT4, though, is still at its core — no-nonsense exercises done at a good pace combined with the right combination of classic resistance training and HIIT to help everyone achieve results, whether they are first-timers or experienced lifters.
Details On The Workouts
LIIFT MORE offers 40 different real-time workouts that provide your muscles with just the right amounts of variety and progression to keep them interested week after week. You'll go all out five days a week for less than 45 minutes a day over the course of eight weeks.
The two phases of this eight-week program are divided into two four-week periods: Phase 1 focuses on strength and mass development, while Phase 2 focuses on increasing volume and intensity with new combinations and repetitions to get you shredded. Joel goes through each exercise step-by-step to assist you in improving your form and getting the most out of
You'll also use total-body high-intensity interval training (HIIT) and core-focused burnouts to boost your fat loss and improve definition, in addition to targeted heavy lifting.
As an added bonus, Joel created 20-minute LIIFT Express workouts that can be done in a short amount of time or on the road — or you may choose to challenge yourself to an express session after completing a regular workout.
Each week, you'll receive two days of rest to allow your muscles time to repair and recuperate completely for the following week.
LIIFT MORE VS LIIFT 4
Joel enhances the things you need to help you achieve more and faster. That implies 5 days of workouts rather than 4, with simple-but-successful sessions that are a bit longer but still only last 35–45 minutes, allowing you to get on with your day.
You'll have more days set aside for lifting to help you achieve your muscle goals. While the exercises are simple, you'll see an increase in the number of reps and variation. Burnouts and core sections go from 30 seconds to 45 seconds.
You'll be using an adjustable bench to increase your exercise alternatives and optimize muscle growth. LIIFT4 fans will undoubtedly appreciate everything about LIIFT MORE, but you don't need to do LIIFT4 first.
Who Is Joel Freeman?
Joel Freeman, who goes by the moniker Trainer Joel Freeman on BODi, leads live classes regularly on the site. He's also the brains behind LIIFT4 and 10 Rounds, as well as CORE DE FORCE.
Joel began his career as a personal trainer and behavior change specialist in the health and fitness industry, where he's worked for over 15 years. He is currently a National Academy of Sports Medicine (NASM) certified personal trainer and behavior change specialist. Joel has experience working in nearly every area of the fitness business.
He's overseen gyms across the country, from Olympia, Washington to directing Group X programming for the world-famous Gold's Gym Los Angeles franchise.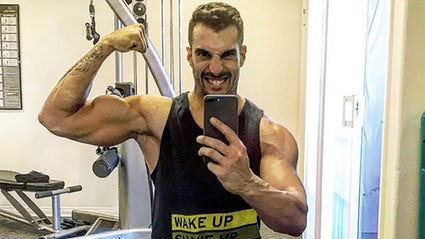 Equipment Needed
You'll need a range of light, medium, and heavy dumbbells to get started. Keeping a variety available will assist you in determining the correct weights for each muscle group as your strength increases.
To build muscle and avoid injury, you'll need an adjustable bench so that you can complete key compound lifts like the bench press, bent-over row, and step up. If you don't have one, Joel will suggest other options.
For added resistance on leg days while performing burnouts, you may use Power Loops if desired.
Who Is This For?
LIIFT MORE is the ideal program for everyone wanting to build muscle and lose fat, as well as those who have been waiting for a strength-training program like Body Beast.
Joel's straightforward directions make it easy for novices to work at their own speed and get value from his clear, concise comments. You may begin with weights that are appropriate for your strength level and add more as you gain experience.
Nutritional Plan For LIIFT More
You'll need a nutrition strategy that's as effective and straightforward as your workouts to really profit from LIIFT MORE.
That's why Joel advocates for using either the 2B Mindset or Portion Fix, two well-known nutrition programs that may assist you keep on track and achieve your objectives without restricting calories or depriving yourself of foods you enjoy.
With Shakeology, the delicious nutritious superfood shake that provides healthy energy and aids in the maintenance of lean muscle and good digestion, nutrition becomes a non-negotiable.
When it comes to your fitness goals, nutrition is an important component. It can help you look and feel your best when you feed your body properly.*
Joel is a HUGE fan of the Beachbody Performance supplements, and due to his quest for perfectionism, he believes they can help you get more out of each workout. The Ultimate Stack, often known as the "Joel Stack," is a collection of Beachbody Performance supplements that Joel thinks can assist you maximize your efforts. To help you focus and
On high-intensity interval days, Hydrate can assist restore electrolytes lost through perspiration and enhance endurance. They'll help make sure you maintain your top form at all times. After each workout, reach for Recover to take advantage of the post-workout muscle-building period.
Finally, drink Recharge before bed to give your muscles some extra care while you sleep and get your body in line. Drink it before bed if you want your muscles to be pampered while you sleep.
It's been found to assist in the regeneration of muscular tissue, as well as protein synthesis and growth. All critical for allowing you to recover faster and keep crushing it.
The key is to keep your body adequately nourished while also providing yourself some flexibility so that you don't become overwhelmed. Joel is quick to confess that he enjoys a classic burger from time to time.
It's not the healthiest high-protein supper, but it satisfies his cravings without detracting from his objectives when eaten in moderation. And if you're looking for something sweet, our delicious BEACHBAR snack bars are a fantastic source of protein and fiber.
Final Thoughts
Joel Freeman is coming out with a brand new weightlifting workout program called LIIFT MORE. This strength training program is designed for everyone, from beginners to experienced lifters. The program includes straightforward directions and a nutritional plan that uses the 2B Mindset or Portion Fix programs to help you stay on track. Joel also recommends using Beachbody Performance supplements to help you maximize your efforts. You can find more information on the Beachbody website.
So if you like to lift weights or want to get starting lifting weights you will have more options with Beachbody On Demand. LIIFT MORE is a good place to start or to change things up a bit. With LIIFT 4 and Body Beast there is a lot to get you the results you need.