Insanity Pure Cardio is one of the workouts from Shaun T.'s Beachbody Insanity Program, and it's a great workout for those who want to burn 500 calories in under 40 minutes! If you have just a little over 1 hour to spare, then this should be your go-to workout. In this post we will break down what you can expect during the 38 minute workout as well as some tips that might help make it more effective for you! You can also see a sample of the workout below with somebody actually going through it all.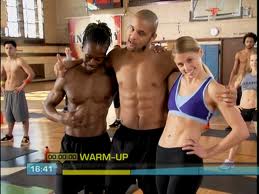 What Can I Expect With Insanity Pure Cardio?
Max interval training is used by Pure Cardio. So you'll be going all out for three to five minute periods, with a rest in between to allow your heart rate to return to normal.
If you have done interval training this brings it to a whole new level that will push your limits no matter who you are. That's the thing with Shaun T's workouts as long as you are using yourself and putting in the effort you will get an amazing workout while burning through massive calories.
According to Beachbody's statements, Max Interval Training is up to 9 times more effective than traditional cardio. This is an amazing stat and you will feel the effects of that both with your heart rate and results.
Don't think because everyone on the tv screen is moving all the time that you have to take breaks when you need and get back at it.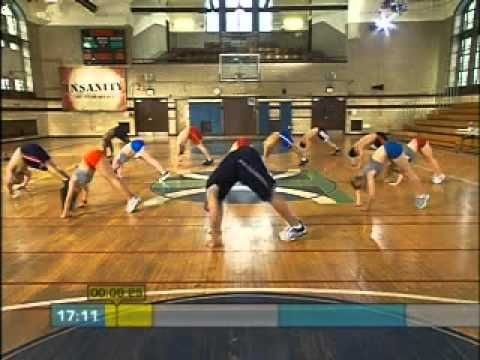 Insanity Pure Cardio Breakdown
The warm up alone will get your heart rate into prime fat burning levels.
Warm up:
Jumping Jacks
Heismans (Brings back memories with Tony Horton)
1-2-3 Heismans
Butt Kickers
High Knees
Mummy Kicks to finish it off
Then you go back through it again and again.
Stretch:
You'll relax your warm muscles while lowering your heart rate. This is an excellent opportunity to stretch and focus on your breath as well. I love these parts of the workout and they really don't have them in the newer one's. Usually a short stretch or nothing. I feel that I recover much quicker from this.
Main Portion:
After a short break, we are back at it. I will admit the only downside to the stretching routine is the anticipation of what is about to come for the rest of the duration so here it is:
Suicide Drills
Switch Kicks
Wide Football Sprints
Stance Jacks
Pedal
Hooks And Jump rope
Power Jacks
Level 2 drills
Frog Jumps
Power Knees
Mountain Climbers
Ski Down
Scissor Runs
Suicide Jumps
Push Up Jacks
Cool Down:
After that, you'll relax your muscles and stretch them out as you cool down. This helps to increase flexibility and reduce muscular soreness.
Take your time with this and make sure you finish it. This is a very important part of the workout.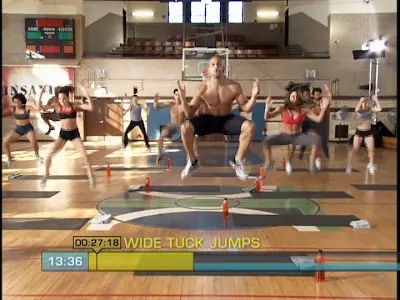 Shaun T Extreme Super Trainer
Shaun T is the creator of this madness and he is amazing. So many bodyweight exercise programs to choose from including T25, Transform :20, Insanity Max: 30, among others.
But insanity is where it all started and Shaun T knows how to challenge you. 60 days of being pushed to get amazing results. So you have to expect to push out of that comfort zone.
Insanity is a 60 day program that starts with two months of workouts and a specific diet plan to ensure you get the greatest results feasible.
Pure Cardio On Beachbody On Demand
Pure Cardio of course is available to stream on Beachbody On Demand along with over 1000+ other workouts. You can do some amazing programs or come up with your own along with daily live workouts with super trainers on BODi.
All this for one super low price that is cheaper than most any gym out there. You can get by with no equipment to start as you can see from the results you don't need any equipment at all to reach your goals.
Sample Of Somebody Doing The Workout:
Final Thoughts
If you're looking for an amazing workout that will burn through 500 calories in just 38 minutes, look no further than Insanity Pure Cardio. This intense interval training workout is sure to challenge you and get your heart rate up. And if that's not enough, the program is available on Beachbody On Demand so you can stream it anytime, anywhere. Don't miss out on this incredible opportunity to get fit!
Other Insanity workouts include:
Other Questions On Insanity & Pure Cardio Answered
Who is it for?
Anyone with a solid fitness foundation who is seeking for an intense fitness challenge will enjoy SALSAANITY. It's quite tough. If you're not sure whether or not you can do this program, consider FOCUS T25 instead.
What equipment does it require?
Yes, some people feel that a mat is useful. And you'll definitely want a towel, or perhaps two.
How do I build muscle?
Although you don't lift weights, INSANITY is a high-intensity interval workout that makes excellent use of gravity (plyometric) and bodyweight exercises to build muscle.
Can I follow the 21 Day Fix Eating Plan while on INSANITY?
Yes, as long as you follow the INSANITY nutrition plan's calorie limits.
I missed a week due to vacation/work travel/sickness. Where do I start from today?
It's no big deal to miss a few days. Simply resume where you left off in your routine. Your body will be fully recovered and muscular after approximately five or six days of total rest, at which time you'll have the ability to break down your fast-twitch muscle fibers and injure yourself.
This can leave you in excruciating pain for weeks. If you've been away for more than five days, start with a third to a half of your usual routine and gradually increase until you're back where you were. It will take approximately a week to get back to where you left off if you've missed more than five days
How do I build more muscle on INSANITY?
The Deluxe Upgrade Kit includes an Upper Body Weight Training routine, which you can add to your weekly sequence twice. Another alternative is to do a hybrid of INSANITY and P90X.
INSANITY is all cardio—I want more weight training.
Answered previously. Cardio implies only heart exercise, and it should not be confused with aerobic training, which INSANITY offers solely in its recovery activities. High-intensity interval training (HIIT) is a type of strength workout that incorporates many resistance exercises. In fact, as far as how many workout programs are concerned, it's considerably more
The nutrition plan doesn't seem like enough calories.
Remember, just because you're hungry doesn't mean you should eat more. If you continue to feel miserable and/or your performance and sleep quality deteriorate, consider gradually increasing your calories by 100–200 calories at a time, as outlined on page 58 of the Elite Nutrition Guide.
How long should I rest before I start another round?
The basic rule is that you should not perform WHILE YOU ARE OBSESSED, as this will only serve to harm your mind. Its continuous overload is designed to be done for a brief time period once your connective tissue and central nervous system need a rest.
If you're in the end, you may extend the final block for another two weeks if you wish; after which, take at least a two-week break and ideally do another workout program.
What's the perfect next step?
This is determined by your objectives. P90X and P90X2 are natural extensions of INSANITY: THE ASYLUM, but after completing it, you'll be strong enough to try out a variety of fitness activities.
We recommend taking a short rest between each hard program to prevent overtraining.
What is maintenance work?
It's much more difficult to get in shape than it is to keep yourself there. With around half the volume of your program, you can generally maintain a level close to peak fitness.
To maintain, you may do a variety of training methods, but the simplest is usually to follow the program you just completed for 3-4 days each week. It will gradually go down over time, but after a while, you'll probably start another activity or program to make up for it.