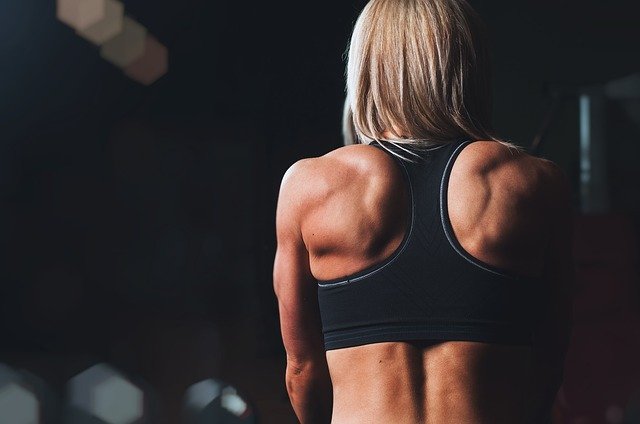 Lower back pain can be very excruciating and frustrating to deal with especially while trying to get in shape. My wife and I have dealt with this a lot of the years both of us have had problems with sciatica along with other lower back pains from injuries. We have dealt with in different ways including chiropractor and I actually had decompression therapy from falling off a barn roof.
Although the treatments have helped I have realized that you need to continue to workout and strengthen your core as much as possible to build up kind of an armor around your back. There are certain Beachbody programs that can help greatly in strengthening your lower back and core.
Best Beachbody Workout For Back Pain
This is tough as back issues can be all over the place on what sets them off. Could be bending over, jumping or something like staying on your toes. So what we do is when our back is having issues is to keep the workouts shorter and also non-impact or a less intense modifier.
Insanity Max:30 – Super trainer Shaun T and creator of the original insanity is back with a smarter more condensed version of his insane workout. This wouldn't be my main go to for a bad back workout, but why it is mentioned by so many is because it is very short (30 minutes0 for what you get out of it Max Calories Burned. There is also modifiers for all the exercises and the person doing them is up front clearly visible. This workout program your job is to train to max failure then take a break. The only pace is your pace and what you are capable of. So know you limits and don't push it too hard and take breaks.
Barre Blend- This program although high intensity it is also low impact at the same time. The workouts are relatively short around 30-45 minutes and 5 days a week. It involves a combination of ballet barre, pilates, and cardio interval training lead by trainer Elise who originally appeared in 3 Week Yoga Retreat. Your heart rate will get revved up and burn some calories during and after the workout when your muscles are recovering. As you will see below people with back pain have fallen in love with this workout for good reason. It will strengthen your back and is low impact at the same time.
Morning Meltdown 100 – This program is 100 days of different styles workouts lead by super trainer Jericho McMatthews. The main goal of this program is to get an athletic body so you won't only be strengthening your back you will be strengthening your entire core along with the rest of your body. 100 workouts for 100 days and 5 phases of 20 workouts. So the intensity increases as you get through the 100 days. There are two sets of modifiers throughout the workouts that are just lower intensities. So if you back hurts at all either take a break or drop down to the easier version of the exercise and continue. Your back will come out of this much stronger then it went in.
P90X3 – P90x3 is really just a condensed and more balanced version of the of the original P90x. You will do balance, agility, interval and strength training in only 30 minutes. There are always modifications for the workouts so you can take an easy on your back to get through the workout and still get the results you want.
Get your Beachbody equipment affordable and shipped to you in as little as 2 DAYS by CLICKING HERE!
Best Beachbody Equipment Available On Amazon:

Beachbody Equipment
Best Beachbody Equipment
Check Price

Top

Top

Top

Top

Beachbody Resistance Loops for 80 Day Obsession, Beachbody Workouts
Check Price

Top

Top

Top

Top

80 Day Obsession Equipment Bundle - 21 Day Fix BPA Free Portion Control Containers Resistance Bands, Core Sliders, Guide, Planner, Recipe eBook, Tape Measure
Check Price

Top

Top

Top

Top

Beachbody Core Comfort Mat
Check Price

Top

Top

Top

Top

Beachbody Strength Slides and Booties
Check Price

Top

Top

Top

Top

Gliding Discs Core Sliders and 5 Resistance Bands
Check Price

Top

Top

Top

Top

Beachbody Adjustable Exercise Equipment Step Platform for Sports & Fitness
Check Price

Top

Top

Top

Top

Cordless Jump Rope for Fitness, Tangle-Free
Check Price

Top

Top

Top

Top

Pink 80 Day Obsession Equipment
Check Price

Top

Top

Top

Top

Two Adjustable Medium Dumbbells
Check PRice
Teclor Adjustable Weight Bench
Check Price
Iron Gym Pull Up Bar
Buy Now
Power Tower Pull Up Bar and Dip Stations
Buy Now
Lower Back Issue Beachbody Workouts
We don't just want you to listen to us we have gone out and gathered information from real people and Beachbody On Demand users that have lower back pain along with other back issues to get their input.
We curated this information from a few different fitness forums, sub reddits and facebook groups. We have kept all the answers the same except where grammar or spelling was corrected.
Real Beachbody Users With Back Pain
1. Ashley "MM100" – I have lower back issue and do morning meltdown 100. If there lots of laying down on my back I modify to do similar workout standing. Just like bending forward to long hurts so I try to modify it best I can to still keep moving but not hurt myself. I just modify when they do certain things like the bolts I stand up and do knee Raises because I fear falling hurting myself. I'm still working just in a different way and there modifier she does different things during certain exercises too
2. Marissa "Barre Blend" – Barre Blend has been amazing for me! I was in a car accident years ago and still suffer from bulging discs in my neck and lower back/hip and I work really hard to keep muscle balance and stay strong to support these injured areas but I do still get flares. I was in a major one, chiropractic wasn't helping, stretching, foam rolling none of it; I didn't want to stop working out so I decided to try Barre Blend. WOW! It not only is intense in it's own unique low impact way but it helped me work through and out of my flare. I'm shocked seriously. It is now probably my most favorite workout ever (coming in just ahead of Liift 4). Tt's in early release right now, so it is an upgrade ($40 I think for just the program). It will be on BOD for everyone come June I believe. So incredibly worth it though. Otherwise, I would also suggest the 3 week yoga retreat, if you haven't done that. It has helped me too in the past.
3. Melinda "Barre Blend" – I also vote for Barre Blend. It's really effective at strengthening the core but you must focus on form over all else. Because it is so core focused if you don't keep proper alignment it's easy for your back to try and overcompensate for the weak core. I also have back and neck issues. I'm on week 5 and it's made a huge difference.
4. Myah "Barre Blend" – Unfortunately barre blend is the best one. 2 weeks in my lower back pain went away. I've even done some heavy duty lifting (helping someone move) and it went fine which surprised me. It's worth the extra money.
5. Vani "MM100" – For mm100 I do ALL low impact exercises …the problem sometimes they don't show the beginning or intermediate girl as often which leaves me guessing ..for sumo swats I can't do weights cause I'm left in bed for several days limiting my movements….also you know your body and when those flare-ups may come so take a day off to rest if you need it 👌🏻
6. Randi "Barre Blend" – I have sciatica and other lower back pain and am loving Barre Blend
7. Leslie "21 Day Fix" – I've had neck surgery, I have a torn disc in my lumbar spine (L5-S1) and my right SI joint is extremely jacked up. I've completed 21 day fix and country heat with no issues but I do modify when I need to. I've done some Piyo but not the entire program and did fine with that. And today I completed day 11 of 80 Day Obsession and I'm doing ok with that so far. I do have to modify on exercises that put pressure on the lower back. I also have tendonitis issues in my elbows so I have to be very careful and modify anything involving planks or tricep exercises. But I am not modifying to the point of making the program not effective if that makes sense.
8. Nancy "3 Week Yoga Retreat" – I have herniated discs L4, L5 and could barely move for 11 months. Gained back all the weight plus some almost 55lbs. Tried chiropractor and PT. I had steroid shot which thankfully worked well. I just started working out again. You tube has many workouts specifically for disc issues. Then I modified BB yoga retreat and just started you v 2. Don't "push through"back issues go as slow as you need" good luck
9. Holy "P90x" – Try orthotics and find the right shoes. It starts with posture. I also went to chiropractor. For workout try the original P90. It helped me soooo much. You need to focus on core but also be sure to stretch a lot. Anti inflammatory diet also helps. No surgery here and no pain for the most part for over 10 years.
10. Ericka "80 Day Obsession" – I literally had a procedure done this morning for a bulging disc in the exact same spot (L5-S1). I continued to workout up until last night. I am currently doing 80DO and riding my bike. My neurologist said I could workout as long as it was low impact. I will do PT twice a week for 6 weeks and he will re-evaluate my condition. I was having pain since November but over the past week my pain had subsided a lot.
Thoughts
As you can see the overwhelming consensus is to use Barre Blend if you have lower back or other back pain to not only get into shape but to also strengthen that back. Over the course of our research Barre Blend was recommended a whopping 62% of the time compared to 80 Day obsession at 12%. Morning Meltdown 100 came in at at second with 18%. MM100 is a great workout that includes variety and different levels of modifications which can be very nice if you back does start to act up a bit do an easier modifier.
Beachbody Back Workouts
If you are looking to add some specific back workouts so you can strengthen it then you can see those specific workouts here. Luckily with Beachbody On Demand (BOD) you can access a big library of different workout programs. So if you don't like a specific workout or want to add something into your workout schedule that is very easy to do.
Body Beast Bulk Back – Body Beast is a great overall program if you like lifting weights or want to get into lifting weights. Weights get a bad rap as they aren't only for bulking they burn a lot of calories while your body's muscles are recovering. Bulk back gets the job done for crushing your back in a good way you will be doing pull-overs, pull-ups, rows, deadlifts, and plank rotations. Its a quick workout as well with lots of supersets and only 29 minutes. Build Back/Bis is also a good one.
LIIFT4 Back/Biceps – LIIFT4's Back and bi's workouts are pretty good especially if you use the right weight. They have circuit styled workouts and regular weightlifting themed workouts so take your pick or alternate every week.
P90X – Legs/Back, Chest/Back, Back/Bi's: Really any of these will get the job done with a mixture of pullups and dumbbell workouts that you can also use a resistance bands for modifications which adds to the level of intrigue if you are recovering from a back injury.
Final Thoughts
There are many options if you have lower back pain maybe dealing with that sciatica that Beachbody can definitely offer to get yourself in shape still. Obviously you should consult your doctor and make sure they know what you are going to be doing beforehand. Don't be scared of lifting weights and/or using resistance bands. LIIFT4 is not a bad option if you just make sure you aren't using your back when lifting up the weight that is why might not be a bad idea to start with a bands workout.
Where you are more likely to get hurt is picking those weights up or after the exercise when putting them back down make sure you are always keeping your back straight and using your legs. We have had to break a lot of bad habits as we have aged. The sooner you learn this the better.
Barre Blend definitely try it out you can see the FREE SAMPLE WORKOUT HERE or get the best price on it HERE.
User Asked Questions
Is PiYo Good For Lower Back Pain?
Yes PiYo is good for most joint and back issues as it is low impact and a lot of pilates and yoga to strengthen that core.