At home workouts can be your ticket to getting into shape. After all you don't have to get dressed in your nice gym clothes, get in your car, drive 30 minutes or more down the road to the gym. Only to get there and have your favorite machine being used so now you have to adapt your workout and end up not having a good time.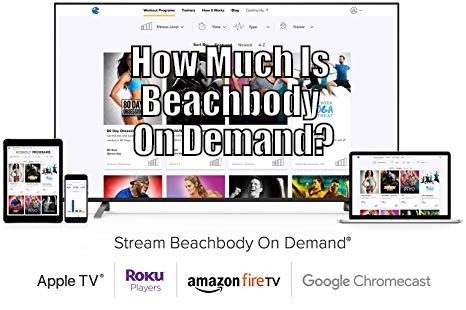 Working out at home is a convenience you can do it whenever you have time. First thing in the morning before the kids get up or right after you get done with work. If you are a stay at home parent trust me your kids with love doing most at home workouts with you. Then comes the well I have to be in front of a television and dvd player in order to workout.
Well not necessarily Beachbody On Demand solves the rest of those issues that come from working out at home no DVD's or TV needed.
So how much does beachbody on demand cost? Beachbody On Demand pricing can be a bit confusing but that is because it comes in different monthly payments so for 12 month package it is , 6 month is , and 3 Month is with a 14 day free trial!
Is Beachbody On Demand Free?
BOD is not 100% FREE but it does come with a FREE trial for 14 days. This is only for the 3-Month membership however. So what I did and I advise others to do is sign up for the 3 month with a free trial.
If you like it for those 2 weeks either leave it at the 3 month or upgrade to the years for 99 bucks total with that two week time frame.
Beachbody On Demand Pricing Table
| Beachbody On Demand Pricing | | |
| --- | --- | --- |
| 3-Month Membership | 6-Month Membership | 12-Month Membership |
| 14-Day Free Trial | 30-Day Moneyback Guarantee | 30-Day Moneyback Guarantee |
| $39 billed after the trial | $59 Billed On Day 1 | $99 Billed On Day 1 |
Beachbody On Demand Challenge Pack What Is It?
This gets you a month of Shakeology and year of Beachbody On Demand. It is a great deal. However I would suggest getting the free trial of Beachbody On Demand first by joining up for the 3 months since you have nothing to lose but your time.
This is completely up to you of course. If you have seen people get results and want to get 100% commitment and get an amazing meal replacement as well to help jumpstart you this is the route you can go now.
It is a total of $160.00 for the year and month of Shakeology. You can cancel the Shakeology any time you want as well. There are many different flavors although Chocolate seems to be the overall favorite and there is a vegan one as well.
You also get a bonus shaker cup to drink your Shakeology out of. It works great for on the go. Throw some PB2 powder in there to change it up a bit. Just $160.00 total gets you a year of BOD, Shakeology 30 day supply and Shaker Cup.
Why Buy Beachbody On Demand vs Just Getting The DVD's?
Discounted Rate for BOD (Beachbody On Demand) programs vs DVD's – You can skip the Program material like diet, calendar, schedule, etc. to save even more money. You still have access to it digitally and can print out physical copies through your printer.
Mobility – There are many options to get your workouts in vs having a dvd player available. Have your smartphone, great just download the BOD App and get a case with a kickstand or a phone rest. Hit the play button and go to town. Or you can use your fire tv, roku, google cast, smart tv and even your laptop or tablet. Eliminates many reasons as to why you can't workout.
Shipping Cost – again having access to the digital copy saves you on the shipping cost
No Wait Time – Start instantly in other words start today for free even
Free Trial – Yes you can get a free 2 week trial with BOD
Variety – There is a massive library of workout programs so most everyone will find something that they like. Guess what you don't have to pay for all of them for the price of $99 dollars ($8.25 a month whats the cost of a gym membership?) you get access to this huge library
Early Access – Being a BOD membership you get early access to programs literally 90+ days in advance which is great.
Refund – Try a workout if it isn't you then return it.
Download – A lot of people like ourselves included don't get good internet and also may have no internet at all at times (visiting the grandparents). Well you can download a weeks worth of workouts then all you have to do is make a trip to McDonalds (just kidding) anywhere with free wifi. You can sit out in the parking lot at McDonalds to get their free wifi I have done it but a library might be a better choice to curb the temptation of being unhealthy.
What's Included With The Cost Of Beachbody On Demand?
Workout Programs Galore – the day you sign up for your free trial you have access to a library of 700 professionally recorded videos. I will admit that you can notice the difference from the older workout programs like Insanity to something like Transform 20.
Cooking Shows – yes there are actual cooking shows that BOD members have access to as well.
FAQ's – there are exclusive interaction with the trainers that answer your questions specifically.
BOD Only Workouts – this is a cool bonus that you get VIP training workouts that are BOD club only.
Hybrid Calendar – if you get sick of the same thing over and over which lets but honest all of us do. There are Hybrid workouts that involve multiple programs which is made easy with Beachbody On Demand.
70+ programs – at the time of this writing there are over 70+ programs in the BOD library. You will be able to do whatever you want. A Weightlifting program yep has those, body-weight only yes those two, pilates, yoga, dancing and the list goes on and on.
Beachbody On Demand Workout Programs
When you are looking for the complete package for at home workout programs Beachbody On Demand can be that one stop shop.
10 Minute trainer (60 days; 10 min/day)
21 Day fix (21 days; 30 min/day)
21 Day fix EXTREME (21 days; 30 min/day)
22 Minute hard corps (8 weeks; 22 min/day)
3 Week yoga retreat (21 days; 32 min/day)
3-Day refresh yoga (3 days; 36 min/day)
80 Day obsession (80 days; 60 min/day)
A little obsessed (5 days; 30 min/day)
A Week of hard labor (5 days; 45 min/day)
Autumn's exclusives (45 min/day)
Beachbody yoga studio (90 min/day)
Body beast (90 days; 53 min/day)
Brazil butt lift (60 days; 50 min/day)
Brazil butt lift carnivale (30 days; 30 min/day)
Brazil butt lift master series (30 days; 35 min/day)
ChaLEAN Extreme (90 days; 45 min/day)
CIZE (4 weeks; 50 min/day)
Clean week (7 days; 30 min/day)
Core de force (30 days; 47 min/day)
Country heat (30 days; 30 min/day)
Double time (30 days; 32 min/day)
Fixate cooking show (16 min/day)
FOCUS T25 (10 weeks; 25 min/day)
Great body guaranteed! (11 min/day)
Hip hop abs (60 days; 45 min/day)
Ho' Ala ke Kino (30 min/day)
INSANITY (60 days; 60 min/day)
Insanity MAX:30 (60 days; 30 min/day)
Insanity: The Asylum [Volume 1] (30 days; 60 min/day)
Insanity: The Asylum [Volume 2] (30 days; 60 min/day)
Jericho's exclusives (40 min/day)
Joel's exclusives (40 min/day)
Kathy Smith's project You! Type 2 (60 min/day)
Kids and family collection (55 min/day)
Lift 4 (60 days; 40 min/day)
Mes de Más (30 days; 30 min/day)
P90 (90 days; 60 min/day)
P90X (90 days; 60 min/day)
P90X ONE on ONE (70 min/day)
P90X2 (90 days; 60 min/day)
P90X3 (90 days; 30 min/day)
PiYo (60 days; 45 min/day)
Power 90 (90 days; 38 min/day)
Power half hour (30 days; 30 min/day)
Pre and post natal fitness (35 min/day)
RevAbs (45 min/day)
Rockin' Body (60 days; 45 min/day)
Sagi's exclusives (45 min/day)
Shaun week: Insane focus (7 days; 43 min/day)
Shift shop (28 days; 50 min/day)
Slim in 6 (6 weeks; 60 min/day)
Tai Cheng (13 weeks; 80 min/day)
The 20's (20 min/day)
The master's hammer and chisel (60 days; 40 min/day)
Tony's exclusives (55 min/day)
Total body solution (15 min/day)
Turbo Fire (90 days; 55 min/day)
Turbo Jam (60 days; 45 min/day)
Yoga booty ballet (4 weeks; 60 min/day)
YOUv2 (4 weeks; 30 min/day)
How To Cancel Your Beachbody On Demand Membership?
Have you ever joined a program, product, or any kind of membership where they make it nearly impossible to cancel (Planet Fitness for example).
Well BOD is not one of those. You simple login at Team Beachbody (beachbody.com) and you can either call them or they have live chat. Just let them know and they will cancel instantly.
As long as you are within that free trial of two weeks you won't get charged anything.
If not and you have been charged you will still have access to Beachbody On Demand until your 3 months, 6 months, or year is up.
Conclusion
So Beachbody On Demand is a great package deal that has many options to purchase. You can go with the 3 month, 6 month or the best deal $99 for a full year. That will beat most any gym membership.
If you are just starting out I would go with the 3 month option so you can get the free trial. After that just upgrade to the year before the 2 week trial is up if you like it. It's that simple.
You won't find anything better out there with such a vast library of great workout programs for anybody. You also have the community to back you up and your personal beachbody coach.
If you don't have a BeachBody Coach we have a great personal community HERE. Just sign up 100 percent free with your email to join our free facebook group.