Sometimes you just have to get out of the house and do a workout in different scenery. I switch rooms with my workouts all the time and even do them outside when it is the right temp out. Doing workouts at the gym can be a great get away and give you the ability to get focuses.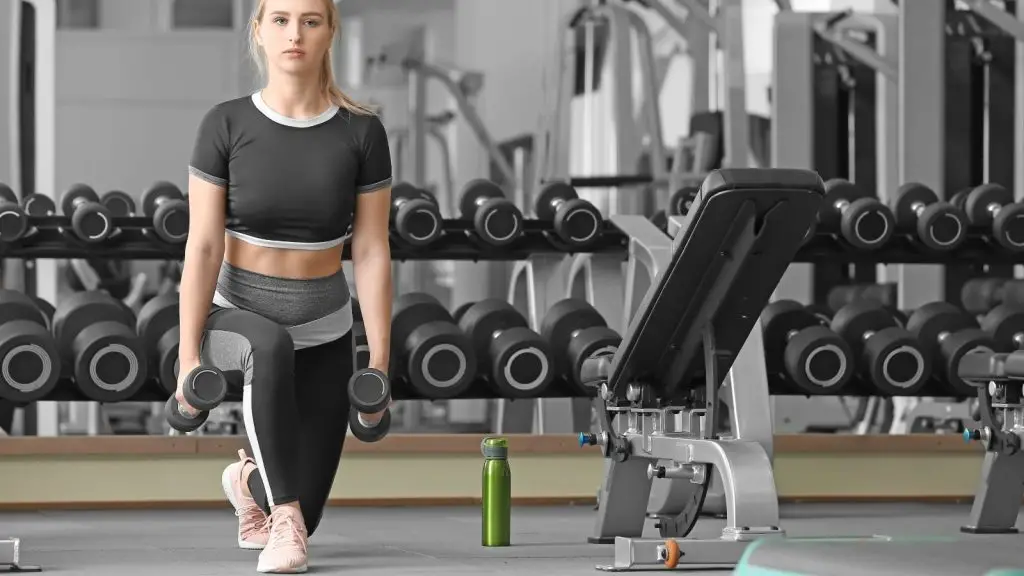 So Can I Do My Beachbody Workout At The Gym?
Most Beachbody workouts can be done in the gym with no issues at all. Two of the easiest ones are LIIFT4 and Body Beast as they are pretty normal gym workout routines. As long as your gym has dumbbells and a pullup bar you can do most any Beachbody routine. If it has a pullup assist machine you can be better off if you unable to complete pullups on your own. 
There are many pros and cons to doing your workout at the gym which we will go over with along with the Best Workouts to do at the gym. When it comes to tracking there are unlimited options that are easy to take with you. NO INTERNET AT GYM – that's okay because you can download 7 days of workouts onto your phone from Beachbody On Demand to take anywhere with you.
2 Main Ways To Track
Mobile Apps – Everybody has a smartphone these days and you can download many different apps to track almost any fitness routine. "Simple Workout Log" is where I started and that is because you guessed it it's simple. The app I now use is Strong because of its versatility and such. Beachbody doesn't really have too many of its own apps for programs and I have no clue why because of how easy they are to develop. There are several that include 21 Day Fix Tracker, 80 Day Obsession, P90X and Body Beast which is a hybrid app basically meaning mobile friendly. I would go with the customizable one it will take time to setup once but after that it is much better for tracking and versatility reasons.
Print It Out – All workouts come with a print out calendar and set of workout sheets. So get a clip board and bring your pen and workout sheet to the gym. If you get embarrassed doing that either hand write out your own or do what I did. I made up a condensed version in excel so it is pocket sized and simple write down the weight I used or how many pushups, etc. You can do what you want and it will probably depend on the type of gym.
Best Beachbody Workouts To Do At The Gym
These are a few of the best workouts to do at the gym. The main reason being because these fit in at the gym and people may even ask you what workouts program you are following because of how efficient it looks.
BODY BEAST
Body Beast is a great program as you mainly need dumbbells, a flat bench or stability ball, EZ-Curl Bar and pullup bar. Any gym will have those at your disposal so easy place to start.
Who is it for?
Anybody who likes lifting weight, no matter your fitness background. While it's often considered an advanced program, it's actually a beginner, intermediate, or advanced program because the amount of weight you use will dictate the difficulty.
What equipment does it require?
Weights. How much weight depends on you. Someone who has never weight trained likely won't need a lot, but Sagi would use a ton (maybe literally). For the most flexibility in your weight selection, we recommend a 50-lb. adjustable set to start. If you want a low-cost place to start, we recommend getting a set of each range of dumbbells: light (3 lb.–5 lb.), medium (10 lb.–20 lb.), and heavy (25 lb.+). Then adjust your weight assortment based on your ability and progression in the program. You will also need a bench or stability ball and a pull-up bar or resistance bands with a door attachment. An EZ Curl Bar is highly recommended. Optional are PowerStands, jump mat, Chin-Up Max, and fitness gloves.
What weights should I start with?
You want to use enough that you fail, or come close on every single set that you do. This will likely slow down your first few workouts (just hit pause) as you figure it out but it will come quickly. Just remember this is fine. If the set you did was easy, you weren't doing Beast. Beast Up!
Is this a good program for women? Will it make me bulky?
It's an excellent program for women. Women aren't as genetically predisposed to bulk, so it takes much more effort to get bulky than you think. Just ask any man you know who is genetically predisposed and still can't grow as fast as he'd like. Of course, much of this comes down to nutrition. Don't follow the bulking diet and you won't bulk, period. Do eat enough to recover from exercise because added muscle raises your metabolism and burns fat.
Is this a good program if I just want to lose weight?
Yes, absolutely! We've received hundreds of amazing weight-loss story submissions from people who lost between 10–15 lbs. up to over 70 lbs.! Just be sure to follow the appropriate eating plan in the guide and the Lean Beast workout calendar if that is your goal.
LIIFT4
LIIFT4 is a great routine for anywhere really as all you need is dumbbells or even resistance bands that's it. So it literally can be done anywhere. At only 4 days a week it leaves you lots of room to do other things if you want to add on. The 50/50 and HIIT workouts you may not feel comfortable doing in a a crowded gym and that is okay maybe you can save that portion for home along with the ab routine. It is up to you most of the cardio exercises are normal but if you have a separate room like an aerobic room you can go in there to do that portion.
is a no-nonsense combo of weightlifting and calorieburning high-intensity (HIIT) cardio that will help build lean muscle and burn fat in just 4 days a week. The first 6 weeks of the program will build, strengthen, and define your body. The last 2 weeks go harder on the HIIT workouts to burn through calories and shred fat for a total-body transformation. And you get 3 recovery days a week to help give muscles time to repair so you can push harder and get better results.
LIIFT 50/50 – Start by lifting heavy and hard for serious musclebuilding—then empty your tank with HIIT cardio to torch calories,
burn fat, and get cut.
LIIFT INTERVALS – Fast and furious weightlifting intervals that will build and define your body, punctuated with intense burnout rounds of high-intensity cardio to get you shredded and keep your metabolism working overtime.
CIRCUIT – Straight-up classic weightlifting that focuses on building one major muscle group at a time, with minimal rest. This keeps your heart rate up, your calorie burn high, and your
body ripped.
HIIT – HIIT it and quit it in an all-out cardio workout that burns massive amounts of calories and shreds the fat in an explosive 30-minute meltdown.
EQUIPMENT NEEDED: The only equipment you need is a set of light, medium, and heavy weights,
depending on your fitness level.
YOGA STUDIO
I didn't want to narrow down the yoga workouts because any will work if your gym has a Yoga Room. Many of them do along with other amenities and guess what unless there is a yoga class in session it will more then likely be wide open for your use.
Yoga studio is amazing whether you are a vet at yoga or just starting out they have you covered. If you are just starting out I would suggest going with 3 week yoga retreat so you can look like a pro right away in your gym. Just download the first 7 workouts of the program to your phone so you don't have to worry about streaming on your wifi. Get your blue tooth headphones ready to go if you don't have any you can find really cheap quality ones on Amazon HERE.
The 3 Week Yoga Retreat™ is an introduction to yoga, designed specifically for beginners. It's like a crash course on yoga, where you'll learn proper form and the basic fundamentals of yoga. And the best part? We've stripped yoga down to the mat. There are no candles, no chanting. Just 4 great yoga experts giving you incredible guidance, so you can focus on building a solid
foundation while truly indulging yourself in the great benefits yoga has to offer, allowing you to get the most out of your experience. This is Simply, Yoga.
Three are other 30 day, 14 day and 5 day routines you can find right in Beachbody On Demand as well.
30 DAY BREAKAWAY
30 Day Breakaway is a great routine for the gym as you can get on that treadmill that so many gyms all have. Most have a lot of treadmills as well.
3 WAYS TO BREAK AWAY.
ZERO EXCUSES. Use the video option to run with me on a treadmill, or pop in your earbuds and head out in your neighborhood as I coach you to music set to each interval. For rainy days (or anytime you can't make the run), you can break away indoors with my killer bodyweight Rainy Day Cardio.
The only equipment you need you can usually find most all this at the gym. The Foam Roller you can just do that portion at home if you would like. Any resistance loops will work you can get them at your local Walmart or Amazon HERE for most likely better prices as well.
Proper running shoes
Heavy, medium, and light dumbbells
Beachbody Resistance Loops
Foam roller
Does Beachbody Have Gym Workouts?
Beachbody does not have a Gym specific workout, but you can adapt most anyone of their programs to be gym friendly. Since most gyms will have more workout equipment then you there will be more options. The only big downside is if there are a lot of people in a small gym where there isn't something like enough dumbbells to go around. Below we go through the pros and cons of going to the Gym to do your Beachbody workouts.
Pros
More Room – lets face it living in an apartment or smaller house is amazing for cleaning (trust me I miss our smaller apartment everyday since we moved into small farm house), but one of the main drawbacks is space for doing stuff like working out. Gyms have a lot of room normally especially the big commercial ones will have different rooms for doing things like Yoga and Aerobics. We have a local gym that cost 25 bucks a month that is just massive 2 levels and when you go there at the right time you have it all to yourself.
More Weights – gyms are more then likely going to have more weights. They will have that EZ bar curl you may have been lacking for your at home Body Beast Program. They might have a pullup assist machine so you can do those pullups you have always wanted to do, but had to resort to using a resistance band modifier.
Weight Selection – weight selection is great I know I was lacking in this department for years lets be honest weights are expensive. I luckily found a 200lb set of changeable dumbbells for 200 bucks and free shipping on Amazon HERE they are usually out of stock now but you can check HERE as well. But if you can find a cheap gym you like something like Planet Fitness for $10 it can be well worth it just for the weight selection. Maybe Planet Fitness is a bad idea.
Extra Amenities – a lot of rec centers and gyms will have all those awesome extra amenities like a tanning bed, sauna, steam room, hot tub, pool, etc. This can add to that incentive of going to the gym and getting your Beachbody workout in.
Other People – it can be a great thing having other people around to help motivate you to workout and do your best while using good form. This isn't the case for all people like myself I like lifting alone so my way around that at the gym is simply turning my noise cancelling Bluetooth headphones up so I can block everybody out. But if you are a Beachbody Coach for example this could be a great way to recruit people to join Beachbody since they are going to see the results and routine that brings that to you.
Print it out – with Beachbody if it is a weight workout you can just print out the workout sheets. Take your clip board and pen/pencil with you to fill out as you go. You will find after a short time you don't even need the videos to workout you can do them on your own based on the sheets. I did that alot with P90x back when it came out.
24/7 – most gyms are open all day and night these days. So that can be a blessing for many people including if you live in an upstairs apartment and maybe want to workout late at night. When I lived in an upstairs apartment everything you did made noise just like walking around. I remember I had a low noise rowing machine that was very quiet, but you could still hear it downstairs.
Lunch Time Blues – if you have a gym close to your work or maybe even in your work (yes even my local in the middle of nowhere company I worked for had a small hotel style gym). It is best if they have a shower and you get a long lunch to get your routine in. But some workouts like LIIFT4 are usually around 30-37 minutes and if you cut out the 50/50 and ab routine you can get it down in under 30 minutes leaving you time to cool off and shower. Of course if there is a gym on the way home you can always wait until after work and stop by before you get home. I would do that so you don't make any excuses after you get home I used to do that all the time and it never worked.
Kids – I put this down as a pro and con. Some gyms do have daycare so that can be a huge positive. I know when I workout at home with my daughter it can be great, but it can be nearly impossible as well depending on what kind of mood she is in (3 years old at the time of this article)
Cons
Not Alone – some people just don't like working out in front of people (myself included). So doing a Beachbody workout may not be the best thing for ya. But again if the gym is quiet during certain hours then maybe you can get your workout done then there and not have to worry about other people being there. Also just put your headphones on and just mind your own and others will do the same.
Drive Time – if you have to drive out of the way to the gym then that is added time to your day that you probably already don't have so something may have to give. This also adds additional steps to working out. Instead of just rolling out of bed and working out in those same clothes without brushing your teeth or doing anything with your hair you may feel you have to look presentable to a certain extent. Trust me get over that feeling it will be a great decision so you get results.
Kids – If you have kids well what are you supposed to do with them at the gym? If they are old enough they can workout with you, but most gyms have rules and age limits so it may not workout. Maybe you can drop off at a relatives or work around your significant others schedule, babysitter. Either way it adds steps for you to workout and can lead to failure.
Masks – at the time of writing this we are going through the a pandemic which requires masks at gyms. Workout out in masks is not fun unless you are doing high altitude training and use a mask like I have for that. I definitely cannot keep that mask on at all times as it is hard to breath. A cloth mask is doable, but it will take some time getting used to. My wife wears a mask 12 hours a day so I don't complain about working out with one on or I get yelled at or picked on I should say. But yes this is an added reason for many not to go to the gym.
Germs – kind of based off the lasted bullet point. This has gotten better since the pandemic of course. Germs aren't always bad, but going through flu season you are much more likely to get something like the flu at a gym. Most gyms deep clean daily these days and do added cleaning throughout the day.
Beachbody At The Gym: Opinions Of BOD Users
We didn't only want you to take our word for it so we went out and got information and opinions from actual Beachbody On Demand users that use gyms for their workouts. We curated this information and the only thing we changed was any spelling/grammar that was needed to be.
1. Rose Petz "Use my phone at gym" – I've used BOD at my old job's gym. It can he done. I used it on my phone.
2. Susie "Hotel gym if traveling" – I don't go to a gym but when I travel I still use the BOD app at the hotel gym. You can still use it in the gym I would think
3. Jeff "Download workouts ahead of time" – I bring bod to the gym with muh iPhone download work outs to device and giverrrr!
4. Steve "Programs like Body Beast yes" – You can lift with a program like Body Beast at the gym. (Maybe not PF though, don't they only have dumbells up to 25 lbs though?) just kidding!
5. Katie "Gym is nice with Selection of weights" – You can use a phone/tablet to do BOD workouts at the gym, the biggest plus is a big selection of weights
6. Jaclyn "From Time To Time" – Yes.. I do BOD there sometimes because they have various weights that I don't have at home. I also am a spin instructor and teach 4 days a week (6 hours). I keep it all lol.
7. Kimberly "I use both" – I use both because I like having access to heavier weights at the gym, love the childcare room, and I do my BOD workouts in our yoga room (which is obviously WAY much more room to move around than my living room!). My gym also has a pool and sauna that I and my kids use 
.
8. Cat "No BOD only spin classes" – I have a gym membership and honestly, I only use it for the spin classes. I go there sometimes to meet friends but really not much since a most of workouts are done at the house.
9. Amy "If out of town yes to BOD at the gym" – I do. If I'm out of town I like to hit the local PF and do my BOD workout there. They are actually opening one on my direct route home from work. I'm so excited because if for some reason my early am workout doesn't happen I can stop on my way home and get it done cause once I get home it won't happen usually
10. Jennifer "Both home and gym" – I do both. But my gym membership includes the use of the pool, including free swims, lane swims and aqua fit classes. It's good for whole family and gets me discounts on swim lessons for the kids and in some stores too.
11. Gitta "Morning at home afternoon at gym" – I do BOD workouts in the morning and gym after office hours. Or, since 1 room in the gym is seldom used, I do my BOD over there. Not sure if after re-opening this room will still be available. They are using the shut down for restructuring the gym and classes
12. Heather "Few times a week" – I do. I go a few times during the week and my boys go to the daycare at the gym and saturday mornings I take body combat. It's my time. at home I workout but have my boys with me so they are asking for breakfast or fighting with each other. at the gym I get time uninterrupted
13. John "Gyms when traveling" – I only use the gyms when I travel. Planet Fitness is one I try to avoid, mostly because they don't want me wearing a stringer tank or doing deadlifts (even if I wanted to they don't have real barbells to do so 
). I have a great gym setup at home so I have no need to regularly use a gym. I'd way rather invest in working out at home then paying for a gym membership.
14. Jennifer "Bring it with me to gym loaded and ready to go" – Hubby and I have a Fit4Less membership and I have BOD. When gyms were open we would go in the mornings, 530-630am. I would bring my tablet with my BOD workout loaded and ready to go. I used wireless headphones and press play. My hubby relies on me to keep him accountable. If I don't go he won't either. He hates working out but wants to stay healthy. Our home gym is too small for the both of us to exercise together. At the gym tho, he does his own thing.
15. Marni "Just keep phone in view" – When I was doing LIIFT4 and 80DO, I had to keep upping my weights. I just plug in and put my phone where I can see it and do the workout. People are usually like "Damn! What workout is that?!" Especially during The Work
16. Tina "Yes Liift4 and 21 Day Fix" – I do both. Some programs that I love to do at the gym: Chalean Extreme (weights), Liift4 and 21 Day Fix. I'm sure any weighted exercise you can do at the gym but these are my personal favorite to do there. I like to do the BOD Cardio exercise and more 'jumpy' exercises at home.
17. Traci "Yes Planet Fitness" – I have a Planet Fitness membership as well and sometimes I like to go to the gym to get out for my workout. But love BOD workouts! What's nice is you are not locked in a contract with Planet so if you do keep it and don't use it, you can always cancel it.
18. Gypsy "Hammer and Chisel" – Hammer and chisel and body beast have print outs of the workouts you can take to the gym with you