So you finally have your home gym setup or you are in the process of getting your home gym setup. If you are thinking about the mirrors you are more then likely almost there.
Mirrors can help you in many aspects with your home gym by lightning things up and by making sure you are lifting weights with the correct form. Of course to also show off those results right.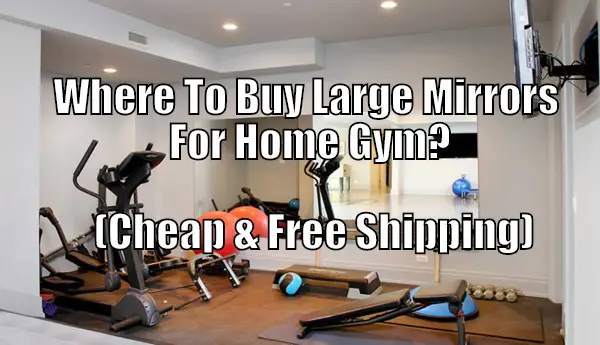 So where to buy these massive mirrors for your home gym? Start with Walmart they have great deals on mirrors for around $200. Amazon has some nice adhesive mirrors you can throw on for around $10-$20.
Where Else Can I Get Gym Mirrors?
Gym Mirrors Walmart – Let's just be honest Walmart is one of the cheapest places you can shop and some things aren't high quality but things like Mirrors for example can't really be bad quality either you see yourself in it or not. Walmart has big mirrors for around $100 less then places like Amazon.
Gym Mirrors Amazon – I would only go with amazon if you are going with the adhesive ones. They are relatively flat if you wall is completely flat and take some time to put on but they are so much cheaper then regular mirrors it is worth a shot. They have regular gym mirrors as well.
Gym Mirrors Lowes – Lowes I was surprised has quite the selection both online and in store this is something people don't know but they have way more stuff online then in store and it is free shipping to their store. You can get a 60″ by 36″ for around $50 which is a great price.
Gym Mirrors Craigslist – classifieds not just craigslist there are many people moving or doing garage and yard sales all the time. Unfortunately a lot of people split up and get divorced but that is where you can get a lot of cheap things for things like a home gym. I am not a big fan of facebook, but I am a big fan of the facebook marketplace. Check them out easy to search as well.
Acrylic Gym Mirrors
So you can always go with glass mirrors for your home gym just make sure they are mounted and aren't going to move too much. Also make sure you don't have get mad or have medicine balls flying around to close as one hit and they are likely to break I have seen it a couple times in regular gyms that is where acrylic mirrors come in.
Although glass mirrors have a superior reflection it is kind of like the different between watching a 720p and 1080i HD Television there is a little difference to the average person but not really noticeable unless you are really paying attention.
Acrylic mirrors are thought of as glassless mirrors as they are made from acrylic.
Benefits of Acrylic Mirrors For Your Gym
lightweight and strong
over 10 times the break resistance of glass mirrors
They are a little bit flexible so if you have to sneak them around something like a tight area its okay
1/4″ thickness which is great for obvious reasons
you can a lot of times depending on where you order get them custom cut to your liking
Applications Outside Of The Gym
Inside your shower
Inside vehicles including RVs and boats
Lockers and locker rooms
Outdoor areas
Promotional signs
Decorative surfaces
Daycares and schools
Stage sets
Where To Get The Cheapest Gym Mirrors?
Have you ever been to a house where they have the old slider closet doors with mirrors across them. These make some of the best gym mirrors and you can get them dirt cheap if you just find them.
Sometimes old trailer parks will have them or you can find them on craigslist. I have a friend who got some for free because the people were letting their house go and moving.
Other places include Habitat For Humanity. I have helped with a couple projects and they get rid of a lot of the things they don't need or re-do. This is a great place to start.
Estate sales happen all the time you may have to travel a ways for one but they can be a gold mine for a gym. My grandfather in law goes to them all the time so I know where they are happening quite often.
Thrift Shops and Goodwill – You can find pretty good furniture at these places including mirrors may be worth a shot or a phone call even and it is for a good cause. We used them for college dorms. Which brings up another matter dorms at colleges get redone infrequently which means lots of mirrors being thrown away or donated.
Alternative Options
Now like we mentioned there are usually a couple reasons why you want a mirror one is form. For that instance you can film yourself or put up a webcam to live stream it to a monitor so you can check your form.
You can also get a kind of selfie stick for your smart phone that sits there and videos from an angle that works.
If the reason you want mirrors is because of lighting maybe look to add additional lighting into your home gym. Used to be fluorescent lights for the gym but now they have the long LED plugins that work great and emit a ton of light for next to nothing when it comes to cost.
Just make sure you are checking out the reviews of anything you buy to make sure it is durable enough to put in the gym.
Conclusion
Once you get to the mirror stage of your home gym it is all downhill from there. This kind of completes the puzzle and paves the way to your fitness journey.
So do more research then just here this is just get the information in front of you. The acrylic ones are definitely the best for the gym because of durability but that doesn't mean they are the most cost effective.
If you can go get some nice glass mirrors for free or for less then 50 bucks go for it don't hesitate because somebody else will be picking them up.