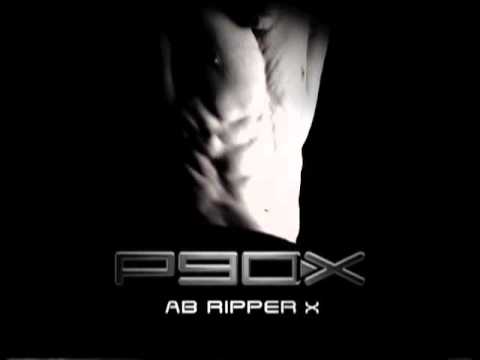 As the old saying goes "Abs Are Made In The Kitchen Not The Gym" which is mostly true. You need to focus 80%+ on your nutrition and eating a healthy diet that is reduced in calories. But that doesn't mean you should neglect your mid section when it comes to working out. You should definitely focus on your core and getting it shredded as much as possible because your back and stomach will thank you for it. You strengthen your core you will be prone to less injuries and Beachbody has a surplus of Ab Workouts that you can add to your schedule.
GET YOUR FREE TRIAL WITH BEACHBODY TODAY BY CLICKING HERE!
So which Beachbody workouts are best for your Abs? 
The best Beachbody workout overall for your Abs is definitely P90X's Ab Ripper, but there are quite a few others that will give it a run for its money including: 
Hammer and Chisel: 10 Minute Ab Chisel/Hammer
Autumns: Kill Cupcake 
Insanity Max 30: Max Out Abs
Insanity: Insane Abs
Insanity Asylum Vol. 2: Ab Shredder
Barre Blend: Week 8 Core Blend
This isn't all the Beachbody Ab workouts, but these are the best. You get access to all of them with Beachbody On Demand. So if you already have it just on these for some intense Ab workouts. If you don't have Beachbody On Demand search Youtube first as Tony T and Shaun T from Beachbody put out a lot of free workouts as well that include some killer Ab ones.
Below we will go through what these workouts entail along with what results you can expect. Real Beachbody Customers also give their take on the ab workouts along with advice on how to get there.
Get the best Beachbody equipment shipped to your door in as little as two days:
Beachbody Equipment
Best Beachbody Equipment
Check Price

Top

Top

Top

Top

Beachbody Resistance Loops for 80 Day Obsession, Beachbody Workouts
Check Price

Top

Top

Top

Top

80 Day Obsession Equipment Bundle - 21 Day Fix BPA Free Portion Control Containers Resistance Bands, Core Sliders, Guide, Planner, Recipe eBook, Tape Measure
Check Price

Top

Top

Top

Top

Beachbody Core Comfort Mat
Check Price

Top

Top

Top

Top

Beachbody Strength Slides and Booties
Check Price

Top

Top

Top

Top

Gliding Discs Core Sliders and 5 Resistance Bands
Check Price

Top

Top

Top

Top

Beachbody Adjustable Exercise Equipment Step Platform for Sports & Fitness
Check Price

Top

Top

Top

Top

Cordless Jump Rope for Fitness, Tangle-Free
Check Price

Top

Top

Top

Top

Pink 80 Day Obsession Equipment
Check Price

Top

Top

Top

Top

Two Adjustable Medium Dumbbells
Check PRice
Teclor Adjustable Weight Bench
Check Price
Iron Gym Pull Up Bar
Buy Now
Power Tower Pull Up Bar and Dip Stations
Buy Now
What Is The Best Ab Workout On Beachbody?
Hands down P90X Ab Ripper is the best all around straight ab workout in Beachbody's library of workouts. It is over 300 reps of core movements hitting up your abs from every position. By the end you will be feeling it or even in the beginning. Most of the exercises are 25 reps each.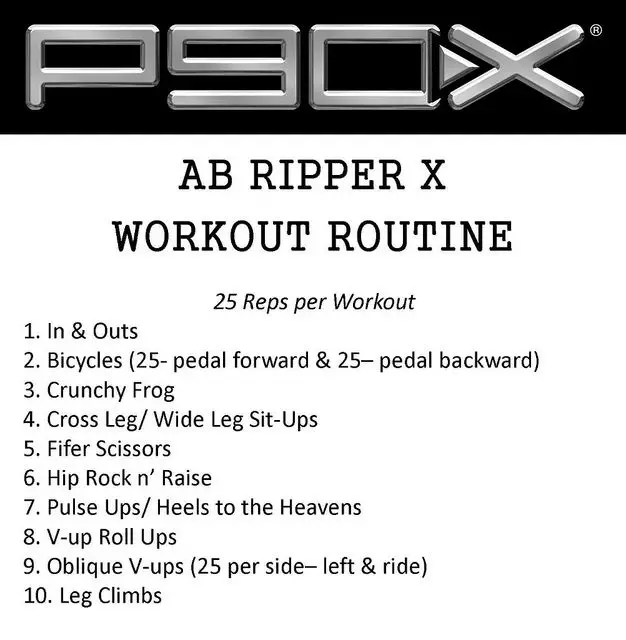 In & Outs (25 Reps)
Bicycles ( (25 Reps Forward, 25 Reps Backward)
Crunchy Frog (25 Reps)
Cross Leg / Wide Leg Sit-ups (25 Reps)
Fifer Scissors (25 Reps)
Hip Rock n Raise (25 Reps)
Pulse Ups/ Heels To The Heavens (25 Reps)
V-up Roll Ups (25 Reps)
Oblique V-ups (25 Reps per side)
Leg Climbs (12 per side)
Mason Twist (Around 50 Reps) Depending on how far you make it
Best Beachbody Workout For Lower Abs
Ab Hammer (Hammer And Chisel) – (10 Minute)
Sagi gets you going and burning with this workout. This is also a nice add on if you are having problems with the lower mid section. You do a lot of different exercises that engage those lower abs and lower obliques. The workouts include: C Sit Tap, Forearm Run, Up Down Reach, Oblique Crunch Twist, Side Plank Wing, Windshield Wiper, and Hammer Run. You do All these workouts for 1 minute each. There is no cool down or warm up. I wouldn't do this more then 3-4 times a week max. Start with 1-2 then work your way up to every other day. You can either just do the Hammer and Chisel program or add this onto any other program.
Tummy Tuck (Brazilian Butt Lift) – (20 Minutes)
Many Beachbody users claim that this is the best ab workout ever and I must admit this is a an intense workout. You do many variations of crunches along with other yoga core strengthening moves. This brings in some killer combos that will have your abs on fire. It is a little longer then most of the workouts I prefer to add on to my daily workout routine at 20 minutes but that's okay. Maybe add this on to your rest day. All you need is a mat.
10 Minute Abs (21 Day Fix) – (10 Minutes)
This is a quick 10 minute workout that brings the burn to the mid section. So this isn't a part of the 21 Day Fix workout routine so it is just an add on. So it makes it perfect to add onto any workout routine if you want to. I wouldn't do this more then 3-4 times a week max since you do push the limits of your mid section right away. It is around 400 moves with lots of crunches so get ready to hammer on that lower ab section.
Best Beachbody Workouts/Advice That Focus On Midsection
Below is the opinions of real Beachbody On Demand customers that was gathered from Facebook groups along with forums. This information was curated and the only thing changed was grammar/spelling where needed.
 1. Chrystal "Anything Shaun T Related" – Crazy shaun t🤣🤣🤣 and thats no joke!!! my all time fav is max 30!!!! 30 mins no equipment but you!!! I have lost majority if my 125 lbs to shaunt
2. Jaku "80 DO" – For me it was 80DO I did 2 rounds and it really shaped my core.
3. Kelly "Calorie Deficit" – a calorie deficit from your maintenace calories will result in fat loss. you cannot spot reduce, and doing 10000000 crunches wont get you there either.  fat loss comes from a calorie deficit. Period. Its science. It does not come from exercise. You can eat in a deficit and do zero exercise and still lose fat. Maintenance calories are calories you consume (calories IN) to stay exactly at the weight you are. Eating below that will result in fat loss. How great of a deficit will result in how fast the fat is lost. A 500cal deficit per day will result in 1lb of fat loss per week. (500 x 7 = 3500 cals which = 1lb of fat) And its usually not recommended to go any lower than that to lose fat any faster.
4. Autumn "Time and Perseverance" – The idea is that you can target muscle growth, but you cannot target fat loss. Eating a healthy diet and creating a deficit, will cause your body to lose fat. But the way it comes off of your body has no rhyme or reason. It just happens.
For me, I lost weight in my face, legs, and butt first, my belly is slowly losing.
Time and perseverance.
5. Jennifer "Transform :20" – Diet, and T20 Shaun works those abs
6. Jessica "Nutrition" – Nutrition girl. Hate to sound redundant but that belly ain't going nowhere despite the program if the food ain't right.
7. Dawn "MM100" – Food plus any workout YOU love and will keep going back too daily! Everyone responds differently. I respond well to crazy cardio workouts. MM 100 is great if you're not ready for Shaun T yet.
8. Mariela "Barre Blend" – Abs are made in the kitchen!! Barre blend is great for belly area, low impact!!
9. Lizette "Nutrition" – It's all clean eating no workout will focus on belly fat. It starts in the kitchen !! U got this
10. Nicole "21 Day Fix" – I did the beach body 21 day fix program about 4 years ago and had great results! Idk if I really care for the new real time 21 day fix but does everyone maybe recommend doing the portion containers or is there anything else?
11. Leslie "Nutrition" – You can't really focus on specific areas of fat. If you lose the fat and want to tone the muscles then you can do that. But you can't just lose fat where you want by targeting certain areas. It doesn't work that way. When you work out, you burn calories and in turn that helps burn fat. But it's not like you can chose to burn belly fat for example. And contrary to some people's thinking, fat does not turn into muscle. You lose fat you build muscle but it doesn't necessarily happen at the same time. Nutrition is where the fat loss happens. But it happens where it happens. Not in a specific area where you want it to happen.
12. Mandy "80 DO" – Intermittent fasting is doing the trick for me. 80 Day Obsession has a lot of core work as well.
13. Monita "10 Rounds" – Cardio 10 rounds has helped me so much with my midsection and OG insanity are great workouts too
14. Karen "Core De Force" – Core de force
15. Tarra "Barre Blend" – Nutrition plan & Barre Blend
16. Rebecca "10 Rounds" – 10 Rounds I lost a lot off my waist
17. Julie "Barre Blend" – I personally love anything involving weights, since that shifts your weight in the most flattering of ways. But I'm doing barre blend right now because I threw my back out and can handle the low impact of that 😂 also of course diet but you knew that
18. Jennifer "Insanity" – Plyometrics cardio circuit on insanity !!!
19. Molly "10 Rounds" – You work your obliques in 10 Rounds
20. Jocelynn "Barre Blend" – I have working out for 1 1/2 years now with BOD. My nutrition is ok, could be better. I never really started seeing a change until I started doing Barre blend. My clothes are starting to fit much better in the waist.
21. Minniina "Barre Blend" – I think barre blend, 21 day fixed and 10 rounds will be good. But as long as you are eating according to your goals
22. Crystal "80 DO" – It's all about nutrition, but 80 Day Obsession with the timed nutrition gets me in my best shape.
23. Kathy "Whatever you enjoy" – First try to find a workout program you enjoy. Sample different ones. When you like what you are doing that is half the battle but nutrition will always be key. Working out is the icing on the cake!!
24. Kelly "80 DO" – 80 day obsession and the meal plans they offer.
25. Craig "Pick A Program That Follows Your Goals" – Programs don't revolve around targeting the area you want to lose fat from; doesn't work that way like building muscle does. Everyone gets different results from different programs and different nutrition. If I lost my belly fat first from a workout and meal plan, doesn't mean another person would lose their belly fat first from the same program. Pick a program based off your goals then the MAIN THING is eating right!
Final Thoughts And Results
As you can see most people are still going to point to nutrition first which is fine, but you still want to work that abs and core. So I would try to focus on an easy nutritinal program like 2B Mindset or something like Intermittent Fasting which is what I do. My wife does more of a 2B Mindset based program.
The top 3 workout programs that came up are below.
Barre Blend – 24%
Shaun T Workouts – 21%
80 Day Obsession – 16%
Barre Blend – is a newer workout at the time of this writing and it is completely different then what most everyone is used to. Which is a nice change up. It will hit your core and all your muscles you didn't even know you have and it is all pretty much low impact. Not everybody will like this program of course so give the sample a try since it is a mixture of most all the styled exercises you will hit up.
Shaun T Workouts – So yes Shaun T's workouts can get a little crazy that is for sure. At the time of this writing he is running a "60 Days Of Digging Deep With Shaun T" that is a mixture of all his workouts. So we have been doing some Asylum Vol 1 and 2 workouts that are just crazy beyond belief. So you can pick a program with Shaun T's like Insanity Max:30 or do a hybrid program that you will love doing like the 60 days of digging deep.
80 Day Obsession – this program is a major commitment to working out and nutrition. If you follow both closely you will see massive results and will be all that you need to get those abs going in the right direction.
That's the thing adjust to what works for you and most importantly something you can stick with and somewhat enjoy. Just like with the workout program.
Pick a program that you are going to enjoy doing. If you hate cardio then don't choose a program like Insanity Max:30 to complete as it will be tougher to do so. Maybe choose something like Body Beast that is a weight heavy based workout program.
You can always add in Ab Ripper X to your routine and do it maybe even every other day. Trust me your core will get stronger doing this just don't do it every day as your Abs are muscles and need time to recover.
Start out with an ab workout that challenges you, but that you feel like you can do over and over. Then challenge yourself to complete it 1-2 times a week then increase until you get to every other day. I have heard of people doing ab workouts everyday, but we don't personally. So we will leave that up to you.