We all reach a point where enough is enough and fortunately it is never too late to get going in the right direction with a healthy lifestyle. When you get to that point and take that first step so many people try to take a giant leap forward by going all out in getting into shape.
Then what usually happens is a number of different scenarios that all lead to failure unfortunately. Slow and steady wins the race that is why you should take the easier and longer route to living a healthy lifestyle. Sometimes the shortcut is the longcut. With fitness that can be the case so ease into it then take it up another level.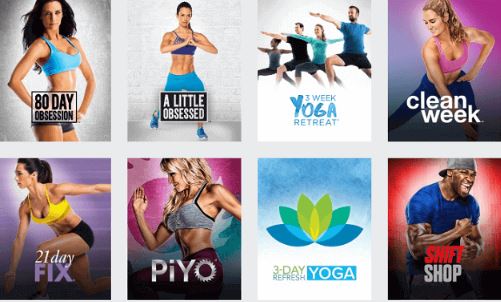 So what's the easiest Beachbody workout? It is hard to narrow down to just one so we will go with two that is PiYo (Mixture of Pilates and Yoga) and YOUv2 (Mix of workouts including Cardio and Strength training). Either one of these two will ease your way back to a healthy lifestyle and you can get them with a free trial.
What Is PiYo And What Does It Stand For?
PiYo stands for Pilates and Yoga combined. It is an 8 week workout program that is the perfect blend of Pilates and Yoga. The trainer is Chalene Johnson who has been a big part of Beachbody's workout program success.
This is a low impact exercise program that will make you stronger while sculpting your body and making yourself more flexible. You burn more calories then you would think because of the nonstop movement you keep up with throughout the sessions.
Duration: This is a 60 Day workout program.
No equipment needed
Works for every age and fitness level
PiYo was actually created years before the actual release it just took some time for Chalene to put it all together in DVD format (Now Available On Beachbody On Demand Free)
This workout is not conventional in the least and that is the reason why so many have had success with it. You stay interested and excited knowing it will be something more different.
It is designed for the average person to have phenomenal results.
What is PiYo Good For?
The 3 main areas PiYo is good for is stability, flexibility and building strength. Your body will become toned with the pace that is kept continuously. It will help you burn off that unwanted fat in the trouble areas like love handles and abs not necessarily spot reducing but with following the diet it is achievable.
Is PiYo Considered Cardio?
Yes PiYo is considered cardio since you are moving continuously. Some workouts are obviously much more intense cardio then others. The combination of Pilates and Yoga keeps your muscles tense so you are burning calories constantly.
Is PiYo For Beginners?
PiYo is for all levels not just beginners. Since you get out of it what you put in. The harder you work weather beginner or intermediate you will burn around the same amount of calories.
How Many Calories Do You Burn With PiYo Workouts?
Although this number can range quite a bit the average is around 250 to 400 Calories per session. You will also burn more calories during your recovery as your muscle are being worked and pushed. So when they repair themselves you will burn more throughout the day not just while you workout.
Is PiYo For Me?
This is the question  you have to ask yourself if you have ever wanted to get into Yoga or Pilates I can say that without a doubt this is an amazing way to go about it and get into great shape at an increased rate then if you just picked one or the other.
Luckily for you can try PiYo along with any other Beachbody Workout for free by signing up for the Risk Free 2 Week Trial!
What Is YOUv2 And What Does It Stand For?
YOUv2 is a newer 4 week long workout program by Beachbody. It is specifically designed for beginners that want to get back into shape. Doesn't matter what kind of shape you are in or how old or young you are YOUv2 will help you get to where you want to be.
The trainer is Leandro Carbalho who has been with Beachbody for quite awhile and loves to dance and have a free flowing workout. There are 6 workout sessions total with 4 of them being more cardio dance like routines and the 2 others are bodyweight and little tougher.
Even though it says it is for everybody of course it isn't but with it being such a short program you will figure it out in a hurry if you like it or not.
What Is YOUv2 Good For?
It is good for the beginners that has little knowledge about working and eating healthy. It keeps it very simple so you can see it all the way to the finish line.
How Many Calories Burned Using YOUv2?
YOUv2 on average seems to burn between 250 to 350 per session. This will vary quite a bit for yourself so use a heart rate monitor to better track this.
This definitely surprised me a bit because didn't seem to burn that many with the intensity so it is definitely the movements that keep your heart rate up.
Is YOUv2 For Me?
This is a tough one to answer because even though it says it is for everybody it definitely is not. You will find out after the first workout if you like it or not and luckily there is a free trial going on for Beachbody On Demand where you will be able to get through all 6 workout sessions before it will cost you a penny.
Alternative Easier Beachbody Workouts
This is a couple other workout programs that are worth checking based on what you like to do while you workout. As soon as you find something you can get addicted to and not live without your healthy lifestyle will be fast tracked.
I may be a little bias with the Shaun T workouts overall but I have just had the most success with them starting with Insanity.
T25 Modifiers
Focus T25 is an intense high impact workout that has no breaks for the 25 minute duration of the workout. So why would I put that into the list of Easy Beachbody Workouts…well that is because they have an amazing modifier throughout all of them that takes the impact out and also allows you to rest on your way through the session.
The modifier person is Tania who has been in Shaun T's previous workout programs Insanity. So it is nice to have her back and she is a new mommy in the program.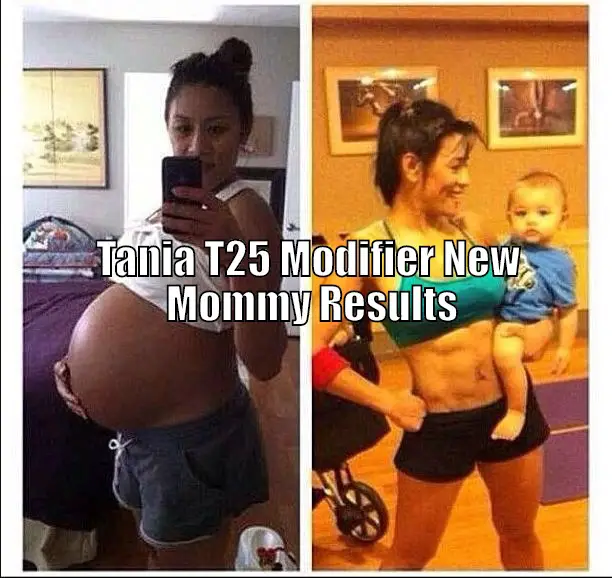 As long as you keep moving as much as possible through the program you are going to burn massive calories throughout and the modifiers will keep you burning fat.
The biggest thing I like about this program is you can start out by doing the regular move once you max out go to the modifier then once you are toast with that just job in place or march to recover then go again.
What Is T25 and What Does That Even Stand For?
It is designed to give you a total body workout in just 25 minutes.
A lot of cardio througout
3 total phases which are called Alpha, Beta, and Gamma
No equipment needed which is a big plus for beginners
All of it done within 25 minutes and you really only need about 6 ft so most living rooms will work.
How Many Calories Burned With T25?
Similar to YOUv2 you burn around 250 to 350 depending on your effort and heart rate.
Is T25 For Me?
If you are short on time but still want to get a workout in then this may be the ticket for you. 25 minutes is all that is needed although you may need some extra time to cool down afterward since you will be sweating. Try keeping a fan on you like ceiling fan will help
This definitely works great as a morning workout but if you have long lunches this can be done at the gym in no time. After all you only need a phone to stream it with your two week free trial.
Transform 20 Modifiers
Transform 20 is like T25 on steroids almost. Yes it is intense and yes you can use a step for even more intense workout.
But and this is a big but this has the best Modifier to date. You can actually select the modifier split screen and it will have a dedicated person doing them in front of you the entire time.
Then if that is too much with you while using the step simply remove it. Honestly I would just do the first round without the step since most of the workouts are easier with out it but some are actually tougher as well.
What Is Transform 20?
It is a 6 day a week program that will take 60 days to complete. They really are only 20 minutes a day and although the step is recommended you don't have to use the step. There are kind of two different modifiers one where they don't use the step and another where it is a dedicated split screen option with the step but you are doing modified moves.
Sounds complicated but it isn't just pick one and go with it and switch if you want to.
Every Workout is different there are no repeats except with what they call transformations.
Transformations are a certain exercise that you count how many times you can do it in an hour and try to improve every week. Really simple actually and keeps you motivated to improve.
There are Bonus workouts included that you can use weights for. If you want to get into weights then these are fun.
Overall the only piece of equipment you need is a step if you want. DO NOT BUY THE STEP FROM BEACHBODY! It is over prices and not what you need. I believe we spent about 50% of what it costs on Amazon. Check it out here if you want but search around for others as well.
Again you can try Transform 20 out with Beachbody On Demand.
Conclusion
Don't think about trying your first workout just get up and do it. Whether it is with one of these programs or any program outside of beachbody. Just start getting active and eating a little healthier. Even doing 1% more everyday will add up to 365% at the end of a year.
It is more about consistent baby steps then going all out and quitting. JUST DON'T QUIT!
There are a lot of people that get frustrated with Beachbody On Demand because they want DVD's and I used to be one of them. But you have the option to watch on a ton of different devices and you can also download them onto your tablet or phone if you are going to be out of service for up to a week.
There are many other workout programs out there other then Beachbody so just pick something with a community to support you and get Healthy For Better. Thanks for reading.