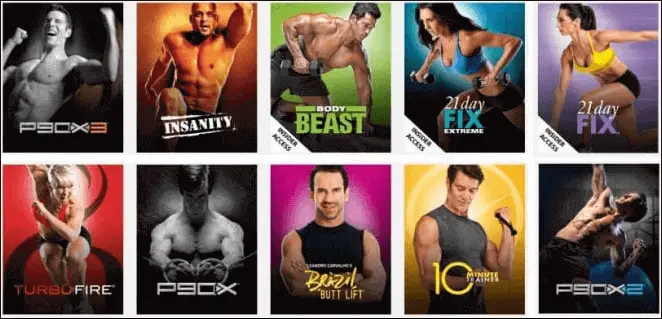 Just because you don't have any weights doesn't mean you can't get a great workout in. People go running everyday and walking which are great lower body workouts and ways to get your heart rate up. In order to get a total body workout you do need to do more then that a few days a week.
That is where Beachbody comes in. If you have absolutely no weights you can still get as shredded as you want to using the Beachbody programs outlined below. Whether you are traveling so you will need to workout in your hotel room or you just want to go outside and workout in the middle of nowhere. Whatever it may be Beachbody has you covered.
So which Beachbody workouts require no equipment? 
The below Beachbody workouts require no equipment whatsoever. You can get all of them on Beachbody On Demand so you can take them with you anywhere you want to go: 
Insanity 
T25
Country Heat 
Insanity Max: 30 
Core De Force 
Barre Blend 
PiYo 
CIZE 
You can do any of these workouts and can get into great shape without using weights. You can also integrate them into your walking or running routine as well. If you can't decide which one you have more interest in we go over them below complete with summary description.
You can find the best Gym mats shipped to your door in 2 days by CLICKING HERE!
Best Gym Mats On Amazon:
Best Beachbody Body Weight Workouts
Insanity (High Intensity Interval Training and No Equipment Needed) – was designed by Super Training Shaun T to kick your butt into shape in just 60 days. This is an oldie but a great workout routine that never gets old and is very tough to plateau out with since each workout varies quite a bit. The time takes about 40-60 minutes per workout and it gets longer as you progress.
The claim is to get a years worth of results in 60 days and also the ability to burn up to 1,000 calories per workout. Both of those are a bit far fetched, but insanity does bring it and you need to be careful if you are beginner with this workout and just stop and rest when needed. It works plan and simple and is still one of the most intense programs that Beachbody offers weights or no weights. We highly recommend as we used it to get into shape for our wedding and still mix it in for hybrids.
T25 (High Intensity Interval Training and No Equipment Needed) – Another one of Shaun T's creations. The main differences between this workout is the time and the modifications. It is only 25 minutes per workout which is great, but the caveat is less to no breaks so you will be moving the entire time. This involves a lot of high intensity interval training just like the original Insanity workout.
Also where it differs is with modifications. In Insanity you really didn't get any modifications for the exercises it was either do it or take a break with T25 you have a person doing modifications the entire time so you can keep moving or just do the modifications. Basically the way it was marketed is that Insanity was to workout hard T25 is workout smarter and more efficiently.
But can you really get into shape working out 25 minutes per a routine and only 5 days a week compared to 6 with Insanity. There are two phases over the 8 week program where it is Alpha and Beta. To prime your body and electrify it. This workout program is amazing at just 25 minutes just make sure you are still getting into a calorie deficit for the day. That makes all the different.
Country Heat (Dance and No Equipment Needed) – If you like country music then you can be all in on this routine. It is a 30 day country dance workout routine that was designed by Super Trainer Autumn Calabrese. The workouts are each 30 minutes long and are really easy to follow as they have instructional videos for each of the moves if needed.
There is also a modified version of the moves and they have one person doing these the whole time so you can follow along with them or switch back and forth if you just can't do some of the moves. This is a high energy low impact workout that will get you some calories burned. We have actually used this as a supplemental workout for ourselves because it is low impact you can do that kind of thing.
In my opinion this isn't that hard of a workout so you won't really get frustrated and you don't really get bored if you like the music. But it is different then CIZE that Shaun T created that we talk about later since it is much less complex and less repetitiveness.
Insanity Max: 30 (High Intensity Interval Training and No Equipment Needed) – This is a 60 day fitness program created also by Shaun T and they are each 30 minute workouts. No this is not just a condensed version of Insanity there is new concepts and new ways to get that burn going which includes training until failure.
This is different then most workouts in this program you want to completely exhaust your body and FAIL. The goal is yes to FAIL so you have to stop. It is called the Max Interval Training Method. So you are maxxing out until failure then you take a quick break and then keep going. It was marketed as being the hardest 30 minutes of your day and it definitely is most of the time.
In the beginning I was only making it 3-4 minutes until maxing out, but as the weeks went on that increased and you can feel your body getting stronger and leaner. It is only 30 minutes a day 5 days a week. If you can I would do this in the morning so you can take a shower afterward. If you feel like you are going to be able to do this on a lunch and be back to the office in an hour good luck as you will sweat like no other with this workout. I definitely recommended this bodyweight based workout routine.
Core De Force (MMA Style and No Equipment Needed) – This program is a one month routine that is Mixed Martial Arts based training to kick your butt into shape. This program is designed so everyone can do it since it is bodyweight and there is a modifier for all the exercises.
It is created by Joel Freeman and Jericho McMatthews who are two fitness professional trainers. The durations of the workouts range from 27-47 minutes and there are 10 different workouts. So you get a lot of diversity over that 30 day stretch which is pretty cool if you ask us. There isn't much more too it. The workouts are fast paced, but you should be able to pick things up pretty quickly. I definitely recommend it if you are looking for a changeup in your routine.
Barre Blend (Barre and Pilates style and No Equipment Needed) – Barre Blend is a newer routine at the time of this writing, but has had a lot of craze. This workout program was built to build you the amazing dancers body which involves longer and leaner muscles. It is a low impact barre program that last 8 weeks. You can do it from anywhere just like the rest of these workouts.
Each of the routines are around 30-40 minutes long. You can use 1-5lb weights but that is only if you are not a beginner and trust me you can get a great workout without them and they are 100% optional. Also the only equipment you kind of need is just something stable like a chair, stairs, stool, table just something to stabilize yourself since you will be put into awkward positions.
If you like Beachbody's PiYo you will definitely love this. Same goes for yoga or pilate style workouts if like those or are looking to get into that style of workouts this will probably interest you.
PiYo (Pilates style and No Equipment Needed) – This workout combines Pilates, Yoga, and just nonstop movement into a great workout program. It was created by Chalene Johnson who is a Super Trainer with Beachbody and also created the Turbo Fire program.
It is very low impact and takes you on a journey of progression throughout the routine. You will get results if you stick with this routine just make sure you watch what you eat and don't get carried away with calories. You don't burn as many calories with this routine as you do with an Insanity based one. I do recommend this workout and even as a supplementary one since it does limber you up.
CIZE (Dance style and No Equipment Needed) – Created by super trainer Shaun T and is a 4 week routine that is fast paced dance routine. If you love dancing you will love this workout. But you will be burning major calories with this routine as it is fast paced and electric.
With it being only 4 weeks it is easy to stay committed to this journey. This workout program will seriously tone your entire body and when it comes to calorie burning you will average around 400 of them if not up to 700. The 6 workouts range from 30 to 51 minutes. If you are looking to get into dancing this is definitely for you. Even if you are a dancer this will give you one heck of a workout. Once you learn the moves the rest just flows.
Related Questions
Do You Need Equipment For Beachbody On Demand?
You do not need equipment for a lot of the Beachbody On Demand programs such as:
Insanity
T25
Country Heat
Insanity Max: 30
Core De Force
Barre Blend
PiYo
CIZE
What Equipment Do You Need For Beachbody Workouts?
For a lot of Beachbody workouts you don't need any equipment at all. For the ones you do it is normally just a set of adjustable dumbbells (like Powerblocks), resistance bands, and pull-up bar.
Other then that there are some other bits of equipment you might need like sliders, loops, yoga mat, workout mat, bar, chin-up max, etc.
Can You Do 21 Day Fix Without Weights?
If you are a complete beginner you can probably do 21 day fix without weights following the portion control diet and still have amazing results. However you only need a couple sets of dumbbells to get the job done and if you don't want to get those because you are traveling get some resistance bands.
Resistance bands go a long way for getting the job done just as good as dumbbells. They are much cheaper and much more portable as well so if you are traveling you can take them with you anywhere.
Final Thoughts
So As you can see there are many programs out there that you can do with Beachbody On Demand that don't involve any weights at all. If you are traveling or maybe working out in an apartment with no weights available this will workout great for you.
If you really think you can't get into shape without using weights try out the original Insanity you can probably find the DVD's dirt cheap on Ebay even. Give it a try and go through the 60 days you will see results and as long you don't increase your calorie intake during the duration of the program.
With these bodyweight workouts that doesn't mean you can't also go for runs or walks. This is where most of your calorie burning will come from is in between workouts. Stay active try to get 10,000+ steps in a day. Get yourself a fitbit or something similar to track your steps, workouts, and heart rate.
That way you will stay motivated in challenging yourself day in and day out. People always ask what should I do on my day off I don't want to not workout. Get to know your body maybe go for an extra long walk just wear your fitness watch to give yourself that fulfillment of burning those calories every single day. You will get there as long as you don't let your calories get out of control.