There are plenty of home workouts programs these days. The market is filled with countless fitness and training programs from shrinking your body to losing weight quickly. But there is one thing which is lacking in most of the workout programs, and that is building lean muscle and becoming bulkier. All the men out there who are reading this post are well aware that they aren't just looking for a weight loss plan to get smaller, rather they are looking for a workout plan which builds up their muscles, gives them strength and make them bulkier and huge. However, except for a very few workout plans which offer to build lean muscle, all other workout plans revolve around making you slimmer and smarter.
To help all those exercisers out there who are looking for something different to achieve their desired goals Body Beast workout program is the ultimate choice. It is a workout plan distributed by Beachbody, which contains a handful of amazing workout plans especially formulated by keeping in mind your fitness goals.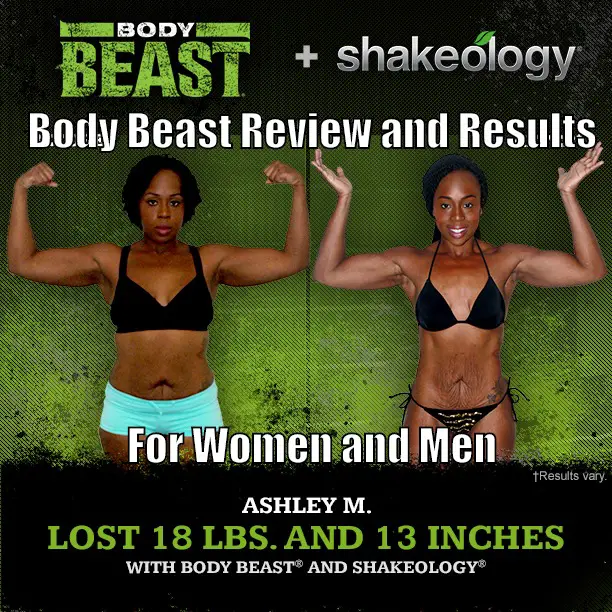 Introduction on Beachbody
With more than 800 workouts, Beachbody is everyone's ultimate choice towards a healthy and maintained lifestyle. Beachbody was started in 1998 by the co-founders Jon Congdon and Carl Daikeler. There was one goal behind its formation:
To help everyone enjoy a fulfilling and healthy life
Beachbody comes with a comprehensive set of programs, all of which combine fitness, support, and nutrition. Overall, it is a complete source of support and solution for all those people who are looking to transform their lives mentally as well as physically.
Whether you are planning to lose weight, learn about a good nutrition program, or build your muscle, Beachbody is the ultimate source of all of your needs and requirements.
Beachbody has hundreds of programs and workouts; however, we are going to talk about one of the most famous ones today, which is known as "Body Beast".
What is Body Beast?
Body Beast is a workout plan by Beachbody, which consists of a total of 90-day plan. Body Beast is both for men and women who are planning to seek a "chiseled" physique as well as weight loss. It has a total of three-month time span where the main focus is on body strengthening. It helps you in bulking up, fat loss as well as building lean muscle. There is a total of twelve workouts in Body beast along with diet recommendations.
Body Beast was designed by Sagi Kalev, who is a champion bodybuilder and is distributed on DVDs by Beachbody. It is also streamed online. In the exercise videos, you will mostly see dumbbells and resistance bands as well as other simple equipment. Overall this workout program is an excellent one for the newbies with a dream of building lean muscle mass, lose fat as well as add bulk. In simple words, it is strength training.
When it comes to Body Beast, Beachbody claims that you can transform from "Average Joe to jacked" and "Ho-hum to Hottie" just in 90 days. The base kit of Body Beast has 12 workout videos. It also includes meal guides that come with each DVD to keep you healthy and fueled and recover quickly from the strains of exercise.
Who is Body Beast For?
Body Beast is for all those men and women who want to lose weight and build muscle. Although results vary from person to person but overall if you want to experience a significant weight loss, all-over toning and tightening of your body and body strengthening, then Body Beast is for you. The workout plan is designed for six days a week.
The dramatic results of Body Beasts are enjoyed by those individuals who are newcomers in the area of strength training. As you quickly lose your weight and build your muscles, you will start burning more fat which will results in immediate weight loss even when you sleep. By following this workout plan, you will also experience a resting metabolic rate.
Following are the benefits you can get from Body Beast:
It brings immediate and dramatic results. The six-day training routine is excellent for gaining strength and losing weight.
It is excellent for strength training without weights.
One of the serious problems with women who are exercisers is that they are mostly worried about getting bulkier after indulging in weight lifting exercises. But this is not the case with Body Beast. In this workout, you will be given a complete guideline on how can you use different types of weight and exercises effectively and safely. Moreover, you will also get nutritional guidelines to achieve the type of result you want.
The complete workout is available on DVDs as well as online streaming. Moreover, you can also sign up for the digital fitness service of Beach Body, which gives you unlimited access to the Body Beast workout videos and many others as well.
You can also get a free 14-day trial of Body Beast, and you get the option of accessing all the workouts in this period and then make up your mind if you further want to move forward.
Lastly, all the DVDs of Body Beast workout are returnable within 30 days from the date of purchase. So, there is no loss but complete gain when you opt Body Beast!
The only thing which intimidates some women when choosing Body Beast is that it has only men in the videos which could be discouraging for many women.
How do Body Beast works?
You can stream the 12 Body Beast workouts on your TV, mobile, and computer. You can also play the workouts of DVDs. In this program, you follow a six-day workout plan for up to 12 weeks.
Once you subscribe to it and pay for the plan, you get a booklet along with a DVD that contains complete instructions about how it works and how can you support your fitness goals. The guide also explains about nutrition and the right kind of food you need to eat along with the supplements which will help you in speedy recovery. Moreover, you also get a chance to contact many other exercisers and program users on an exclusive forum that is available online.
Beast Body workout also requires resistance bands and dumbbells as well as simple and basic gym equipment.
What do you get in the complete Body Beast Workout Package?
The Body Beast Workout Plan comes in three basic packages. The basic package consists of 12 Body Beast workouts covered in seven DVDs, a book with instructions on Body Beast as well as Body Beast mobile application. This basic package costs around $90, excluding handling and shipping costs.
The second Body Beast package is known as Body Beast Huge. This package covers everything that is included in the basic package along with an additional 30-day Hardcore Base Shake supply as well as a 30-day Fuel Shot supply with a DVD consisting of two Temp workout videos. The second package is around $200 without handling and shipping.
The last and the most comprehensive Body Beast workout package is known as Body Beast Beast. It comes with a massive package of 30-day M.A.X Creatine supply and Super Suma supply. This highest package will cost you around $255 without shipping and handling.
Supplements
Beach Body home workouts are famous for their largest collection of vitamins, supplements, and dietary nutrition plans in the market. When it comes to Body Beast, supplements are mandatory as this workout revolves around building lean muscle. By following the workout plan along with supplements, you can achieve the desired results just within three months. You can get these supplements individually or buy them in the form of the three packages as we discussed above.
There are plenty of supplements and drinks that come with Body Beast workout. Let's discuss each one of them one by one.
The first one and the perhaps the most commonly used supplement is known as Hardcore Base Shake, which consists of protein. It is a weight gainer drink that helps you in increasing your muscle growth. Furthermore, it also decreases the chances of muscle breakdown. Hardcore Base Shake consists of all-natural ingredients with 18 grams of protein in it. Unlike many other proteins shakes that cause bloating as well as gas troubles, Hardcore Base Shake comes with a unique formula that minimizes the risks of bloating and other digestive issues.
The second supplement you will use in the Body Beast workout plan is known as Fuel Shot. This supplement is an energy-boosting drink that needs to be taken right before the workout to get the necessary amount of energy and strength. It helps in nourishing your muscles, increase its strength as well as replenishing electrolytes from your body after hardcore workouts.
The next one is known as M.A.X Muscle Acceleration Xtreme Creatine which is used for added strength. It aids in increasing your muscle growth during your exercise. It also provides an extra push to your muscles. The composition of the highest-grade Creatine Monohydrate makes it the best supplement for bodybuilders.
Lastly, Super Suma is another supplement that is comprised of ginseng, and it is used to improve the testosterone levels in your body.
Body Beast Meal Plan
The nutrition details of each phase in the workout program are contained in the Book of Beast. It has details of all the supplements you need during the 90-day workout cycle. Initially, you might face trouble following the diet due to the sudden nutrition changes in your body. In the first phase, all the calories you consume comes in the form of 50% carbohydrates and 25% protein. The second is phase is almost similar to the first concerning the calorie intake. However, in the last phase, you will cut down carbohydrates from your diet and increase the intake of protein for up to 40%.
The bottom line is to gain weight but at the same time making sure that the weight which is gained isn't fat but lean muscle which will only come by eating the right food.
The Book of Beast highly recommends you to consume diet staples like whole-grain bread, lean proteins, and nonfat Greek yogurt regularly. Moreover, it also suggests various supplements that are provided by Beach Body. Furthermore, you need to increase the intake of protein shakes in your diet and avoid desserts, ice cream, and greasy meals which results in adding fat. Moreover, you also need to avoid eating fried food while following the Body beast workout plan.
Body beast Calendar
The Body Beast home workout program comes with a complete of instructions and calendar to help you personalize your workout schedule. As an example of this, personalization is adding more muscle-building workout rather than cardio for getting bulkier. Similarly, women can opt for including more cardio to lose and burn extra fat. In the time of three months, you will use a specific kind of workouts such as Build, Bulk or beast according to your choice.
There is a total of 12 videos in the workout plan consisting of build, bulk, and beast, which are:
BUILD Back and Biceps
BUILD Chest and Triceps
BUILD Legs
BUID Shoulders
BEAST Cardio
BEAST Abs
BEAST Total Body
TEMPO Back and Biceps
TEMPO Chest and Triceps
BULK Arms
BULK Legs
BULK Chest
Body Beast Schedule
The training schedule of Body Beast workout is dual-sided, where there are two options. The first one is known as the "HUGE" schedule which is specifically intended for gaining weight and increasing size. This schedule is for those exercisers who are already lean and now are planning to get bulky. If you go with this schedule, you will experience muscle gain along with a little bit of fat. The second schedule is called the "Lean" schedule which is particularly targeted to those who are planning to increase their size a bit but are more focused on losing fat and toning their physique.
As we mentioned the three types of workouts which come with Body Beast that are Build, Bulk, and Beast. All of these workouts follow different schedules and timelines to perform them.
The first one, which is known as Build, serves as a foundation and a baseline of the whole workout program. Before starting this program and the first block (Build), you need to calculate your total daily calorie intake needs. It depends upon your weight, height, and total body fat percentage. After carefully determining the total caloric intake needs, you will then choose a nutrition plan which is available in the nutritional program that comes with the workout series.
Make sure that whichever eating plan you opt for, it should offer more calories a day than what is required by your body. By consuming extra calories, you will turn them into increasing your weight and consequently to build your muscles. However, keep in mind that not all of the fat you will gain will serve as a building block of your muscle, so be careful and only what comes with the nutrition plan. You will also need to stop yourself from consuming lean foods. If you fall for the wrong diet during the entire workout program, you will end getting fatter rather than getting leaner.
So, after determining your calorie intake and selecting an eating plan, you can start the first block of the workout plan, which is the Build block. This block continues for three weeks where you need to work out six days a week. There is a total of four workouts in the Build block. These workouts are somewhat similar to the P90X series of Beach Body however, the eating plan is different in both. There is also a cardio routine of two days in this block.
The second block of the program is known as the Bulk phase. The Bulk phase is six weeks long, and there are five workouts in this block. Before starting it, you will again need to check out the calorie counter. If in the first phase, you have gained weight, then you will need to consume more calories to maintain that weight. At this point, you can also choose a different eating plan with a different division of nutrition.
In the Bulk phase, each workout revolves around one particular area of your body rather than affecting the entire body like it is in the Build block. For six weeks in the Bulk phase, you won't need any cardio workouts. All of the workouts in this phase are about building your muscle; thus it includes arms, shoulders, chest, legs, and back and targets each muscle individually. There are five days a week in the Bulk phase.
The last phase of the Body Beast workout program is known as the Beast phase. As the name suggests, this phase finally gives you the body of your choice. It is the least comprehensive but the hardest workout phase where you need a three weeks hardcore training. This phase is all about cardiovascular workouts where you need to decrease the intake of all other foods and focus on getting more protein as this phase mainly focuses on building your muscle. This phase also helps you in getting rid of all the extra fat that you gained from the previous workouts.
Each workout in the Body Beast workout program is self-explanatory. It features various strength exercises that target different parts of your body. All the workouts are about warming up, cooling down, and repeat.
The schedule and timings of workout in the Body Beast workout program are:
Build: Chest and Triceps (50 minutes)
Build: Shoulders (39 minutes)
Build: Back (51 minutes)
Build: Legs (39 minutes)
Bulk: Chest (31 minutes)
Bulk: Back (30 minutes)
Bulk: Legs: (41 minutes)
Bulk: Shoulders (36 minutes)
Bulk: Arms (37 minutes)
Beast: Cardio (31 minutes)
Beast: Abs (12 minutes)
Beast: Total Body (40 minutes)
Body Beast Fix Results
One thing that comes as a result of following Body Beast workout plan is weight gain. By following the three phases as well as the diet, it is expected that you will gain anywhere around 20-30 pounds of lean muscle mass which will also result in a significant increase in your strength. On the other hand, if you focus on following the program only and not the diet, then you will experience weight gain, but there won't be anybody toning or lean muscle build-up. Both the components of this diet are highly important.
For the entire course of 90-days, you should expect to consume large portions of food along with hardcore training. Remember! You will need to train your muscles to a point where you feel a significant amount of soreness and cramps. Moreover, you will also need to eat like a bodybuilder during this time which will help you in developing lifelong healthy habits as well.
By following every step of the workout plan just like the way it should be, you can see the desired results for sure.
How Much Is Body Beast?
The complete workout set of Body Beast which consists of DVD and other accessories comes with two payments which makeup $19.95 along with $9.95 charges for handling and shipping. Thus, the total becomes $49.95.
How Many Calories ones in Body Beast?
Burning those stubborn calories is a difficult task, especially it comes to intense workouts like Body Beast where you also consume an increased amount of food. On average, you will burn around 700-1000 calories by following this workout plan. However, the amount isn't fixed, and it varies from person to person depending upon how correctly you are following the workout routine.
Where To Buy Body Beast?
You can navigate to the website of Beach Body:
https://www.beachbodyondemand.com
On this website, you will find the complete range of Beach Body workout programs, including the Body Beast. You can purchase it from the website by providing your credentials and get the DVV delivered right at your doorstep. You can also subscribe to many other workouts by Beach Body from this website.
What Equipment do you need for Body Beast?
Other than the supplements and vitamins mentioned above, you will also need to arrange some basic equipment to do the Body Beast workout the right way. Following is the complete list of equipment you will need:
Resistance bands (different strengths and sizes)
Dumbbells
Incline bench or a stability ball
Chin-up bar or pull up bar
Shock-absorbent mat
Curl bar
Advanced chin-up bar
However, some of this equipment is optional; it is up to you whether you want to choose them or not. Firstly, the chin-up or the pull-up bar is not mandatory. Moreover, both of them are used for the same purpose. The incline bench can also be flat depending upon your preference. Then comes the stability ball which is perhaps the cheapest option among this equipment and you can move it around easily with you wherever you go. So, you should include the stability ball as mandatory equipment as it is a convenient choice for you and a better one for your body as well.
Curl balls, resistance bands, and dumbbells where the choice is again about your convenience. If you want to choose curl ball, then you will also need to get additional weights as well as pins for it. Thus, it makes it highly difficult to move these things with you if you need to travel a long way. Resistance bands are the best and the most convenient options for you. They are available in various sizes and strengths, and they also don't take up much space.
Another equipment which isn't mentioned in the workout plan but is highly beneficial is known as Bowflex. They are bulky and weigh around 5-50 pounds each. You can keep on using the heavier Bowflex as the workout program moves forward. There are excellent for building muscle and get you in shape and get the desired results.
Who is Sagi Kalev?
Sagi Kalev is the trainer who has designed the Body Beast workout program. Sagi is a world-class champion bodybuilder and the brains behind the wonderful Body Beast System. Sagi Kalev is excellent in helping you learn the basics of building lean muscle right from the beginner level. He teaches all the moves clearly in all his 12 workout videos. After looking at his impressive physique, you will be automatically motivated to workout and transforming your body into a better shape.
Sagi Kalev claims that if you follow the Body Beast System religiously for 90 days, you will end up gaining 10-15 pounds of muscle mass just in three months. Just like all other fitness programs as well as products that are sold by Beach Body, this workout program also comes with a full refund policy. If you don't like the results, you can always return the program and claim your refund!
Conclusion
Body Beast is an excellent workout plan which is equally good for both men and women who are new in the field of weight training. Newcomers can get the best results from this workout just through strength training videos and dietary supplements (and vitamins). Thus, the program brings a significant difference for beginners. You will experience pounds of shedding, and your body will become stronger and firmer with this workout.
We don't recommend this workout to those whose main motive is to lose fat and get slimmer. Keep in mind that the Body Beast workout program WILL make you bulky, and it will increase your weight. This workout plan is for those who like to indulge in aggressive training. If you are among those who haven't lifted weight before, then you will see drastic changes in your muscle very soon after this workout begins. The only drawback of this workout is that you might feel remarkably sore in the beginning, but with the time, you will feel the influx of energy in your body. Moreover, you don't need to hire a personal trainer now and pay thousands of dollars to build your body because Body Beast workout can do it for you just in $49.
Our last piece of advice for you is to get the Body Beast DVD series, watch the preview first and meet your trainers personally before further digging into this workout!