30 Day Breakaway from Beachbody is a complete workout program that gets your entire body in shape by using running and resistance training. Not only will you get into shape, but you will be able to lose up to 15lbs and be ready to run a 5k in only 30 DAYS! That is the claim anyway and we will see if Super Trainer Idalis Velazquez can get the job done. One thing I don't understand about this program is that it is being released officially in January 2021 which where we live in the Northeast it will be pretty cold and lots of snow so not really a selling point about release lol. But that doesn't mean this isn't a great program especially if you are looking to become a good runner.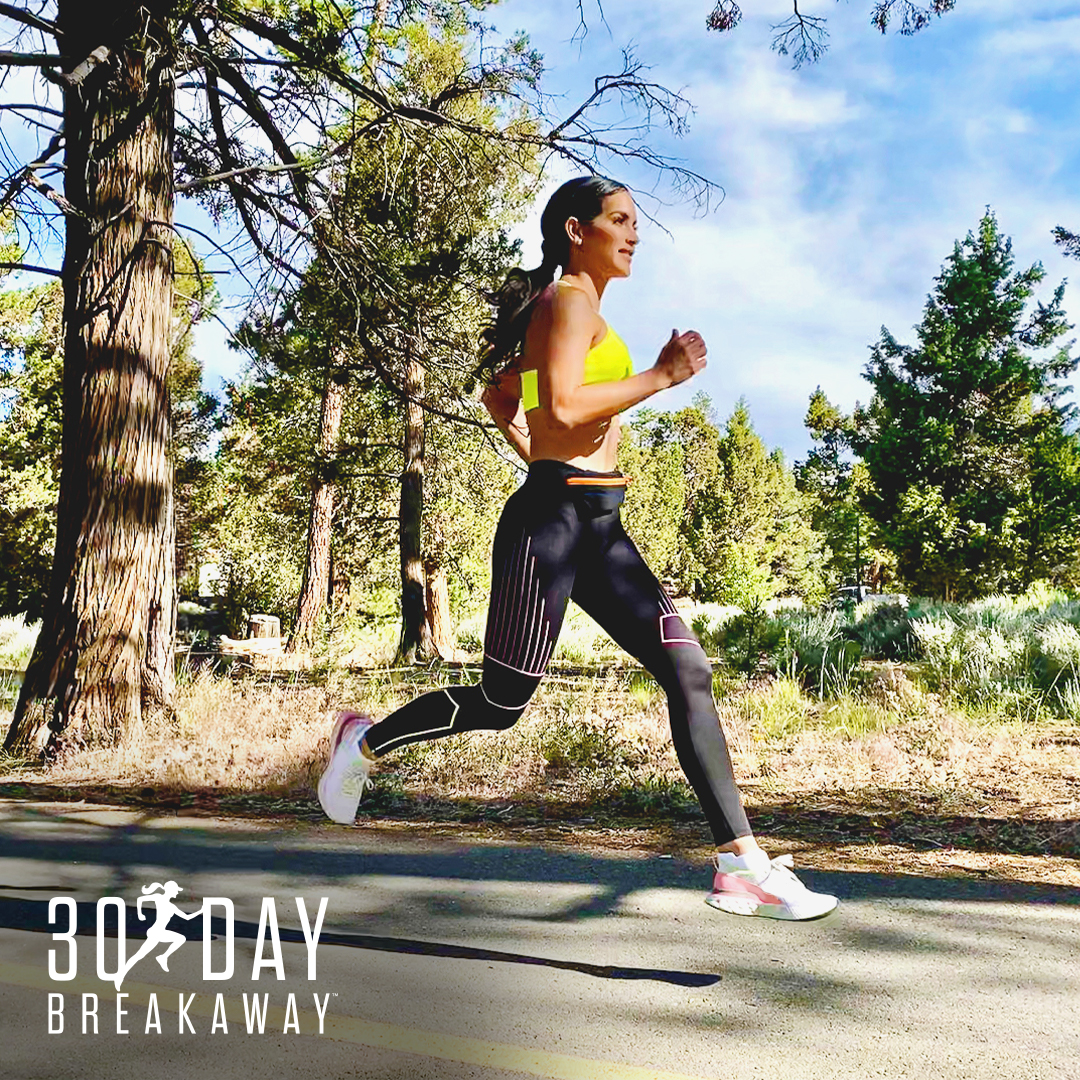 What Is 30 Day Breakaway?
30 Day Breakaway is a unique training program and the first of its kind that Beachbody has brought on board. It isn't just for in the home it is to get you outdoors (when plausible) and moving so you can be ready to run that 5k you always wanted to. Never wanted to run a 5k? Neither did I and I still managed to do one for a charitable cause and lets just put it this way I was not ready at all and almost didn't finish.
Idalis has put together quite the program to cover all angles and get you into complete shape whether you are a runner or not. This will help you get to all new heights in your fitness and even brag to your friends about running. I have never been a fan of running to be honest.
Get The Best 30 Day Breakaway Equipment In Two Days By CLICKING HERE!
Who Is 30 Day Breakaway For?
30 Day Breakaway is for anyone that is looking to get fit. You may think you have to be a runner to get use this program, but I am here to tell you absolutely not. If you have never run a day in your life you can still do this program and thrive at the end of your 30 days. Below we will be updated Results and Opinions from actual people who have gone through the program so you don't only have to take our word on this.
So this program is for whoever is looking to get moving and get back into shape or fine tune your running skills. Don't think you will be running for 30 days and get there Idalis has 10 resistance training sessions to get you on the fast track to losing weight and being fit. She has combined body sculpting strength training with fat burner running sessions to get you more results in less time. Just think about it 30 days from now you could be able to physically run a 5k how exciting is that?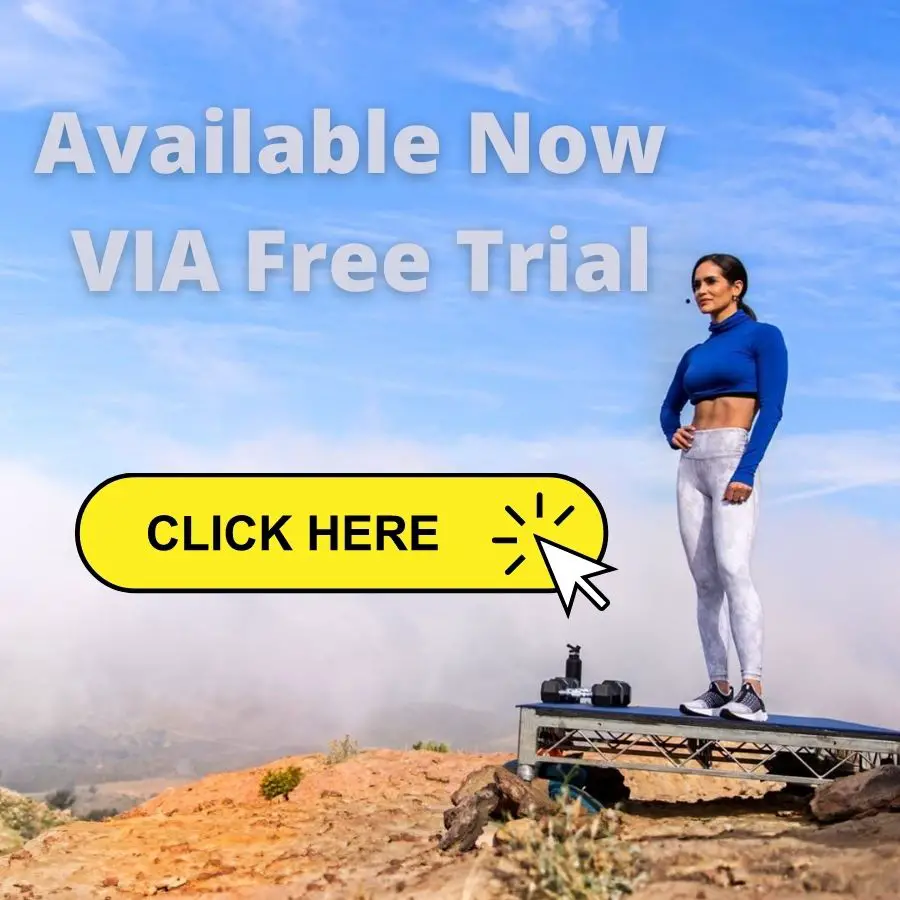 Who Is Idalis Velazques?
Super Trainer Idalis Velazques is NASM certified personal trainer who has also worked in depth with Beachbody Spanish language program Mes De Mas. Before that she has been doing her thing on track ranking nationally the las 10+ years while living in Purto Rico. She is highly motivated and has the ability to push her clients to the next level. She doesn't hound on you or be negative she does it by being positive so you can feel positive about yourself and future.
In 30 Day Breakaway she will be running with you and doing so in some amazing locations that are there to help inspire you to get this done. The Break Away means to push at your own pace so if that is walking, jogging or speed walking that is fine as long as you are working to a better you.
30 Day Breakaway Meal Plan
So you could just run and train for 30 days and see what happens, but that is more then likely not a good idea unless you are already eating healthy. 30 Day Breakaway goes with the backbone of Beachbody's nutrition plans with Ultimate Portion Fix and 2B Mindset. These work for the short and long term. We will go through those along with some other plans you can follow as well to help speed up the process.
Ultimate Portion Fix
Basically Ultimate Portion Fix is an expansion of what Autumn Calabrese brought to the table with her program 21 Day Fix. It is not considered a diet it is just a way to get you eating healthy foods because of healthy habits. You can of course still indulge in some things like cookies and wine when you want to.
You follow 3 basic guidelines that include: portion control, macro-nutrient balance, and the elimination of process foods from your diet. There is color codes containers that you simply fill foods up in them to get your portions right. It comes with a lot of material to help you on your way like easy shopping lists, workbooks, step by step videos, etc.
2B Mindset
2B Mindset nutritional plan is designed to give you 4 fundamental rules to follow to help you on your weight loss journey. You aren't going to be counting calories or skipping this food and that food.
You are basically provided a list of foods that you go off of but no specific food is completely off limits since that is why most diets fail. You basically use a plate diagram to get your portions down within a couple weeks you most likely won't need the diagram no more. This makes it easier to make this a lifestyle change instead of just a short term diet.
Intermittent Fasting
Intermittent fasting has come on in recent years because of its simplicity. When it really boils down to it losing weight is about calories in and calories out. Meaning you need to take in less then you burn or burn more then you take in. We could get into macros, but I would save that conversation for when you are looking to get down to single digits of body fat percentage because before that you really don't need it.
So with this plan you eat for 6 hours and fast for 18. Sounds tough doesn't it, but really it's not. You can literally skip your breakfast eat from noon to 6pm and that is. That will work for most people, but really doesn't work for me unfortunately. I can consume 4-5,000 calories a meal easily so I do need to dial it back and count my calories somewhat. You also don't have to do 18/6 you can start with 16/8 or even jump up to 20/4. Some people even fast 24 hours once to twice a week so you can play with what you want to do.
You also don't have to do this all the time lets say you like to eat breakfast on the weekends with the kids. So do it you can either just do a normal day keeping your calories under control or even just skip dinner if you want to. Keep it as simple as possible and do what works for you. You can also adapts a low carb or keto intermittent lifestyle as well.
30 Day Breakaway Calendar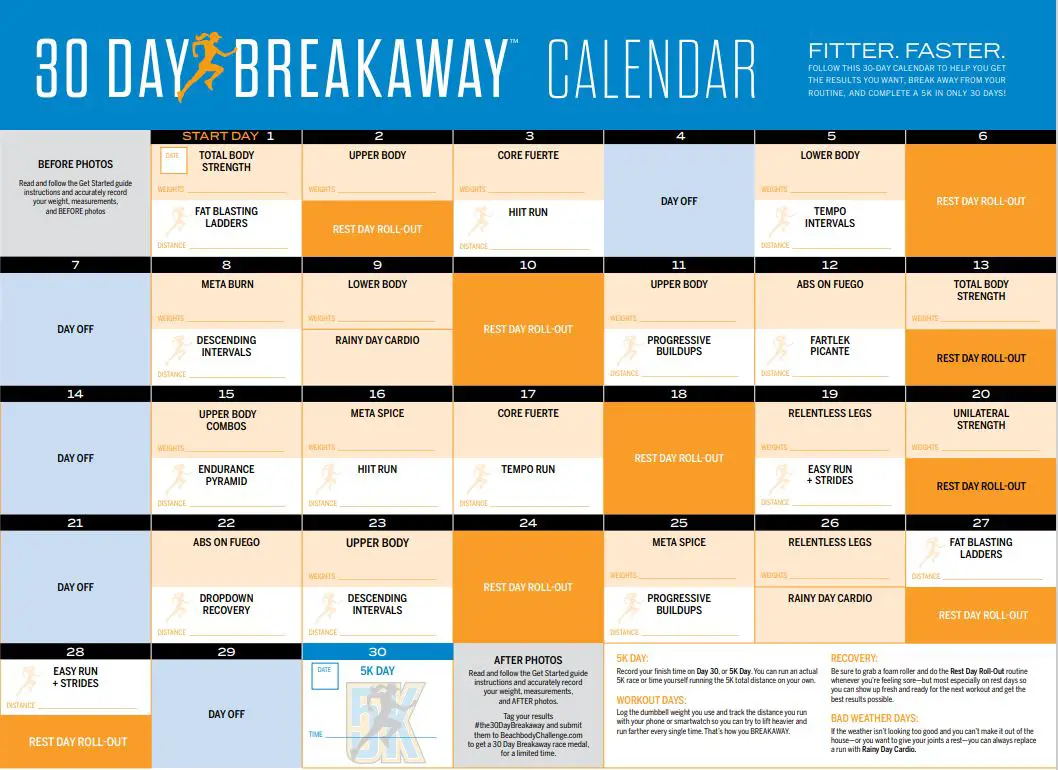 Day 1
Workout 1: Total Boy Strength
Workout 2: Fat Blasting Ladders
Day 2
Workout 1: Upper Body
Workout 2: Rest Day Roll-out
Day 3
Workout 1: Core Fuerte
Workout 2: HIIT Run
Day 4
DAY OFF
Day 5
Workout 1: Lower Body
Workout 2: Tempo Intervals
Day 6
Rest Day Roll Out
Day 7
DAY OFF
Day 8
Workout 1: Meta Burn
Workout 2: Descending Intervals
Day 9
Workout 1: Lower Body
Workout 2: Rainy Day Cardio
Day 10
REST DAY ROLL-OUT
Day 11
Workout 1: Upper Body
Workout 2: Progressive Buildups
Day 12
Workout 1: Abs On Fuego
Workout 2: Fartlek Picante
Day 13
Workout 1: Total Body Strength
Workout 2: Rest Day Roll-Out
Day 14
DAY OFF
Day 15
Workout 1: Upper Body Combos
Workout 2: Endurance Pyramid
Day 16
Workout 1: Meta Spice
Workout 2: HIIT Run
Day 17
Workout 1: Core Fuerte
Workout 2: Tempo Run
Day 18
REST DAY ROLL-OUT
Day 19
Workout 1: Relentless Legs
Workout 2: Easy Run + Strides
Day 20
Workout 1: Unilateral Strength
Workout 2: Rest Day Roll-Out
Day 21
DAY OFF
Day 22
Workout 1: Abs on Fuego
Workout 2: Dropdown Recovery
Day 23
Workout 1: Upper Body
Workout 2: Descending Intervals
Day 24
REST DAY ROLL-OUT
Day 25
Workout 1: Meta Spice
Workout 2: Progressive Buildups
Day 26
Workout 1: Relentless Legs
Workout 2: Rainy Day Cardio
Day 27
Workout 1: Fat Blasting Ladders
Workout 2: Rest Day Roll-Out
Day 28
Workout 1: Easy Run+Strides
Workout 2: Rest Day Roll Out
Day 29
REST DAY BEFOR BIG DAY
Day 30
5K get that run game going
30 Day Breakaway Schedule
Idalis lets you set the pace, with a perfect balance of resistance training followed by running drills that gradually progress. You'll get fitter and faster with this super-effective mix of running and lifting up to 5 days a week, around 40 minutes a day, starting with three walks or runs a week that progressively build up to five until Day 30 when you complete a 5k.
Week 1 Resistance Training will be 25 minutes a day followed by Running being around 20 minutes a day.
We will update this as the training is released!
30 Day Breakaway Sample Workout
The 30 Day Breakaway Sample Workout is 34 minutes long and is a combination of the two workouts you will be doing each day for 5 days a week.
Equipment Needed:
Running Shoes
Foam Roller
Resistance Loops
Dumbbells (Light, Medium, Heavy)
30 Day Breakaway Results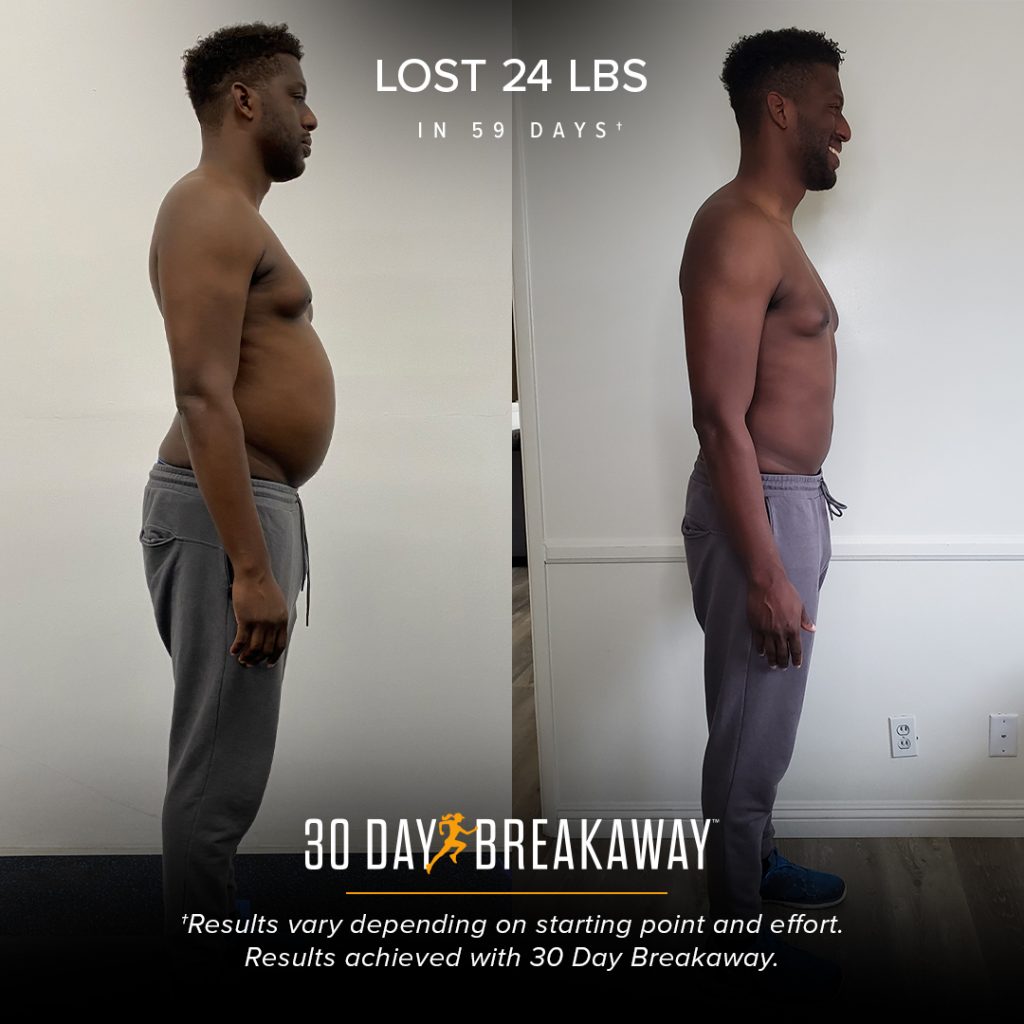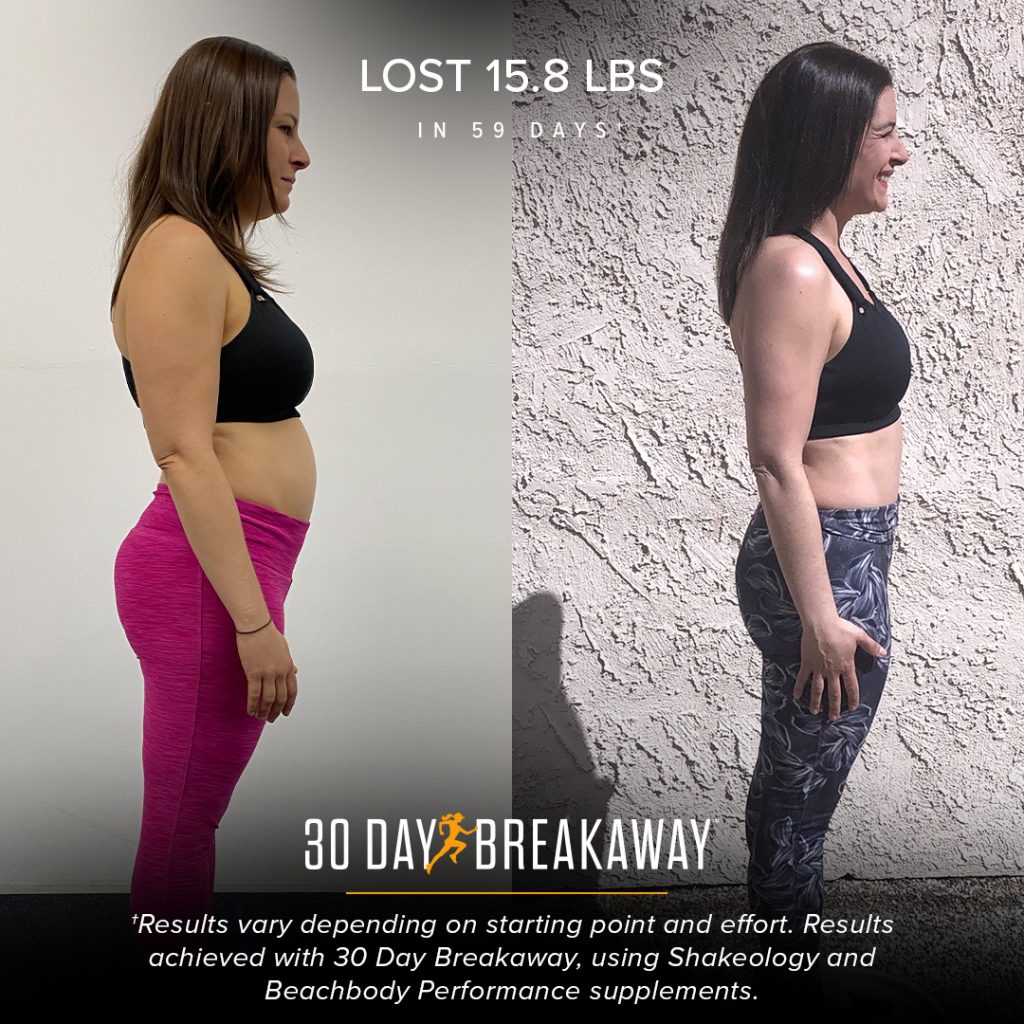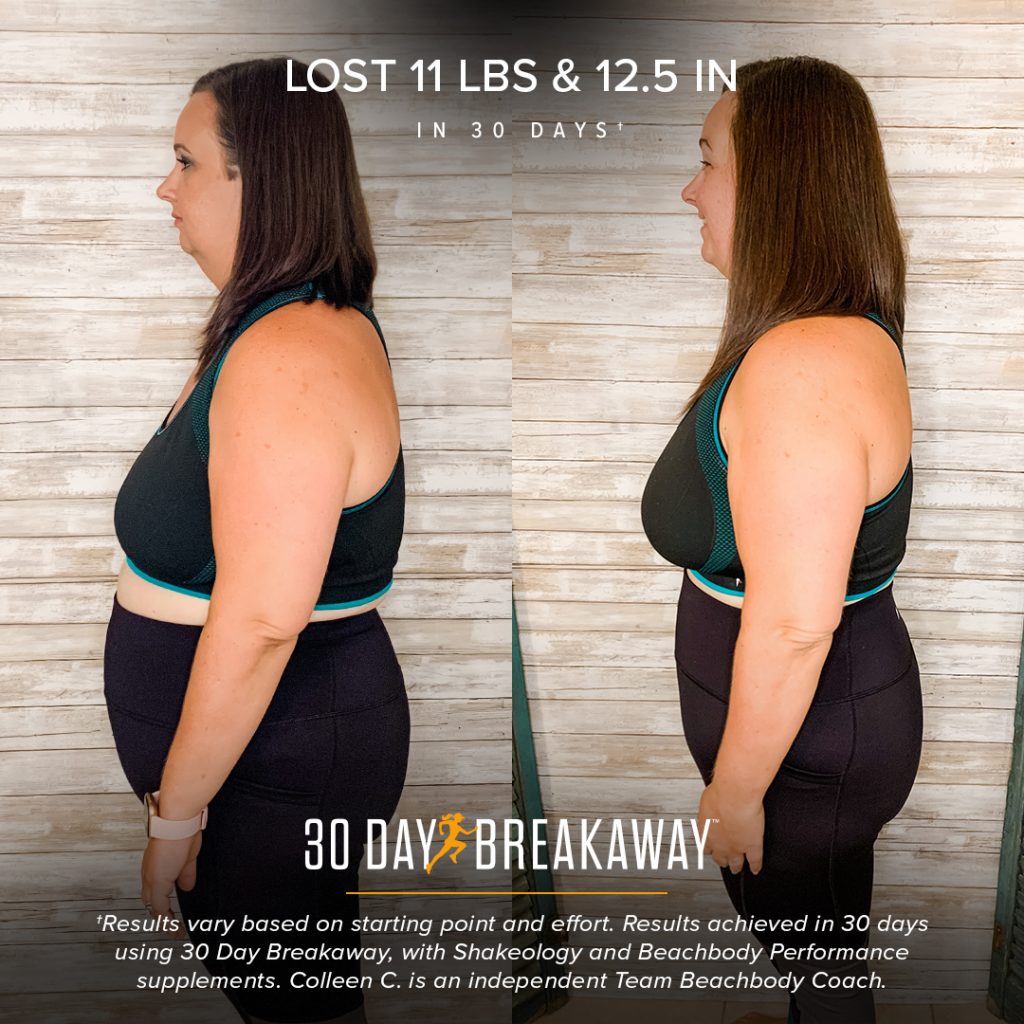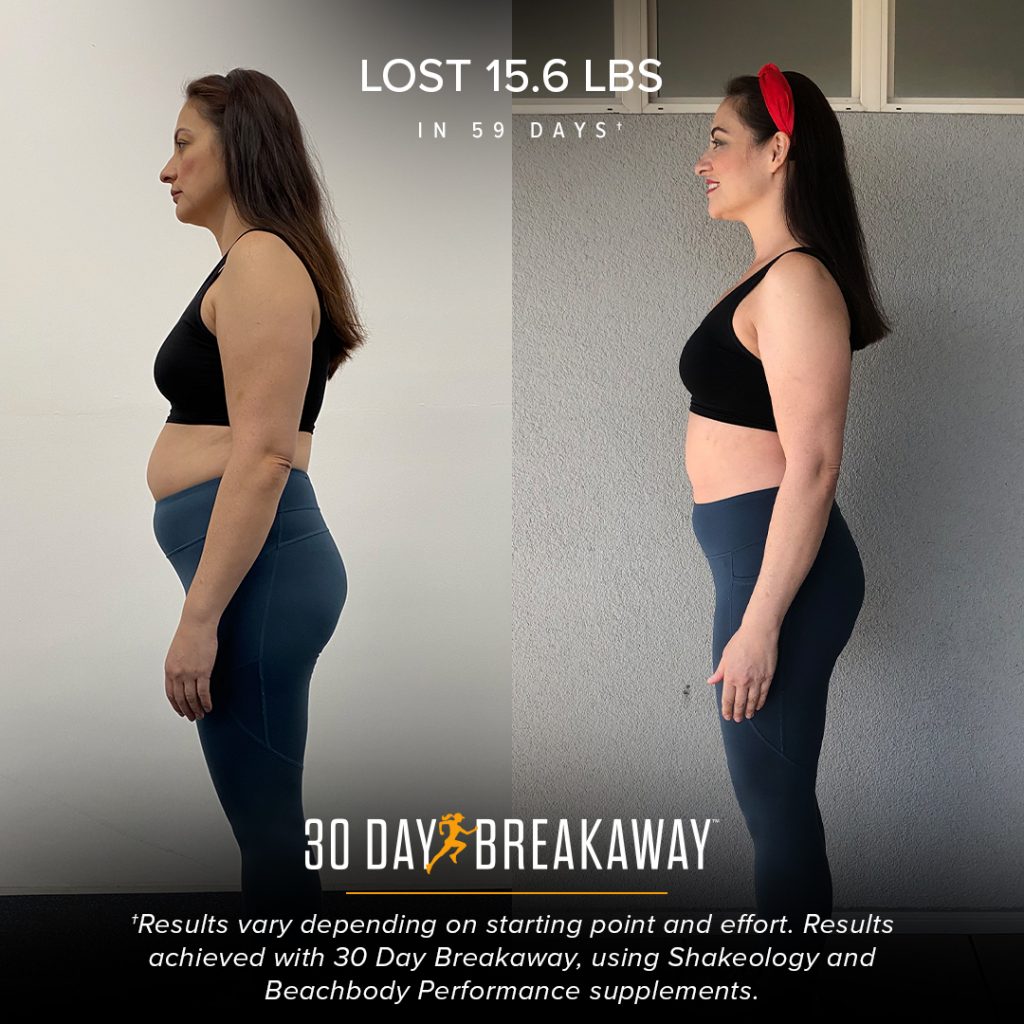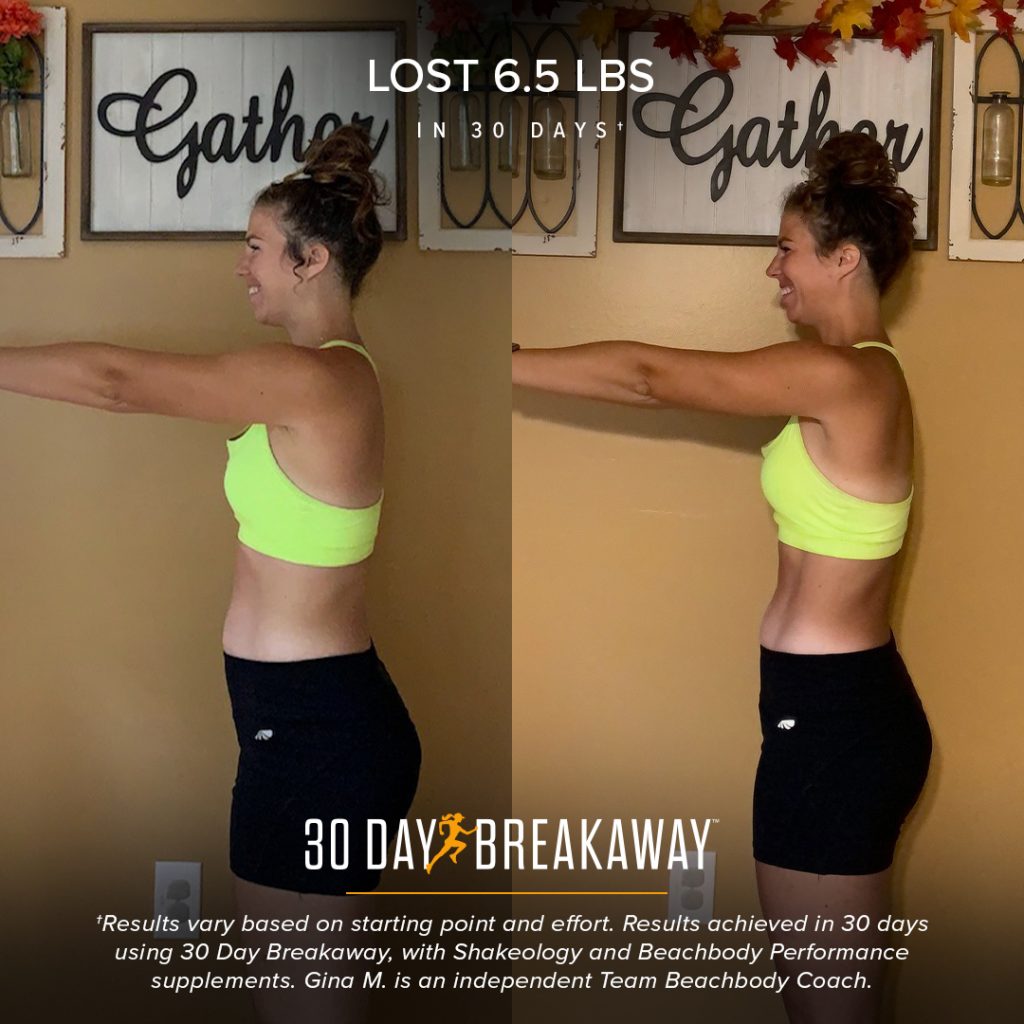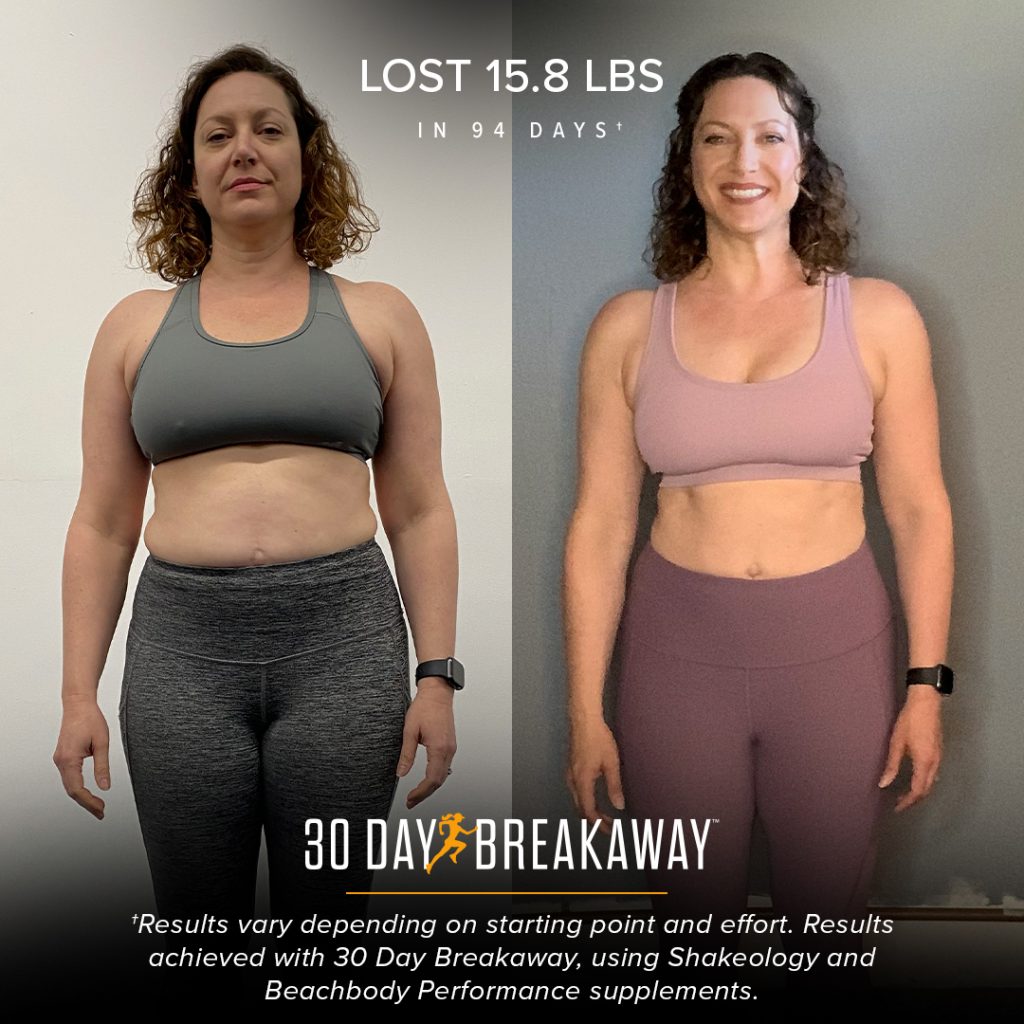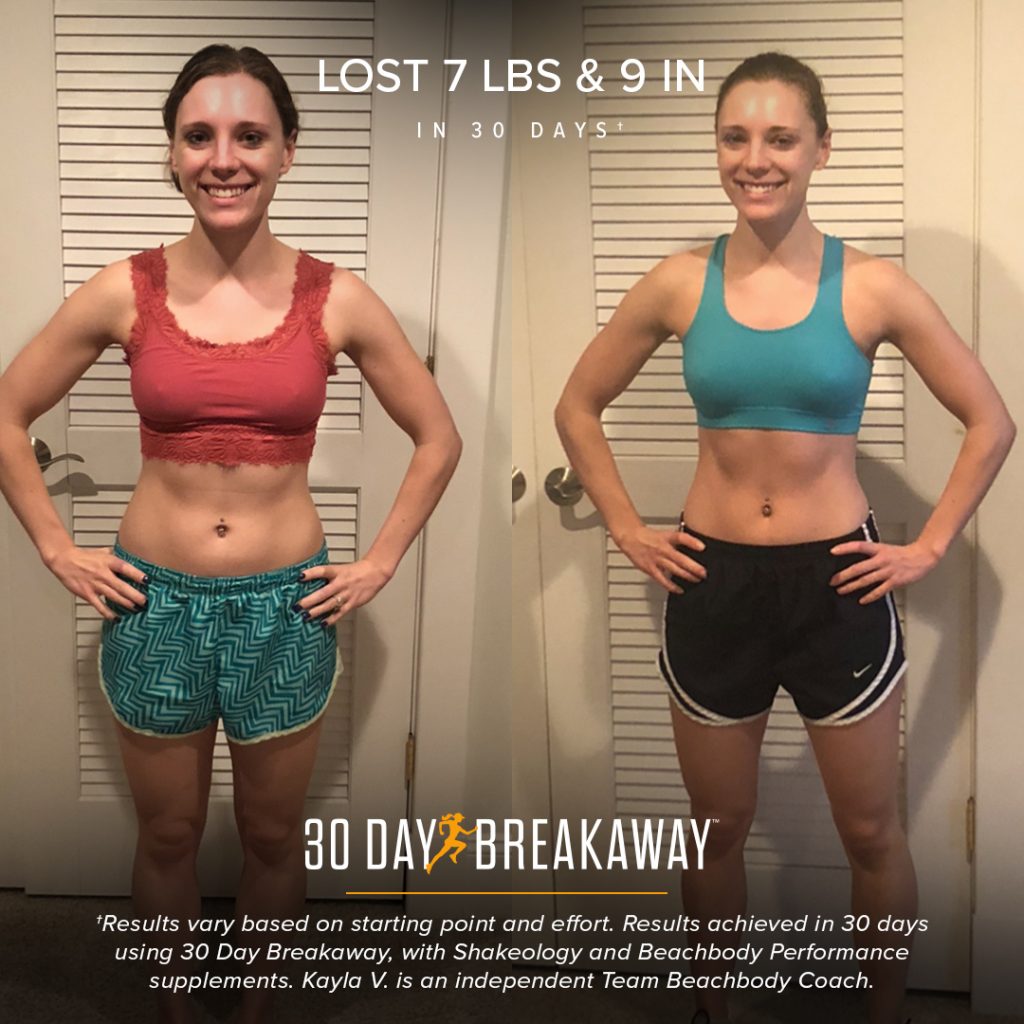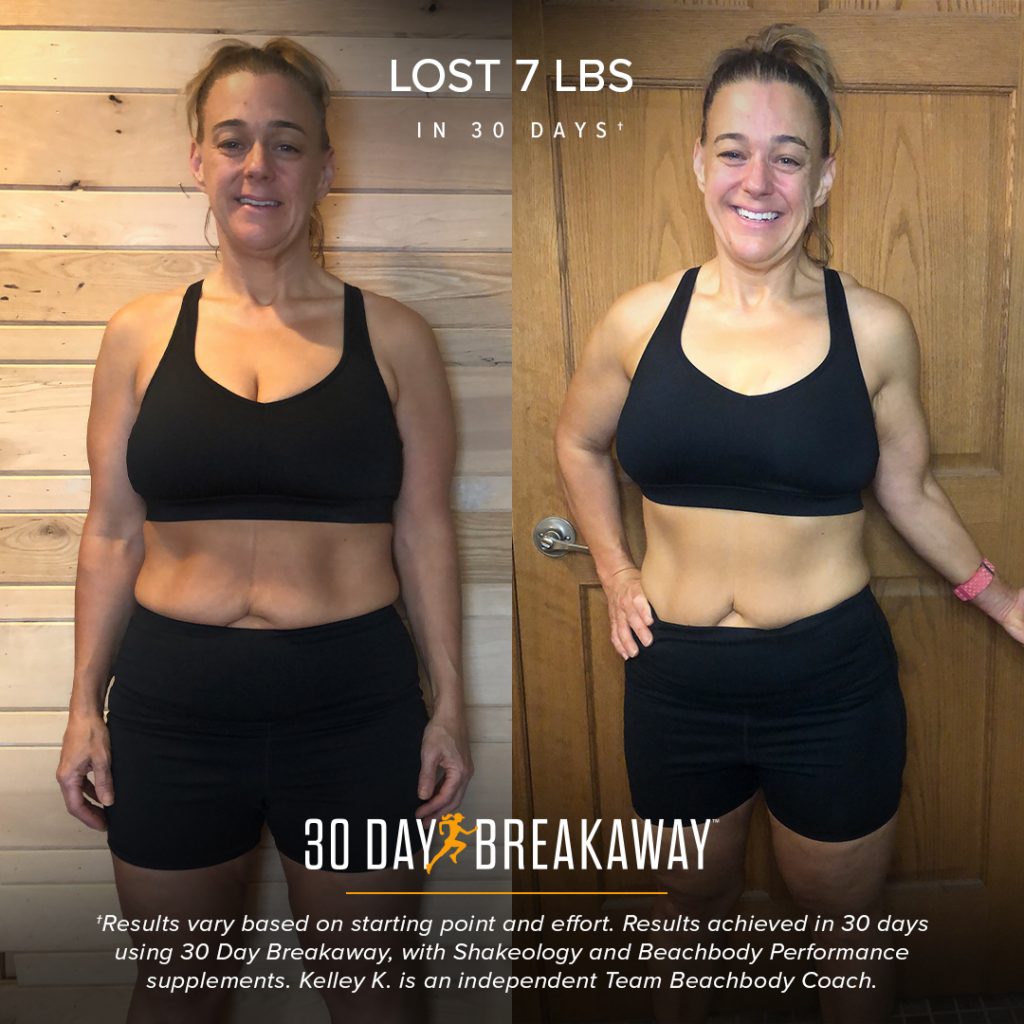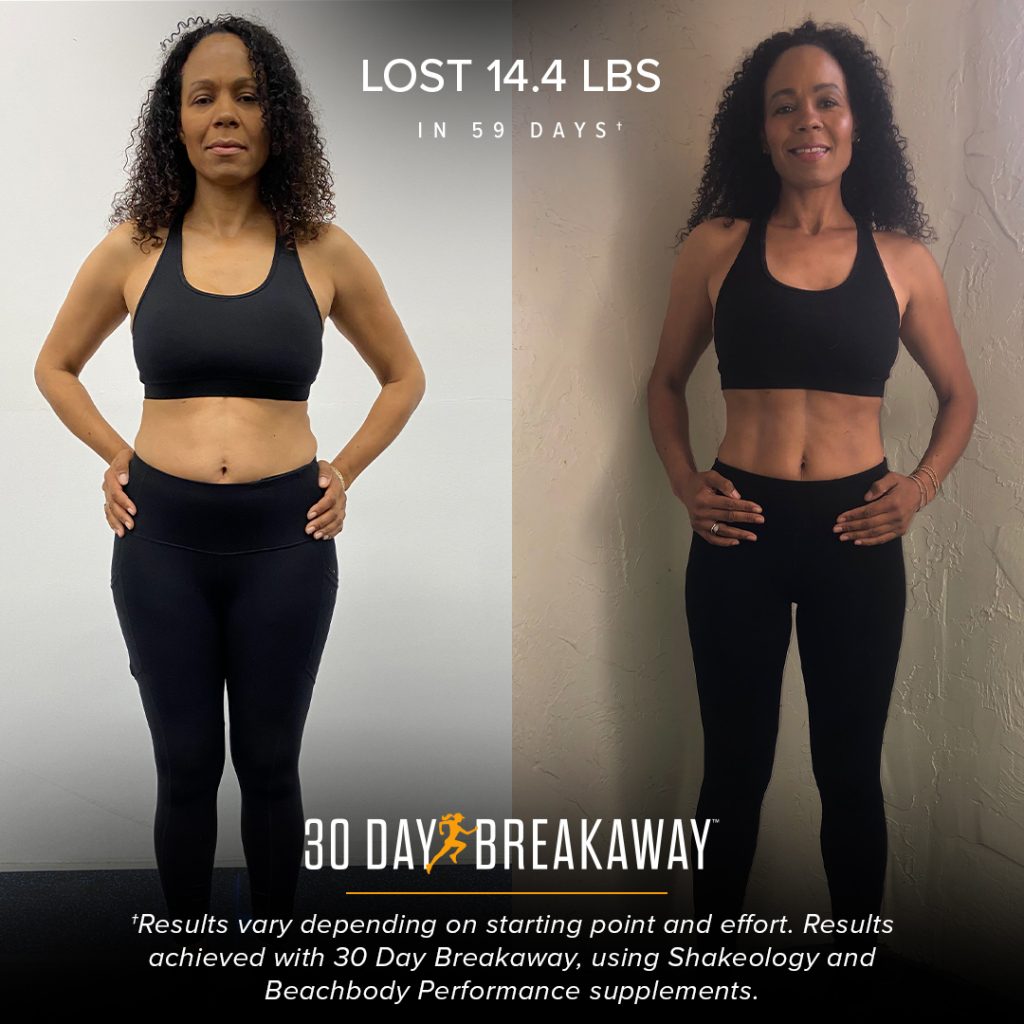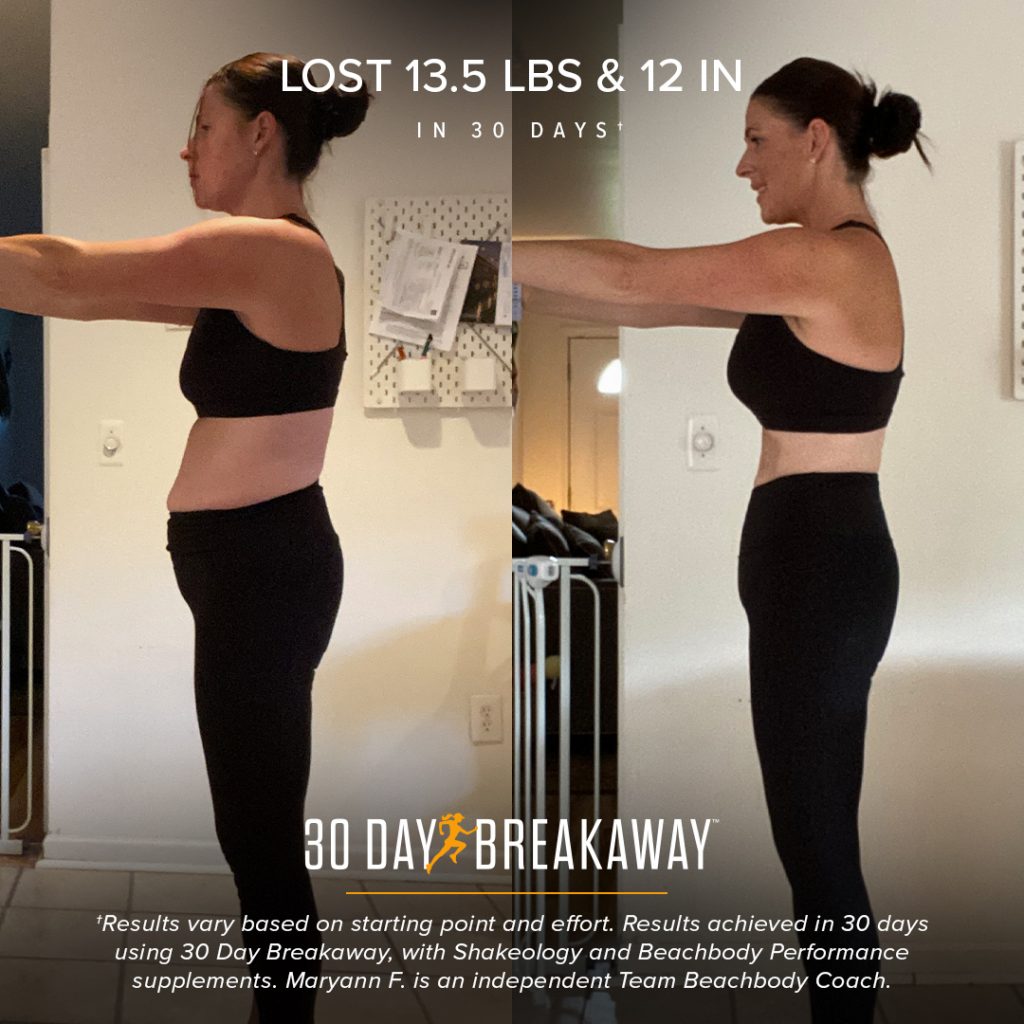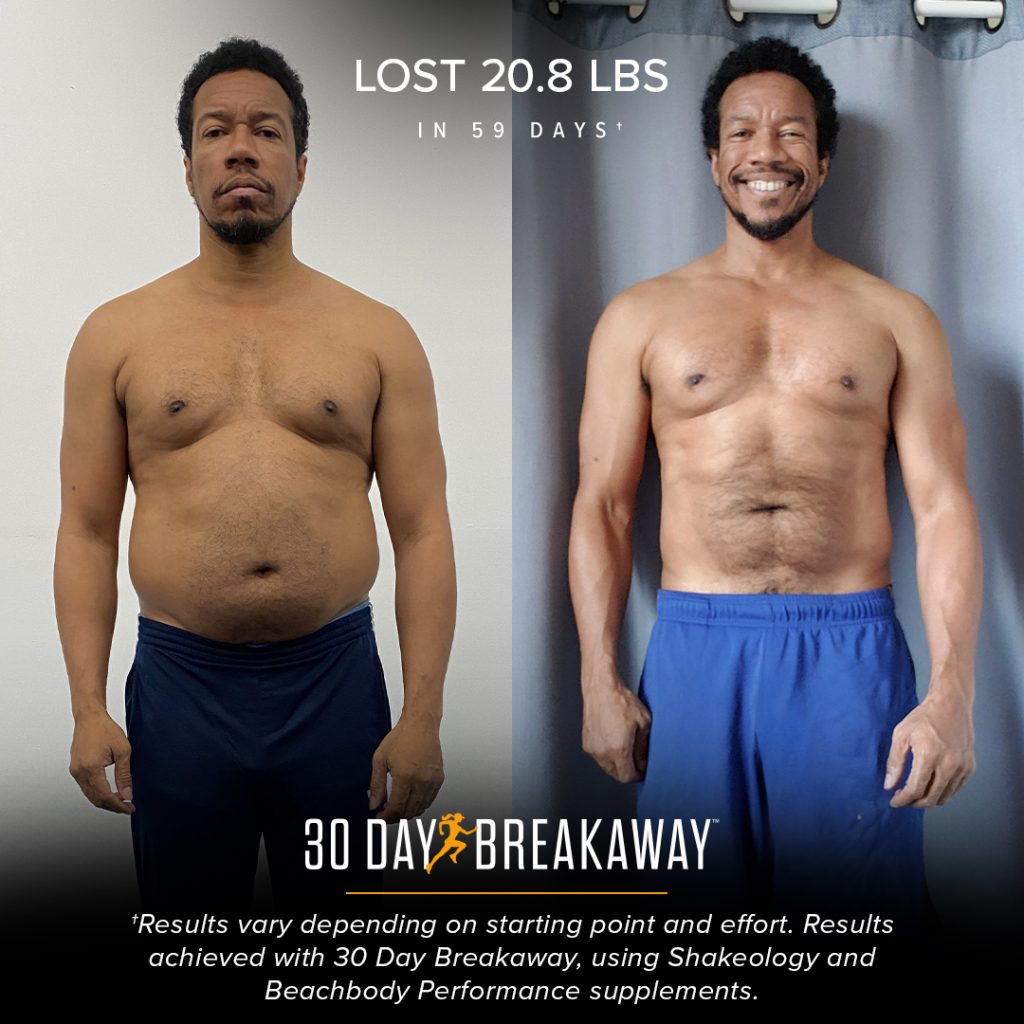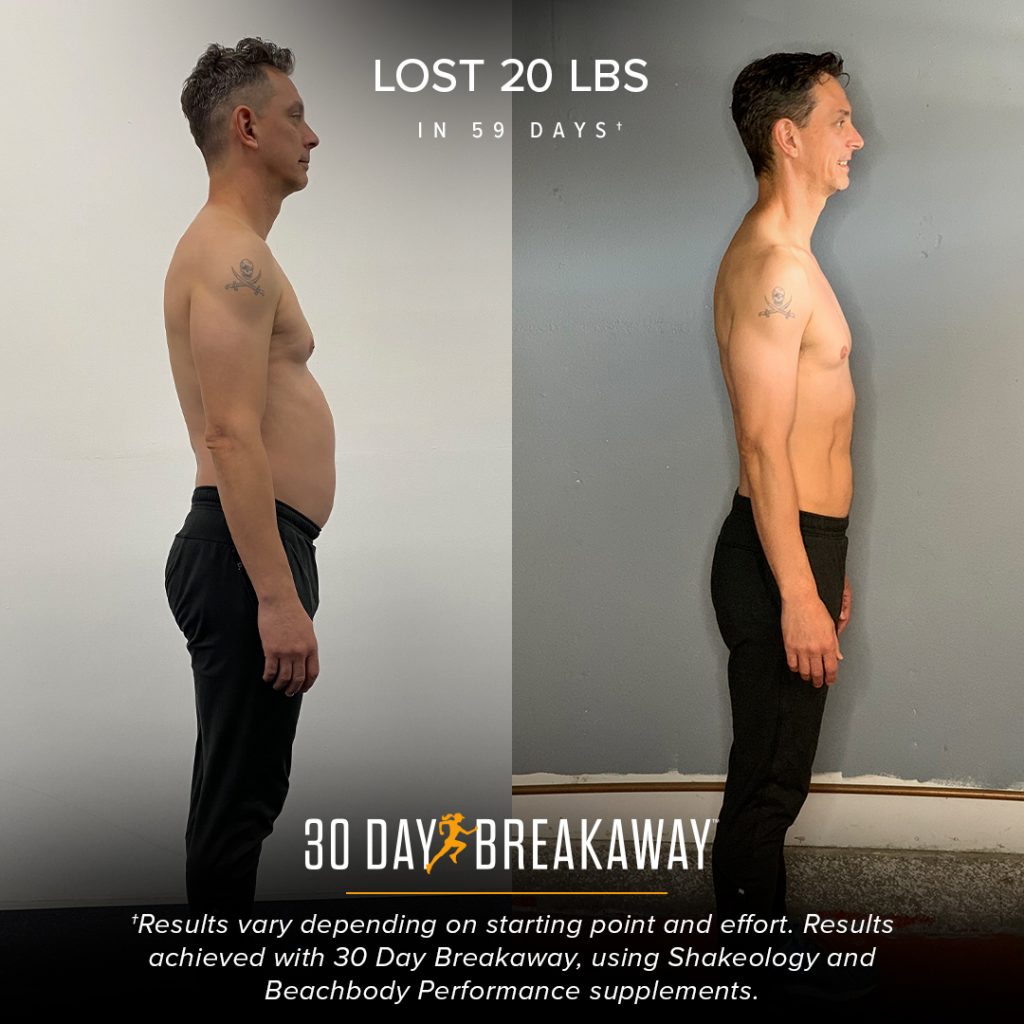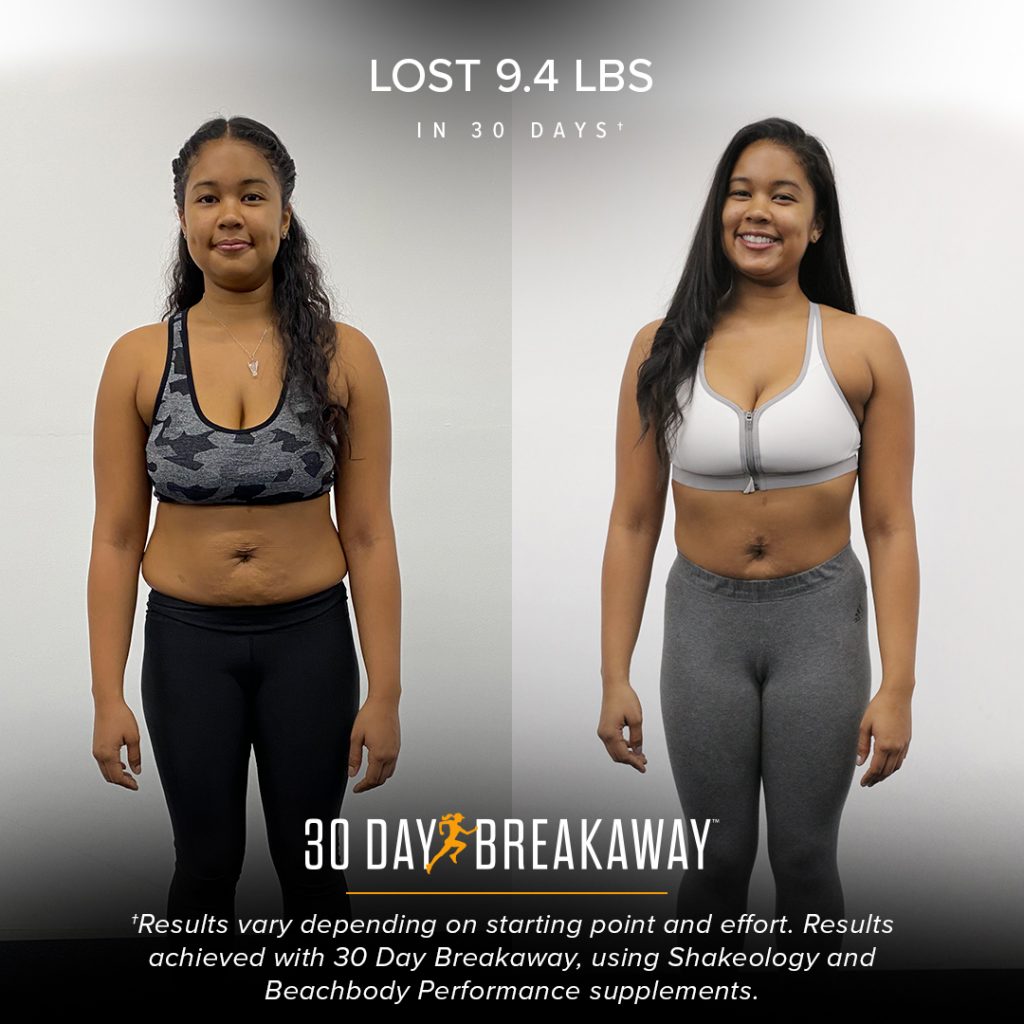 How Many Calories Burned In 30 Day Breakaway?
During 30 Day Breakaway workouts you are going to burn anywhere from 250-400 calories per day between the two workouts. This will depend highly on your current healthy condition and how hard you are pushing yourself. The easies way you can track this is by getting a fitness watch like an Apple Watch or FitBit. If you want more accurate tracking of your heart rate and calories burned definitely get a heart rate monitor chest strap.
Where To Buy 30 Day Breakaway?
You can get Beachbody 30 Day Breakaway at the Beachbody Shop Here: CLICK HERE
30 Day Breakaway Release Date
October 5 – October 18: Coach Exclusive Window
October 5 – October 18: 30 Day Breakaway VIP Training Boot Camp (for more details, visit FAQ 3003)
October 5: Apparel Launch
October 19: Customer Launch & VIP Early Access
November 21 – November 29: 30 Day Breakaway Virtual 5K (for more details, visit FAQ 8523)
January 31: Beachbody Challenge End Date
March 22: Available to all BOD members
What Equipment Do You Need For 30 Day Breakaway?
Equipment needed: a set of light, medium, and heavy dumbbells, Beachbody Resistance Loops, a foam roller, and a good pair of running shoes
Is There A Modifier For 30 Day Breakaway?
There are numerous modifiers for 30 day breakaway. The biggest thing is going at your own pace, but also at the same time pushing yourself. This could be walking instead of jogging or even speed walking. When you can though jog or run then cut back to walking when too much. Try to never stop moving if possible so you can keep that calorie burn moving along.
Final Breakdown And Tools
Running Workouts: 20 different running workouts that are 10 video and 10 audio. Idalis coaches you through every step with video-based runs you can do from your treadmill or audio workouts that make it easy to pop on your headphones and break away outside.
Resistance Workouts: 10 Different Resistance Workouts. Lift weights a few days a week to enhance muscle definition and build strength that help power
your runs.
Indoor Cardio Workouts: There is only 1 indoor cardio workout. Get your sweat on indoors with Rainy Day Cardio—especially on days that you can't break away for
a run.
Stretch and Recovery Workout: Make sure you properly stretch and help your muscles recover with this workout
Bonus Workouts: Five bonus workouts round out your 5K training—Runners Warm-Up, Runners Cooldown, Endurance
Intervals Audio, Progressive Buildups Walk Audio, Dropdown Recovery Walk Audio.
Conclusion
30 Day Breakaway is built around short and effective resistance workouts followed by interval run training that pushes you for short bursts at a level that's right for you, whether that's a brisk walk, slow jog, or steady run. Each week, Idalis leads you through a mix of running and resistance training techniques that will ultimately help you to train smarter, build lean muscle, and break away for a 5K run.
30 Day Breakaway FAQ
Do you have to be a runner to complete 30 Day Breakaway?
No you do not need to be a runner or have ever run to do 30 Day Breakaway. Idalis will take you by the hand and help you level up everyday for 30 days until you can complete a 5k
Do I have to run outside in 30 Day Breakaway?
No there is a specific indoor cardio that is 20 minutes long that is called Rainy Day that you can perform instead of going out and running.
Can I run on a treadmill, use a bike, or elliptical for 30 Day Breakaway?
Yes you can use a treadmill, bike or elliptical where needed for 30 days breakaway. There will be days that you can't get outside and run and that is okay. However to run a 5k your body will need to be accustomed to running on harder surfaces and dealing with that impact. If that isn't your goal that is okay.