Going to the gym can be a great thing, but finding the right gym can be hard to do. Sometimes you are limited and have to go with what is closest. That could be something like a Gold's Gym, Local Gym, or something like Planet Fitness. If it is Planet Fitness you definitely want to know ahead of time what their rules are and what workouts you are going to be doing most since they only have select equipment. Free weights are the main part of my workout so if that is what you want to do better make sure the gym has them.
We were members of Planet Fitness for a few years as well when we lived in Virginia. It was a great facility but a lot changed over the years that we didn't like as much as when we first started. But still for the price and the variety of things they offer like tanning you can't go wrong if that is what you are looking for.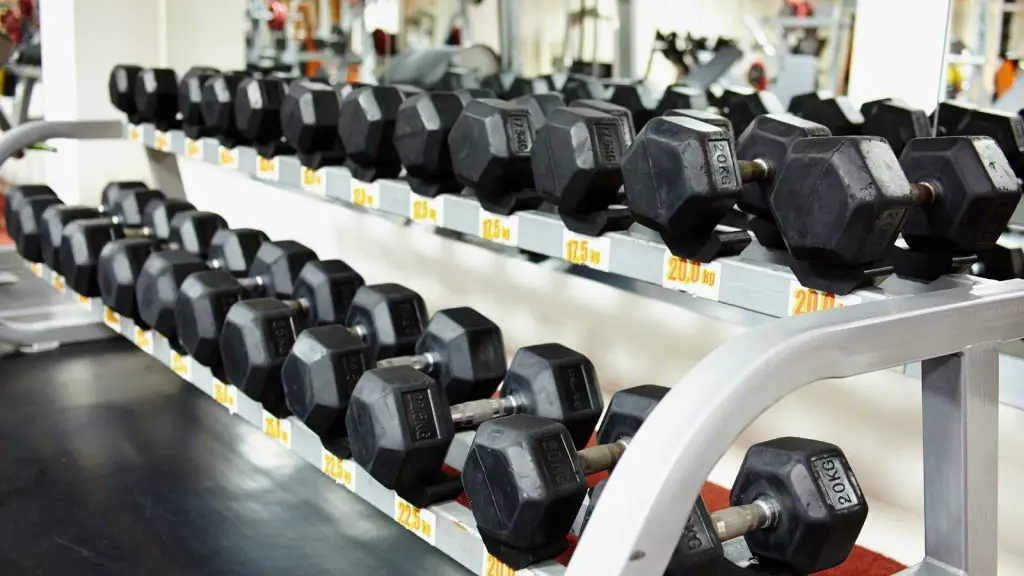 So are there free weights in Planet Fitness?
Planet fitness does have a pretty good selection of certain free weights. Dumbbells that go up to 75 lbs and Barbells that go up to 75 lbs. Outside of that there are no Olympic styled weights or squat racks. For the beginning weightlifter these will work fine, but at some point you are going to outgrow these weights if you make good gains.
They also have a smith machine which is great for beginning weightlifters because it helps guide and spot you while doing such exercises as bench press and squats. Below we go through other equipment they have readily available for those looking to lift weights at Planet Fitness. Some of these will vary a bit due to what gets used more at your local Planet Fitness. You can always request equipment as well.
Do any Planet Fitness Have Squat Racks?
Planet Fitness does not have any squat racks at any facility unfortunately. They used too, but took them out in 2013 I believe. They don't want the so called "Meat Heads" in the gym lifting. The no judgement zone as they call it doesn't want people making lots of noise or dropping free weights so be careful of that.
Can You Deadlift At Planet Fitness?
You are not supposed to deadlift at Planet Fitness there will be specific signs in their that say not to do any deadlifts. I used to still do straight leg deadlifts just not touching the ground on a elevated platform and I never got in trouble for it. So you can ask your local Planet Fitness or just do it and see what they say.
How Heavy Are The Dumbbells At Planet Fitness?
The Dumbbells at Planet Fitness will vary, but most go up to 75lbs where there are locations that go up to 50-60lbs. If you are looking to do 100lb dumbbell shrugs or something like that then Planet Fitness might not be the gym for you unless you can adapt those workouts to their very nice circuit machines. You can also do lighter weights for more reps instead.
Does Planet Fitness Have Barbells?
Planet Fitness does have barbells just lot loadable ones. This means they are setup like dumbbells and can't be changed to whatever weight you would like. Most Planet Fitness locations provide dumbbells up to 75 lbs. You can do a lot of workouts with this amount of weight and if needed jump over to a circuity or smith machine.
Does Planet Fitness Have Bench Press?
Planet Fitness does not have a Bench Press, but they do have multiple smith machines that you can perform a bench press on. You can also use the pre-loaded barbells to complete a bench press. Other alternatives include using dumbbells and their circuit training chest machines.
Does Planet Fitness Have A Smith Machine?
Planet Fitness has at least 2 Smith Machines at most locations. With these smith machines you can do most compound workouts along with many others. These compound workouts include Bench Press, Squats and yes even deadlift (just be careful with your form). You can also do workouts like shoulder shrugs and military presses.
Does Planet Fitness Have Kettlebells?
Planet Fitness does not have Kettlebells at their facilities unfortunately. That doesn't mean you can complete alternative movements using something such as a dumbbell.
Summary
Planet Fitness does have free weights they are just limited and might not match your goals or you might outgrow what they have. If you are limited on what you have for gym selection you can make due with Planet Fitness it is a great place to not only workout, but most have other extra curricular activities you can do as well.
Here is a list of other items you get with your membership to Planet Fitness:
UNLIMITED GUEST PRIVILEGES
Having a workout buddy can help keep you accountable, improve results, and make working out more fun! You can bring a guest with you every time you come to the gym with a Planet Fitness Black Card.
ACCESS TO ANY PLANET FITNESS LOCATION
Planet Fitness has hundreds of locations across the United States and beyond! One of the best Planet Fitness Black Card benefits is having access to any of these locations at any time. This means you won't have to put your health on hold when you travel.
UNLIMITED USE OF MASSAGE CHAIRS
After a tough workout (or a tough day at home or work), you deserve a healthy treat. Planet Fitness Black Card members enjoy unlimited use of the massage chairs available at every gym. Finish your workout with some time in a massage chair and experience whole-body benefits like improved sleep, muscle relief, and reduced stress.
HALF-PRICE COOLER DRINKS
Staying hydrated is important for good health — especially when you're working out. Make sure you're properly fueled for your workout and recovering well after the fact with a drink from our coolers! Black Card members only pay half price for cooler drinks, which makes it that much easier to opt for healthy beverage choices when you're at the gym.
UNLIMITED USE OF TANNING BEDS
You should feel confident in your body after sticking with your gym routine! If you want to show off your results a little more, opt for a session in one of our tanning beds.
DISCOUNTS ON REEBOK PRODUCTS
If you're looking to upgrade your workout wardrobe with the best workout leggings or a new sweat-wicking top, head to Reebok.com. Planet Fitness Black Card members enjoy 20 percent off!
In addition to all the perks listed above, Planet Fitness Black Card members also get all the benefits of being a Planet Fitness member. These include free WiFi, freefitness training, and 24/7 access to your primary Planet Fitness location. Not to mention you'll have access to the Planet Fitness community — perhaps the most valuable workout asset available!
If you don't think these are worth it for the cheap membership they offer maybe save your money and invest in your home gym. All you need is a nice set of adjustable Dumbbells or Resistance Bands and a Beachbody On Demand Membership to get started. Even without equipment you can get start with Beachbody's two week free trial and it is still cheaper then a Planet Fitness Membership as well.