Autumn Calabrese is one of the most popular fitness trainers in the world, and for good reason. She knows her stuff! Recently, she released a new program called the 4 Week Gut Protocol. This program is designed to help improve digestive issues and overall health. If you're feeling a bit off or dealing with digestive issues like gas or bloating, this program could be a great fit for you!
What you need to know about 4 week gut protocol by Autumn Calabrese.
Autumn Calabrese's 4 Week Gut Protocol and her 4 Weeks For Every Body workout programs focus on how to better digestion, more energy, and an all-around improvement in wellbeing without harsh chemicals. If you experience any GI symptoms or trouble dropping weight, these programs might be perfect for you!
Sleep, stress, hormones, or diet might all contribute to gastrointestinal issues. Autumn Calabrese has spent years collaborating with specialists to figure out why she was having so many digestive difficulties, and now she's created a simple five-day plan that anybody can follow to get their digestion back on track.
What's the objective? To figure out what foods might be causing digestive allergies and include helpful, non-impact exercises.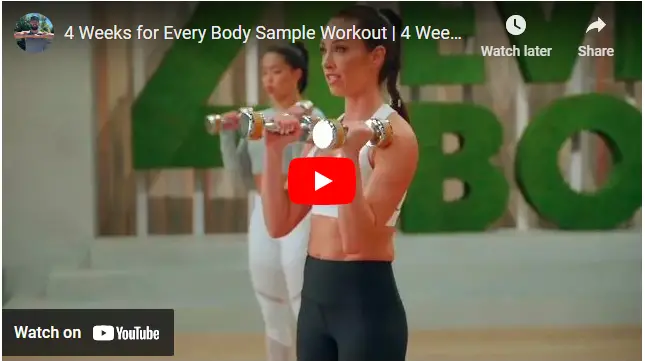 What is the 4 Week Gut Protocol?
The 4 Week Gut Program's comprehensive nutrition plan helps identify which foods trigger reactions, cause symptoms, and improve digestion through a step by step elimination schedule.
This program also includes instructional video lessons, weekly tips, food lists that may help you save money on groceries, and nutritious recipes. This software allows you to personalize the program to your own preferences.
At the end of this 28-day program, you will have learned which seven foods trigger your cravings and how to effectively remove them from your diet and substitute healthier alternatives.
What are the four weeks for every body workouts?
The 4 Weeks For Every Body workouts are designed to help you see results and improve your microbiome during the 4 Week Gut Protocol.
4 distinct 30-minute exercise sessions per week are part of the fitness plan. Each session emphasizes eccentric (lengthened) strength exercises and mobility activities.
You'll work out three times a week, doing strength workouts and low impact cardio. If you own a Beachbody MYX bike (or something similar), you also have the option to take a spinning class.
Bobby Autumn's brother, who acts as the program's nutritionist and snacks for the cast each day, tells them which meals they may prepare at home after each session.
If you haven't joined up for Beachbody On Demand, you won't be able to use the 4 Week Gut Protocol to access the workouts.
What equipment do I use for the exercises?
All you need is some dumbbells we prefer our powerblock adjustable dumbbells and a core ball.
When will 4 Week Diet and 4 Weeks For Every Body be released?
You may purchase early access to the nutrition program and workouts right now! Early access will also be required.The program will be accessible in the United States, Canada, the United Kingdom, and France.For early access plus a bonus, go here!
You must exercise and eat right at the same time.
You may always follow the nutrition plan or exercise program alone, but combining them seems to work better.
What kind of people use this software?
This program is ideal for those who have digestive issues and want to heal their gut. If you're not interested in meal prepping or planning, then this might not be the right program for you.
My 4 week gut protocol results
What are the four week gut protocol supplements?
Autumn suggests that people take Beachbody Optimal Health products for digestive enzymes to support nutrient absorption and bioavailability. She also recommends Probiotics from Beachbody Revitalize, which helps maintain good gut bacteria levels. Lastly, she takes vegan Shakeology every day herself.
Although not necessary, some studies suggest that these supplements can improve digestion and support gut bacteria health.
What else could I do instead?
Autumn advises performing a low- or no-impact exercise during the four weeks of the program. As a result, in the beginning, avoid such workouts as 90 Day Obsessions and 9 Week Control Freaks.
What makes the 4 week gut protocol different from the ultimate reset?
Although both programs rely on the same supplements, 4 Week Gut Protocol offers more meal options and customizations. Because of this, you're also permitted with the 21-Day Reset plan. The Ultimate Reset is only three weeks long, as opposed to four weeks for the Full Cleanse (MSG).
Actual BOD User Opinions
Below is actual opinions of those that have purchased and/or used 4 Week Gut Protocol. Their first impressions along with some of their immediate results. This information was curated off of Facebook Groups and Sub Reddits.
4 Week Users
Bre T. "Harder than Reset" – Starting Monday as well. I personally expected it to be more like the reset where she tells you what to eat each day to help you get started. I feel like yes there are rules to follow but it's harder to get started since you have to plan it all out yourself. I get it- it teaches you to do it yourself from day 1- but her giving us plans for the first two weeks and then easing us into planning ourselves might have worked better for me.
Bree E. "Personalize it if you need too" – I'm starting in 2 weeks. I decided to slowly eliminate the foods on the elimination list so i don't get overwhelmed. Coffee…sorry not sorry but I'm not giving that up 4x a week 🤷🏻‍♀️ also I need vegan Shakeology so I have to wait. It looks very doable honestly. Aside from the coffee thing 😂
4 Week Gut Protocol Before And After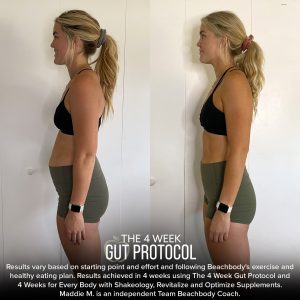 Pros & Cons
What are your thoughts after reading the article? Does the program seem like it would work for you? Let us know in the comments.
Pros
If you're someone who loves trying new things, especially foods and recipes, you'll probably enjoy the program.
Cons
If the idea of meal prepping or planning ahead sounds dreadful to you, this program is not a good fit.
Final Thoughts
Overall, we think that the 4 Week Gut Protocol is a great program for those who want to improve their digestive health. The workouts are fun and varied, and the nutrition plan is easy to follow. We love that Autumn provides so many helpful tips and advice throughout the program. That said, we do think that it's important to note that this program does require some meal prepping and planning ahead. If you're not interested in doing this, then the 4 Week Gut Protocol may not be right for you. Thanks for reading!
Beachbody Breakdown
What is The 4 Week Gut Protocol?
If you don't address your food sensitivities, they can disrupt your digestion, energy levels, immune system and mood.
Autumn Calabrese, a nutrition expert created The 4 Week Gut Protocol to demonstrate how the food we consume affects gut health and by extension, our overall wellbeing. The program educated me on how to eat in order encourage balance in my gut microbiome. Autumn collaborated with Beachbody's leading team of nutritionists and PhDs to design a program that is easy to follow and provides results from day 1.
What is 4 Weeks For Every Body?
According to studies, moderate exercise may have a beneficial influence on digestive wellness. As a result, Autumn developed a no-impact, four-day-a-week fitness program to supplement The 4 Week Gut Protocol's benefits. These exercises help your joints relax so that your body can focus on the work it needs to maintain your gut. A combination of the two programs is ideal, since they build overall strength and mobility in a short amount of time. Done together, these two programs can assist you in returning to a healthy lifestyle.
What's unique about The 4 Week Gut Protocol and 4 Weeks For Every Body?
• Autumn has personal knowledge of gut health issues, so she was determined to develop a solution that would benefit herself and others around the world.
• The first Beachbody program to combine a fitness regimen with gut health support, helping you optimize your overall health.
• The process begins on day one. You'll eliminate problem foods that have been linked to gut discomfort, as well as supplements and additives that can help you maintain a balanced gut. You should notice a difference by the end of four weeks emotionally, physically, and spiritually.
• Autumn's first no-impact fitness program is 4 weeks for every body, which enables everyone to see results. Autumn also developed four extra cycling workouts that are only available through BODi.
How does The 4 Week Gut Protocol work, and what's included?
• You'll get rid of the most common foods that are linked to gut issues.
• You may use the same protocol when treating multiple issues in one session. The four video programs can help you understand how to begin right away.
• The "Focus" website includes a set of weekly videos that educate, empower, and encourage you to continue.
• A reintroduction video may help you incorporate foods back into your diet and continue to maintain your gut health.
• Using color-coded containers and a revamped food list, you'll figure out the perfect combination of nutrients while also pinpointing foods that you might be sensitive to.
• With this purchase, you'll receive 8 new recipe videos to follow the 4 Week Gut Protocol religiously, plus 12 delectable PDFs of snacks that conform to the protocol.
• A program guide, digital trackers, and more will help you stay on course.
What are the 4 Weeks For Every Body workouts like, and what do you need to complete them?
• Spare less than 30 minutes 4 days a week.
• The only equipment you'll need are some dumbbells and a Core Ball.
• For everyone's fitness levels. Beginners may utilize modifications, while experienced users will undoubtedly be pushed to their limits.
• The important thing is to have a high amount of intensity, not a high number of reps. The workouts focus on eccentric muscular contractions to help you gain strength, tone your body, and get in better form faster.
• Our introduction video, workout calendar, and printable dumbbell tracker will help you get the most out of your workouts. (All materials are digital.)
• Optional: If you want to add an extra day of exercise, check out one of Autumn's 4 bonus cycling workouts, 4 Rides For Every Body, exclusively on BODi. Beachbody On Demand Interactive offers a variety of live and on-demand classes to choose from—so listen to your body and give it what it needs!
WHO IS AUTUMN CALABRESE?
Beachbody Super Trainer and nutrition expert Autumn Calabrese is the creator of
the breakthrough fitness programs 9 Week Control Freak, 21 Day Fix, 21 Day Fix
EXTREME, 80 Day Obsession, and others, and the portion-control weight-loss
system Portion Fix. She's the bestselling author of the FIXATE cookbooks and her
latest, Lose Weight Like Crazy, Even If You Have a Crazy Life! She's also the host of
the FIXATE healthy cooking show on Beachbody On Demand. Autumn is a certified
holistic health coach through the Institute of Integrative Nutrition and has held
certifications from the National Academy of Sports Medicine (NASM), as well as the
American Fitness Professionals & Associates (AFPA)
Frequently Asked Questions
When can I access The 4 Week Gut Protocol?
The 4 Week Gut Protocol will be available to Coaches and Customers on Tuesday, March 15.
What is the structure of The 4 Week Gut Protocol Program?
The 4 Week Gut Protocol consists of the following videos:
–   1 Introduction/ Foundation Video
–   4 Instructional Videos
–   4 Weekly Videos
–   1 Re-Introduction Video
–   4 Steps to Maintenance
–   1 Video on Autumn's Journey
–   1 Container Basics Video
Do I need additional materials to do The 4 Week Gut Protocol?
Yes, you will need the color-coded containers to do this program.
As a part of The 4 Week Gut Protocol, you will also be following the 4 Weeks For Every Body fitness program, which requires a set of dumbbells and a core ball.
Do I have to do the 4 Weeks For Every Body workouts while following The 4 Week Gut Protocol?These two programs were designed to be done together. Studies show that moderate exercise can have a positive impact on digestive health. So, Autumn created this no-impact, 4-day-a-week fitness program to help enhance the benefits of The 4 Week Gut Protocol. These workouts help reduce the stress on your joints so your body can focus on doing the work it needs to support your gut. And since the workouts are 30 minutes or less, it's easy to maintain consistency while you build overall strength and mobility. Done together, these two programs can help you get back on a path to better health and wellness.
Can The 4 Week Gut Protocol be used alongside any fitness program?
Yes! In addition to 4 Weeks For Every Body, 4WGP can be used with any of our Beachbody programs.
Do I have to follow Portion Fix to do The 4 Week Gut Protocol? If I follow 2B Mindset, can I do The 4 Week Gut Protocol?
You won't be following Portion Fix or 2B Mindset while doing The 4 Week Gut Protocol – it's a comprehensive nutrition program unto itself – so anyone can do it, regardless of what nutrition program they usually follow. The 4 Week Gut Protocol does incorporate the portion control containers, but in a specific way, different from how they are used in Portion Fix.
What program materials/resources are available with The 4 Week Gut Protocol?
– Program Guide
– Hybrid Container Plans
– Hybrid Food Lists
– 3 Day Meal Plans
– Log Sheets
– Calorie Target Calculator
– Stool Chart
– Reintroduction Tracker Sheet
*All program materials are DIGITAL ONLY.
Where can I access The 4 Week Gut Protocol Program Materials?
All program materials will be available on BOD under The 4 Week Gut Protocol "Program Materials" section.
Are the 4 Week Gut Protocol materials available in French and Spanish?
Yes. The program materials will be available in Spanish and French.
Will The 4 Week Gut Protocol be available on the Beachbody On Demand Member Library?
No, this program will not be on the BOD Member Library. It can be purchased by anyone, even if you are not a BOD member. However, you will need a BOD membership to access The 4 Weeks For Every Body Workouts.
What languages is The 4 Week Gut Protocol available in? 
The 4 Week Gut Protocol is filmed in English, but will be dubbed in French and Spanish.
Does my 4 Week Gut Protocol TSP include Portion Fix and 2B Mindset?
Yes! If you purchased a 4 Week Gut Protocol Total-Solution Pack, you will receive Portion Fix and 2B Mindset digital programs.
Does my 4 Week Gut Protocol Total-Solution Pack come with a BODi membership?
The 4 Week Gut Protocol Essentials and Autumn's Choice packs include a 30 day FREE trial of BODi. The Best Value pack includes one year of BODi membership. You may opt out of the trial when selecting pack options. As a BODi member, you'll receive access to exclusive workouts, including 4 Rides for Every Body—4 additional cycling workouts by Autumn Calabrese, available March 15.