Andrea Rogers, Beachbody Super Trainer, is back with a brand new workout called XB Sweat + Sculpt! This fitness program combines cardio, dance and targeted strength exercises to help you shed pounds and sculpt your body in only three weeks.
Read on to find an honest review of XB Sweat + Sculpt by Beachbody and Andrea Rogers, plus get a free sample workout, see results, and check out pricing!
These all-new 15 workouts mix together enjoyable music, dance moves, and sculpting exercises that let you achieve results in only 3 weeks – by doing them daily, 5 days a week for 30 minutes. Best of all, no pieces of gym equipment are necessary!
If you're a fan of Andrea Rogers Xtend Barre, then this Beachbody workout is the perfect way to get great results from home in an enjoyable way!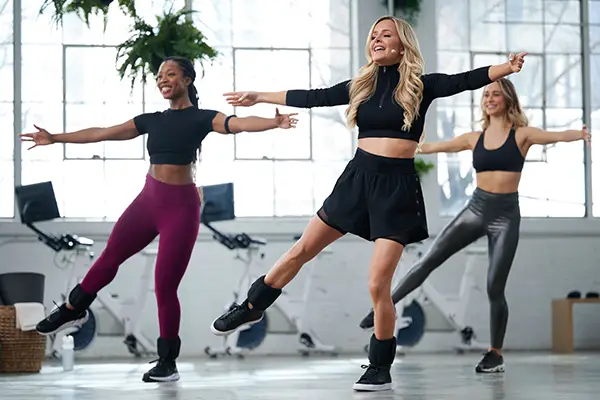 What is the XB Sweat + Sculpt program created by Andrea Rogers?
Andrea Rogers from Beachbody designed XB Sweat + Sculpt, a combination of cardio and strength training. The 30-minute dance workouts (Sweat) and interval classes (Sculpt) work well for beginner to intermediate exercisers.
XB Workouts to Make You Sweat and Sculpt
This 3-week program consists of 15 distinct workouts and requires five 30 minute sessions per week for a total of 21 days.
On Monday, Wednesday, and Friday, there are Sweat Classes.
In our Sweat classes, you can burn calories as you do low-impact, high-intensity dance moves.
Not to mention, exercises set to music are extra enjoyable!
Sculpting Classes are held on Tuesdays and Thursdays.
Sculpt workouts feature slow, controlled movements to tone all parts of the body and each session also includes core exercises.
Bonus Workouts
You'll also get 10-15 minute express workouts that you can do either right after your workout or when you're strapped for time.
BODi members with Beachbody's MYX Bike can get an intense workout by doing an XB Sweat + Sculpt bike ride!
XB Workout and Sculpting Tools
You can use 2-pound ankle weights and resistance loops for your workout, although these items are not required.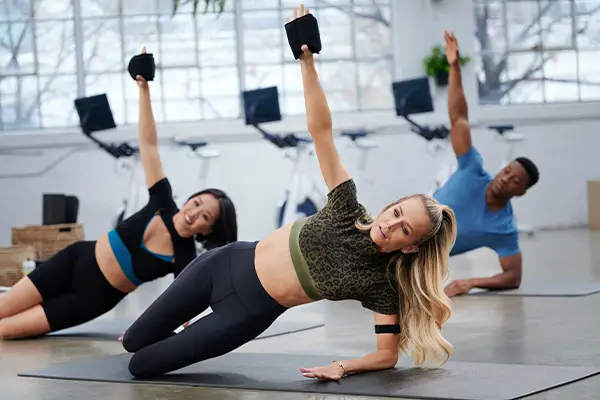 What are the differences between XB Sweat + Sculpt, Xtend, and XPilates?
This program emphasizes cardio workouts through dancing, as opposed to her other programs.
If you're a fan of Andrea's Xtend Barre or XPilates, we're sure you'll enjoy this cardio-dance program!
What Can You Expect From XB Sweat + Sculpt?
Amy P. was able to reduce her weight by 4lbs and shrink her waistline by 5 inches! (above)
Courtney J. was able to shed 7 pounds (illustrated above).
What supplements are recommended?
Andrea's favorite supplements are Shakeology, Energize (a pre-workout supplement), and collagen.
Andrea Rogers Diet
Andrea recommends 2B Mindset, Ultimate Portion Fix, and 4 Week Gut Protocol for Beachbody-based diets. Alternatively, tracking your macros or calories is an option too.
For those struggling with emotional eating, 2B Mindset would be a good choice. For those wanting to experience maximum results within 3 weeks, Portion Fix would be the best option.
Who Is Andrea Rogers?
Andrea Rogers, a fifty-year-old mother of two based in Dallas, Texas, is an impressive and delightful Pilates instructor, celebrity trainer, and former dancer.
Uncover the keys to aging gracefully with her exercises and expert advice in each class.
We wrote a full article that covers Andrea Rogers' height, weight and whether she's married, which you may find interesting!
What is the release date of XB Sweat + Sculpt?
Beachbody's XB Sweat + Sculpt by Andrea Rogers is now available with VIP access. If you're a Beachbody on Demand user, you'll need to pay for early access to the workouts, or wait till 2023 when they can be streamed without extra cost.

XB Sweat & Sculpt Cost Information
Prices for the XB Sweat and Sculpt product range from $64.95 (early access & ankle weights) to $179.95 (Total Solution Pack). The Total Solution Pack features entrance to workouts, complete Beachbody on Demand library, and a chosen nutriment supplement.
If you'd like Kalee Dillard as your coach, just say that. Otherwise her Coach ID is 1001548.
If you don't have Beachbody on Demand, select a Total Solution Pack.
All Total Solution Packs come with priority access to XB Sweat & Sculpt.
Try the XB Sweat + Sculpt Workout Sample
If you're not sure if this workout is for you, we recommend trying the sample session! It's a great way to get a preview of each class with trainer Andrea Rogers!
Straight From Beachbody
This Shouldn't Feel This Good
When you need a pick-me-up, Andrea Roger's XB Sweat + Sculpt can be just the cure. It provides 30 minutes of energy that will make you look and feel your best. This HIIT regimen combines high-energy dance-cardio with targeted sculpting intervals to get you toned and fit in no time.
The beat will drop and you'll feel like a whole new person as you start slaying calories and carving lean muscle into your body. You may not believe how good it feels until you try it for yourself! With Andrea Roger's XB Sweat + Sculpt, you'll experience an incredible cardio workout mixed with intense sculpting, all while having plenty of fun in the process.
Keep It Simple
When it comes to sweating and sculpting your body, "less is more" is key. Andrea Rogers XB Sweat + Sculpt makes it easy with its no-nonsense approach. No complex choreography here – Andrea keeps it simple so that you can get an exhilarating full-body workout without feeling like you're exerting too much effort.
Every move is carefully overseen by Andrea, making sure that you get the most out of every exercise. The result will surprise you – you'll be able to crush an entire workout before you even realize it! With this approach of keeping things simple but effective, I believe Andrea Rogers XB Sweat + Sculpt can help anyone get fit and toned in no time!
Healthy From The Inside Out
With Andrea Rogers' XB Sweat + Sculpt, you get the best of both worlds: staying healthy inside and out. To help you handle your nutrition, she includes her Dream Team supplement combination – Shakeology, Energize and Collagen Boost.
Shakeology provides 16-17 grams of premium proteins, adaptogens, phytonutrients, pre-and probiotics, vitamins and minerals in one creamy shake – it's perfect for helping fuel your body with nutritious ingredients that make a difference! Then there's Energize as your pre-workout hero which has been clinically proven to improve exercise performance. Lastly Collagen Boost helps you improve skin elasticity and reduce fine lines so you can get that glow from the inside out.
Eating For Everyone
If you're looking for an exercise + diet program that is tailored to your individual needs, then Andrea Rogers' XB Sweat + Sculpt will be perfect for you. This Total-Solution Pack includes two different eating plans – 2B Mindset and Portion Fix – so no matter what your eating style is, you can craft a diet that works best for you while still reaching your fitness goals.
The 2B Mindset by Ilana Muhlstein helps the busy among us incorporate healthy foods into their lives without spending hours in the kitchen. These delicious meals are sure to keep you full and satisfied, and what's more is that this program has actually helped her clients lose weight! Ilana even used it herself to shed 100 lbs over her lifetime as a mother of three, so it's proof that it works!
Meanwhile, Portion Fix by Autumn Calabrese focuses on finding the portion sizes that work best for each individual. You won't have to count calories since Autumn knows denying yourself isn't the solution; she'll help find portions of vegan meals or delicious desserts with just the right amount of wine, whatever floats your boat!
Workout Live With Andrea
Are you looking for a way to add some variety to your workout routine? Andrea Rogers has the perfect solution – the XB Sweat + Sculpt class! With a subscription to BODi, you can take advantage of this exclusive class and get personal shoutouts and cues from Andrea herself.
Not only can you attend her live classes, but you have access to on-demand cycling, dance, barre, Pilates, strength and recovery classes from other Super Trainers and BODi instructors. Plus, there's next-level nutrition support with weekly recipes and monthly meal plans. It's the perfect way to challenge yourself with new workouts every time – all while connecting with Andrea in real time!