Beachbody Collagen is a very good product that does what it is supposed to do, but does it do enough? Collagen is basically a protein that is the main protein in your body. Collagen is broken down into 5 main types so which type is the Beachbody product? Read on and you will find out.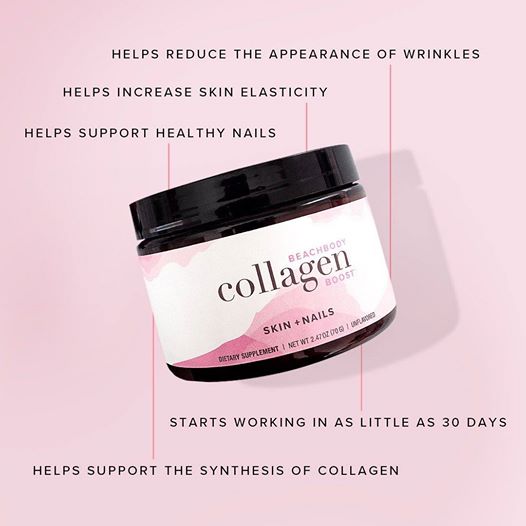 Beachbody Collagen Boost Nutrition Facts
This is actually pretty easy. If you are looking for an easy way to diet it is simply by eating things with only less then 5-6 ingredients anything more then that is probably too processed and can hurt your body.
This collagen only has one ingredient which is "PURE COLLAGEN PEPTIDES". This means it is simple and not too processed
Each 2.5 gram scoop (one serving) has only 10 calories, 2 grams of protein and 30 mg of sodium.

Is Beachbody Collagen Gluten Free?
Beachbody Collagen does not contain any gluten so if you are following a gluten free regimen you can take this supplement to help with your hair and nails.
How Many Servings In Beachbody Collagen?
There are 28 servings in one container of Beachbody Collagen Boost. At only 2.5 grams per a serving where most collagen supplements are 2-3 times more then that. So this stuff is very concentrated and very efficient.
How Does Beachbody Collagen Make You Feel?
Beachbody Collagen doesn't have an immediate affect so you won't take it and feel a buzz like caffeine. However, as you take it consistently you will feel a firmness to your skin and elasticity that makes you glow more. You will notice and feel the difference as the weeks go on.
Can You Take Beachbody Collagen While Pregnant?
Beachbody Collagen is safe to take while pregnant according to research. This research states that all peptide collagen like Beachbody Collagen Boost is safe during pregnancies. The only collagen that isn't would be marine collagen.
Is Beachbody Collagen Grass Fed?
It is not clear that Beachbody Collagen is Grass Fed. We have sent messages in with no response to this. Type 1 and 3 that are found in Beachbody Collagen Boost are normally sourced from Grass Fed.
If you are looking to get the Best Beachbody Collagen Affordable Alternative shipped to your door in as little as 2 days look no further then here:
Beachbody Collagen Results
Results will vary with the product along with how quickly your results come. The best thing you can do is stay consistent by taking everyday and if you drink coffee every morning throw it in there. If you get inconsistent the results will be the same.
1. Amanda W – Amanda had great results that came along quickly. "My skin looks amazing and my nails have been growing really fast.
2. Tanika had great results with people noticiing it every step along the way. "Collagen boost is so good! People are telling me that I'm glowing"
3. Allison had great results around her eyes and her skin was much smoother all over. "I can definitely see a difference around my eyes, but my skin is smoother all over, especially on my legs"

Does Beachbody Collagen Help With Hair Growth?
Beachbody Collagen Boost has been shown to help make your hair healthier and help it grow. It actually helps you produce amino acids from the collagen that turn into hair proteins. These hair proteins strengthen your hair roots and will promote new hair growth.
What Does Beachbody Collagen Do?
Beachbody Collagen Boost has been clinically shown too actually make your skin and nails more youthful looking. So if you are young you shouldn't need to take this, but after the age of 30 your body goes through a lot of changes involving your skin and bones among other things. You make less collagen at that age and this supplement helps revive that youthful productions.
Beachbody Collagen Side Effects
There are not many known Beachbody Collagen side effects at this time. Collagen is produced already in your body so your body doesn't have an allergen to it. However if the collagen is made with fish, shellfish and eggs you may have an allergic reaction to it if you are allergic to those foods.
The only other really known side affect is Collagen has been known to leave a bad taste in peoples mouths. That is why most people don't just have with water, but mix with their favorite beverage. One great way is too mix with your coffee and the creamer since coffee has an after taste already you won't be able to tell the collagen is in there.
How Much Is Beachbody Collagen?
Beachbody Collagen normally costs around $34.95, but they do have deals a lot of the times at the end of the month. If you are a coach you also get 25% off the retail price.
Beachbody Collagen VS Biotin
Biotin is considered vitamin B7 so it is very much different from Beachbody's Collagen Boost that is a protein. Biotin deficiencies are very rare if you think this is something you have go see your doctor. Biotin can aid in skin and hair maintenance, but shouldn't really be taken unless you are running low on B7.
Beachbody Collagen is for those that are over the age of 30 mostly when your collagen production tends to dip a bit. Collagen is a protein that helps aid in that youthful look when it comes to nails, hair and skin. There are also collagens that help with joints and bones.
Beachbody Collagen VS Vital Proteins
Hard to compare these two but they are both very good collagens. Vital proteins is two scoops and comes in at a whopping 20 grams where Beachbody Collagen Boost is only 2.5 grams with one scoop.
Vital is definitely sourced from grass-fed cows where the information is not available on Beachbody's Collagen Boost.
Vital proteins also adds in Vitamin C to their supplement which has been found to help with absorption. This may also be due to the amount you have to consume with this product. Where with Beachbody's collagen it is broken down into concentrate which is supposed to make it easier to consume on its own.
Both can be consumed in the same manner with hot or cold beverages and even baked.
Cost – When it comes to supplements I like to break it down by cost per serving. Beachbody Collagen wins this battle at just over $1.24 a serving. Where Vital Proteins is around $1.40 a serving. So not much of a difference.
Beachbody Collagen Reviews From Real Customers
We curated information from a few different Beachbody forums and groups so you wouldn't have to take our word on this review. The only information we changed was any grammar/spelling corrections to make readable. Outside of that the answers all remain the same.
Real Customer Testimonials
1. Tracy "Love it" – I love it. My nails are stronger then they have ever been. Just wish it helped my hair.
2. Jena "Hair and Nails great" – I can say my hair and nails are great and my skin has been great.
3. Lauren "Hair growing great" – So, I have insanely thick hair and flimsy nails. I actually got mad because my hair is growing and it looks weird in a pony tail now 🤣
To many "tiny hairs"
My nails used to flake now they don't. It's officially become a staple and I didn't even think I would like it
4. Suzanne "Worth It" – It's worth it and being in the UK I'm gutted we still can't get it! I bought it at summit last year and used it for a few months and had so many compliments on my skin!
5. Charmaine "Love it" – I love it! But my wallet doesn't because my hair is growing so fast I have to get it done more
6. Traci "Nails not much with hair" – Have not noticed much with my hair but my nails are growing crazy fast
7. Kristi "Love it" – I love it. I can't explain exactly why just yet. I just know I feel better, and my skin feels better. I've only been taking it for a month. Hasn't done much for nails, but that's probably because I bite them
8. Melinda "Hair grown very long" – I ve been using it for several months- my hair has grown very long. I do want to try the collagen peptides sold at costco tho, i've heard they are very clean and good too.
9. Kellie "Amazing hair growth in one month after chemo" – I added the collagen before the end of my chemo. This is my hair growth in one month. I've only been done with chemo 2 weeks and most people don't grow much hair before they finish.
10. Erin "Love it" – LOVE LOVE LOVE! Game changer for my knee skin hair and nails
11. Rhonda "Loved it" – I used it and loved it… but I needed it for my knees. So had to switch! And yes my hair and nails improved greatly! Worth it!!
12. Andrea "Love it" – I love it. My eyelashes are so long now. Nails are strong and grow faster. Also I tend to get blemishes that heal extremely slow and after about 1 month I can see my skin clearing up and if I do get a blemish it is actually healing quickly. After 2 months the red scar marks from previous acne is lightening too.
13. Tracy "Not for bones" – It doesn't have the right collagen type for bones. But if you want for nails, looks like the recommendations are positive
14. Michelle "I was impressed" – I was impressed with the cost vs serving size.
I was going to switch to a brand from Whole Foods but they all had less than 20 servings per container for about the same price.
15. Malinda "Yes" – Yes! I'm 54 and my skin looks amazing! And my hair and nails grow like crazy.
16. Donna "Dermatologist said this not the best" – My dermatologist said the best collagen for skin is topical. And this product is broken down by your body to the point where it really has no strength in the body. He said a topical collagen is best or a collagen peptide ingested along with a very high protein diet. So I have little faith that this powder is doing what it is advertised as. Sorry. Just my opinion.
17. Pam "Works for me" – it has worked for me, and many others, as many others have indicated. My nails are no longer brittle and my hair is healthier. Going to try a different brand to see if it helps the joints, as many have talked about. If doc bye bye to my current joint supplement and hello savings.
18. Vanessa "Love It" – I love it. Been using it for a couple months. I think it's absolutely worth it.
19. Lauren "100%" – 100%. I never thought I'd wanna spend money on something like this but my skin has never been clearer (always used to have a few small blemishes/pimples, now zero) and nails went from brittle and breaking to strong and longer.
20. Alaina "Used after pregnancy" – It was the first thing after 2 years to finally help my hair feel recovered texturally after second pregnancy
21. Amy "Love it" – I love it. I bought it at the release during summit and haven't missed a day since.
22. Jessica "Love it" – I used to smoke so my nails were very brittle… I have been using it since beginning of December 2019 and love it… My nails can actually grow now and I'm having to shape and file down almost daily
23. Wendy "Hair will grow too fast" – A friend said her hair and nails grow super fast. She has to get highlights more often so I said no thanks.
24. Jasmin "Love It"
25. Aubrey "Love it" 
26. Donna "Skin and nails no joints" – It's only good for hair, skin and nails not joints.
Is Beachbody Collagen Good?
Beachbody Collagen is as good as you make it. Meaning there is no flavor so if you put it in your coffee it will taste like your coffee. If you put it in your Shakeology it will taste like your Shakeology. I wouldn't just have it in water it will still have a powdery taste to it.
Final Thoughts
Beachbody Collagen Boost overall is a pretty good product. Are there better supplements out there? Yes there are and for a better price. The main benefit with Beachbody Collagen is you get the same benefits as a lot of other collagen supplments, but you can consume a much less amount.
So if you don't like taking powder supplements you will probably like Beachbody Collagen Boost much more.