As a Beachbody coach, I am always looking for products that will help me and my clients in their fitness journeys. Recently, the company released Recover Protein Supplement which is part of their Performance Line. The performance line has supplements to help you maximize your workouts and recovery time so you can continue with your healthy lifestyle changes. This article gives an honest review of this product including what it does, how it tastes, who should use it and more!
Beachbody's P90X Recovery Drink is now called Beachbody Recover and has less calories and more protein than ever before. This post-workout powder helps to relieve soreness in the muscles after exercise while also encouraging muscular growth. Also has great taste and a variety of flavors.
Take Recover after each exercise to help you recover quickly and perform every workout with power and intensity. Take Recover after each workout to assist you in combating exercise-induced muscle soreness, speeding muscular recovery, supporting muscular growth, and restoring your strength.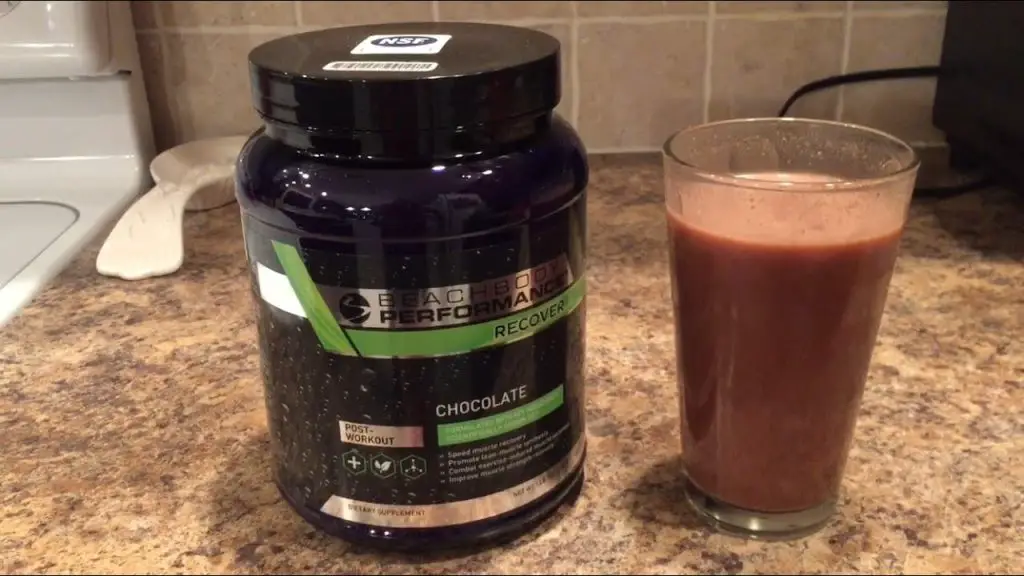 What Is Beachbody's Recover Drink?
Beachbody's Recover was originally called P90X Recovery Drink, which was first released in 2001, contained simple carbohydrates and fast-digesting protein to aid with muscular pain and recovery. It was great tasting, but a little too sugary for the purpose of fitness goals.
Beachbody stopped selling P90X Recovery Drink not sure on the reason why, but may have something to do with Tony Horton leaving Beachbody. They came out the replacement called Beachbody Recover.
They took some of the sugar out and added in pea protein, BCAA's on top of the usual Whey. There is chocolate and orange so covers the chocolate and fruit lovers. They also have introduced a plant-based chocolate that tastes amazing as well.
What Does Beachbody's Recover Do For You?
It's that much more difficult to maintain a workout regimen when you're too sore from your exercises. However, when you reduce exercise-induced muscle discomfort and boost muscular recovery, you can return from your activity faster—and hit the following one harder.
How Does Beachbody Recover Taste?
It taste amazing for several reasons it taste natural and blends so well just in a shaker cup. Just add water and fill it up if you want it thicker can add ice or use less water. One of the best tasting chocolate shakes I have ever had and tastes much better than Shakeology. The orange my wife likes as she drinks chocolate Shakeology says the two offset each other for both chocolate and fruit flavored lovers.
When Should I drink Recover?
It is best to drink Beachbody Recovery as close to finishing your workout as possible. This is when your muscles are depleted and looking for a repleneshing of nutrients. It will give you the BCAA's you need to fuel your body when your muscles are at their most accepting for protein.
What Can I Mix With Recovery?
You should definitely try with just water first, then you can go with a fruit juice if you want to (low sugar). From there you can try cocunut water, maple water, and even almond milk. This will depend a bit on your fitness goals if you want to keep your calories down definitely go with water.
What Container Does Beachbody Recover Count As?
The Recover plan from Beachbody doesn't count on the 21-Day Fix or the Ultimate Portion Fix. It's emphasized in the 80 Day Obsession Timed Nutrition Meal Plan that you don't count it as any container. So drink away if you are following the Ultimate Portion Fix.
What Is The Difference Between Recover And Shakeology?
Shakeology is designed more as a meal replacement than a recovery supplement. You can use Shakeology for protein as well it is just slower absorbing. Recover is made to drink right after a workout for quick absorption. You can combine the two of course and they will complement each other.
Why You Should Try Beachbody Performance
Faster recuperation is advantageous, particularly if you work out on a regular basis. That's why you must consume adequate nutrients after each exercise to assist you return to your routine as quickly as possible.
Recover contains 20g of protein and phytonutrients to help you get the most out of each workout by supporting muscle protein synthesis, reducing exercise-induced muscle soreness, and jump-starting your body's natural recovery process so you can comeback stronger the next day.
It is shown to help with the following:
Speed muscle recovery
Combat exercise-induced muscle soreness
Reduce muscle breakdown
Promote muscle protein synthesis
Improve adaptation to exercise
Improve muscle strength recovery
Support muscle glycogen recovery
Why Beachbody Recover Versus Other Post Workout Supplements?
Recover is a high-performance recovery product that can help you feel better faster. It's greater than just a protein powder since it includes key elements found to aid in the speedy recovery of muscle tissue.
When your workout is finished, it gives your muscles a quick and constant flow of nutrients to help you recover for the next session.
Plant-based antioxidants help muscle recovery, decrease exercise-induced muscular pain and soreness, and accelerate tissue healing.
Recover contains active ingredients that have been clinically demonstrated to be effective. Others contain trendy chemicals at low dosages with no proof of efficacy.
The food is certified organic and produced in a GMP facility that adheres to all international quality standards. The components are present at their tested, effective dosages.
It does not contain any chemicals or additives like aspartame or preservatives.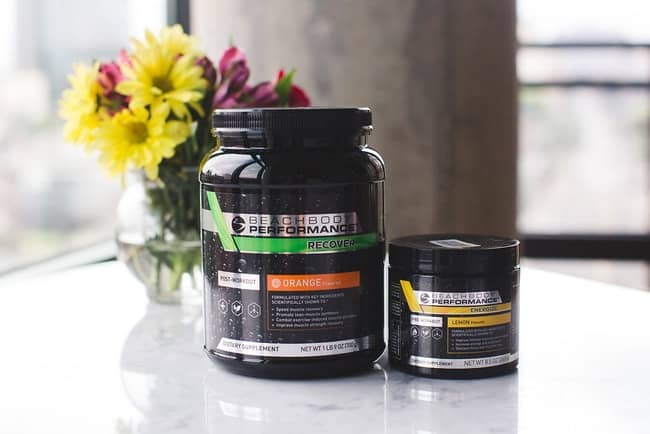 Main High Quality Ingredients In Beachbody Recover
Pomegranate Extract This pomegranate extract's powerful component is ellagitannins, which are scientifically proven to aid with faster muscle recovery and muscle soreness after exercise. It's a natural recovery-boosting component that aids in the speed of muscular strength restoration, especially following tough workouts.
20 Grams of High-Quality Protein The protein aids in the recovery and development of muscles since it provides a rapid and constant source of nutrients.
Branched-Chain Amino Acids (BCAAs) Recover also includes a 2:1:1 ratio of Leucine, Isoleucine, and Valine, branched-chain amino acids that are unique in their capacity to promote muscle protein synthesis and support recovery.
The Beachbody Recover Guarantee
The reason we say it is worth a try is they have a guarantee you try it and don't like it send it back and get your money back full refund.
30-Day Money-Back Guarantee
If you're not satisfied with your product, simply go to faq.beachbody.com and select the "Return or Exchange" icon for a Return Authorization to return the product within 30 days for a full refund of the purchase price, less s&h—guaranteed.
Final Thoughts
If you are looking for a quality post-workout supplement, Recover is a great choice. It contains high-quality ingredients that have been clinically demonstrated to be effective, and it comes with a 30-day money-back guarantee. So, if you're not satisfied with the results, you can always send it back for a full refund.