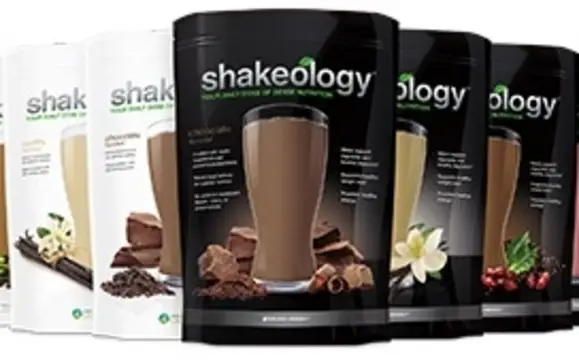 Beachbody overall has some great products that include at home workout programs, equipment, workout attire and now supplements. Most everything they have seems to be high quality and their supplements mostly follow that suite as well.
Now they don't attack the Keto diet per-say with their nutritional programs, but that's okay most of their products are actually keto friendly or can be worked into a keto routine.
So is Shakeology actually keto friendly? 
Yes Shakeology is keto friendly as it only has 9-12 grams of net carbs based on the flavor you like. It has 4 grams of fiber that help with your digestive system that supplements your keto diet as well.
Not only does it have the benefits to be a meal replacement or recovery shake for someone following the keto diet, it also is very nutrient dense and made with all natural ingredients. If you want to see the other benefits of Shakeology and how to get it for free read on. We will also talk about cheaper alternatives for Keto friendly protein shakes.
Don't just listen to us as we have done our research and have information from other keto followers that use or have used Shakeology.
Check out the Best Keto Shakeology alternatives by CLICKING HERE!
Here are The Top Keto Meal Replacements on Amazon: 
Keto Dieters Talking Shakeology
We also scoured the internet looking for others that are on Keto and either use or have tried Shakeology while on the Keto diet. We went to places like Reddit, Bodybuilding.com, Beachbody's Community, and other fitness blogs/forums. We gathered up the testimonials and brought them all to one place.
GrandZebraCrew – "I liked Shakeology, but 13g of carbs is too much. Maybe when I get to maintenance and experiment with increasing my carbs a little."
Sassytaters – "Don't fool with that. Eat real food. If you do decide to fool with that, your best bet for the rest of the day will be meat, butter, spinach."
Default87 – "You can work them in as long as they fit your macros, but if you are just starting, I would recommend only eating real food for the first 2 months or so until you are fat adapted, to help retrain your thinking when it comes to hunger signals."
GrandZebraCrew (another response) – "I loved Shakeology, but I just can't make it fit my macros. Maybe someday after I hit goal and learn to manage maintenance I will determine if I can stay in maintenance on 30g-40g of net carbs and maybe then I will add it back in. I also find that it's a sweet thing and I don't need too many sweet things in my life, they just make me crave more, no matter what the sweetener."
Jupiter178 – "I use the chocolate one with about a Tb of peanut butter and a cup of almond milk. 14g carb that is my breakfast typically. Lunch and dinner are pure meat or cheese meals. Results are exactly what I want: toning up my abs, energy is high, clear mind, never sick, etc.I recommend it. Plenty of people say it doesn't work or it's a scheme, but I logged in to my account just to say that I haven't had any negative issues with them."
Forgetfultiger – "There are a few Keto friendly shakes you can try. For me, in my particular situation, Shakeology has maltodextrin and triggers strong hunger feelings for hours. Hunger like I used to get pre-keto. It has a high glycemic index, it's worse than sugar depending on who you are asking."
SpikeBaylor – "I quit Shakeology when i went Keto. I miss it. But not that much.I still occasionally use Energize as 4g isnt too bad. Recover and Rechare i think are both in the 8-10g range which is too much for me.Altrnatively i make my own preworkout from a combination of lite salt (potassium/sodium), a Magnesium/Calcium powder, Beta Alanine, and a flavoring of my choosing. All can be had for maybe $25 and would last at least 6 months. Im thinking about adding quercetin and caffeine if i can find them. But for now it works well. Mine has a lot more electrolytes and a lot more beta alanine as well. Energize's 800mg beta alanine is really low compared to other pre workouts.You could basically do the salt lite, magnesium, and flavor to make a Hydrate as well.I just bought a thing of Isopure Whey Protein powder which is 0g. Its not bad. Not as tasty as Recover but 25g protein for one scoop without the carbs. Then again, you could just EAT real food as well.Havent really looked for a Recharge alternative. But if you want to do your own research, the important part in that is the "Casein" protein.A caveat is that the flavoring i use (random stuff from Aldi) and the Isopure use sucralose as sweetener. You should limit your intake of that as it can be just as bad if not worse as sugar. These are pretty much the only things i eat/drink with it and i dont use much."
Pljohnson – "I have try using Shakology, and read a lot of infomation about this product. Shakeology is a product to replace your food and meals that you eat every day, and that bring you harm and weight gain.The manufacturer of this product is Beach Body LLC. This company produces many products to improve health.Shakeology is designed to help you cut fatty or unnecessary foods from your diet, thereby helping you to lose a few pounds. You can potentially expel empty calories from your body, which form unnecessary fat, thereby losing weight. You exclude from the diet of bad food, replacing it with Shakeology, and in time will begin to see your result. And in time, and do not return to this food, but want to eat healthier food.I didn`ot fined feedback on adverse effects, but some people are concerned that there are some metals in the composition and they can affect health.Manufacturer wanted their product to help the health of their customers, that people would gradually lose weight with the help of their additives, and they achieved it.You need to know that when you stop using the Shakeology, and want to return to eating harmful food, then your weight can also go back. So you will need to change your diet forever.YES, the using of this product is safe for your health.

And this product gives results, that you are waiting from them."
Shakeology Nutrition Facts
Calories: 160
Fat: 2g
Sodium: 150mg
Carbohydrates: 17g
Fiber: 6g
Sugars: 6g
Protein: 17g
Other Keto Friendly Protein & Meal Replacement Shakes
Ketogenic Meal Shake (KetoScience) – This shake is Keto friendly with healthy fats and is supposed to get you into ketosis faster as well. Other benefits are it helps burn fat, boosts energy, and helps with brain functions. Has multiple healthy fats from MCT Oil, Coconut Oil and Avacado Oil. Fat content is high 18g vs only 10 grams of protein and 3 grams of net carbs. Is very cheap compared to Shakeology.
Keto Shake (Left Coast Performance) – This shake is also very Keto friendly at just 1 gram of net carbs. There is 20grams of fat along with 14 grams of protein. It also boasts grass fed collagen. Mixes very easily and comes with a full refund guarantee if you don't like it unlike the other one above. So it is a 3 in 1 protein shake, collagen and MCT oil. It is a little more pricier and only comes with 20 servings. If you are working out 5 days a week this will get you through a month.
Keto Collagen (Perfect KETO) – This is a great tasting keto friendly Keto Collagen Protein Power with MCT Oil that gets the job done. Where this one differs is can also be put into Coffee or used in shakes. So this could be the ultimate pre workout when added to your black coffee. It already as the MCT oil and Collagen making it a perfect combo with caffeine. 10 Grams of protein and 2 grams of net carbs. It also has 5 grams of MCT oil. Also only 20 servings a little pricier then the KetoScience brand, but still much cheaper then Shakeology.
Related Questions
Is Beachbody Energize Keto Friendly?
At only 4 grams of carbs per serving Beachbody Energize is definitely keto friendly. So if you need that extra energy pre-workout supplement while following the keto diet Energize could be an option but do your research on other alternatives as well.
Final Thoughts
Can Shakeology be used in a keto nutrional program? Yes it can be, but it is probably not the best option. If you are a customer or coach of shakeology already then you can probably get a discount making a little more affordable. It can be used as a meal replacement or as a protein recovery drink. You can get a free sample if you are already a member of beachbody or if you are potential customer talk to an active coach about a sample they usually have them at their disposal.