If you are looking for a shakeology alternative, you have come to the right place. Shakeology is a great supplement to take, but it can be expensive and not everyone likes the taste. In this article, we will explore many different shakeology alternatives that will be based on data and opinions of actual Beachbody members. We will also look at the benefits of each shakeology alternative so that you can make an informed decision about which one is best for you!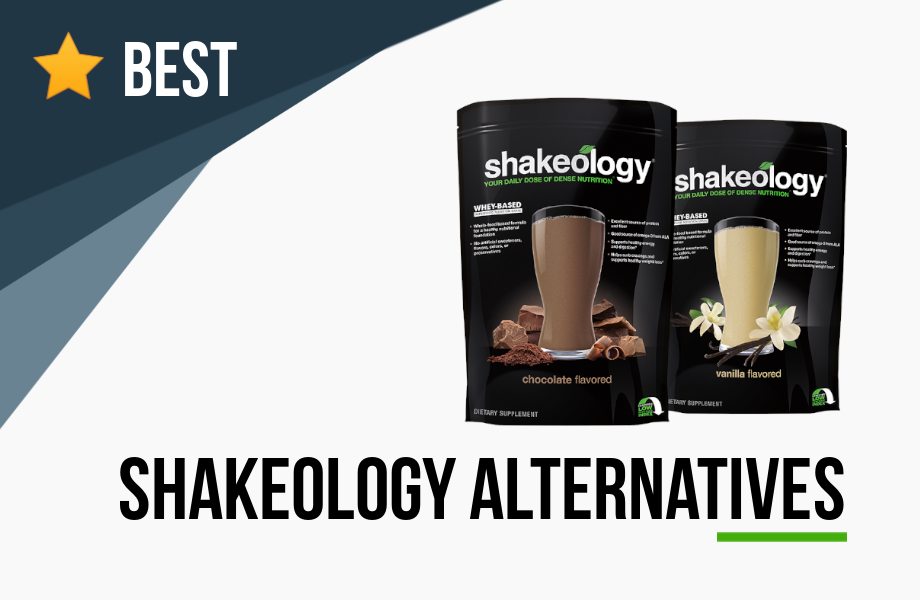 Shakeology Alternatives
I used to be an avid Shakeology user, but at times it just didn't agree with my body and I wasn't to keen on the taste. My wife still drinks hers daily and it works for her.
So I wanted to create this article that will not only be the opinions on someone who currently drinks it and somebody who doesn't anymore, but also from many users, polls, etc.
I have personally been taking supplements like Shakeology for the last 20+ years. I had great success with Shakeology and Beachbody workouts especially when I got into the best shape of my life for our wedding. However at some point it just stopped agreeing with me and continued doing so. So I explored other alternatives by going out and buying them and trying them separately as an experiment.
Based on other articles I was let down because most of the recommendations were based purely on cost where I wanted to get something for cheaper yes, but still with high quality ingredients and good tasting as well.
Some products will have my opinion on taste, but this is subjective and not based on anything scientific. If you want to share your thoughts on taste, texture, flavors, etc., please do so in the comments to help others out!
Selecting The Best Shakeology Alternative
Shakeology isn't really a protein powder or I should say it is a protein powder on steroids (in a good way). Meaning it has so many nutrients and vitamins in it that can replace your multivitamin. My wife religiously drank hers with both our kids who came out great and she swears by it.
So pure protein shakes we won't even take into account for this analysis.
Factors: Quality, No Fake Ingredients, Plant based or plant based options.
Other factors: Keto options, low carb, etc.
Trusting Our Findings
Why would you trust us? Because we are a review site we just write things as they are and back it up with facts. Also as you will see below we also get non-biased opinions from many other people that are a part of Beachbody that have drank Shakeology giving their own alternative suggestions.
We did the math we took polls, summarized comments, messaged people and gathered all this data that let's be honest takes a lot of time to put all together.
Yes, almost every supplement recommendation on the internet has an affiliate commission linked to it. Otherwise, people wouldn't have an incentive to create review content.
We have not allowed commissions to influence our data. Integrity is important to us. In fact, the meal replacement that most closely substitutes Shakeology only offers a 12% commission, while other premium meal replacements offer 25-30%.
You may be looking for a Shakeology alternative because it's expensive, you're allergic to an ingredient, the taste isn't your favorite, or you started a new diet. Whatever the reason is it doesn't matter just know we got your back and the data to prove we do.
Top 3 Shakeology Alternatives
Below is the data to show you how we came to this conclusion, but we wanted to get the information to you as quick as possible in case you are in a hurry.
Garden Of Life Meal Replacement
Orgain Organic Meal replacement
Vega One All-In-One Shake
Looking for an on-the-go meal replacement that will give you the nutrients you need to power through your day? Look no further than Garden of Life Meal Replacement. This delicious shake is packed with 20 grams of clean, organic plant protein and 44 superfoods, making it a perfect way to fuel your body before or after a workout. Plus, it contains 1.5 billion CFU probiotics and enzymes for easy digestion. Whether you're looking for a nutritious breakfast or a post-workout snack, Garden of Life Meal Replacement has you covered.
ON THE GO NUTRITION: Looking for a clean and nutritious source of protein? Look no further than our 20 grams of organic plant-based protein. Packed with 44 superfoods, including grass juices, fruits, vegetables, and fiber, this formula will help you feel satisfied all day long.
POST WORKOUT RECOVERY: Looking to build lean muscle and boost energy? Look no further than this power packed meal replacement. It doesn't contain any of the 8 major allergens, so it's perfect for everyone!
VITAMINS AND MINERALS: This protein powder is not only delicious, but it's also packed with 21 vitamins and minerals.
MEAL REPLACEMENT SHAKE WITH PROBIOTICS: This protein shake is not only delicious, but also smooth and easy to digest because of the 1.5 billion CFU probiotics and enzymes.
VEGAN PROTEIN POWDER: unbleached, soy-free, Non-GMO Project Verified whole food protein source that is organic, gluten free, Kosher and vegan. Informed Choice Certified (Trusted by Sport), non-GMO whole food protein
If you're looking for a shake to help you start your day off right, Orgain's Organic Meal is a great option. Packed with 20 grams of organic plant-based protein and 7 grams of dietary fiber, this shake will help you feel full and energized all morning long. It's also USDA organic, vegan, and gluten-free, so you can be sure you're getting a quality product. Plus, it contains Orgain's original blend of organic sprouts, greens, fruits, and veggies – perfect for getting your daily dose of vitamins and minerals. And at only 230 calories per serving, it's a great way to get the nutrition you need without having to sacrifice taste or satisfaction. So if you're looking for a nutritious and delicious meal replacement shake, Orgrain's Organic Meal is the perfect choice.
Includes 1 (2.01 pounds) Orgain organic plant based creamy chocolate fudge meal replacement all-in-1 nutrition powder
This protein powder contains 20 grams of organic plant-based protein, 7 grams of dietary fiber, and no added sugar. It also includes Orgain's original blend of organic sprouts, greens, fruits, and veggies, as well as vitamins and minerals from food sources. Each serving has 230 calories.
USDA organic, vegan, nondairy, gluten free, lactose free, soy free, carrageenan free, non-GMO, no artificial ingredients and preservatives
This product makes a great supplement to your daily diet and nutritional needs, as it is high in vitamins B6, C, riboflavin, thiamine, iron and pantothenic acid.
Ideal for on-the-go nutrition for both men, women, and children. These are ideal for breakfast shakes, smoothies, meal replacement beverages, weight management programs, and other purposes. For a smooth, creamy texture with a delicious taste, combine with water.
KETO FRIENDLY! If you're looking for a nutritious and delicious way to get all of your daily vitamins and minerals, look no further than Vega's Organic All-In-One Shake! Made with 20g of organic protein from pea, sunflower seed, and pumpkin seed sources, this shake is also packed with veggies and greens like kale and spinach. It's a good source of 15 vitamins and minerals, including vitamin D, antioxidant vitamin A & C, calcium, and probiotics. Plus, it has 500mg of Omega-3 ALA from flaxseeds and 21% DV of fiber. Whether you blend it or shake it, you'll love the taste and texture of this high-quality product.
Although the packaging may vary, you can always expect the same delicious taste.
Our plant-based protein powder contains 20g of organic, North American pea, sunflower seed and pumpkin seed protein. This multi-source blend has 9 essential amino acids.
The veggies and greens are certified organic from the USDA, including kale and spinach.
Vitamins and minerals: a good source of 15 vitamins and minerals, including vitamin D, antioxidant vitamin A and C to aid the immune system and calcium.
Probiotics: 2 billion CFUs of bacillus coagulans
Omega-3 ALA & fiber: 500mg Omega-3 ALA from flaxseeds and 21% DV of fiber
The key to a great cocktail is using quality ingredients. This way, you can be sure that your drink will taste delicious and have a smooth texture – whether it's blended or shaken.
Actual Beachbody Users Opinions: Shakeology Alternatives
As we stated we didn't just want you to take our word for it so we went out to forums, websites, sub reddits and even Beachbody Groups to ask them what they would suggest as a Shakeology Alternative. One that is cost effective, high quality ingredients and all natural below is what we recorded. This information was curated so the only things that were changed were grammar and spelling if needed.
Actual Beachbody Users
Tammy C. "Orgain Organic protein with superfoods"
Amy T. "Premier protein if you have dairy issues try Vega which is also a good optoin"
Amanda "Garden Of Life"
Brittany B. "Orgain organic with superfoods and Garden of life are comparable to Shakeology"
Shannon A. "I have used foraging Raw Meal from garden of life. Has all the super foods and is plant based. Shakeology tastes better though."
Tamara C. "Vega doesn't have as many other ingredients, but still looks good. Costco has it now with a coupon. I only tried the chocolate but I thought it had a bad aftertaste. I did not care for it at all.
Alyssa S. "I like the Vega chocolate protein, but not the protein and greens. If it helps, I once read that the gritty texture of the vegan powders is an indication that they are less processed. I don't know for sure that that's totally true, but it makes sense. So, it could actually be a good thing. I don't find Vega gritty, but I used to drink a brand that was SO gritty, anything less is pretty great to me! Lol"
R.H. B "I drink the Vega Essential in chocolate. It is comparable but much cheaper."
Ashley J. "I hated Vega, it had the worst after taste and was chalky no matter how I blended it."
Hillary D. "I use Premier Protein and their protein bars. I also use the protein powder to make protein bites similar to shakeology balls. It's not that I don't like it I think it tastes fine I just can't afford $120 a month. That's just a lot for me"
Christina N. "IdealShapes" Idealshake. Very good"
Jessica V. "I drink Daily Sunshine cause Im allergic to shakeology."
J Marie "Vega Chocolate"
Dara D. "Orgain Organic Vegan Protein! Tastes wonderful!!"
Irene "When I run out of Shakeology I use Isopure I get at GNC. Love it! I use Isopure as a meal replacement just like Shakeology. I always add a little fruit. Oh and the best part, it's more then half the cost! I still prefer Shakeology though."
Beth S. "When my Shakeology runs out, I'm planning on drinking the 4 bags of daily sunshine we have!"
Laura R. "Orgain is still my favorite I've tried many different ones though none will compare with Shakeology nutrition."
Kim Perdue "Purely Inspired. I have been drinking Purely Inspired for two years now and I love it. Both my hubby and I started drinking protein shakes, and though we loved the taste of shakeology and all the nutritional benefits, we just could budget the amount it cost to buy shakeology. We tried to find one that had the closest to ingredients and nutritional value as we could. I think it tastes just like shakeology and we add greens to get more of the nutritional value. I highly recommend."
Alyssa D. My new favorite is Ideal Raw, chocolate flavor. It tastes better than any other vegan protein powder I've tried! I recently moved away from when protein powders, because they generally have SO many ingredients, and I have no idea of what most of the ingredients are. Plus, they often have a lot of sugar, or artificial sweeteners. Now I try to only buy brands where I recognize the ingredients, and that are sweetened with stevia. It's not easy to find really good ones, but there are a few out there. Ideal Raw and Vega area my two favorites right now.
Krystal E. "Idealshape. They have a supplement line (idealfit) and meal replacements (idealshape). All taste very good and reasonably priced. They also have an organic line IdealRaw"
Colletta H. "I do Thrive Shakes Along with the capsules and the duo patches to promote weight loss and I'm doing the 80 day obsession with Beachbody on Demand!"
HL W. "I have tried others but I caved and bought the vegan shakeo again. It fills me up and i actually enjoy drinking it."
Courtney B. "I don't know, I'm a Shakeo gal. But it is what keeps me from getting sick. For me it has nothing to do with weight loss or fitness performance, it's 100% for health/immune boosting. So if I had to go without it, that's where I'd focus my search."
Cassandra P. "I do Vega protein and greens mixed with almond milk, spinach, berries, flaxseed and pb2"
Suzanne S. "I drink the Dr. Axe meal rep. shakes with collagen. I do plan to buy some B.B. supplements but i think there's too many other shake alternatives at half the cost that are as good if not better to justify the price of shakeology. Organifi is very good too."
Samantha H. "Vega One is cheaper and extremely comparable. It even has probiotics and adaptogens! Make sure you get Vega one though, not Vega protein/Vega greens."
Nikki P. "No to Vega. I tried Vega and it was way too chalky. Nothing I added to it helped. I also tried Ideal Shake for a while but I think they changed the formula cause it started tasting gross."
Shawnna N. "I like Arbonne's protein. It's pea protein. It's not as expensive as Shaeology. I love the chocolate. It's theONLY one I've found comparable and I still prefer shakeo taste, but it's a close second and the ingredients are great".
Erin L. "I use orgain organic protein  I've had both chocolate and vanilla and really like them both- I usually mix with frozen strawberries, pb, coconut milk and water…"
Ashley T. "I do orgain the chocolate or vanilla. I do 1/2 orgain & have shako. Or last time i mixed chocolate vegan shako & orgain in a tub and when I make my daily shake its 1 scoop vanilla & 1 scoop mixed chocolate. It is okay…..i prefer shakeology but mixed its best half/half. Too gritty mixed 2/3 to 1/3 shakeology. I usually mix mine with just water in shaker cup with ice & 8oz water."
Results: After taking into account these top 30 responses along with the 127 others the percentages are below for what the top 3 Shakeology alternatives are. We will go through these show you where to get and the cheapest way to get them.
37% Garden Of Life Meal Replacement
34% Orgain Organic Meal replacement
23% Vega One All-In-One Shake
Final Thought
When it comes to Shakeology alternatives, there are a lot of great options out there. We've taken into account the opinions of Beachbody Members, as well as data-driven information to come up with the top three shakeology alternatives. Garden of Life Meal Replacement, Orgain Organic Meal replacement and Vega One All-In-One Shake are all great shakeology substitutes that offer comparable benefits at a fraction of the price. So if you're looking for an alternative to shakeology, these three products should be at the top of your list!
Frequently Asked Questions
What Can I eat Instead of Shakeology?
You can eat plenty of things instead of Shakeology. But, if you're looking for something that will provide you with the same benefits as Shakeology, I would recommend trying a plant-based protein powder. Plant-based proteins are made from whole foods and they provide your body with all the essential amino acids it needs to perform optimally. They're also low in toxins, easy to digest, and environmentally sustainable.
What Makes Shakeology So Special?
There are a few things that make Shakeology so special. First, it is a complete meal replacement shake that provides all the nutrients your body needs in one convenient drink. Second, it is made with superfood ingredients that are rare and difficult to find in the average diet. Third, Shakeology is clinically proven to help people lose weight, reduce cravings, and improve energy levels.
Is Shakeology The Same As Whey Protein?
No, Shakeology is not the same as whey protein. Whey protein is made from milk and is a source of complete protein – it contains all 20 of the standard amino acids required by the human body. Shakeology is made from plant-based ingredients and therefore does not contain all 20 standard amino acids. However, Shakeology does provide a wide variety of vitamins, minerals, antioxidants, phytonutrients, and other health-promoting compounds that are not found in whey protein.
Does Beachbody Work Without Shakeology?
Beachbody definitely works without Shakeology! I've seen people get amazing results with just the Beachbody fitness programs and shakeology nutritionals products. The key is following the program and sticking to the Nutrition Plan.
Of course, like with anything, there are going to be some people who don't see results. But usually, it's because they didn't follow the program as prescribed or they didn't give it enough time. You really need to stick with a workout program for at least 8 weeks to see significant changes in your body. And remember, everyone is different so you might not seeresults as quickly as others.
If you're doing everything right and not seeing results, then maybe beachbody just isn't for you. But there are so many other great workout programs and shakeology products out there that can help you reach your fitness goals. So don't give up!