Unfortunately injuries happen and shoulder injuries can be one of the worst when you are wanting to workout and get back into shape because it is connected to everything in your upper body. I personally have very bad shoulders with rotator issues, AC separations, dislocated shoulder on one side and separated shoulder on the other. These injuries are from working out incorrectly, sports, and vehicle accidents. I have since been to Physical Therapy many times, had MRI and shots but I am now happy to say I need none of that. I have learned to work and strengthen my shoulders when needed taking nothing for them anymore.
So what is the best Beachbody Workout For Bad Shoulders?
Depending on the severity of your shoulder injury the biggest thing you should stay away from is overhead shoulder exercises. The one program that you can pretty much just take all the shoulder workouts out is LIIFT4. Until the last two weeks LIIFT4 does Chest/Tris (Day 1), Back Bi's (Day2), Shoulders Day (Day 3) and Legs (Day 4). So just remove Shoulder day and replace with a cardio centered workout like the boxing workouts in 10 Rounds from Joel Freeman. 
Again LIIFT4 is the only workout program in Beachbody that does just a shoulder day workout. So simply eliminating that should take care of the issue, but at the same time if your Doctor has advised you to strengthen your shoulders this could be the kind of exercises you need to do as well. As always ask your Doctor first before proceeding the great thing about Beachbody On Demand is that you can take with you on your phone to show the Doctor. Even if you don't have service download the workouts and you can download them to your smartphone to take with you as well. Below we also talked to BOD members with their take on shoulder injuries and what you can do about them.
Rehab Your Shoulder With Beachbody
Total Body Solution
The best rehab workout for your shoulders to restore the range of motion and strength is going to be the Shoulders workout in Total Body Solutions. It is only 15 minutes, but you will give yourself and assessment then work on that mobility and it is low impact. All you need is a yoga Mat, Resistance Bands and Stability Ball (optional).
Beachbody Workouts For Shoulder Injury
First off there is a big difference between being hurt and injured. If you are injured you cannot do what you were doing before as it will further hurt your shoulder. So if the Doctor said something like you can workout still just don't do an actual shoulder workout then the below is for you. We have a weighted workout and cardio based workout that we recommended for individuals with shoulder pain.
LIIFT4
This program is probably the best overall workout for anyone of any shape or size. You only workout 4 days a week that's it and you can really get the job done in that amount of time. All the workouts are also less then 40 minutes some are shorter like the circuit based workouts.
LIIFT4
Description: "LIIFT4 combines heavy lifting and intense cardio to transform your body in 4 days a week. And with 32 unique, real-time workouts, you'll never get bored, because you'll never do the same one twice."
LIIFT4 can be the program that will allows you to change and take off for good on your life journey to health and fitness. If you want to build muscle you can surely do that with this program.
At only 4 days a week your body has time to recover, repair and build its muscle. If you love this program you can honestly stick with it for the long term and maybe just add in some hybrids or off day workouts.
You start out in what is called the "Build It" Phase that lasts 6 weeks. Every week for 6 weeks you will be working out the same muscle groups on the same days however every workout is different which is nice to change things up.
So you will have Chest/Triceps on Monday that will either be a LIIFT 50/50 or Circuit styles workout.
Tuesday you will work Back/Biceps and same thing that will be either a Circuit or LIIFT 50/50 workout.
Wednesday is the first day off to recover.
Thursday is Shoulder day and is called LIIFT Intervals. You would skip this day with your Shoulder Injury until the Doctor approves you do do so.
Friday is Leg Day and will be either HIIT or LIIFT 50/50.
Saturday and Sunday you have off to recover as well.
Then the final two weeks you go into the "Shred It" phase.
Monday will be Chest/Back both weeks will be circuity training.
Tuesday will be leg days with a LIFFT 50/50 split.
Wednesday still a recovery day.
Thursday will be Shoulder/Arms with a circuit style workout
Friday you will end the week with a Full Body HIIT styled workout
Saturday and Sunday off.
Just looking at that you can see why so many people love this program you can literally do whatever you want on those days off. If you want to add in some cardio or extra weight session you can do so by getting creative. This is also why you can add in some nice hybrid workouts.
Schedule: 60 day program
Days A Week: Only 4 Days a week
Workout Duration: 30-40 minutes long
Yoga Studio
I didn't want to narrow down the yoga workouts because any will work if your gym has a Yoga Room. Many of them do along with other amenities and guess what unless there is a yoga class in session it will more then likely be wide open for your use. These are great for loosening up your entire body as with your shoulders it may be due to tightness. This was one of my issues muscle and joint tightness that I have worked on throughout the years.
Yoga studio is amazing whether you are a vet at yoga or just starting out they have you covered. If you are just starting out I would suggest going with 3 week yoga retreat so you can look like a pro right away in your gym. Just download the first 7 workouts of the program to your phone so you don't have to worry about streaming on your wifi. Get your blue tooth headphones ready to go if you don't have any you can find really cheap quality ones on Amazon HERE.
The 3 Week Yoga Retreat™ is an introduction to yoga, designed specifically for beginners. It's like a crash course on yoga, where you'll learn proper form and the basic fundamentals of yoga. And the best part? We've stripped yoga down to the mat. There are no candles, no chanting. Just 4 great yoga experts giving you incredible guidance, so you can focus on building a solid
foundation while truly indulging yourself in the great benefits yoga has to offer, allowing you to get the most out of your experience. This is Simply, Yoga.
Three are other 30 day, 14 day and 5 day routines you can find right in Beachbody On Demand as well.
Beachbody Workouts For Shoulder Pain
Being hurt with pain is much different then being injured so you should still be able to perform your workouts you just may have some pain while doing them and after. So we have kept that in mind when choosing the below programs for you.
Insanity Max:30
Yes Insanity Max:30 is probably one of the hardest workout programs in Beachbody so why would I have you do this with a hurt shoulder? Well because of MODIFICATIONs and being able to set your own pace. The whole point of Insanity Max is too MAX OUT! So you can take breaks where needed and you also set your own pace. Also for every exercise there is a modified non impact lesser intense version that you can do with your hurt shoulder.
Insanity Max:30 is 5 days a week and guess what NO EQUIPMENT needed.
30 DAY BREAKAWAY
30 Day Breakaway is a great routine for the gym as you can get on that treadmill that so many gyms all have. Most have a lot of treadmills as well.
3 WAYS TO BREAK AWAY.
ZERO EXCUSES. Use the video option to run with me on a treadmill, or pop in your earbuds and head out in your neighborhood as I coach you to music set to each interval. For rainy days (or anytime you can't make the run), you can break away indoors with my killer bodyweight Rainy Day Cardio.
The only equipment you need you can usually find most all this at the gym. The Foam Roller you can just do that portion at home if you would like. Any resistance loops will work you can get them at your local Walmart or Amazon HERE for most likely better prices as well.
Proper running shoes
Heavy, medium, and light dumbbells
Beachbody Resistance Loops
Foam roller
Since you are focusing mostly on the lower body with running and also using lighter weights this is a perfect Beachbody program for hurt shoulders.
Here is also a little shoulder rehab workout right from Tony Horton:
Shoulder Flys Beachbody
Shoulder flys are a great workout to strengthen your shoulders all though they are very funky at the sametime and something I have never done before LIIFT4. First off you need some extra light weight I am talking 5 to 10 lbs absolute max that goes for girls and guys by the way. Below is a picture and video going through the motions and showing proper form.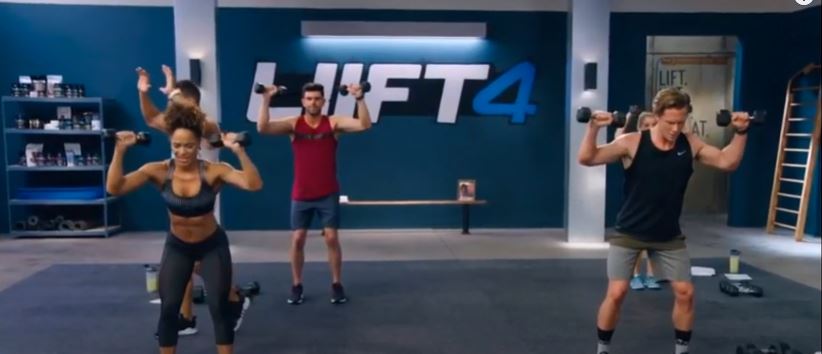 Beachbody Users Take On Total Body Solutions For Rehab On Your Shoulders
We curated this information from a Beachbody On Demand group where they were asked about Beachbody Total Body Solution Shoulder workout. All information was not changed except for any spelling or grammar. We don't want you to only take our word for it with these serious matters that is why we go out and research.
1. Jennifer "So Worth It" – oh it was so worth it. I've tried the Shoulder Yoga program under the Beachbody Yoga section and it's a bit harsher than this. This is a lot friendlier and slightly gentler than Caley Alyssa's shoulder yoga stretch. just take your time and don't push to much past your "braking point" (literallythat point where the range of motion just stops). You will feel your weaknesses in the shoulders.
2. Leslie "This is great" – I just finished PT in 2018 due to a torn rotator cuff and tear in my deltoid. These is great!
3. Chad "Been using successfully for 10 Years" – I've been using this for 10 years for my low back. It's a lifesaver for sure. Also helped me rehab my shoulder.
4. Olivia "Love this" – I ABSOLUTELY loooooove tbs!!! The lower back really saved me with my terrible sciatic pains!!!! Life saver for sure
5. Rosita "It Works" – I tried their lower back program and it helped me a lot for my pain. They are very good!
6. Keeley "Going to try out" – Thanks for sharing. I'm having some shoulder pain and I'm going to give this a try.
7. Tim "Yes works for sure" – this works for everything from lower back, to shoulders, to neck pain. Try it out.
8. Arminda "Yep…great program!!!"
9. Ross "This is amazing" – Thanks for sharing just went through and working on not only my shoulders, but my neck pain I have had great results so far.
10. Gina "Just wow" – Never knew this existed definitely old school Beachbody, but still very applicable. I highly suggest just wow it works amazingly.
Summary
So as you can see you have your options when it comes to dealing with Shoulder Pain or Injuries. There are ways to workout around the pain so your shoulder can rest and also ways to rehab your shoulder. You should always consult your Doctor first, but take in these workouts and rehab exercises to them and they will most likely approve. The Total Body Solutions program is legit and has been around for a long time. It just isn't something that Beachbody promotes anymore.