Beachbody has a lot of different types of workouts everything from dancing, weight training, straight cardio, along with Bodyweight workouts. Although they don't have a specific kickboxing workout program they have numerous programs that have kickboxing aspects in them.
Does Beachbody Have Kickboxing?
Beachbody has quite a few kickboxing style workouts the below programs include them:
We break down these individually and how to get the most of them to help you with your kickboxing and getting into extreme shape. Kickboxing style workouts are great to get your heart rate going while toning up and providing great cardiovascular movement.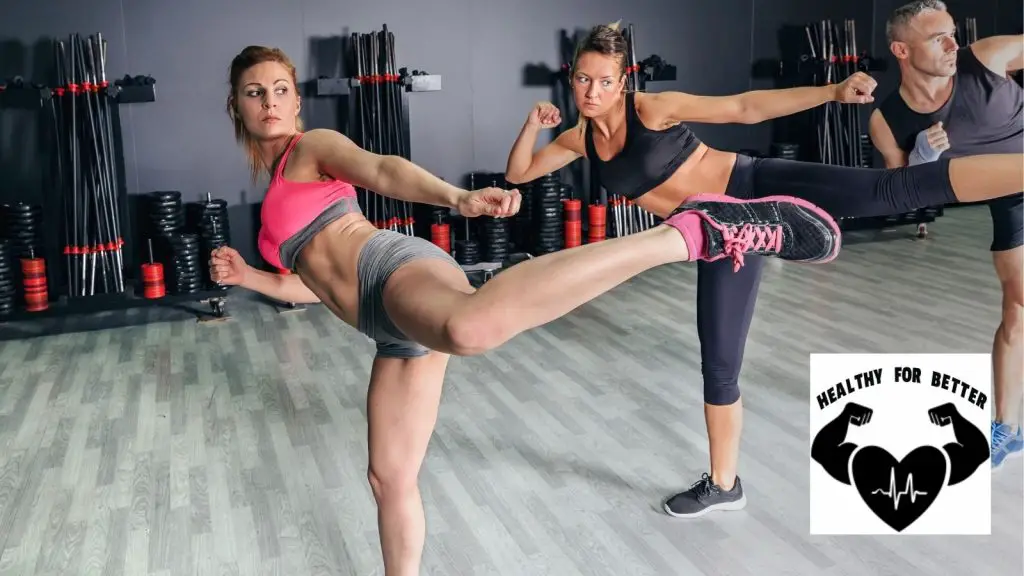 Beachbody Kickboxing Style Workout Programs
Below are a breakdown of the workout programs that Beachbody provides that will help you achieve your goals for kicking a$$! We'll go over each one so you can see what's included and if it is right for you.
We get asked the question does Beachbody have a kickboxing program all the time? Of course they have the workouts incorporated into programs that are derived from Muay Thai, Kenpo, Adithada, Yaw-Yan, Lethwei among many other styles.
Core De Force
Core De Force by Beachbody is an MMA inspired fitness program designed to give you a full body workout without any equipment required. It includes three levels of intensity which allow you to choose the level best suited for you. The first two weeks focus on strength building exercises followed by week 3 where you start incorporating more cardio moves. This allows you to burn calories at a faster pace than just doing traditional cardio alone.
The following live video Core De Force workout shows you exactly what this workout entails as well as some tips on how to do it correctly.
Their Motto and Claim To Fame:
If you want great results that leave you feeling EMPOWERED, nothing beats the mixed martial
arts-style training of CORE DE FORCE™! It's addictive and most importantly—it works. CORE DE FORCE takes the best of mixed martial arts and puts it into one complete body-shredding program. DYNAMIC BOXING, KICKBOXING, AND MUAY THAI MOVES. EXPLOSIVE BODYWEIGHT TRAINING. And CARDIO CONDITIONING to give you a 360-degree core blast which can carve definition at lightning speed.
And with each workout broken into 3-minute rounds, REACHING YOUR GOALS HAS NEVER BEEN MORE
FUN AND EFFECTIVE. Just hit it hard 3 minutes at a time and before you know it, you'll be done.
And in 30 days? A TOTAL KNOCKOUT.
Tips For Getting The Most Out Of Core De Force
1. MASTER THE MOVES
Run through the Learn It & Work It video option that comes before each MMA workout. Pretty soon, these moves will feel like second nature and you can focus on the next tip…
2. PUNCH UP THE INTENSITY
Once you've nailed your technique, crank up the speed and intensity. Because let's face it—no one gets into knockout shape by doing the bare minimum.
3. BOXER'S BOUNCE FOR THE WIN
Take advantage of the 30-second break between rounds with the boxer's bounce. You'll challenge your endurance—and keep burning calories.
4. ADD ON THE ULTIMATE CORE FINISHER
Stack 5 Min. Core on the Floor onto any workout (except Core Kinetics) to really help bring those abs out of hiding.
5. GET YOUR STRETCH ON
CORE DE FORCE Relief is a quick 5-minute stretch routine that helps relieve tight and tired muscles. Do it before bed to prep for the next day's workout—and keep you at the top of your game.
6. AND WHEN YOU'RE READY FOR MORE…
Add the 3 deluxe workouts to your calendar. These routines are packed with multifunctional training that will take your CORE DE FORCE results to the next level.
Meet Joel Freeman
Joel is an NASM-certified personal trainer who has spent more than 15 years assisting people in changing their bodies and improving their life. He is the Creator of 10 Rounds and LIIFT4, and co-creator of CORE DE FORCE,Take one of his live strength, HIIT, core, or cycling classes to help you achieve your fitness goals and discover your athletic potential.
Meet Jericho McMatthews
Jericho has several Personal Training certifications. She is the Creator of Morning Meltdown 100 as well which is a great all around program that includes MMA and Kickboxing style workouts as well. She has traveled the world educating thousands of instructors and has spoken at prominent fitness conferences for over a decade. Her love for dance and martial arts set her apart from the competition.
Program Overview
16 different workouts that span 30 days (4 weeks). These workouts are anywhere from 27 minutes to 47 minutes per workout. You can look to burn anywhere form 200-350 calories per workout as well. The program includes MMA training, Kickboxing, Carido, Bodyweight exercises, core, recovery mobility and flexibility.
No Equipment is needed! Only Optional!
Agility Ladder
Core Comfort Mat
Yoga Mat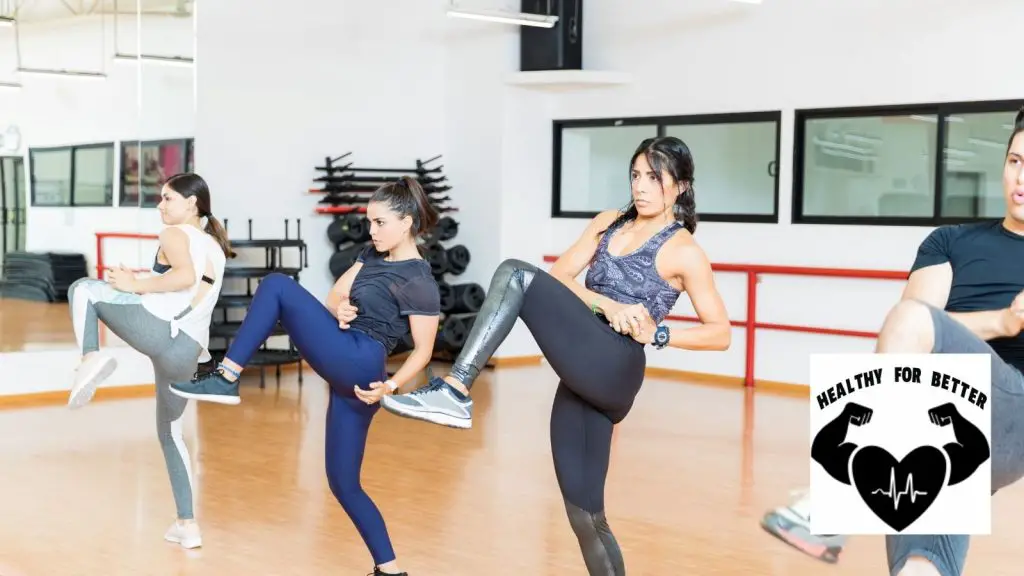 10 Rounds
By mixing technique, repetition, and intensity for a comprehensive total-body workout, this sweat-inducing boxing session will leave you drenched in sweat. This of course isn't Kick-Boxing, but it is Boxing which makes up half of it.
Program Overview
30 workouts total that spans 6 weeks where the workouts are anywhere from 30-40 minutes each. There are some extra stretching routines that are separate since they don't focus on much of that. They do have a mirrored version so if you get confused since they are always facing you then use that mirrored version. I am left-handed so it was easy for me to use the regular one.
Equipment Needed
Resistance Loops
Dumbbells
Towel
Sample Workout
Program Breakdown
The first-ever boxing program from Beachbody® is designed to deliver a maximum cardio burn by combining technique, repetition, and intensity for the ultimate total-body workout.
Super Trainer Joel Freeman will lead you through 3 days of boxing training and 2 days of weightlifting workouts each week for 6 weeks that will leave you shredded with a lean, sculpted physique. The only equipment you'll need are the Beachbody Resistance Loops, light/medium/heavy
dumbbells, and a small towel.
10 Rounds™ comes with the Beachbody Guide to Nutrition, but to really help maximize results you can follow either the Ultimate Portion Fix or 2B Mindset nutrition program. Add Shakeology ® each day to help support overall health, along with Beachbody Performance Energize and Recover to help elevate performance and support muscle growth.
Watch the Boxing Basics video on Beachbody On Demand to learn how to properly throw a punch before starting the program. Reference the video at any time to check correct form and technique for each of the six punches and two defensive moves that are used for every combination you'll throw
throughout the program. Also watch the Lift Prep video for a tutorial on the fundamentals of weight training before you start the program.
The boxing workouts are broken into 10 three-minute rounds with 45 seconds of rest in between.
The two weightlifting workouts per week are approximately 30 minutes each, and are focused on building strength and lean muscle: 1 Upper Body Lift and 1 Lower Body Lift. You can do the 5 workouts any day of the week, as long as you do them in the order they appear on the calendar. And be sure to take your two rest days a week.
Morning Meltdown 100
This again is by Jericho McMatthews who co-created Core De Force so of course this will also have some kickboxing moves in it. The workouts last around 20-30 minutes. The really only true kickboxing workout is Fight Club which you do most weeks and it builds up to being pretty intense.
Program Overview
100 total workouts over 100 total days. Yes it is quite the commitment, but once completed you will be a brand new version of yourself. Works well for Cardio, Kickboxing, MMA training, HIIT, Core, Strength Training, and Weight loss.
Sample Workout
Equipment Needed
Program Breakdown
However you want to complete your 100 workouts is really up to you. The program was designed to help you make a daily commitment to your results for 100 workouts. But don't worry—I've included recovery days along the way to give your body some TLC. I know life sometimes throws us challenges, so if you miss a day or want to plan for a day off, you can stack that day's workout with the next. If that next day is a Freestyle Flow or Re-Vibe, make sure to do that workout last. Want to finish sooner and
do 2 a day? No problem. Just follow the same workout order and double up your workouts each day for 5 days and this will allow you to have days off during each 10-workout cycle. The most important takeaway is that you make a commitment to every single morning workout.
This program is broken down into 5 phases, 20 workouts each. Within each phase, we'll complete 10 workouts and then crank up the intensity by adding challenges to the next 10. The goal is to get you stronger, feeling fitter, and melting off layers of fat. Start on any day of the week and work out with the cast and me every morning. Here's an overview of the workouts:
CARDIO MELTDOWN
Sweat to the beat while you work to improve your aerobic endurance. No equipment needed.
UPBEAT STRENGTH
We'll sculpt a stronger back, chest, shoulders, and arms with rhythm-based time-under-tension
moves. Requires light, medium, and heavy dumbbells.
CORE INFERNO
Burn out your abs and melt off layers with challenging core-strengthening exercises. Light and
medium dumbbells required.
TOTAL BODY BADASS
Build full-body strength with lighter weights and intense plyometric exercises in this exhilarating
workout. Light and medium dumbbells required.
FREESTYLE FLOW
Half yoga-flow inspired, half mobility workout, this routine is designed to help with your recovery.
Mat optional.
LIT CARDIO
This high-intensity interval training workout is designed to torch the fat off your body. No
equipment needed.
DOWNBEAT STRENGTH
We'll build stronger quads, hamstrings, and glutes with rhythm-based time-under-tension moves.
Requires light, medium, and heavy dumbbells.
FIGHT CLUB
We'll draw from a variety of mixed martial arts disciplines for an incredible core-shredding cardio
session. No equipment needed.
MELTCON
Break the beat with total-body strength training which will challenge your cardiovascular system to
help you build muscle and melt major calories. Requires light, medium, and heavy dumbbells.
RE-VIBE
Refresh and revive as you recover with a yoga-inspired flow and then transition into deep, staticstretches that aid in recovery. Mat optional.

Final Thoughts
Beachbody has a variety of programs available to meet your fitness needs. If you're looking for something more intense, like kickboxing workouts or weight training, Beachbody can help with that. However, if you just want an all-around workout plan such as cardio boxing and bodyweight exercises, they have those too! No matter what your goals are in the future, we're confident that there is a program out there for you from this company.
The Bottom Line
If you've been searching for a way to lose weight without dieting, look no further than Beachbody. Their products include DVDs, books, apps, and online video streaming that teach people how to achieve their health and wellness goals through exercise. Whether you're interested in losing weight, building lean muscles, improving flexibility, or simply getting fit, Beachbody has exactly what you need. In fact, many experts recommend using Beachbody because it works faster than traditional diets.
Beachbody is a great company with great workout programs to get you in better shape. Whether you like kickboxing, weight training, or even cardio boxing Beachbody has it all! They are even coming out with their very own cycling programs to compete with Peloton and others. They have what is called BODi that includes lots of live workouts where you can even get on the big screen if you want to. Check them out and all for a cost less than a gym membership. People are getting ripped, toned, and in complete shape to complete fitness competitions, races and now even biking. There is no limit to what you can accomplish in the comfort of your home.
Resource Links