Looking for the Core De Force Calendar Workouts? You've come to the right place! Beachbody's MMA-inspired program is one of our most popular, and with good reason. The workouts are fun, challenging, and effective. But what about the schedule? When do you do which workout? We've got you covered!
3 Main Core De Force Calendars
Original – 30 Day Core De Force Schedule (always start with this one)
Advanced – This workout calendar includes the add-on workouts available in the Deluxe kit or on Beachbody on Demand. These are some great intense add-ons too.
Hybrid – The hybrid is ideal if you're using Beachbody on Demand because it mixes in T25, Asylum and more! There are so many hybrids out there so make sure you check around and even a Hybrids group on Facebook.
So do at least one round of the original your first time through then you can move onto advanced or hybrids your choice.
Printable Core De Force Calendars
Below are some JPG files you can print out for your records and to follow along with Core De Force.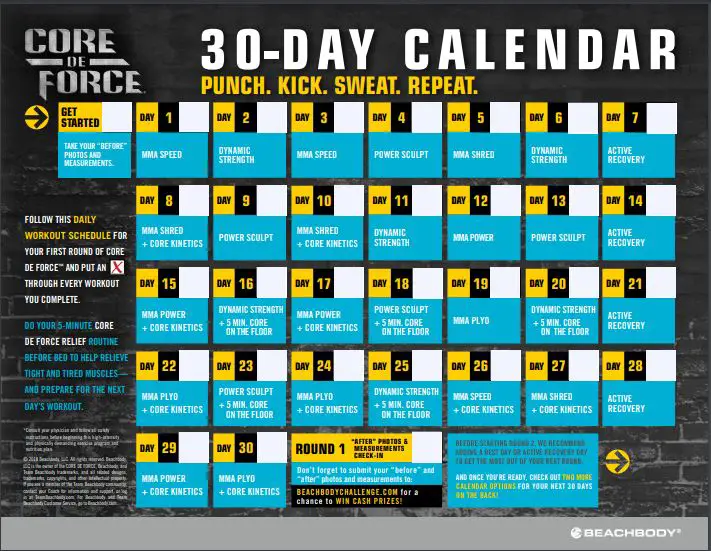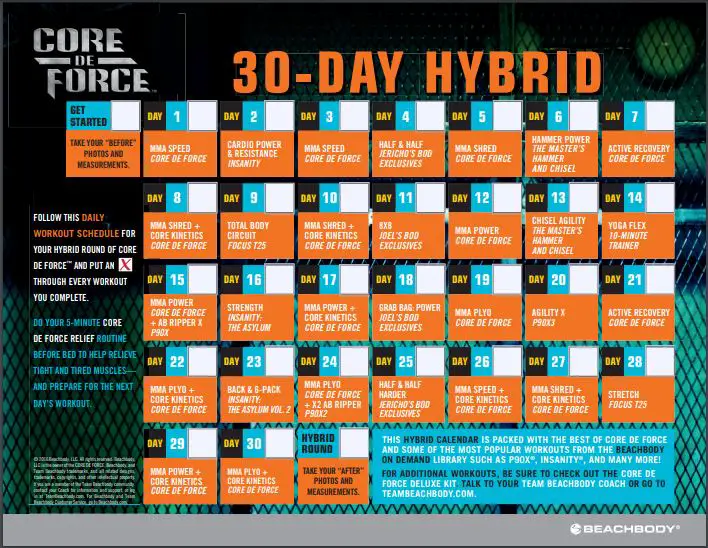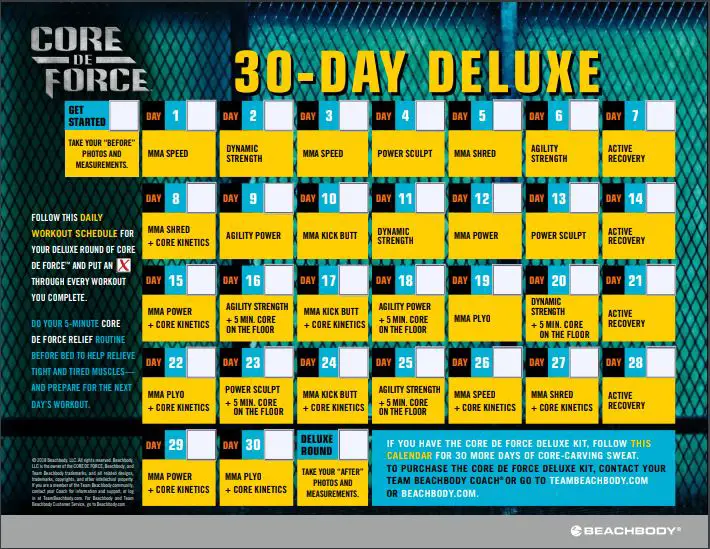 Joels Tips To Kick Your Results Up A Notch
1. MASTER THE MOVES Before each MMA exercise, go through the Learn It & Work It video selection. These moves will soon feel natural, allowing you to concentrate on the following tip…
2. PUNCH UP THE INTENSITY After you've perfected your approach, increase the tempo and intensity. Because, let's face it—no one becomes in excellent shape by doing only the minimum necessary.
3. BOXER'S BOUNCE FOR THE WIN The boxer's bounce allows you to take advantage of the 30-second intermission between rounds. You'll put your endurance to the test—and keep burning calories.
4. ADD ON THE ULTIMATE CORE FINISHER To reveal those abs, start with 20 to 30 seconds on the floor during any workout (except Core Kinetics).
5. GET YOUR STRETCH ON CORE DE FORCE Relief is a fast 5-minute stretch regimen intended to loosen tight and weary muscles. Do it before going to bed to get ready for the next day's workout—and keep you at the top of your game.
6. AND WHEN YOU'RE READY FOR MORE… Add the three deluxe workouts to your schedule. These routines are jam-packed with multidirectional training that will help you take your CORE DE FORCE results to the next level.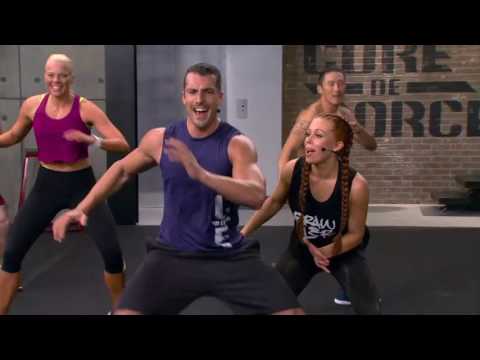 Core De Force Frequently Asked Questions
Who Is Core DE Force For?
It's for anybody who desires to tighten their midsection, establish a stronger core, and shape total-body definition.
The CORE DE FORCE is ideal for intermediate or advanced exercisers, as well as those who have completed INSANITY MAX:30, TurboFire, or P90X.
Beginners and those wanting to lose a lot of weight may follow Jessica the modifier and achieve significant weight loss.
It's also a fantastic alternative for individuals looking to perform a mixed martial arts-inspired exercise, as the pair of Joel and Jericho crammed CORE DE FORCE with boxing, kickboxing, and Muay Thai techniques.
How Long Are the CORE DE FORCE Workouts?
The workouts last anywhere from 30 and 45 minutes. You'll do one session every day, seven days a week for 30 days. But if you think it's too much, don't worry; on the seventh day, which is an active recovery day, there are no exercises at all.
How Many Workouts Are in CORE DE FORCE?
The CORE DE FORCE base kit includes eight workouts and two bonus exercises. There are four MMA-inspired workouts, each with a detailed breakdown of all the exercises, as well as two bodyweight resistance routines and two stretch sessions.
Furthermore, there is a meal plan, a Quick-Start Guide, a 30-Day Calendar, and two additional core exercises.
Here's a look at the CORE DE FORCE workouts:
MMA Speed The core and upper body are emphasized in this Boxing-inspired workout, which is both quick and intense.
MMA Shred For a complete body-to-foot shred that'll get you lean fast, upgrade your workout with Muay Thai-inspired elbows and kicks.
MMA Power This fast-paced cardio conditioning workout will help you build a tight, lean physique by incorporating explosive and defensive-style exercises.
MMA Plyo What is the ultimate combination of Boxing, Muay Thai, and plyometrics?
Power Sculpt This program is a total-body burner that employs intense power and interval training to develop lean muscle and enhance endurance.
Dynamic Strength This high-intensity, no-equipment throwdown with minimal impact nevertheless creates impressive definition.
Active Recovery This week's rest day session targets muscular stiffness and soreness with a focus on form and technique.
CORE DE FORCE Relief The quickest stretch ever. To assist with tense and weary muscles, perform this 5-minute routine before going to sleep to maintain you at the top of your game.
Core Kinetics Unique MMA-inspired techniques to create flat abs and tight obliques, which will help you define your six-pack.
5 Min Core On the Floor 5 hard core plank exercises to help burn fat, define your abs and tummy, and flaten and tone the abdominal area.
The CORE DE FORCE Deluxe upgrade, which includes the Portion-Controlling containers, an agility ladder, and three more workouts, is included in this bundle.
Agility Strength Combine fast footwork exercises with bodyweight exercise to increase coordination and burn a lot of calories.
Agility Power Grab your agility ladder and go through a variety of exercises that target every muscle and burn fat for amazing definition.
MMA Kick Butt Designed to sculpt lean legs and glutes with a nonstop barrage of high-intensity kicks and calorie-burning conditioning hills.
Where Can I Find the CORE DE FORCE Workout Calendar?
You can find the official calendar in your Beachbody On Demand backoffice area under the program materials tab. Other than that you can print it off here.
You can also find it on Beachbody On Demand along with the Eating Plan, food tracker, quick start guide, and deluxe calendar.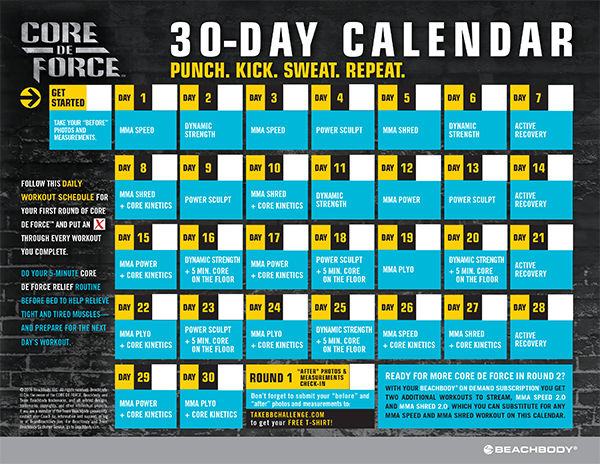 Who Are Joel and Jericho?
Joel Freeman and Jericho McMatthews are long-time friends with a lot of expertise in the fitness industry. They've both been awarded Personal Training Certificates from the American Fitness Association of America (AFAA), American Council on Exercise (ACE), and National Academy of Sports Medicine (NASM).
Their objective, however, has always been to assist additional people in getting healthy and fit. That is why they teamed up with Beachbody to create CORE DE FORCE.
They designed an effective and addicting total-body program based on real MMA training — one that will not only help you get excellent 30-day outcomes, but will also give you the confidence to endure anything.
Can I Use Portion-Control Containers With CORE DE FORCE?
Yes! Although they are not required, the containers are compatible with the Eating Plan.
Is CORE DE FORCE Available on Beachbody On Demand?
You'll get access to Beachbody On Demand if you purchase CORE DE FORCE and are a Beachbody On Demand member, where you may stream CORE DE FORCE and hundreds of other tried-and-true Beachbody workouts.
Final Thoughts
Core de Force is a 30-day program that will help you define your abs, tighten up obliques, and get lean. If you're looking for an MMA inspired workout plan to build muscle or burn fat in just minutes per day then this may be the right fit for you! The workouts are intense but they don't require any equipment making them perfect if space is limited. You'll also have access to Beachbody on Demand with Core De Force so there's no need to worry about having enough time available at home.  Joel Freeman and Jericho McMatthews designed CORE DE FORCE after years of experience working with fitness enthusiasts of all levels which means the program has been tested by high level athletes before it was released publicly.