Looking for a fun and healthy way to get your groove on? Look no further than Shaun T's LET'S GET UP! dance workout. This 30-minute routine is designed to help you feel good and look great. The workouts are effective, fun, and promote body positivity, self-confidence, and joy. We love that the routines use simple moves that anyone can do. If you're looking for a new way to stay fit, be sure to check out Shaun T's LET'S GET UP! dance workout!
This program was designed by Shaun T, who created simple-to-follow cardio dance routines, body-weight resistance training, and even his own Insanity-based HIIT routines set to music. The music is produced by Shaun T and sounds like the Cha-Cha Slide or Electric Slide. Shaun T's energy is amazing as always.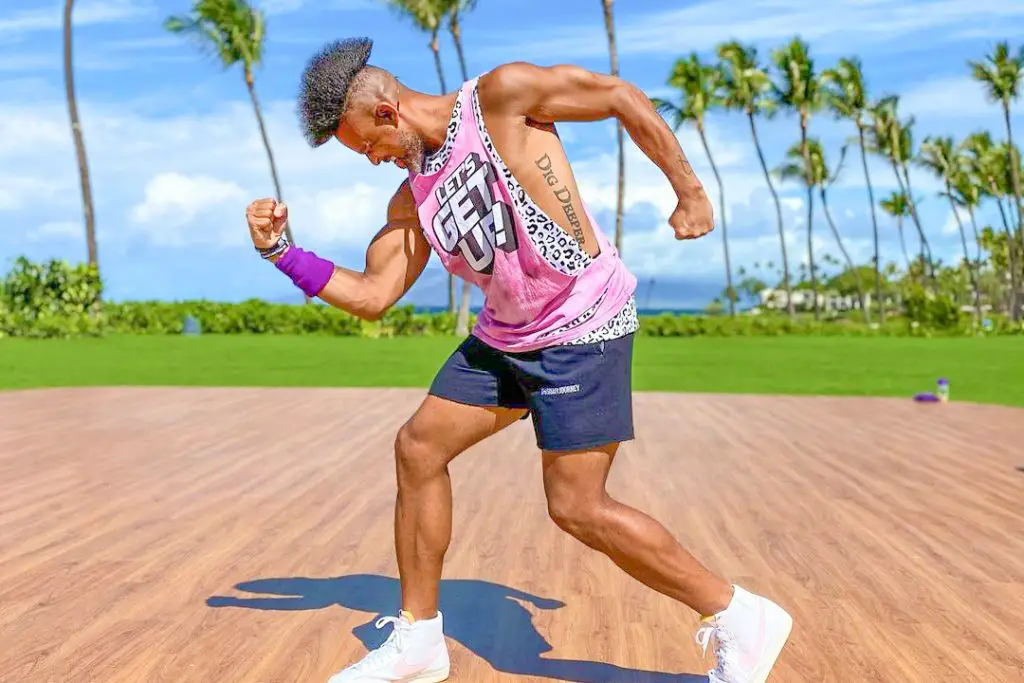 What Is Let's Get Up?
The title of Shaun T's LETS GET UP! is a dance conditioning workout he created for Transform :20, INSANITY, and FOCUS T25.
"There's a warm-up, a tone section, an INSANITY part to get the heart rate up, and then the dance part that's broken down into two formulaic blocks where you basically learn a routine," says Beachbody Technical Fitness Advisor Amanda Lopez.
You get the pleasure of completing a choreographed dance at the end of each session, even if it's just for yourself.
Who Is Shaun T?
Shaun T, better known as Shaun Thompson, is an American fitness trainer, choreographer, television personality, motivational speaker, and entrepreneur. He's recognized for his Beachbody home fitness programs for adults and children, as well as Insanity, T25, Transform :20, Insanity Max :30, Let's Get Up, Cize and Hip-Hop Abs.
Some of the immediate takeaways:
With the Rhythm based strength exercises it help you keep things going and pushing harder without even knowing.
Modifications for every workout so anybody can get into this and dance your butt off. Anyone Can Do This Program. No matter your dance or fitness experience, you can be successful with the LET'S GET UP! program. If you're new to dance, every workout has a modifier.
All dance workouts use no equipment. For the resistance workouts, you'll need light and medium dumbbells.
Picture in picture feature which they call Cameo gives you a heads up to the move coming up.
Message From Shaun T Himself On Let's Get Up
I'm so happy to be able to bring this experience to you. Dancing produces amazing energy, powerful feelings—and great results. I created this program because I want you to SMILE when you exercise. I want you to think less about how many calories you're burning, and more about feeling good for the entire day.
We're going to share moments of body positivity, freedom of expression, incredible music, and most of all, happiness. You can follow my 30-day calendar, or you can choose the song title or dance class that speaks to you on any day. You'll also have some fun "dance moments" that are perfect for posting on social media. And when you do the resistance workouts, you won't just feel your muscles burning. You'll love the fact that you're moving and shaping your body so you can SHOW OUT. Let's dance!
Why Dance Workouts Can Be Better Than Other Traditional Ones
For many people, working out is a chore. But it doesn't have to be that way! Dancing is a great way to get your heart pumping and your body moving, and it can be a lot of fun, too. And there are plenty of benefits to be had from dance workouts beyond just burning calories.
For starters, dancing is a great way to relieve stress. We all know how good it feels to let loose and dance around when we're feeling down. But did you know that dancing can actually reduce the levels of stress hormones in your body? It's true! So next time you're feeling stressed, instead of reaching for another cup of coffee or cookie, try putting on some music and busting a move instead.
Dance workouts can also be a great way to boost your mood. If you're feeling down, dancing can help increase levels of serotonin, the "happy hormone." Serotonin is known to improve mood, promote feelings of happiness and wellbeing, and even help alleviate symptoms of depression.
So if you're looking for a workout that will elevate you in many ways Let's Get Up! with Shaun T is.
Key Benefits Of Dance Conditioning
Fun – dancing can be so much fun that you don't even realize you're working out
Efficient – a great way to get your heart rate up and burn calories in a short amount of time
Low-Impact – easy on the joints
Modifiable – can be modified to suit any fitness level
Full-Body Workout – works all the major muscle groups in your body
Boosts Mood – the endorphin release from dancing can lead to an improved mood
Reduces Stress – a great way to relieve stress and tension
Improves Balance – helps improve your balance and coordination.
Let's Get Up Details
Program Length:
4 Weeks
Workout Length:
30-35 Minutes Each
Weekly Workouts:
Six Days A Week
Required Equipment:
Dumbbells are only required equipment for the resistance workouts 2 days a week nothing is required for the dance workouts.
Structure:
Every week, The Calisthenics Monthly calendar contains four dance days, two strength-training days, and one rest day. There are also four 10-minute add-on strength sessions to try each week of the program for an extra challenge. Each dance session goes through two blocks of dance steps gradually before adding on.
Finally, after you've mastered all of the skills, follow up with a three-minute Insanity part that includes high-intensity cardio to send your heart rate into the stratosphere. (Don't worry; there's a modifier for the Insanity portion.) Just three minutes of Insanity is enough to raise your heart rate for the rest of the workout.
Workout Breakdown:
Dance sessions are a series of basic exercises, each of which is completed for just eight counts. The routines are made up of modular sequences of eight-count blocks rather than a cohesive choreography.
Most of the abs strength training I've done has been on a rebounder, so it's not a huge change for me. However, jumping on a trampoline is quite different since you're thrusting in all directions! To make sure your brain gets the most out of this session, break down each move into smaller parts and increase your intensity.
Modifiers:
Overall, the program is low-impact in most cases, with one exception: Insanity. Every session features a modifier that shows modifications for the Insanity exercises as well as any other dance movements that may require change (e.g., displaying squat moves with less range of motion).
Who Is This For?
Anybody from beginner or advanced. Somebody looking to workout without even knowing they are working out. If you love music go for it. A lot of people are using the unlimited amounts of hybrid calendars available as well.
Calendar & Workout Schedule
Prep Week – this is where you can start as a beginner to get yourself going.
Sample Workout
Let's Turn Up!
Week 1:
Day 1 – Feel Good
Day 2 – One Way
Day 3 – Let's Tone Up
Day 4 – Solo Quiero Bailar
Day 5 – Show Up And Lift
Day 6 – Livin' My Best Life
Day 7 – Rest
Week 2:
Day 8 – Wow
Day 9 – Only Way Is Up
Day 10 – Livin' In The Weights
Day 11 – Swing N' Shake
Day 12 – Feel Strong
Day 13 – Fais Toi Confiance
Day 14 – Rest
Week 3:
Day 15 – Let's Get Up!
Day 16 – Bailamos Y Vivimos
Day 17 – Let's Tone Up
Day 18 – Run The Game
Day 19 – Show Up And Lift
Day 20 – Leave It On The Floor
Day 21 – Rest
Week 4:
Day 22 – Show Up & Shape Up
Day 23 – Got The Love
Day 24 – Livin' In The Weights
Day 25 – Break The Rules
Day 26 – Feel Strong
Day 27 – Feel Strong
Day 28 – Always Forward
Sample Workout
Let's Get Up Results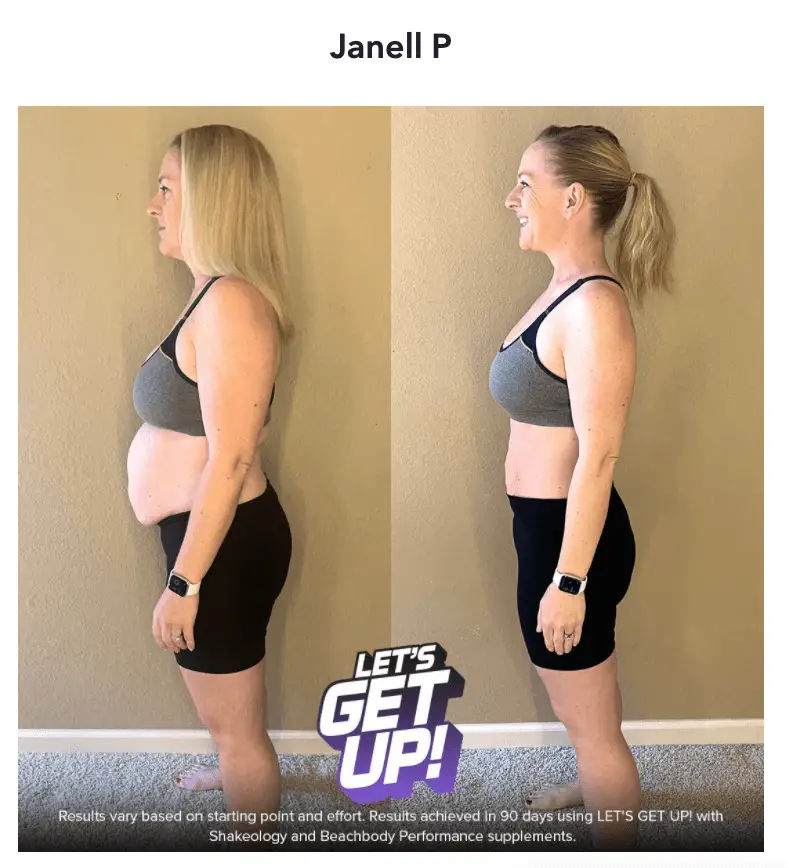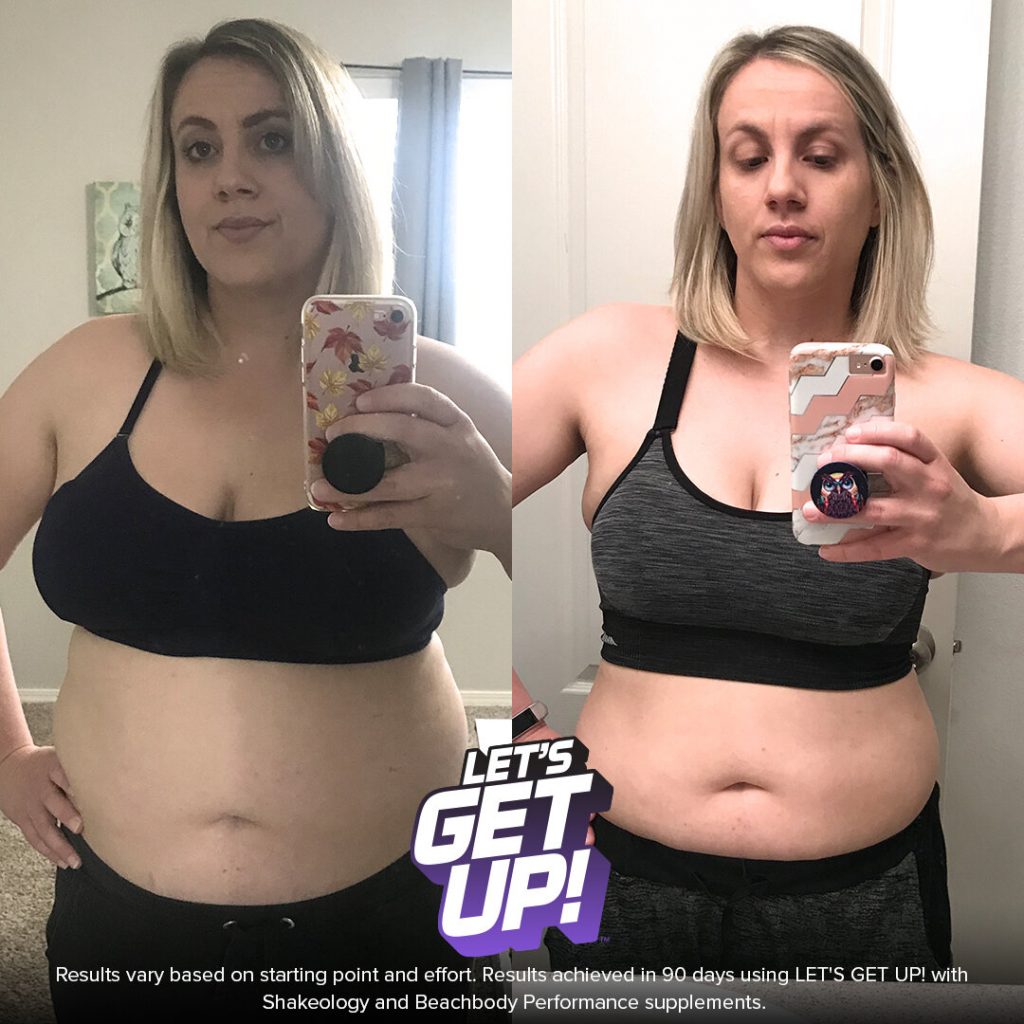 Final Thoughts
Shaun T's LET'S GET UP! Dance Workout is a great way to get in shape and feel good about yourself. The 30-minute workouts are effective, promote body positivity, self-confidence, and joy; all while helping you reduce stress levels or balance your mood. You don't need any special equipment for the dance portions of the workout, and there is a modifier for the Insanity portion of the program if you need it. This program is great for beginners or advanced fitness levels. Give Shaun T's LET'S GET UP! Dance Workout a try today!