Many people struggle to find time for exercise. With busy schedules and hectic lives, it can be difficult to find the motivation or opportunity to workout. Fortunately, Beachbodys has your back with their PiYo Calendar! This article will go over what a PiYo calendar is, how it works, and what you can expect from both hybrid calendars and routine-specific workouts. The PiYo Calendar is 60 days of high intensity low impact yoga and pilates routines that will help tone muscles without bulking them up. You're going to love the results!
The PiYo Calendar is a yoga and pilates workout calendar for 60 days. You'll notice the difference, and we're going to discuss the advantages of both PiYo routines!
PiYo List Of Workouts
PiYo teaches you the basics first, and then you'll begin to flow as you go through the calendar.
ALIGN: THE FUNDAMENTALS (40 MIN.) This training breaks down the program's most essential and successful moves to assist you in improving your form and obtaining the finest outcomes.
DEFINE: LOWER BODY (25 MIN.) You will have the slenderest and leanest legs of your life as you optimize your whole lower body, from your glutes to your hamstrings to your calves.
DEFINE: UPPER BODY (20 MIN.) To shape your arms, carve out your triceps, and sculpt beautiful shoulders, use this highly efficient exercise.
SWEAT (35 MIN.) This is a PiYo routine that incorporates high-intensity dynamic conditioning, fast-paced cardio yoga-flows, and bodyweight resistance strength training to help you shape your entire physique!
CORE (30 MIN.) This ab-centric workout targets your powerhouse from all sides. You'll get a powerful core, flat, sculpted abs and obliques, as well as a beautiful back.
BUNS (30 MIN.) This butt-boosting workout focuses on the glutes and is designed to create a firm, round, and tight rear end for the ideal shape.
STRENGTH INTERVALS (25 MIN.) All you need is 25 minutes of this nonstop body-carving, calorie-burning exercise that uses no weights, no equipment, and leaves you looking slim.
DRENCH (45 MIN.) The combination of resistance bands, jumping jacks, and burpees targets every muscle in your body while also maximizing fat burning. You'll be drenched after this workout, but it will also jump-start your metabolism by scorching away the fat.
SCULPT (30 MIN.) Toning exercises are a type of strength-training that focuses on your entire body, rather than one area at a time. They contrast from typical weight-lifting routines by keeping the muscles under constant tension for different lengths of time. This causes muscular endurance and metabolic modifications that will significantly improve your appearance.
FULL BODY BLAST (30 MIN.) In just 30 minutes, this total-body workout with the Beachbody Strength Slides uses the Beachbody Strength SlidesTM to push your fat-burning potential into overdrive—just what you need before hitting the beach or pool.
STRONG LEGS (30 MIN.) Use the Beachbody Strength Slides to lunge, squat, and stretch your way to fantastic quadriceps, glutes, and hamstrings for your finest, leanest, and most defined legs ever.
Multiple Calendars: Original vs Strength
Below you will find two calendars if just starting out definitely start with Original unless you are specifically looking to add strength do the original as well. If after trying the original you feel you would like to change it up a bit then move onto the Strength calendar.
Calendars: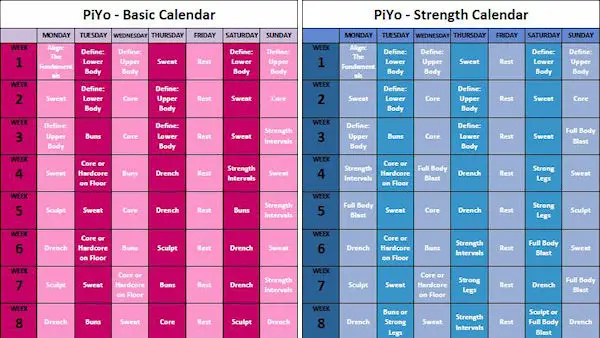 What Do I Need For PiYo Workouts?
If you don't have a yoga mat, invest in one. You'll also need water and enough room to stretch from side to side and back and forth.
You will also want to get some sliders for the strength workout which you can get directly from Beachbody or even find them on Amazon HERE!
PiYo Hybrid Calendars
Beachbody has two official PiYo Hybrids that include: PiYo T25 Hybrid and PiYo P90X3 Hybrid.
Final Thoughts
The Beachbodys PiYo Calendar is 60 days of high intensity, low impact yoga and pilates routines. You're going to love the results, and we've outlined the benefits of both PiYo Schedules! => Whether you want a little more variety or just need some guidance on how to get started using this program, be sure to check out our blog post for directions on getting your workout off the ground. We hope it helps you reach all of your fitness goals in 2022 and beyond so that you can feel confident showing off those beach bods this summer!