This article will answer a question that's been on the minds of many people lately: is sparkling ice good for you? Sparkling ICE is a carbonated, flavored water that has grown in popularity and flavors over the last several years. In this article we'll share our opinion about how healthy it is and outline the ingredients. We'll also share a few other drink options as well so you can find something else if sparkling ice isn't your thing.
We have been drinking Sparkling Ice for over 5 years and have loved every minute of it. Is it the only carbonated water or seltzer we drink of course not because we love variety and switching it up at times. I grew up drinking diet coke all my life and finally just decided I needed a change once I reach my mid 30's.
I really never drank it because I was on a diet its just my mom always consumed it and it was always readily available. So never really enjoyed regular soda it was alway diet dr. pepper, mountain dew, coke, sprite, etc. Even Tab Soda. I have done a lot of reading over the years on how bad soda can be for you in general along with artificial sweetener so I wanted to try something different.
So the journey began to find a replacement and Sparkling ICE was the first one and has stuck with us for the most part throughout. Honestly comes down to the deals we can find with healthy carbonated alternatives. This article covers a lot of great information that will help you pick out the best carbonated drink.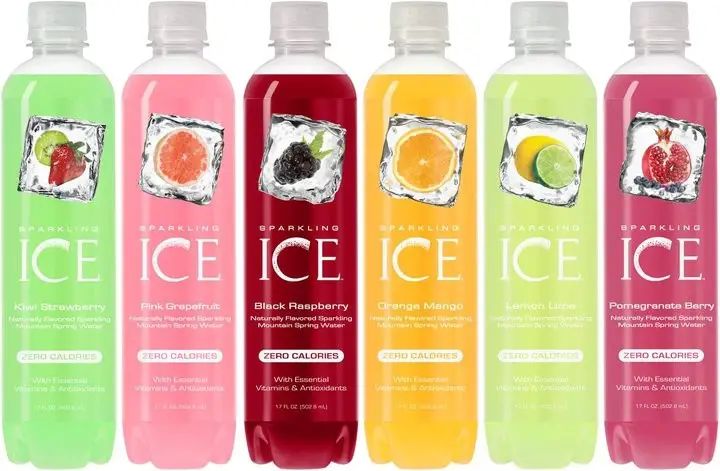 What Is The Best Sparkling ICE Flavor?
There are 16 flavors total including with the top 3 flavors being Organge Mango, Lemon Lime, and Coconut Pineapple with the rest below:
Black Raspberry
Pink Grapefruit
Kiwi Strawberry
Pomegranate Blueberry
Peach Nectarine
Crisp Apple
Classic Lemonade
Strawberry Lemonade
Cherry Limeade
Strawberry Watermelon
Black Cherry
Grape Raspberry
Ginger Lime
Is There Caffein In Sparkling ICE?
Not unless it states so most do not have caffeine. There are a specific set that do that come in the below flavors:
Cherry Vanilla
Triple Citrus
Blue Rasberry
Orange Pasion Fruit
Strawberry Citrus (Another of our favorites)
Where Can I Buy Sparkling ICE From Online?
You can buy it at Amazon which is the quickest way to get it in my opinion and free shipping with Prime. You can also buy online at Walmart and Sam's Club where you would need to buy other items to get free shipping or shipping will cost around $5.
How Much Does Sparkling ICE Cost?
At the time of this writing Sparkling ICE was still around $1 or less depending on where you get it and how big of bulk you buy. Some places are even around 75 cents per a bottle. So check all the below links for it here: Amazon, Walmart, & Sams Club.
You can get individuals at gas stations for pretty cheap or they are sometimes buy one get one free as well. Another place that sells them is Dollar General.
Can I Drink Sparkling ICE while doing Keto or Carnivore?
Both Sparkling ICE and Sparkling ICE with caffeine have zero carbs and calories so you can drink either one on these diets.
Now they are still sweetened with artificial sugars so I would try to limit it to 2-3 a day mixed in with some regular water if possible.
Do Sparkling ICE Have Alcohol In It?
Sparkling ICE has no alcohol in it, but you can add some hard liquor to it to make your own hard seltzer. Some kind of flavored vodka or anything sweet with no carbs will do.
There is the Sparkling Ice Spiked Hard Seltzer that comes in 4 different flavors including:
Ruby Fizz
Cherry Lime Chiller
Strawberry Citrus Smash
Lemonade Refresher
You can also just get hard seltzers (which are amazing by the way). There is such a wide variety of them. If you want zero carb you are going to have to go with the Corona Selzters as they are the only ones we are aware of with none in them. Truly's and White Claws are amazing but do have at least 1 carb in a can. Which in moderation you won't have anything to worry about.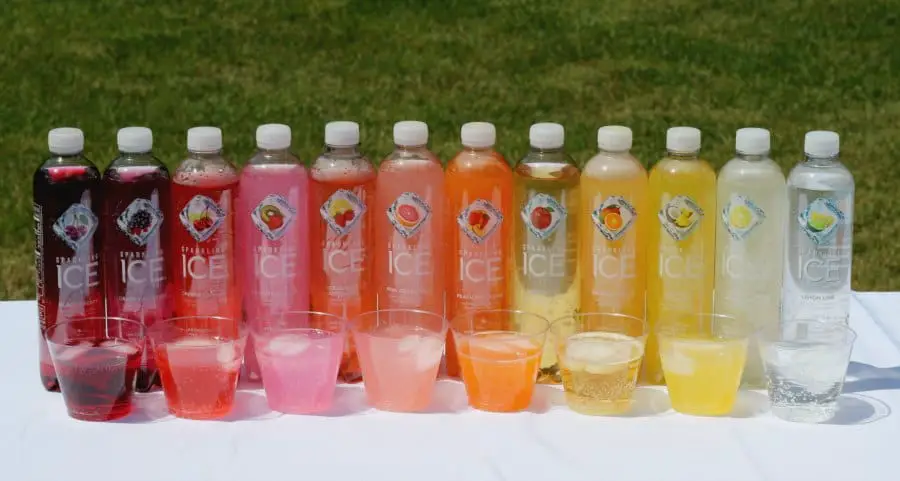 What Ingredients Are Actually In Sparkling Ice?
Most of the base ingredients stay the same with some slight changes based on the flavor. Here are the main ingredients:
Carbonated Water
Natural Flavors
Juice Concentrate
Malic Acid
Potassium Benzoate (To Ensure Freshness)
Sucralose
Red #40
Biotin 1% Trit (Maltodextrin)
Niacinamide (B3)
D-Calcium Pantothenate (B5)
Vitamin B12 (Mannitol)
Vitamin D3
Pyridoxine HCI (B6).
There are a couple red flags mainly if you are drinking this all day nonstop. Sucralose along with the food colorings some people can have reactions too and also cause inflammation. Not saying it is bad as most everyone will have no reaction whatsoever. We never had any issues.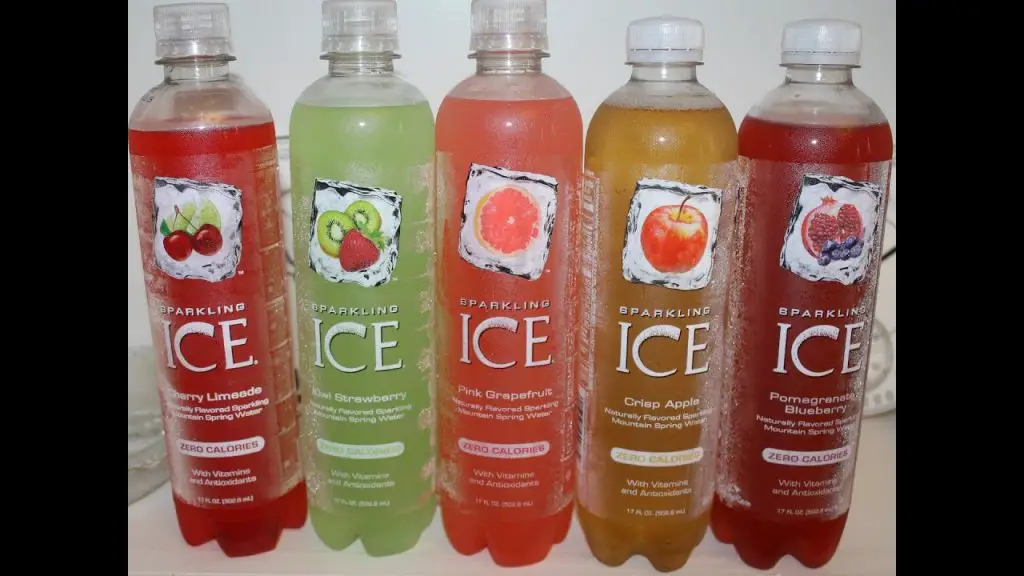 What Sweetener Is Used IN Sparkling Ice?
Sucralose is the sweetener used which is normal for these kinds of drinks. I would have liked to have seen stevia which is a bit more natural and less needed to sweeten this up.
Sweeteners and artificial sweeteners have created a divide in the scientific community just be cognisant if you are starting to feel inflammations this may be a side effect of them. One of the reasons we went to keto and then onto carnivore is because of inflammations so we try to limit artificial flavoring as much as possible.
So Is Sparkling Ice Healthy For You?
Is it the best drink? No because of the artificial sweetener sucralose can have side effects like inflammation that can lead then to gassiness, diarrhea and bloating.
So try to at least mix in water and some other healthier drinks. My thoughts are there is a reason why it is one of the cheapest seltzers on the market.
Do I Need To Look Out For Sucralose?
For years, this sort of artificial sweetener has been criticized. If you look for a trustworthy site like the FDA or the Mayo Clinic, you'll discover that they don't have an issue with moderate amounts of artificial sugars.
Below is a statement from the Mayo Clinic:
"According to the National Cancer Institute and other health agencies, there's no sound scientific evidence that any of the artificial sweeteners approved for use in the United States cause cancer or other serious health problems."
They also added that several studies have shown that these sweeteners are safe in moderation if used in appropriate amounts.
If you want to check out the full article that goes into great detail just CLICK HERE!
However, you'll find plenty of negative reviews about sucralose on the internet as well. Some feel that big businesses may be corrupt and paid by major brands using artificial sweeteners. In the end, we can ask our doctors whether we're concerned about it and then make a decision.
So Is Sparkling Ice One Of the Healthier Options Our There?
It can be okay for you in moderation. If this is all you can afford on your budget go for it, but if you can get up to around $1 to $1.50 a drink there are much better options out there.
Water will always be your best option and should be your first. So if you drink Sparkling ICE refill your bottle with water and drink one bottle in between each Ice that will help.
Good old plain water, seltzer water with just carbon dioxide added, herbal or unsweet tea, and black coffee are the healthiest options.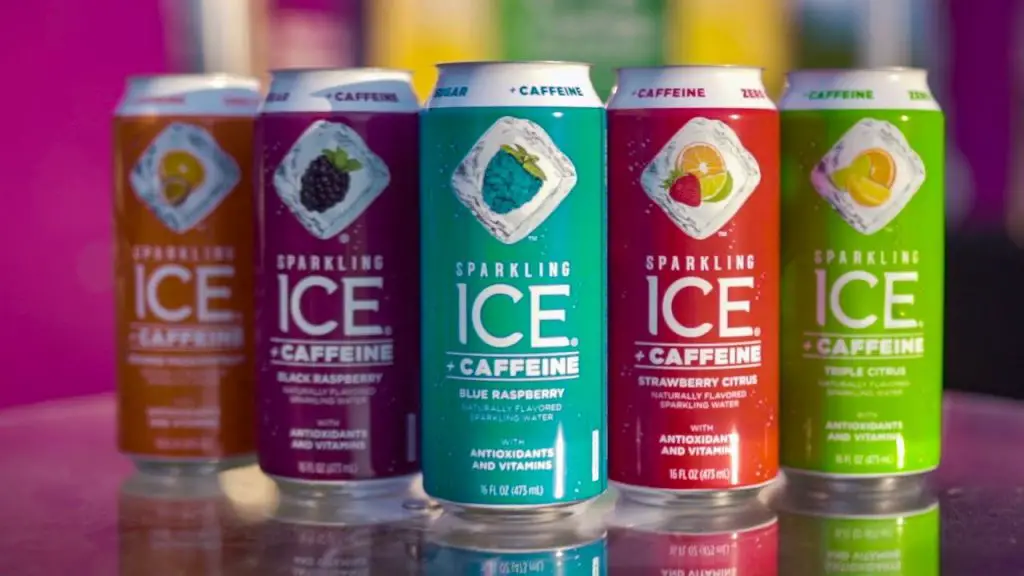 I Also See Maltodextrin In The Ingredients Should I be Concerned?
Not really we didn't mention earlier because just a gram of this is equal to 4 calories and there is no calories in Sparkling Ice. So it has to be a very small amount. There haven't been any negative health affects from Maltodextrin according to the FDA.
The American Diabetes Association (ADA) and the American Dietetic Association (ADA) both say that in moderation, maltodextrin is safe. The ADA also states that while there are no direct relationships between maltodextrin ingestion and negative health effects, scientific studies have linked it to a number of adverse health consequences.
Should I Be Concerned About The Food Coloring?
This may be something that concerns and there is mixed statements on this from the FDA saying it is fine with no effects to many other non-profit organizations and scientists stating there are both short term and long term effects it can have on a persons body. This comes from a lot of consumption and doesn't happen to everybody.
You can find more information by going to Livestrongs article HERE!
Does Sparkling Ice Expire?
Surpisinglingy it does expire when we were got it was 2 years, but I believe they have now changed it to a year at the time of this writing.
Is Sparkling Ice Considered a Soda?
Sparkling Ice is a carbonated artificially sweetened beverage in the purest sense of the term. It isn't really seltzer or carbonated water, but it isn't exactly fruit juice, either.
Alternatives To Sparkling Ice
LA CROIX
This is the healthier version of ICE, but it has a similar taste to that. The citrus tastes are our favorite.
While critics have charged that they do not disclose all of their components, it is supposed to be simply water, flavor, and carbon dioxide for the bubbles.
SODA STREAM
This fancy gadget allows you to carbonate your own water to your liking and add taste.
We liked the energy flavor with grapefruit, but the ordinary soda was like drinking a major mass-produced brand. Many of their mix-ins do not include artificial sweeteners, however it's important to check each label.
This is more like an art when it comes to making what you want there will be a lot of trial and error. Once you get it down though it will be great that is for sure.
Polar Seltzer
This is a great brand that has been around for a long time. Not many ingredients a little better than Sparkling Ice. A lot of flavor options.
Of course anybody that has been drinking gin and tonics knows them.
VITAMIN WATER
We used to drink that all the time when it came out along with the energy drink it was amazing, but it does have the artificial sweeteners in it so not good.
BUBLY
Bubly is honeslty our go to these days along with Polar. It is readily available at most stores including Walmart. They also have caffeinated flavors now. It is the most natural one we have found. But being natural it can be an acquired taste since it isn't as sweet as the others.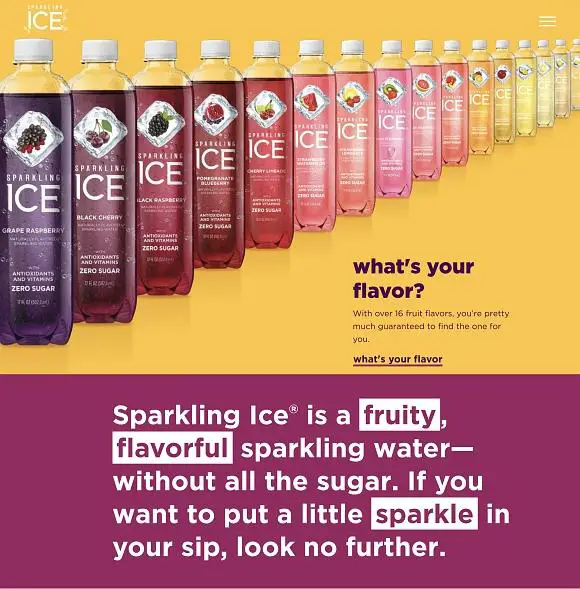 Final Thoughts
For us, moderation is everything. More than any other beverage, we drink a lot of flat, filtered water. We eat more healthful meals than unhealthy ones.
We're not giving up our Sparkling ICE Water, Diet Coke, or pizza nights altogether. They're a treat now and again.
This is just my view, and what has worked for us. If you're on the fence, I highly recommend it. It will at the very least give you peace of mind when making your decision.
Sparkling Ice is a carbonated, flavored water that has grown in popularity and flavors over the last several years. We share our opinion on how healthy Sparkling Ice is and outline the ingredients.
In the past, we've been skeptical about Sparkling Ice as a healthy alternative to soda. In this article, you'll find that our opinion has changed and there are many health benefits of drinking it on occasion. Here's why: -It helps with weight loss by suppressing appetite because there is no sugar or artificial sweetener in it -The carbonation can help improve digestion and reduce bloating which makes you feel less bloated after eating a meal -You won't experience blood sugar spikes like regular sodas do!
If these reasons haven't convinced you yet, here are some other options for drinks besides Sparkling ICE: Soda Stream (if your goal is to avoid plastic bottles), La Croix sparkling water, BUBLY, Vitamin Water, and gin and tonics (for the adults). Ultimately, we believe that moderation is key when it comes to drinking Sparkling ICE. It's not as bad for you as regular soda, but it's still important to be mindful of how much you drink. Cheers!