If you're on a ketogenic diet, shopping at Price Chopper can be a great way to save money and still get the whole foods you need. In this article, we will show you how to do just that! We'll explain which products to buy at Price Chopper and how to make the most of your budget while on keto.
Shopping for a ketogenic diet on a limited budget might be frightening. A well-designed keto diet includes eliminating inexpensive processed meals in favor of higher-cost whole foods like steak, fish, and cheese. Shopping in a way that helps you break your carb addiction without breaking the bank is possible. This low-cost keto grocery list will assist
Below we go over our top 10 items that are budget friendly and get the job done for Keto and of course our favorite Carnivore Diet. We aren't sticking to grass fed as that can be quite a bit more expensive, but may be worth it for you.
Keto On A Budget At Price Chopper
Ground Beef
Ground beef can be the staple of any keto or carnivore diet. You can literally just cook up 2 lbs of ground beef everyday add salt and call it a day. If you can handle that I can for the most part, but my wife cannot.
80% vs 85% – this is where a lot of people draw a line and that line can be a quite bit more expensive. The difference of 80% ground beef is usually a lot less expensive than 85% so if you can stand 80% do it just drain off some of the grease if you have too. There is literally at times a $2-3 dollar difference per pound between the two.
We are still getting our 80% ground beef when it is on sale for $3.99 a lb even during the pandemic so wait for those sales in the weekly ad. If you don't get the newspaper just download an app the one we use is called FLIPP. I would suggest you buy in bulk and figure out how much you need for 2 weeks to a month. So I normally buy 25-30 lbs at a time.
Keep it as simple as possible for your recipes so salt or make up a keto taco seasoning along with lots of butter.
Bacon
Bacon you can never go wrong with some. Yes high sodium which is what you need on the keto diet, but it is a great flavor. We buy ours at the deli counter and get thick sliced bacon, so it lasts longer. You can also freeze it if you don't think you will eat it in time.
Get as thick of cut as possible and stay away from center cut (too low of fat) which used to be my favorite. Get the jumbo family packs when available to save some money.
We are still getting bacon at around $5-6 a lb on average when we go for the deals and just stock up as much as possible.
That's the key figure out how much bacon you need for the month and get as much as they have when it is $5 a lb.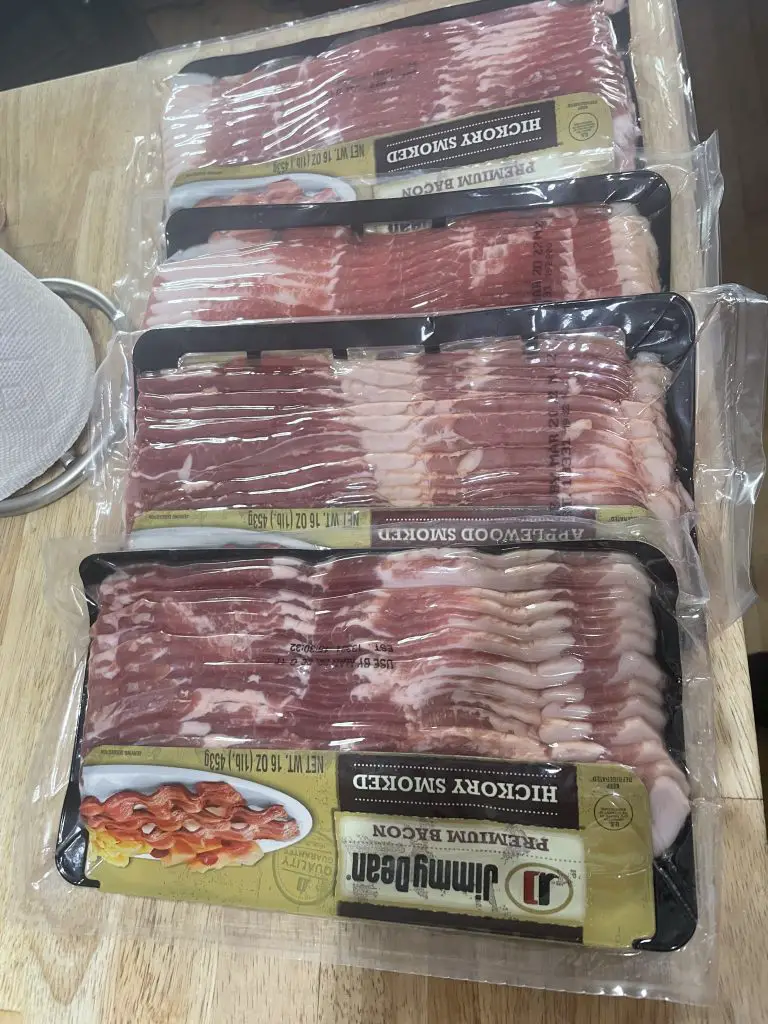 Eggs
Our price chopper only has the 2 1/2 dozen bundles at our local store I do like Walmarts 5 dozen for $6. But none the less you can get that or look for the best deal for a dozen eggs. Sometimes they have them for $1-1.50 for a dozen deals then you can stock up nicely. Their 30 pack runs around $4.50-5 around our area.
Keep your eggs simple with your meals:
Fried Eggs – This is a staple for breakfast and lunch.
Scrambled Eggs – A great way to start the day or have as a snack.
Omelet – Who doesn't love an omelet in the morning? Add some cheese, ham, and veggies for a complete meal.
Hard Boiled – easy to do especially if you have an instant pot.
Deviled Eggs – love this use mayo to keep keto
Egg Salad – use mayo that's it
Pork Belly
Not all price choppers carry this, but it is well worth a try trust us. So if you don't find it at Price Chopper head to somewhere that has it. We actually call this side pork here where I live in the northeast. It is very similar to bacon when it comes to shape but you just add the salt to it and it is much thicker and full of fat.
You can also make some amazing keto gravy out of this if you fry it in a pan and then add some water to the leftover fat.
This runs around the same price as good priced bacon $5-6 a lb.
Prime Rib
Who doesn't like some prime rib. It is just amazing and a lot of ways to cook it. That is the mis conception with a lot of carnivore getting boring. How can you eat steak and burger everyday? Well you can cook it so many different ways: on the grill, in the oven, instant pot, air fryer, etc. All of them taste differently.
So anyway prime rib deals can go for anywhere from $4.99 a lb to $8.99 a lb for the USDA angus. Now look for the weekly ad deals then stock up same as always. My uncle went to get his Christmas prime rib and spent $17 a lb didn't realize if he waited a week he would have gotten the same cut for $8.99 a lb. So it is worth it to wait.
The cheaper the cut the more tough it is going to be. You can either cook up as roast, but we like to slice up then cook as we go and freeze what we need to.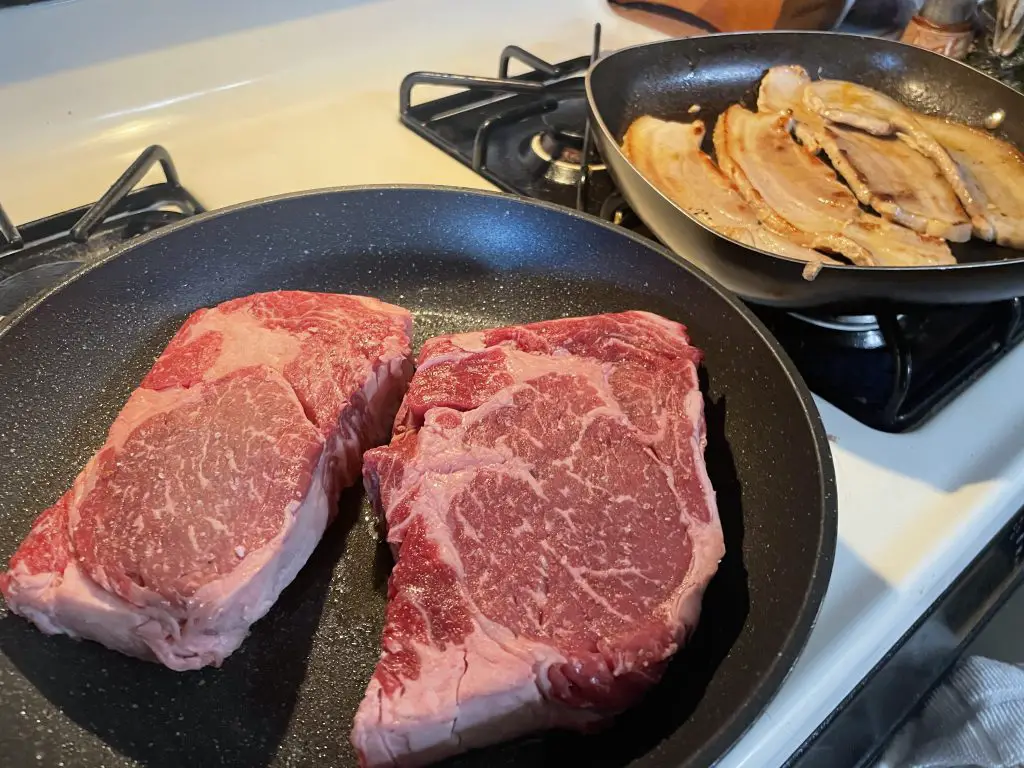 NY Strip
This is a bit cheaper cut than Rib Eye, but still tastes amazing and gets the job done. Same thing can cook up a number of different ways our favorite as usual is grilling it up. You can buy in 2-4 packs normally and their deals are few and far between so make sure you get there early when they have them and stock up. Because if you don't somebody else will.
They run anyway from $6-8 a lb when they have the deal.
Final Thoughts
Price Chopper is a great place to shop for keto on a budget. You can find good deals on bacon, eggs, pork belly, and prime rib. Be sure to look for the weekly ad deals and stock up when you find something you like. There are also a number of different ways to cook these meats, so you never have to get bored with your meals.
Final note make sure you ask the butcher let them know you are doing keto or carnivore and ask them for any affordable specials they would suggest. You get in good with them you can have a lot of under the radar deals that aren't even marketed. They also have the power to mark down meat as well.