How much would you be willing to pay for a new bike? A lot of people often find themselves asking this question. If the answer is not too much then the Beachbody Myx Spin Bike might be right for you. The Beachbody Myx Spin Bike is one of the most popular spinning bikes on the market, and it's easy to see why! This article will cover what makes this bike so special, how much it costs, and if it's worth your hard-earned money.
The MYX I and MYX II have come a long way with advancements and features. The Myx I is an entry-level bike that provides a great workout for the beginner and intermediate cyclist. This model includes a ton of different workout programs, like Beachbody's and up to five custom user profiles to set your own program preferences such as resistance level, difficulty level, interval length/duration, warm up/cool down times and more!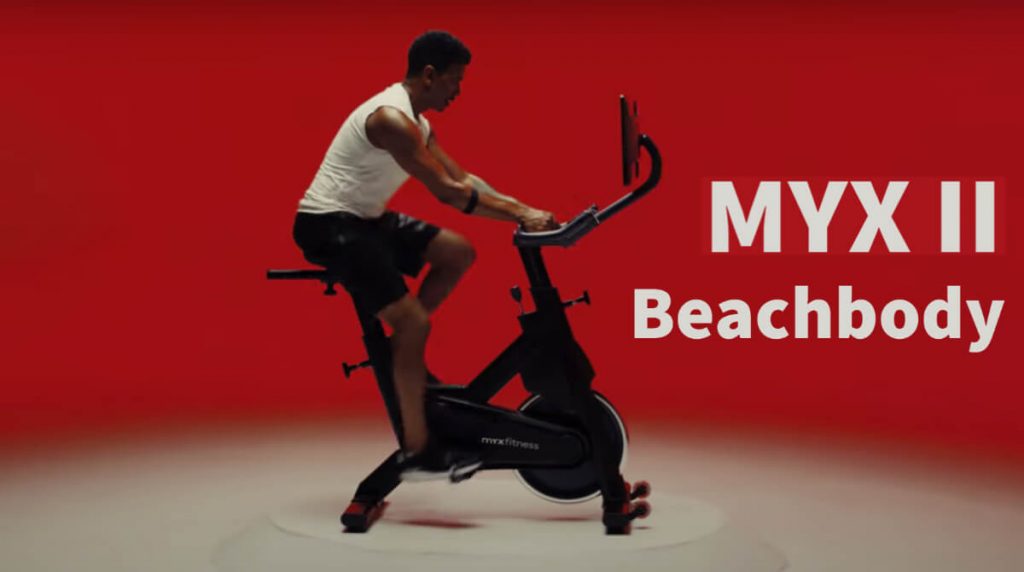 How Much Does The MYX Bike Cost?
The MYX II which is the most updated version starts at $1,399.00 to $1,599 for the MYX II Plus. You can also get substantial savings and a setup fee waved if you go through our link HERE.
They also offer a 1 or 2 year extended warranty this goes on top of the already year warranty. So if you are going to get the 1 year go ahead and get the two year. They have great customer service support so will send a tech out when needed.
Should I Buy The MYX II or MYX II PLUS?
Both bikes are pretty much identical when it comes to color (Charcoal and White). The only real difference is the accessories that make the Plus a complete gym:
6-piece weight set with kettlebell (weight rack not included)
Stabilizing Mat
Exercise Mat
24" EVA Foam Roller
So if you have the above I would definitely stick with the MYX II since you will be paying extra for nothing. If you have most of these things or want to purchase separately looking below to see what the going price is for the equipment. Also get it within two days.
Is the MYX fitness bike worth it?
The MYX fitness bike is definitely worth the cost and is a great spin bike for its price. The Myx I and II offer an easy to use design, comprehensive programs and workouts that will keep you motivated with every ride!
They have great customer service and set everything up for you upon deliver. The bikes are easy to assemble and get up running in minutes. They also have free shipping, so you'll save money on that!
In addition to having a great price tag, the MYX fitness bike is backed by Beachbody's exceptional customer service with their 30-day guarantee policy. In other words if you're not happy with your bike, you can return it within 30 days for a full refund.
The MYX bike is more affordable than the Peloton and gym bikes like the Keiser M-series which start at $2500! For under $1,500 (if not on sale) this bike offers some great features that provide an intense cardio workout while also allowing you to watch your favorite TV shows or listen to music.
The MYX bike is a great choice for the beginner and intermediate cyclist looking to get fit without breaking the bank! It offers riders an incredible workout, tons of different programs/workouts, free shipping and Beachbody's 30-day guarantee policy which allows you to return your bike within 30 days if you're not satisfied.
MYX II Membership Fees
This will definitely go into the cost of the bike as well since it is like buying a gym membership.
Financing Options MYX II
Maybe you don't have the money upfront for the MYX II and that is 100% we financed ours for 0% will cost $30 a month. So that with the $19.95 BODi subscription comes to $50 a month. Which isn't bad when you factor in what it would cost for a gym membership plus the time & gas of driving there. Plus what people don't think about is you can have multiple profiles setup for those in your house so it can be much cheaper than a gym membership.
MYX Financing
They currently use Affirm which is a great financing company actually they have EFT options and great rates if your credit score is at least 700.
A lot of people don't know, but if you have bad credit score and your spouse or significant other has great or vice versa you can use them or at least have them cosign.
Bank Loan
Bank loans are another option with great interest rates being out there for personal loans you can easily get approved through a bank you use or check out a Federal Credit Union as well.
Credit Card
This should be the last route, but if you are dead set on doing so I would go with a new card for your MYX II. The reason being because you can get 0% 12 month APR and try to have it paid off in that amount of time if not switch it to a much lower interest rate card.
Also use one that has great rewards, either Amazon or a miles card like Capital one so you can get money back to use on something.
Can I use the MYX bike without subscription?
The MYX Bike II can be used without a subscription. So you can simply get on youtube and lookup a free cycle class and use it just adjusting your resistance manually.
While you can use without it will also be without the many added benefits of using an app like the MYX or BODi where your resistance and cadence all sync up automatically.
MYX does have the best options when it comes to variety of apps like the BODi comes with a free 30 day trial and is more of complete workout series.
Other MYX Competitors Alternatives
Below we go through the costs, pros and cons of other bikes. Listen if you can't afford to get an MYX II bike don't get one unless you can cover the around $30 it will cost a month if you finance.
Especially if you are just starting out with spinning get something from Walmart or Amazon that is around the $250-500 price range. Just do your research and check out all the reviews. Our go to before MYX II was the Sunny brand that cost around $250 around 10 years ago and still works like the day we got it. You can find that particular bike by CLICKING HERE
| Brand | MYX II | Peloton | Echelon | Proform | NordicTrack |
| --- | --- | --- | --- | --- | --- |
| Starting Price | $1,399 | $1,895 | $1,039.98 | $599 | $999 |
| Weights/Equipment | Yes w/ plus | No | No | Yes | Yes |
| Live Classes | Yes multiple options | Yes | Yes | Yes | Yes |
| Heart Rate Monitoring | Yes | Yes | No | Yes | Yes |
| Membership | $19.95 | $39.99 | $39.99 | $9.99 | $39.00 |
| Screen | 21.5" Swivel | 21.5" | 21" | 22" | 21.5" |
| Other Classes | Yes unlimited | Yes | Yes | Yes | Yes |
| Pedals | SPD & Standard | SPD only | SPD & Standard | SPD & Standard | SPD & Standard |
| Interactive | Yes | Yes | Yes | Yes | Yes |
| Free Shipping & Setup | Yes | No | No | Yes | Yes |
| Max Weight | 300 | 300 | 300 | 350 | 350 |
| Discounted Website | myxfitness.com | onepeloton.com | echelonfit.com | proform.com | |
Other Competitors
Peloton – The Peloton bikes are amazing and they have a great community of riders and it's easy to see why that is. I would say the overall best bike out there but also one of the most expensive cost over $2000 new if not as much as $2400 as well as their monthly membership fee coming in around $40-45 each month which includes unlimited live spin classes as well as access to their on demand classes.
A lot of people will say you can't beat live classes and if your a beginner I would agree with that statement, but the on-demand content is amazing as well for beginners or those who want more variety in music/intervals it's so easy now days just go online and stream it in.
It's also great if you miss a live class or just want to take one at night when everyone else is sleeping since its recorded content and available 24/seven I used this all the time before we got our MYX II bike so if your not ready for an upfront $2000+ investment go with MYX II.
Basics Package ($2,245): Peloton bike
Essentials Package ($2,404): Peloton bike, one pair of shoes, one pair of weights, one pair of headphones
Works Package ($2,494): Peloton bike, one pair of shoes, one pair of weights, one pair of headphones, one heart rate monitor, and one bike mat
Family Package ($2,694): Peloton bike, two pairs of shoes, one pair of weights, two pairs of headphones, two heart rate monitors, one bike mat, and two water bottles
*They do offer financing just like most of the companies do on here. If you are looking for other financing options see our section above that goes into details on that.
Monthly Cost: At $39 per month, Peloton On Demand is a little more expensive than other subscription-based services like Netflix and Hulu. You also get access to over 20 live workouts each day in the app, including cycling classes, boot camp sessions, and yoga lessons. The sensation of being right in the studio was praised by GH consumer testers; some instructors
Echelon
The Echelon is another great spin bike and a little cheaper than the Peloton coming in around $1600 new and their monthly membership fee is also much lower only at $16.95 per month which you can cancel anytime unlike the Peloton where it's a yearly commitment.
The Echelon has great on demand classes as well just like peloton but not live ones, however they do offer live in person classes with their bike set up at boutique fitness studios.
One downfall is this bike does not sync to your phone or any other device like the Peloton, but for most people who go to a studio every day and want an amazing workout they love having it live on demand as well as seeing everyone else's stats and it's a great community.
RPM and Spinning Pro Instructors: RPM and many other instructors that post their workouts on Youtube are also an option if you already have the bike or just want to get one, however my biggest issue is they don't sync up with anything so your resistance stays constant throughout the workout vs having cadence.
Proform
The Proform spin bike is a good option as well and a little cheaper than the Echelon coming in around $599-$1,299 new, and their monthly membership fee is a lower at $9.99 per month which you can cancel anytime unlike Peloton where it's a yearly commitment. You can also purchase the yearly for $99.
The Proform does have on demand classes like peloton but not live ones, however they do offer live in person classes with their bike set up at boutique fitness studios.
The have interactive training, studio classes, road biking and cross training as well. The Proform brand has been around for years with lots of other equipment that is overall pretty durable.
Schwinn IC4
NordicTrack
The NoridTrack bike is another good option as well and comes in around $999-$1599 new, it is also more expensive than the Proform coming in at $39 per month which you can cancel anytime unlike Peloton where it's a yearly commitment.
The classes NordicTrack offers are amazing and have a variety of cross training and recovery workouts to go through. You can follow instructors from around the world as well as doing map based workouts. NordicTrack is the real deal and just because Peloton has become so commercially known doesn't mean they are the best. Nordic has been around just as long as Peleton in the biking industry.
Related Questions On Ordering
How long does it take to get a MYX bike?
The bike will arrive within 1-3 weeks normally. They will ship to a local distributor that will then workout a delivery time when you will be there for setup. Yes they come right in and set it up for you so you have nothing to do but connect to the internet and get started.
MYX Bike And Beachbody
Beachbody bought MYX fitness so they own the company however are still keeping things somewhat separate at this time. So what does that mean? It means you can still use MYX's subscription service for $29.99 a month or BODi (Beachbody On Demand Interactive) which is as low as $19.95 a month.
This is a great thing just be careful when ordering through which link. You can order directly from Beachbody HERE which will give you the best discount along with having preloading with BODi.
Is the MYX Fitness bike worth it?
The MYX Fitness Bike is a great option for those who want to get in shape and stay healthy, but don't have the time or money to go to a traditional gym. Beachbody has been around since 1998 and they offer you both options: either buy the bike outright (which can save you up front costs), or use their monthly subscription service which includes training videos from your favorite trainers like Shaun T. The cost of this exercise equipment varies depending on what package you choose, so be sure that when deciding if it's worth it for you, think about how much space one will take up in your home or apartment before making any purchase decisions!
They have some great no down payment 0% financing deals going on through Affirm. You also get free shipping and free setup along with a $100 discount. It is definitely the right time to get in on the spin bike craze. You don't have to go with something name brand get a used spin bike even than get your tablet or tv going with BODi to get moving. You can purchase a Cadence and Speed Accessory for pretty cheap that will basically do the same thing. Then you just need to worry about your heart monitor pretty much.