If you are getting Shakeology you should be having it everyday no matter what after all that is what you pay for. Depending on if you are a coach or not it can cost anywhere from $3.33 to over $4 per day. If you are on direct ship then you need to keep up with it trust me I have been behind and it is not fun. So just because you don't have a blender doesn't mean you can enjoy your Shakeology right?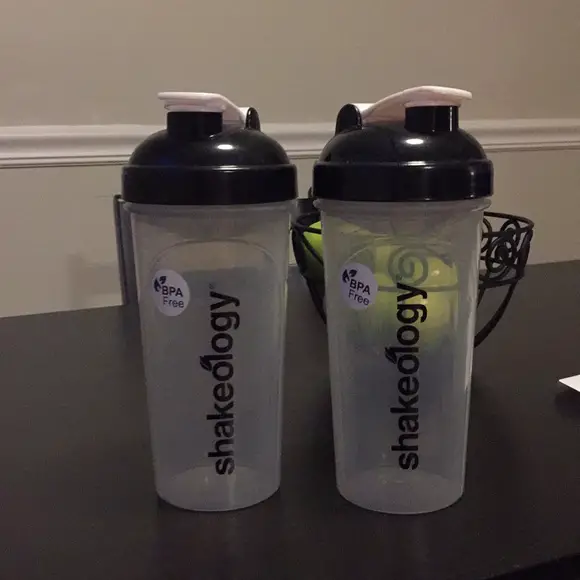 So can I make Shakeology without a blender?
You can make Shakeology without a blender using a shaker cup that works almost as good as a normal blender. Shakeology shaker cups and other versions you can find work great just add some fruits, juice, PB2, crushed ice or whatever else you like and go to town shaking vigorously until it is the texture you like. 
There are numerous options out there for using a shaker/blender cup that are affordable so try one and if you don't like it return it. Most have a 30 day return policy even if you use them so don't be afraid to try one out. Mini blenders that you can take with you on the road is another option if you travel a lot. Below we researched user feedback on Shakeology customers do without using a blender so check it out.
Are you traveling and need a nice mini blender to take with you? You can find the best ones by CLICKING HERE!
Here are the best Shaker Cups & Mini Blenders on Amazon:
Shakeology Without A Blender
So we didn't want you to only take our word for it so we went out to Beachbody forums and blogs to see what others are saying about consuming Shakeology without a blender here are there opinions. We curated this information so nothing has been changed except any grammar or spelling where needed.
Real Shakeology Users
1. Lisa "PB2 & Water w/ Shaker" – PB2, pure extracts (I have used vanilla, orange, and coconut), cinnamon. But honestly, I just make it with water 
 I find that the cafe latte and greenberry are best with nothing extra added anyhow – I add fruit to the chocolate at home but will drink it without, and I can't stand the vanilla plain (barely get it down with fruit added).
2. Meaghan "Just shake with water" – I just shake with water!
3. Anke "Like it with coffee" – I like to mix my chocolate shakeo with cold coffee.
4. Brittany "Almond milk" – Chocolate with water or vanilla almond milk.
5. Lara "Add fruit shake it like a crazy person" – I only add a lot of cinnamon. But if you use the shakeology cup and leave the mixer-thing in it and add ice and berries and shake the living daylights out of it it works. I do that with water and strawberries.
6. Michelle "Use OJ and Water" – I mix vanilla Shakeology with OJ and water. I also have a immersion blender that compacts down and is easy to travel with
7. Laura "Greek yogurt added in the shaker" – I never do ice because cold things really hurt my teeth. I usually just add Greek yogurt and shake the shaker cup really well.
8. Pam "Use juices" – I use 100% juices – a lot – cold of course. You can pick up a cold juice just about anywhere these days. Orange, grapefruit, pineapple are my staples. Apple and grape juices are too sweet for my taste. I have used juice on a plane in a shaker bottle many times 
9. Elizabeth "Let oats sit overnight" – Just tested this AM & it's a Go! Shakeology overnight OATS.. Pre-mix the dry ingredients at home, and ziplock bag it. When get to hotel, get a cup, add dry mix with some milk, place in hotel frig overnight. Ready in AM for breakfast, tastes good cold!
10. Pam "Single packs of almond milk" – I use the single packs of almond milk that you can get at Walmart. They do not have to stay in the fridge and I use 1 cup water.
11. Amber "Just add water and shake" – Surprisingly, I don't mind it just mixed with water in the shaker cup! It's not AS good, but still WAY better than anything else remotely close to it, lol!
12. Meshell "Blender bottle + Coconut Water" – Blender bottle. Coconut water or OJ with tropical strawberry. Shaken is not my favorite way, but when traveling, gotta make do
13. Jenn "2 cubes in the shaker" – I only have time for the blender on the weekends, so during the week I love pb and almond milk. or almond milk and cinnamon or pumpkin spices some days. but my new favorite is a tsp of maple syrup. I use 2 ice cubes in my shaker and it's almost as good as blender days.
14. Sharon "8 ounces of skim milk" – I add 8 oz skim milk and a bit of water. A lot of hotels provide breakfast and have milk. Otherwise, I buy it at the grocery store and keep it in the room's refrigerator.
15. Samantha "Ice melts in shaker makes thick" – I do liquid, mix and a few ice cubes and shake. Ice melts and makes it a lil thicker.
16. Melissa "Shake with ice and water" – I travel consistently for work. On those day, just shake with ice and water. I had to test a few different flavors to find the one I liked best shaken. Personally, I love Cafe Latte shaken, but absolutely hate vanilla and chocolate that way. Greenberry is ok. I just got Tropical strawberry to try next.
17. Eve "Blend with starbucks" – my coworker got Starbucks to blend hers with coffee every day!
18. Holly "Straight up with almond milk" – I drink it daily straight up w almond milk or water in shaker cup as prefer it at work.
19. Camille "Greenberry best for just shaking" – Shake with cold water when traveling. I like Greenberry best for that.
20. Angie "Yogurt, almond milk and shake it" – I read this tip from another BOD member a few months ago… Mix water or almond milk, yogurt, Shakeo and ice in the blender cup. Shake well until blended. It comes out very creamy. I make it this way when I'm on the go.
21. Maura "Just and water for me" – I buy the large bags and put what I need in zip lock bags when I travel. And just add ice, water and shake it up. Sometimes with a little PB2. If I'm travelling internationally, I carry the individual packets – but have never been stopped by customs.
22. Elizabeth "Crushed ice in blender cup" – Crushed ice helps break up the powder but shake that baby is it will be fine!
23. Danielle "Strawberry or Greenberry best in shaker" – When I don't have a blender available, tropical strawberry or Greenberry are my go to flavors, and I shake them with juice and ice. The ice helps break up the texture a little bit better.
24. Kylie "PB2 and ice in shaker" – Without a blender, I use chocolate with powdered peanut butter. and Ice!! the cold water definetly helped. Whithout it, it felt too grity for me.
25. Alison "Vanilla extract in shaker" – I just to a vanilla or almond extract with the powder and almond milk. I never use the blender.
Results
73% stated they just add water and PB2 powder into their shaker cup. 22% stated they do add fruit and juice and just shake until it is to the texture they like. 17% stated Greenberry is best when using a shaker cup then you can add the juice and fruit to the flavor you desire.
Related Shakeology Questions
Can You Make Shakeology With Just Water?
Shakeology can be mixed with just water using cold water and a shaker cup just shake vigorously until it is well blended. 10 to 16 ounces of water should be sufficient without ice just make sure to drink before it gets warm as it will not taste as good.
How Do You Make Shakeology In Shaker Cup?
Making Shakeology in a shaker cup is very easy to do. First just add around 8-12 ounces of milk, juice or water and 4 ice cubes. Add in your favorite fruit like half a banana and around 2 tablespoons of PB2 powder. Shake vigorously until it is to the text you want. The longer you let sit with the ice cubes the more it will thicken up as well.