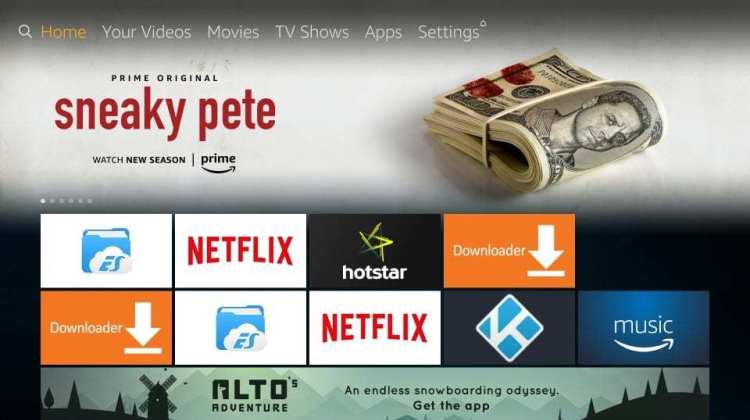 Most people using Beachbody On Demand are going to want to workout on the TV at some point instead of using their iPad, iPhone, Samsung or laptop at some point. This is where the firestick comes in and is handy on any TV that you have an HDMI hookup and WIFI. But you can have issues especially with older Firesticks so read below to see if we can get you up and working out with BOD quickly.
Common Beachbody On Demand Firestick Issues
1. Beachbody On Demand Not Showing Up On Firestick: Beachbody App Not On Firestick? This may be cause for concern especially if you have an older Firestick since it is not being supported in the Amazon Android store. If this is the case you will need to look to buy a new 4K stick luckily they are much more then a regular one.
So if you just purchased one without 4k then you can return it and swap it out for the correct one. If you have a FireTV you should be set since most are all 4K ready. I am not sure the reasoning behind this so it is what it is for now. Maybe the developer will get it fixed in the future.
2. Have To Reset Firestick In Order To Us BOD: If you are having this issue there is probably some simple steps to fix this. Unfortunately your Firestick doesn't have as complex of a processor as a laptop, desktop or iPad. So if you have a lot of apps on their a lot of the memory is being used which slows down the processor even more.
So what you want to do is make sure you are exiting and closing out your apps. You can do this be hitting the "Exit" button instead of the back or home button.
If you are on the home page follow these simple steps:
Go to settings
Manage Applications
Find Beachbody On Demand and select
Click Force Stop
Go back to home and it should work perfectly
With these steps there is no need to restart. But you should be shutting down your Firestick or make sure the sleep mode is activated it is just like a computer running 24/7 it will add wear and tear to it.
3. Sample BOD Workout Not Working: this is a common issue and mainly due to the workout being newer. There are several work arounds for this the easiest one is just downloading the Youtube app and playing the sample workout from there since it is free anyway.
4. Beachbody On Demand App Keeps Freezing: This is also a common issue especially if you use your Firestick a lot. What you will want to do is go through and clear the caches on all the apps before doing a restart. This should fix the issue.
Go To Settings
Manage Install Applications
Click on each one
Click clear cache (Not data)
Image
TOP Beachbody On Demand Streaming Devices
Prime
Check Price
Fire TV Stick with Alexa Voice Remote (includes TV controls) | HD streaming device | 2020 release

Prime

Eligible

Check Price
Fire TV Stick 4K streaming device with Alexa Voice Remote | Dolby Vision | 2018 release

Prime

Eligible

Check Price
Roku Express | HD Streaming Media Player with High Speed HDMI Cable and Simple Remote

Prime

Eligible

Check Price
Fire TV Stick Lite with Alexa Voice Remote Lite (no TV controls) | HD streaming device | 2020 release

Prime

Eligible

Check Price
Prices and images pulled from the Amazon Product Advertising API on:
How Do I Download Beachbody On Demand On Amazon Fire Stick
Beachbody App and Firestick Issue Fixes From Real Users
We didn't want you to just take our word for it so we scoured the BOD forums for other user problems and how to solve them. We curated this information and changed nothing but the spelling and grammar where need.
Real BOD Users
1. Johanna "No problems luckily and use multiple platforms" – I alternate using a Chromecast and the browser on my Xbox. I've worked out with BOD since February 2017 and I must be lucky cause I've never had an issue? But I've seen lots of issues for others that use other ways to stream.
2. Jessica "Reboot" – Reboot your fire stick. Sometimes it needs to update. I rarely have qny problems with mine, but if I do, that usually does the trick.
3. Julie "Doesn't work still" – Ours hasn't worked for a couple of months. We've done everything. Reboot firestick, uninstall and reinstall, clear cache, had tech support on phone multiple times. Nothing. How weird that it is working for some people but not others. Makes no sense. We've been using our dvd's… Really frustrating. It's not just us… if you go to Amazon BOD app reviews, there are quite a few who are having the issue. If we (those of us having issues) are in the minority, I wonder how much of a priority it is to fix. Not trying to be negative, just realistic
4. Rebecca "Rare but it does happen" – I use my fire stick everyday. Very rare it goes down. When it does I pop open my laptop.
5. Tiffany "Back out and back in" – I only use my fire stick to stream works great. Once or twice i had no stream pop up. I clicked out of the app than back in. I than went to trainer to get my workout and it worked
6. Zoe "There are workarounds" – It's a known issue that BB has been working on since forever. A workaround in the meantime is to use the Firefox or Silk browser and go to the BOD website and use that.
7. Ryan "Issues had to switch" – I had the same issue with chomecast. Now I use my laptop & HDMI cord.
8. Chloe "Return and switch to Roku" – Tablets and roku. BOD hardly works on our fire stick and when it does it freezes and kicks me out of a work out, but it works perfectly on all other devices, especially roku.
9. Danielle "Roku all the way" – I have 0 problems with my Roku stick that aren't related to my crummy internet speed. BOD always works perfectly, but sometimes my internet speed causes the streaming to be spotty.
10. Tari "Use the browser as short term fix" – I only had one issue during 80 day. When that happened I used the browser ony firestick and went to bod and it worked
Final Thoughts
So there are many known issues with the FireStick Beachbody On Demand App and unfortunately nobody is jumping to fix them. Definitely complain and put in a support ticket to Beachbody first and foremost. The more complaints they get the more they will look into it.
The short term fix may be using the FireFox browser on your FireStick. However if you only are going to use your firestick for Beachbody On Demand and just purchased it then maybe returning it may be your best bet.
That way you can get a Roku which seems to have almost no issues at all from any BOD users when working out. They are around the same price normally you can see that HERE.
Another option is to get an HDMI and hook your laptop up to your Television. You can get long cords even up to 20 feet like HERE. Or you can even get an affordable wireless HDMI if you are running a Windows Operating system THIS IS YOUR BEST BET.
Recent Posts